Le Silence de la mer – Jean-Pierre Melville's debut film – is an adaptation of the novella of the same title by celebrated French Resistance author Vercors (the pen name of Jean Bruller). Clandestinely written in 1942 during the Nazi occupation of France and furtively distributed, it captured the spirit of the moment, and quickly became a staple of the Resistance.
Melville's cinematic adaptation – partly shot in Vercors' own house – tells the story of a German officer, Werner von Ebrennac (Howard Vernon), who is billeted to the house of an elderly man (Jean-Marie Robain) and his niece (Nicole Stéphane) in occupied France.
One of the most important French films to deal with World War II, and a landmark in Melville's distinguished oeuvre, Le Silence de la mer is a lyrical, timeless depiction of the experiences and struggles of occupation and resistance.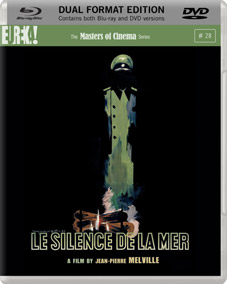 Previously available on DVD only, Le Silence de la mer is to be re-released by Eureka as part of the Masters of Cinema series as a dual format edition, containing both DVD and Blu-ray versions of the film, on 26th January 2012 at the RRP of £20.42.
Featuring a new high-definition original aspect ratio transfer, licensed from Gaumont and new and improved optional English subtitles on the feature, documentary, and trailer, the disc will have the following extras:
Video discussion by Ginette Vincendeau, professor of French cinema at King's College London [23:00];
Melville Out of teh Shadows – A new French-made documentary about Melville's film [41:00] (Blu-ray only);
Original Theatrical Trailer (Blu-ray only);
56-page booklet including an article by Ginette Vincendeau, author of Jean-Pierre Melville: An American in Paris, and a Melville interview by Rui Nogueira, author of Melville on Melville.
You can read our review of the previous DVD release here.