When James (Jim Sturgess – One Day, Cloud Atlas) decides to reconnect with his father Frank, (Ray Winstone – Scum, Sexy Beast) he finds him on lock down in a secure unit for the mentally unstable. James dramatically breaks Frank out of his surroundings and takes him on the run.

Packed with thrilling, violent and tragic twists, James and Frank's haphazard journey unfolds to merge the present with imperfect memories of the past, and fact with fiction: nothing is quite what it seems. Part road movie, part psychological thriller, part contemporary film noir, Ashes concludes with a grimly satisfying twist. Apparently. To be fair, advance word is very good on this one, with particular praise being given to the lead performances.

Written and directed by Mat Whitecross (Sex & Drugs & Rock & Roll, Road to Guantanamo), who re-joins with Sex & Drugs & Rock & Roll co-writer Paul Viragh, and executive produced by British supergroup Coldplay, Ashes also stars Luke Evans (Immortals), Jodie Whittaker (Attack The Block), and Lesley Manville (Another Year). The film opened Derry's Foyle Film Festival on 21st November with Mat Whitecross and Ray Winstone in attendance.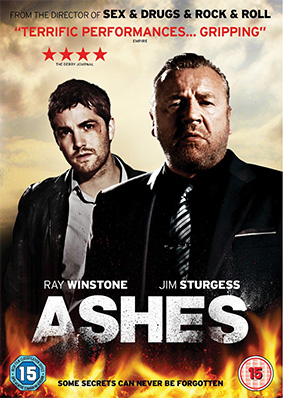 Ashes will be released on UK DVD on 28th January 2013 by CinemaNX and Entertainment One at the RRP of £12.99.
No extra features have been specified, so here's an on-set report with director Jim Sturgess from Sky Movies: