Three years after witnessing the tragic death of her boyfriend in a car accident, Jenna is still struggling to come to terms with her loss. Hoping a carefree weekend away will help, Jenna's best friend since childhood, good-time party girl Renee, invites her to stay at a remote lakeside cabin along with her jock boyfriend, Michael, and his best buddy, Ian. But the promised weekend of partying, boozing and chilling soon turns into a nightmare when three of the group find themselves inexplicably locked in the cabin's sauna with no apparent way out.
Based, we are assured (but take with a big pinch of salt) on a true story (someone got locked in a sauna...?), 247°F takes the horrors and perils of Frozen to the opposite extreme and the heat is most definitely on as a trio of toned twenty-somethings are trapped in a sauna and, with the temperature rising and no sign of escape, a wild, hot and steamy weekend of "bare babes and brews" soon turns into a primal fight for survival.
The film stars Scout Taylor-Compton (The Runaways; Rob Zombie's Halloween I and II), Christina Ulloa (Charmed), Travis Van Winkle (Friday The 13th; Transformers), Michael Copon (Elektra Luxx; Night Of The Demons; Dark House; Power Rangers) and Tyler Mane (Rob Zombie's Halloween I and II; X-Men).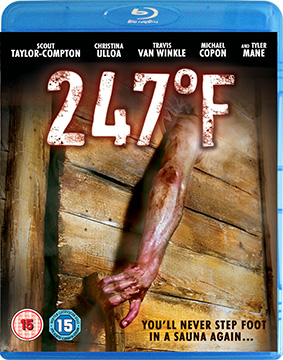 247°F will be released on UK DVD and Blu-ray on 28th January 2013 by Anchor Bay at the RRP of £15.99 for the DVD and £19.99 for the Blu-ray.
No extra features have been listed.