If – and I do mean if – an early sign of a good film lies its initial hook, then the enigmatically titled Crows Are White really delivers in its opening five minutes. The first comes when filmmaker Ahsen Nadeem introduces himself over a black title screen with the gloriously contradictory but surprisingly relevant statement, "I'll be honest with you, I'm a fantastic liar." It'll be a while before we see him in person, but his accent and vocal intonation suggests that he's American in his 20s or 30s. As the vehicle he is driving makes its way down cloud-shrouded woodland roads, he reveals that he's on his way to a reclusive Buddhist monastery at the top of Mount Hiei in Kyōtō, Japan, in search of answers to questions about the mess of the double life he has been leading back home. The name of the monk he has come to speak to in his search for enlightenment is Kamahori, but in the film's second opening scene sting, when Nadeem enters the monastery, he discovers that this dedicated monk has taken a vow of silence. Thus, when the two men finally meet, all they are able to do is look serenely at each other. Just a couple of minutes in and I was already hooked, but as Nadeem teases in his opening narration, "I had no idea how complicated things were about to get."
What surprises is how quickly these complications arise. With verbal communication with Kamahori off the cards, Nadeem is assigned a monk known as a Saintly Master of the Severe Practice, who reveals a little about the arduous physical and mental tests that are embarked on by the members of this order. When Nadeem asks him what advice he might have for ordinary mortals like himself, the monk's first reaction is a bemused laugh. In the hope of still forming a bond with Kamahori, Nadeem follows him each night as he walks several miles in in robes and sandals, sometimes struggling to keep up and lacking the stamina to stay with him for even a single journey. (As an aside, this brought back some memories of my first trip to Japan, where I was driven to the foot of small mountain in Ōsaka by a kindly gentleman in his late 70s, who then strode up the hillside with the energy of a teenager whilst I struggled and ultimately failed to match his pace.)
Nadeem confirms in his opening monologue that it took him two years to get permission to visit and film at the monastery, and it seems that his patience and persistence has paid off when he is unexpectedly invited to watch and record a ceremony that has previously been closed to outsiders. The manner in which the novice monks are ordered to pray (basically, you have to continue until you see Buddha or die) brings back distant memories for Nadeem, as the jigsaw pieces of his background as a Saudi-born Muslim who has distanced himself from his family and his religion begin to fall into place. It's then that the worst (and quite frankly, the dumbest) of mistakes are made when the mobile phone that Nadeem was convinced he had switched to silent mode loudly rings. The monks are furious, and not only eject him from the ceremonial hall, but escort him from the monastery and tell him not to return. At this point, we're just 15 minutes into a 97 minute film, and the director has been kicked out of the very institution that is not only supposed to be the subject of his film, but the place in which he hoped to find answers to questions that at this point have yet to be revealed and that I'm tactfully choosing not to discuss here. Where could the film possibly go from here?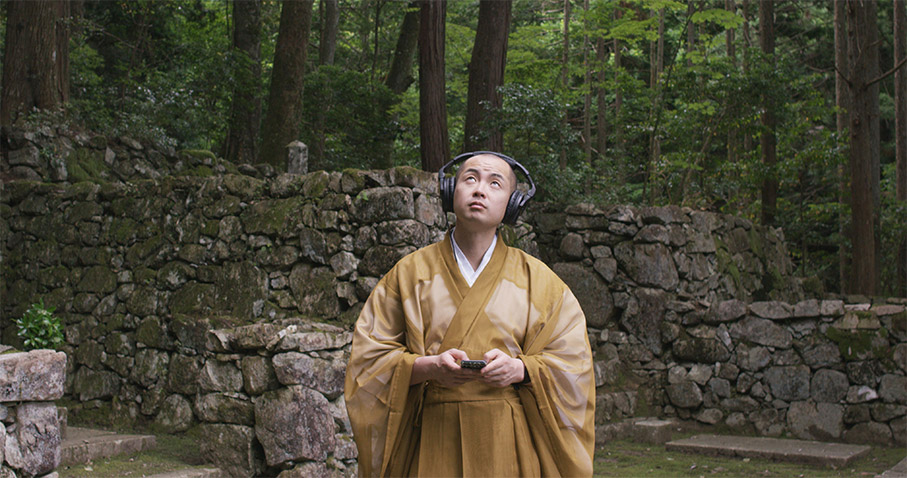 What unfolds is a fascinating, touching and disarmingly introspective personal journey of morality, family and faith, in which the camera becomes both a confessional booth and a therapist's couch in Nadeem's search for a solution to his quandary. The man who then becomes unexpectedly crucial to his quest is a low-level monk named Ryushin, who has been tasked with manning the temple gift shop and whose life proves to be as full of contradictions and conflicts as Nadeem's own. While the other monks have done as required and shunned all desires and outside pursuits, Ryushin spends his free time tapping away at his phone, using his laptop to look things he want to buy on Amazon, eating luxury ice cream and gleefully listening to metal bands like Slipnot and Slayer. He lives close to the monastery in a house owned by his grandfather, a former monk of some repute who is now in the early stages of Alzheimer's and whose needs Ryushin devotedly attends to. What really caught me out is how open Ryushin is about his life and his feelings to Nadeem's camera, and the bond that develops between the two men soon goes beyond that of filmmaker and interviewee. Their growing friendship is neatly defined at a barbecue thrown by Ryushin for Nadeem later in the film, an event at which Ryushin openly consumes food and drink technically forbidden to members of his order. Halfway through the meal, Nadeem light-heartedly admits to his friend that he has yet to face up to his problems. "I know that," says Ryushin with a smile. "Who cares? If you go to Hell, I will go to Hell to help you."
I was quietly blindsided by Crows Are White (and yes, the reason for that title does become clear), hooked by those opening admissions and setbacks and repeatedly surprised and captivated by the twisty story that subsequently unfolds, only a small fraction of which I've touched on here. For Nadeem, his planned documentary quickly becomes a very personal journey in whose central focus becomes the filmmaker himself, as he wrestles with the moral dilemma that sent him to the monastery in the first place. His decision to reveal so much about himself and the decision he faces is not only brave but helps form a bond with the audience that pulls us along with him as hopeful companions. This really pays off in the final scenes, where Nadeem persuades two individuals that I'm not going to identify here to be filmed for a conversation that could be emotionally catastrophic for all involved, a decision that is called into question at one point by Nadeem's patient and level-headed wife, Dawn.
Slyly passing comment on both the positive and negative aspects of religious conviction without seeming like it's commenting at all, the film evolves into a plea for tolerance, understanding and flexibility within the seemingly fundamentalist constraints of belief. It's a genuinely remarkable and utterly captivating work that had me laughing out loud, gritting my teeth in tension, agog with disbelief, hit by an overwhelming sense of joy, and even on occasion fighting back tears. It also has a moment of quite gobsmacking and almost farcical irony in its later stages that I again discuss here (maybe later, if the film makes its way to Blu-ray), one that had my mouthing words of disbelief at the screen but that in retrospect perfectly sums up the repeatedly faltering nature of Nadeem's quest. Looking back, it seems only right that it takes Nadeem – and to a degree us as viewers – so long to realise that the guidance he seeks is slowly awakened in him not by direct answers to his questions but simply by embarking on and sticking with his extraordinary quest.
Crows Are White is screening at the following, days, times and locations:
Wednesday 12 October 2022 at 18:10 at BFI Southbank, NFT3
Thursday 13 October 2022 at 18:15 at Curzon Soho Cinema, Screen 2
Thursday 13 October 2022 at 18:30 at Curzon Soho Cinema, Screen 3
GOD SAID GIVE 'EM DRUM MACHINES
---
I used to share a house with a drummer, and he really hated drum machines, those electronic beat creators that were an integral component of dance music in the 80s and 90s. He believed that they were an affront to his art, but he also hated what he described as the sterility of their sound, yet he was still familiar enough with the individual models to be able to identify which one was used on every dance track that he so detested. We were friends for several years and I admired his musical skills, so it all got a bit awkward when I had to admit to him that I was a fan of the music he so frequently and passionately lambasted. I was not a clubber, and even when I was able-bodied, I rarely danced, especially in public. The groundwork was laid in my late teens, when I'd fallen under the spell of electronic music, thanks primarily to bands like Kraftwerk and Tangerine Dream, and dance music seemed like a natural development of that. Give me a pulsing synth and a thumping bass drumbeat and I'd be happily bobbing my head until my neck was sore.
Like most of the music movements and bands that had an impact on me in my younger days – The Clash, Public Enemy, Rage Against the Machine, punk rock in general – I discovered electronic dance music, sometimes acronymised as EDM, after it had already achieved widespread popularity. It's fair to say that the first exponents I was really drawn to – Baby Ford, Leftfield, Aphex Twin, The Chemical Brothers, et al – were all white British musicians and/or DJs, and if you weren't up on your modern music history (and I wasn't), you could be forgiven for thinking that they and others like them were the inventors of this distinctive sound. My interest was thus instantly piqued when I realised that a documentary feature tracing the origins and development of EDM was screening at this year's London Film Festival, and even more so when I discovered that the pioneers of this musical movement were an informal collective of Detroit-based African-American musicians. I suspect I was not alone in my ignorance on this subject. As urbanist and educator Adam Tanaka points out at the start of the film, to this day most of EDM's most famous exponents are white Europeans, but when it comes to the founders of what was originally known as Detroit Techno Soul, most people have no idea who they are.
In terms of its style and structure, God Said Give 'Em Drum Machines plays it by the documentary book, constructing its narrative from filmed and audio interviews with the story's key players and experts in the field, and illustrated with archive footage, photos, point-emphasising clips, with swish transitions and frame-within-a-frame presentation of archive imagery providing a touch of visual pizzaz. There is no voice over, and captions are used sparingly to confirm where we are on the developmental timeline and to identify the contributors by name. And frankly, this approach works just fine for the film. The stars of the show here are the innovative DJs and musically minded individual who were inspired to put the electronic musical evolving technology to creative use to create what was then a new sound, one that only became known as Techno when British music writers John MacReady and Stuart Cosgrove wrote a story about these innovators and pressured them into giving it a name. It seems only right that the one who decided it should be called Techno was Juan Atkins, the man who is credited with inventing the genre.
The film provides some useful social context before discussing how the arrival of electronic synthesisers enabled creative individuals who lacked the funds to hire trained musicians or pay for studio time to make their own music. We learn how Juan Atkins started creating demos with the Korg MS-10, which he was able to program to create what were likely the first electronic drum beats, which was eventually usurped by the arrival of dedicated drum machines such as the widely used Roland TR-909. Alvin Toffler's book Future Shock is cited by Atkins and fellow Techno pioneer Derrick May as a major influence, and Atkins describes how own future direction was shaped when he met electronic music innovator Rik Davis at community college. Their joint interest in electronic music led to them releasing their own tracks as Cybotron, which resulted in the Kraftwerk-influenced Alleys of You Mind launching their music career and going on to become an EDM classic. The subsequent evolution of the genre is detailed by those who were crucial to its development, with the mixing skills of new superstar DJs like Ken Collier proving to be a as big an influence as the work of other musicians. The already brisk pace then accelerates further as those influenced by the innovators discuss their own emerging careers as DJs and musicians, as well as the various musical genres that their work later inspired.
Pleasingly workmanlike rather than attention-deficit flashy, God Said Give 'Em Drum Machines is an enthralling and revealing work that has clearly been researched in considerable depth by editor-turned-director Kristian R. Hill, particularly given the sheer volume of material included and the comprehensive set of interviews he has secured to drive his narrative forward. Only a late film revelation that is quickly skipped over but seems to call out for further discussion seems likely to raise a few eyebrows, but maybe, just maybe, that's a subject for another film. As for the rest, it did what good documentaries should do by educating me on something I knew little about and doing so in a compelling and entertaining fashion. For electronic music fans everywhere, this is a must.

God Said Give 'Em Drum Machines is screening at the following, days, times and locations:
Thursday 6 October 2022 at 20:30 at ICA, Screen 1
Saturday 8 October 2022 at 12:15 at Curzon Soho Cinema, Screen 2
Saturday 8 October 2022 at 12:30 at Curzon Soho Cinema, Screen 3