A week ago we lost another of cinema's talented creatives in the shape of actor Harry Dean Stanton. My usual move would be to post an article paying tribute to him and his work, with particular focus on the films that he appeared in that were special to me, and I fully intended to do just that. But with response time a bit of an issue for me at the moment (oh, you should see the speed I move at now I've put my back out lifting my disabled mother out of her chair), it was a couple of days before I was able to sit down in front of my laptop and start hitting the keys. The thing is, by then I'd read a number of other tributes to the actor, and the thing that hit me immediately about them is the Harry Dean Stanton roles that made a particular impact on me were the very same ones that had similarly impacted others. This was typified by Ronald Bergan's obituary in The Guardian, which ticked off titles that I had already made a note to cover like the author had been rifling around in my brain. As a result, I stalled. But Stanton was too wonderful an actor not to put a few words down on paper in tribute to his talent, and so this weekend's blog is devoted entirely to him, as I pick a few favourite roles and outline just why they made such an impression on me.
Narrowing this down to a fistful was no easy feat – Stanton was one of those rare actors who never disappointed and who I'd watch in anything he appeared in. He had a long and distinguished career as a character actor in almost 200 film and television titles, only a fraction of which I'll be touching on here. My selection is personal, selected for the impact that the films and roles in question had on me, not for their acclaim elsewhere or the fame or cult status of the titles. And the fact that these titles have also been cited in other obituaries is not coincidental, but a mark of just how terrific Stanton was in these roles.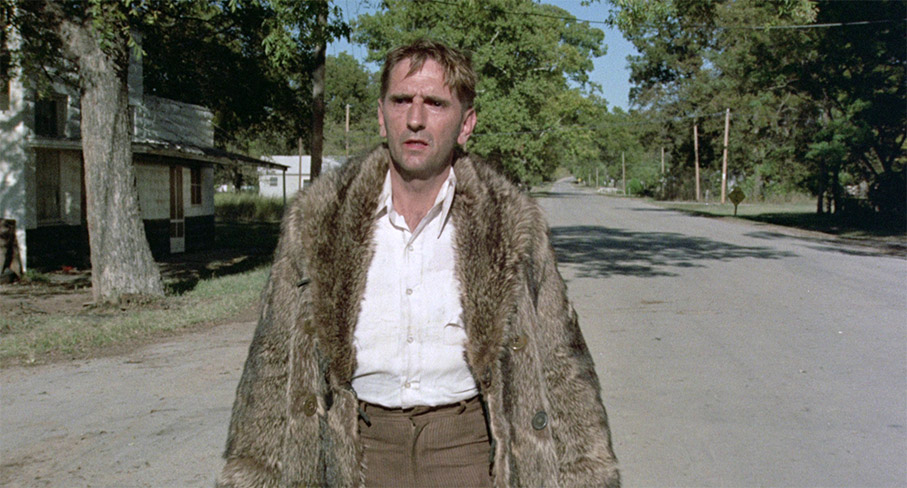 Homer Van Meter in Dillinger
The second feature from movie brat director John Milius is a personal favourite, and the fact that Arrow was unable to secure the rights for a UK Blu-ray release still smarts with me. Warren Oates was the star – and a quick look at photos of the real John Dillinger only hints the perfection of this casting decision – but the film has a belter of a supporting cast, including Geoffrey Lewis as Harry Pierpont, Richard Dreyfuss as Baby Face Nelson, Steve Kanaly and Pretty Boy Floyd, Cloris Leachman as the famed Lady in Red, and Ben Johnson as take-no-shit G-Man Melvin Purvis. Stanton plays Dillinger gang member Homer Van Meter and easily holds his own against this illustrious group and also gets some of the film's best lines. My particular favourite comes after he has been pushed by Pierpont into unsuccessfully intimidating an elderly gas station attendant and responds by firing off some shots outside, then jumps into the car and says with comical urgency, "Step on it! I got his gumball machine!"
Asa Hawks in Wise Blood
John Huston's 1979 adaptation of Flannery O'Connor's superb Wise Blood leapt on to my favourite films list the first time I saw it and has only entrenched itself there with subsequent viewings. As with Dillinger, the casting is divine across the board, with Huston favouring character actors over stars to arresting effect. In what may be the most perfect role of his career, Brad Dourif plays a young war veteran who becomes a preacher in a church of his own invention, but quickly finds a rival in the shape of Stanton's Asa Hawks, a man who claims to have blinded himself with lime for his beliefs. There's not a wrong note anywhere in Stanton's performance here, as he exudes confident superiority even with his eyes hidden behind a sizeable pair of dark glasses.
Brett in Alien
Notice a pattern emerging here? A film with no established A-list stars whose small ensemble cast was made up instead of established character actors (plus one talented newcomer who was soon to be a bigger star than all of her respected colleagues) who bring their characters to life because they look and sound and behave like the people they play. Stanton was bang-on casting as taciturn engineer Brett, a man who dresses in the garish shirts that he picks up at spaceport gift shops and whose close working relationship with his more self-confident colleague Parker – a superb Yaphet Kotto – is perfectly captured in the small moment when he subtly signals him to start a discussion with their captain about a lack of parity in the crew's allotted shares. The sequence in which he is sent to recapture the ship's cat and comes face-to-face with the full-sized alien of the title is made all the scarier by the very real sense of vulnerability that Stanton brings to the role in this scene.
Bud in Repo Man
One of Stanton's best ever roles – and a rare film in which he received top billing – is as the cynical, speed-snorting repo veteran Bud in Alex Cox's glorious cult debut feature. Yet another terrific ensemble cast of character actors all shine in a film that gives them the material to do so. Once again, Stanton gets some of the best lines, and it's he who delivers the now famous repo man code: "Ordinary fucking people, I hate 'em. See, an ordinary person spends his life avoiding tense situations. Repo Man spends his life getting into tense situations."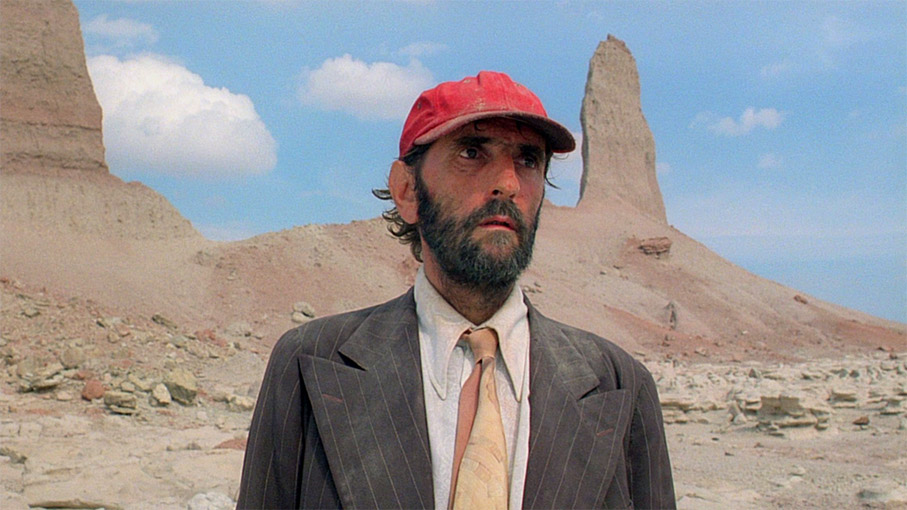 Travis Henderson in Paris, Texas
When I review a film, I often make a point of emphasising that this is a personal opinion and that there are no hard-and-fast absolutes in art. Yet if you're listing great Harry Dean Stanton roles and you fail to include Wim Wenders' Paris, Texas, then you've no right to be making such a list in the first place. This, of course, is a cheeky statement from someone who disliked the film intensely the first time he saw it and only came to love it on subsequent viewings. This is the role of a lifetime for Stanton, who brings a mesmerising sense of loss and vulnerability to the initially silent Travis, while the gradual process of his re-bonding with his young son Hunter is extraordinarily moving in its gentle honesty. Sublime.
Johnnie Farragut in Wild at Heart
In his way, Johnnie Farragut is one of the most tragic characters in Stanton's oeuvre, a private detective who is hopelessly in love with a client who readily takes advantage of his devotion but is clearly never going to reciprocate his feelings. Stanton's knack for exposing the vulnerable side of characters who elsewhere might come across as archetypes is put to splendid use in David Lynch's nightmare inversion of The Wizard of Oz, and his terror when he comes face-to-face with Grace Zabriskie voodoo witch, Juana Durango, makes my blood run cold on every viewing.
Lyle in The Straight Story
Spoiler alert for anyone who hasn't seen the film. This, along with his brief appearance as a judge in Terry Gilliam's Fear and Loathing in Las Vegas, has to be one of the smallest film roles of Stanton's career. I'm including this not for his performance per se, but because when the elderly Alvin Straight, having travelled across the country on a lawn mower tractor to see his estranged and seriously ill brother, finally reaches his destination, the fact that the brother is played by someone as instantly recognisable (and as physically frail) as Harry Dean Stanton somehow renders this moment almost as personal for us as it is for Alvin.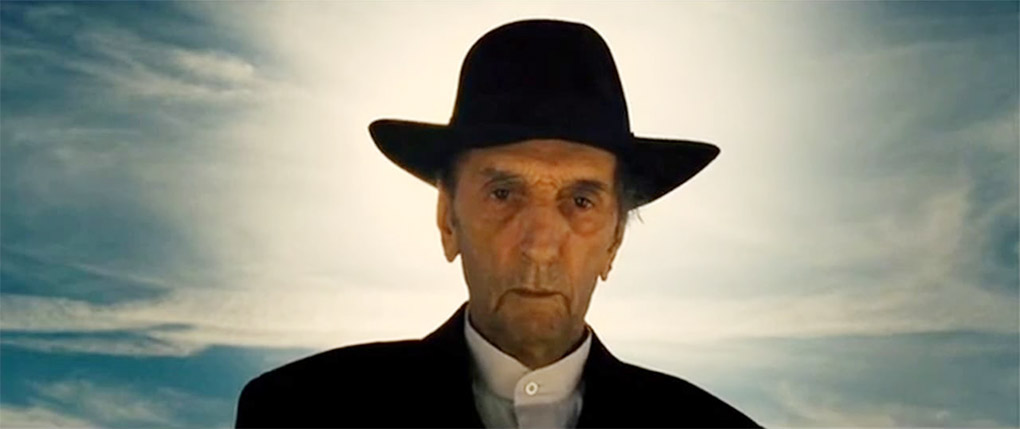 Man in Hat in Seven Psychopaths
Stanton's weathered features and way with haunted expressions brings a memorable degree of gravitas to his role as a vengeful Quaker who doggedly shadows his daughter's murderer all the way to hell in one of the film's many stories within a story. It's another small role in a film that is bristling with interesting characters and almost fleeting cameos, but it's a testament to Stanton's considerable screen presence that the character makes such an instant impression, and his physical frailty that makes his final act of vengeance so discomforting.
And that's just a sampling from a very large pool. Due to my detestation of Sky TV, I've yet to see the third series of Twin Peaks, which contains Stanton's final TV role (his last film role was as Sheriff Lloyd in Michael Oblowitz's Frank and Ava, which has yet to secure a UK release), so I'll sign off with a selection of roles that give a flavour of just how many fine movies Stanton has appeared in and how many great filmmakers he has worked with:
Tramp in Stuart Rosenberg's Cool Hand Luke
Oklahoma Hitchhiker in Monte Hellman's  Two-Lane Blacktop
Luke in Sam Peckinpah's Pat Garrett and Billy the Kid
Jack Burke in Monte Hellman's Cockfighter
F.B.I. Man #1 in Francis Ford Coppola's The Godfather: Part II
Det. Billy Rolfe in Dick Richards' Farewell My Lovely
Calvin in Arthur Penn's The Missouri Breaks
Jerry Schue in Ulu Grosbard's Straight Time
Brain in John Carpenter's Escape From New York
Moe in Francis Ford Coppola's One From the Heart
Detective Rudolph Junkins in John Carpenter's Christine
Saul/Paul in Martin Scorsese's The Last Temptation of Christ
Carl Rodd in David Lynch's Twin Peaks: Fire Walk With Me
Toot-Toot in Frank Darabont's The Green Mile
Freddie Howard in David Lynch's Inland Empire
Robert Plath in Paolo Sorrentino's This Must Be the Place
RIP Harry Dean Stanton