Site regulars will doubtless be aware by now of the personal misfortunes that have led to the paucity of reviews and even news stories on Cine Outsider of late. Despite some apprehension about doing so, a couple of weeks back I decided to open up about what's been going on in my stuttering weekend blog (you can read that here) and have been seriously touched by the good wishes that have been sent my way in response. My personal situation remains largely unchanged, and with no specific timetable to events we still have to face, for the immediate future the reviews will continue to arrive at a trickle and some will inevitably get missed as a result.
Despite the logic and inevitability of this, it has proved a little frustrating. It's always been a mission of the site to promote films and discs that excite and entertain us, and while several such creatures have landed on my doormat in recent weeks, circumstances currently prevent me from devoting the time required to write about them in the sort of detail they deserve. But to just pass them by seems positively criminal, so I'm devoting this weekend's blog to giving a mention to some the recent disc releases that I would, in normal circumstances, have reviewed in full. Some we will endeavour to cover in more detail over the course of the next three weeks, though others will unfortunately fall by the wayside. In that respect, I do feel the need to apologise to Indicator, Arrow and especially Eureka in particular, all of whom have sent us review discs in good faith and whose sterling work we are still keen to support.
Covered below are four recent disc releases that I'd encourage you enthusiastically grab, and I've tried briefly to outline why in each case. There are also a couple of titles that I've yet to even watch yet, so can't really say much about them at the moment, plus a brief mention of a couple of others that we're currently working on.
And so, to the titles.

Buster Keaton: 3 Films | Blu-ray | Eureka: Masters of Cinema
If you're a fan of great silent cinema (and aren't we all, surely?) then there's a good chance you already own this terrific box set, and if not then I'd put in on your shopping list pronto, as this release is limited to 3,000 copies and you'll be kicking yourself in slapstick frustration if you let this one pass you by. Of all the great film comedians from Hollywood's silent era, Keaton was always my favourite for a whole raft of reasons, and contained within Eureka's handsomely presented set are three of his finest features – Sherlock Jr., The General and Steamboat Bill, Jr. – each meticulously restored and accompanied by an array of quality extra features.
These three hugely entertaining and inventive films themselves would be enough of a draw – The General is widely regarded as one of the finest of all film comedies and Steamboat Bill, Jr. contains one of film history's most extraordinary visual gags, one involving a cyclone, a falling wall and a strategically positioned window – but I can guarantee you've never seen them looking as lovely as they do here. And then there's the special features, which include an authoritative audio commentary on Sherlock Jr. by film historian David Kalat, three new video interviews with film scholar Peter Kramer, the 52-minute documentary Buster Keaton: The Genius Destroyed by Hollywood, a 58-minute audio recording of Keaton in conversation with television writer Bill Cox, a tour of The General's filming locations and introductions to the film from Orson Welles and Gloria Swanson, a video essay on the making of Steamboat Bill, Jr., a 60-page booklet, and more. It's a brilliant release that I still hope to cover in more detail in the weeks to come.
George Romero: Between Night and Dawn | Dual Format (Blu-ray & DVD) | Arrow Video
Between the ground-breaking Night of the Living Dead and the genre-defining Dawn of the Dead, George Romero directed two superbly realised cult horror movies and two films that even many of the director's many fans had never managed to catch up with. I'm guessing that his brilliant 1978 revisionist vampire tale, Martin, was the victim of a rights issue that prevented its inclusion here (and oh, how that film needs the Arrow special treatment), but we're still left with three intriguing films that not only chart the early development of Romero's directorial style, but also offer a window into alternative routes that his career might have taken had they scored at the box-office.
The 1971 There's Always Vanilla suggests that with his second feature, Romero was looking to spread his creative wings beyond the genre with which his name is still primarily associated. The tale of a young drifter named Chris who embarks on a sometimes tempestuous and ultimately doomed relationship with attractive model Lynn, it's an uneven ride, but it does showcase Romero's ability to extract naturalistic performances from his actors, as well as his unsung skill as a cinematographer and considerable talent as an editor. Although ostensibly a horror movie, the 1972 Season of the Witch is thematically and stylistically a long way from the zombie holocaust films with which Romero made his name, being the tale of a housewife whose dissatisfaction with her humdrum life prompts her to start experimenting with low-level witchcraft. It's a fascinating experiment that plays as a naturalistic drama for its first half (one broken up by some strikingly visualised and heavily symbolic surrealistic dream sequences) and taking a matter-of-fact approach to the witchcraft that somehow grounds it in everyday reality. But the pick of the bunch has to be the 1973 The Crazies, an apocalyptic horror-thriller thriller whose compelling, brilliantly edited portrait of a small town under chaotic military quarantine following the outbreak of a manufactured virus plays like a trial run for Dawn of the Dead.
The good people at Arrow have worked small wonders with imperfect source material for the restorations and transfers, and all three films are supported by solid special features, including commentaries, interviews, documentaries and booklets. If you're a fan of the director's work then this is a must-have, and even if you do not warm to all three films, they are key to Romero's development as a filmmaker.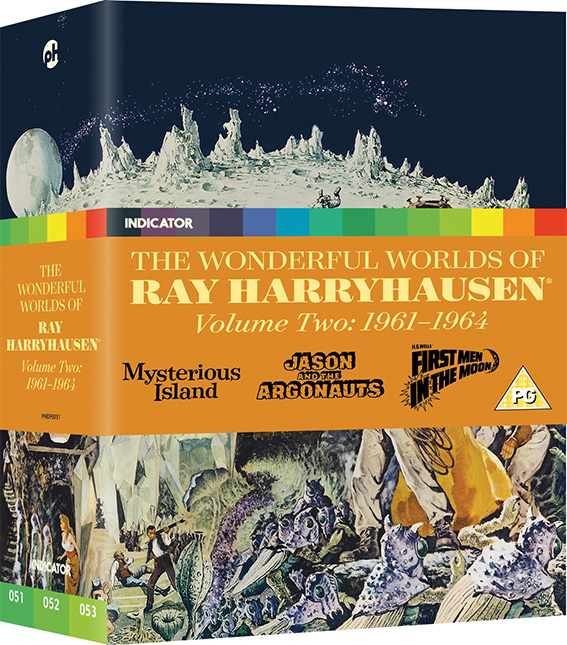 The Wonderful Worlds of Ray Harryhausen, Volume 2: 1961-1964 | Blu-ray | Indicator
I should state up front that I'm currently working on a full review of this, but even more so that the previous Harryhausen box sets from Indicator, this glorious set is so crammed with content that I'd need to transport myself back to a quieter time in my life and then take a week off from work watch and write about it all in the appropriate detail. Contained within are three of my very favourite Harryhausen films – the glorious 1963 Greek myth fantasy, Jason at the Argonauts, its immediate predecessor, Mysterious Island (1961), and the hugely entertaining H.G. Welles adaptation, The First Men in the Moon. And once you've finished watching the movies there's an absolute ton of special features to make your happy way through, including five audio commentaries, plus a slew of interviews and featurettes, an 80-page booklet and a whole lot more. If you bought Indicator's first two Harryhausen box sets then I've no doubt you already own this (or, at the very least, have it on your Christmas list), but if not then I'd get your order in promptly, as in common with its predecessors, The Wonderful Worlds of Ray Harryhausen, Volume 2: 1961-1964 is limited to 6,000 copies and is another absolute must have for fans of this unique artist's work and lovers of masterful fantasy cinema.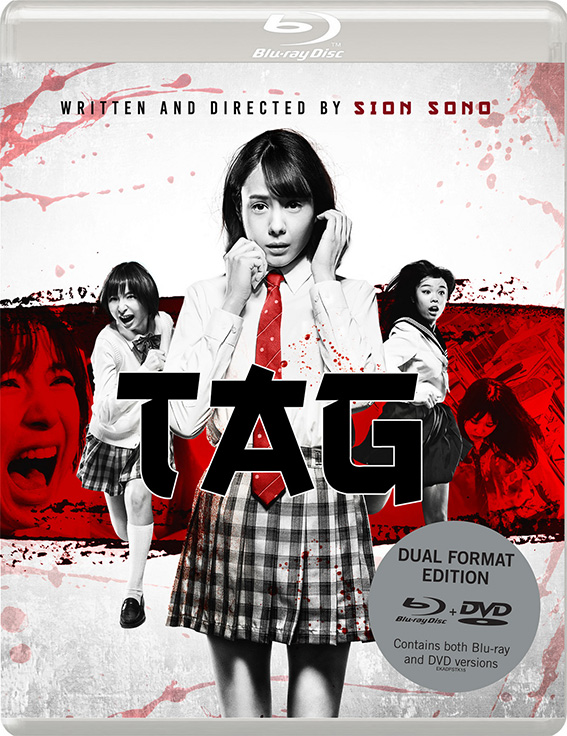 Tag | Dual Format (Blu-ray & DVD) | Eureka Entertainment
Again, I'd love to get a full review of this film up on the site as soon as possible, but this will first require a couple more viewing and some mediation time to un-fry my brain. This 2015 work from Japanese maestro Sion Sono – he of Suicide Club, Love Exposure, Cold Fish, Guilty of Romance and Tokyo Tribe – is an absolute mindfuck from its extraordinary opening scene, in which a coach-loads of cheery schoolgirls are cut in half by a lethal demonic wind, launching sole survivor Mitsuko on a mind-bending trip through a series of alternate realities and identity changes in which her life is repeatedly put in peril. It's like nothing else I've watched all year, and despite my early conviction that I was going to be left wondering what planet I was on by the end, inventive and socio-politically relevant explanations are eventually forthcoming. It's a hell of a ride, and if you're weary of formulaic mainstream movie storytelling, you'll find few more refreshing palette-cleansers than this. Not much on the disc apart from the main feature, however.
My current home situation means not only that I have less time available for review writing, but also to watch the films that are the life-blood of my current hold on sanity. Eureka once again has been unfairly victimised here, with check discs of The Tiger: An Old Hunter's Tale and Manina, The Lighthouse-Keeper's Daughter still sitting unwatched by my Blu-ray player and throwing me accusatory glances every time I walk into the room. A busy Camus is currently working on a review for Indicator's Blu-ray of The Pumpkin Eater, and I'm halfway through a slightly long-winded examination of Eyes of Laura Mars, one of those films I'm still not completely sold on that has nevertheless proved to be well worth revisiting. Personal circumstances depending, I should actually beat the release date for Eureka's upcoming Blu-ray release of Billy Wilder's marvellous The Private Life of Sherlock Holmes, in part because it offers me one of those always welcome opportunities to prattle on about one of my very favourite films, and I'm aiming to have a review posted for Second Run's Blu-ray update of Juraj Herz's extraordinary The Cremator in the next few days.
Later this evening, however, when my sister takes over the family care duties, I'm treating myself to a movie that does not require me to write about it afterwards, one I missed on its original release that I've been looking forward to seeing ever since. In case you're wondering, it's a horror movie, it's French and its subject is cannibalism. If you know your 2017 releases, I need say no more.