In what we used to say might sound like a broken record (would it now be a corrupted Spotify playlist?), I had every intention of penning a blog every weekend once the New Year got under way. Yet here we are on the second Sunday in February and the space where blogs should sit are instead host to the sound of chirping crickets and the odd ball of tumbleweed. Never make plans... The excuses are the usual tosh. After a quiet couple of weeks in January, my workload has recently skyrocketed and come the weekends I've been busier than usual with family issues. Today, however, the wind is literally blowing up a storm outside and for once I'm staying indoors in the warm for the day. I'm halfway through a review of Marcel Carné's wonderful Hôtel du Nord, which is released on Blu-ray tomorrow on the Arrow Academy label, but thought I'd take a break to give the weekend blog a quick kick in the rectum. And if you're going to talk film this week then there's one story it would be disrespectful to ignore, and that's the loss, over 100 years after his birth, of one of the Hollywood greats, Kirk Douglas.
Before I get started I should note that I'm not going to attempt an even remotely comprehensive biography here, and if that's what you're after then you won't have to look far to find one this week. This is a blog and this is Cine Outsider, so this will be a personal reflection and not an academic essay. That said, Douglas made so many fine films that even those who have elected to scribe biographical pieces have had to be selective about the titles they even mention, let alone discuss.
Given that my late father was also a film fan, I have little doubt that I saw a fair few of Douglas's films at a very young age, but my childhood memories continue to be thinned out by the passing of time. In part because of this, and a little perversely, my first surviving memory in which Douglas figures is not of one of his films but of comedian Frank Gorshin (who reached a worldwide audience as The Riddler on the Batman TV show) impersonating him and Burt Lancaster in Gunfight at the O.K. Corral, imagining them engaged a fight that consisted of them smiling broadly at each other and proclaiming, "My teeth are whiter than your teeth…" I remember laughing heartily at this despite not having seen the film in question.
I have a feeling that the first Douglas performance that had a real impact on me is without doubt his most iconic, that of the title character in Stanley Kubrick's Spartacus. And just for the record, it wasn't the most frequently referenced "I am Spartacus!" scene that stayed with me as a young teen, but the (spoiler alert) ending, where the man who was effectively the hero of the film is crucified by a roadside and then takes days to die. This was my first inkling that Douglas would sometimes play characters whose arcs were complex and could possibly end unhappily. A few years later, when I started travelling up to London's National Film Theatre (now BFI Southbank) to watch older films on the big screen, I discovered that he also had no problem playing characters who weren't in any way heroic or even that pleasant when I was knocked sideways by Billy Wilder's Ace in the Hole. In it, Douglas gives a searing performance as Chuck Tatum, a morally bankrupt journalist who keeps a man trapped in a collapsed mineshaft in order to milk the story and rejuvenate his damaged career. It's a screening that I emerged from shaking, a response triggered in no small part by what remains one of the most impactful final shots in cinema history. The chance-taking lead roles didn't end there. The following year Douglas played an unscrupulous movie producer in Vincente Minelli's The Bad and the Beautiful, and in 1958 he played ruthless, one-eyed Viking Prince Einar in Richard Fleischer's The Vikings opposite Tony Curtis, with whom he would be reunited two years later in the aforementioned Spartacus.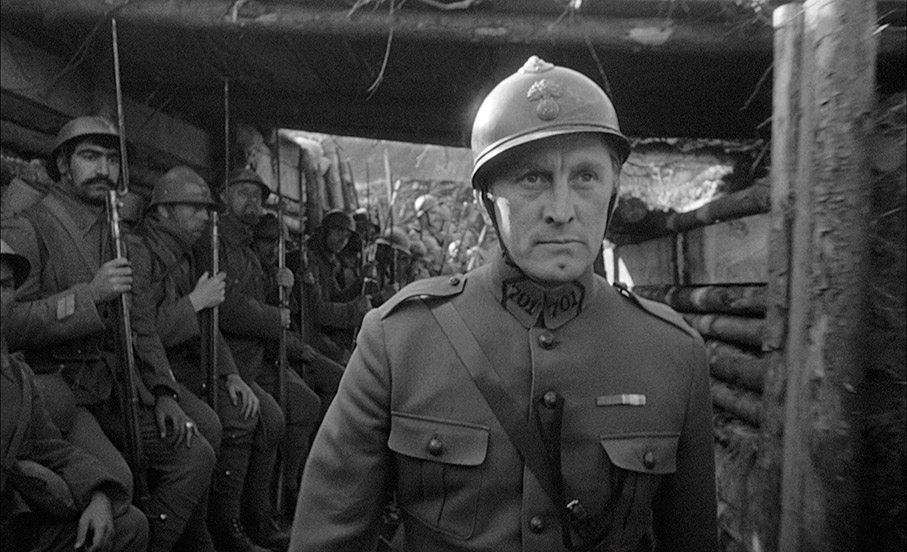 By my late teens I had seen enough great Douglas performances to actively hunt out anything he had appeared in, which in pre-home video days meant relying on TV schedules and NFT screenings. Thanks to the latter, I was captivated by his tortured portrayal of Vincent Van Gogh in Vincente Minelli's Lust for Life, which helped to compensate for the fact that the colour was so faded on this pre-restoration print that the image was borderline monochrome. I'll admit that I winced through the musical number in his otherwise engaging turn as Ned Land in Richard Fleischer's 20,000 Leagues Under the Sea, that I enjoyed by his performance as physicist Dr. Rolf Pedersen in Anthony Mann's wartime actioner, The Heroes of Telemark, and that I finally caught up with his portrayal of Doc Holliday in John Sturges' Gunfight at the O.K. Corral. But I was in my late teens before I saw the film that equalled the impact that Ace in the Hole had on my sensitive young mind when I sat down for Stanley Kubrick's devastating WWI drama, Paths of Glory, on which he was also an uncredited producer. Here Douglas is at his peak as Colonel Dax, a French Army officer with a conscience and a legal background who takes on the job of defending three soldiers, who are being unjustly court-martialled for cowardice by the glory-seeking General Mireau following the failure of an impossible attack that he ordered. I've made my case for why I believe this is one of the greatest of all war movies in my review of the brilliant Eureka Blu-ray edition, but do recall endlessly imitating Douglas's snarled delivery of the two-word line "Request denied" after that first screening. See the film and there's a good chance you'll understand why.
Since then I've seen many more Douglas performances and have yet to be seriously disappointed by any of them. I may have had a few small issues with Brian De Palma's adaptation of John Farris's The Fury but none with Douglas's performance as former CIA agent Peter Sandza, and I seem to remember that he rose above the dodgier elements of Stanley Donen's iffy post-Star Wars science fiction thriller Saturn 3. I'd need to see Hal Needham's 1979 comedy-western Cactus Jack again to confirm (or otherwise) whether Douglas was as enjoyably daffy in it as I seem to recall, and it's perhaps a tad ironic that his most fondly remembered comedy performance was as the voice of Chester Lampwick, a hobo with a claim on a possible fortune in an episode of The Simpsons titled The Day the Violence Died.
That Douglas had such a remarkable career was clearly down in no small part to his keenness to alternate commercial projects with roles that many Hollywood agents nowadays would actively discourage their clients from pursuing, as well as his skill for spotting the potential a project had to become something special. Looking through his filmography on IMDb, I quickly realised that there are still a fair few Douglas films that I have not yet seen, and speaking personally I find it rather comforting to know that even after his passing he still has the potential to surprise and delight me with a performance. And if you're somehow still discovering his work, then as well as the above-mentioned titles I'd heartily recommend all of the following:
A Letter to Three Wives (Joseph L. Mankiewicz, 1949)
The Glass Menagerie (Irving Rapper, 1950)
Detective Story (William Wyler, 1951)
The Big Sky (Howard Hawks, 1952)
Man Without a Star (King Vidor, 1955)
Last Train From Gun Hill (John Sturges, 1959)
Town Without Pity (Gottfried Reinhardt, 1961)
Lonely Are the Brave (David Miller, 1962)
Two Weeks in Another Town (Vincente Minnelli, 1962)
The List of Adrian Messenger (John Huston, 1963)
Seven Days in May (John Frankenheimer, 1964)
The War Wagon (Burt Kennedy, 1967)
There Was a Crooked Man (Joseph L. Mankiewicz, 1970)
The Man From Snowy River (George Miller, 1982)
And let's not forget that Douglas's son Michael has come close to equally Kirk's achievements both as an actor and producer. It's he that told the last story I heard about Kirk before he died, when on Mark Maron's WTF podcast he affectionately revealed that his then 102 year-old father was still sharp enough to master how to make video calls using FaceTime, but forgetful enough by then to call his son and then not remember that he'd done so and thus wake him up with a second call a couple of hours later.
RIP Kirk Douglas. Now what to watch as a fitting tribute when there are so many great titles to choose from?