So yeah, I've still not got into the habit of posting regular update blogs as I once pledged that I would and only seem to bang out one at all these days when something in my life goes horribly tits-up. So what's happened this time? Surprisingly, nothing. That said, there is going to be some disruption to my already wobbly review schedule in the coming weeks, and I thought it worth outlining why. It also gives me a chance to briefly witter on about how easily I get wound up by things that I have no doubt that most of you take in your stride.
So what's happening, then? It's simple, really. After being effectively grounded for what feels like half of my adult life by a certain pandemic and its lingering aftermath, in a couple of days I'm leaving the UK for Japan with my partner for the first time in four long years. As site regulars will by now be aware, Japan is a country that I long ago fell in love with and have strong personal and emotional ties to, and the very thought of going back there and getting as far away as I can from the ongoing clusterfuck of Brexit Britain and its lying and destructive cheerleaders for a month is filling me with gleeful anticipation.
Well, sort of. Here's the thing. I'm not the world's most relaxed and confident traveller, and my excitement for this much looked-forward to trip is being tempered by a string of small but niggling uncertainties. Before I touch on these, a little perspective is warranted, as I'm fully aware that collectively they are small fry when compared to the stomach-churning anxiety that I experienced when I first visited Japan 23 years ago, though back then I think I had good reason to be anxious. For a start, it was by far the furthest I had ever travelled, and it was the first time I had embarked on an international journey of any description alone. I was heading to a country and culture that I was fully aware was vastly different from the one in which I had grown up, and back then my Japanese language skills barely qualified as rudimentary (they have improved, but not by a whole lot). Worst of all, this was the first time I had ever even stepped onto a plane, a mode of transport that had always filled me with existential terror and that I had thus avoided using up until this point. As a result, my first ever flight(s) involved me being airbourne for a total of 16 hours. Genius decision. A final layer of icing on this cake of anxiety was the fact that when I reached the departure airport, dragging my suitcase and nervously waving my ticket, I had absolutely no idea what I was supposed to do next. And don't get me started on the nightmarish wind-up of a journey that only just got me London in the first place…
Thankfully, a good deal has changed in the subsequent years. I've since repeated that journey several times with different airlines (Korean Air remains my favourite), and am well aware by now of how the check-in and boarding procedures work. I know what to expect during the flight itself, and am familiar with the customs and immigration procedures when I land in Japan. I'm still not crazy about boarding a huge-winged metal tube that all logic dictates is far too heavy to get off the ground, and my buttocks still gnaw at my seat in terror every time the damned thing takes off and lands or hits a pocket of turbulence. But the flight itself takes so long that this fear eventually mutates into boredom, and a combination of tiredness and my ageing body soon sees me stuck between two worlds, too dazed to focus on a movie or a book but too uncomfortable to actually get off to sleep. Oh, I just love long flights.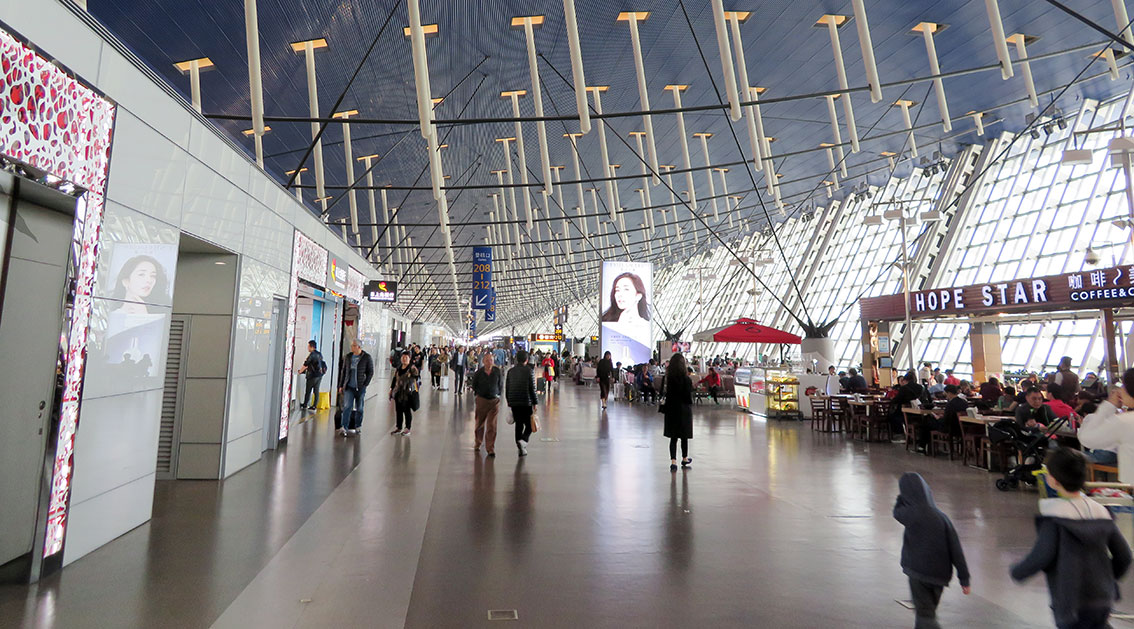 All this aside, I will say that as someone whose disability means that he is reliant on crutches if any serious walking is necessary, I was seriously impressed by the support provided by the Korean Air staff on my last Japan trip. At both Incheon and Kansai airports, I was met at the airplane door by a member of the staff with a wheelchair, and whisked swiftly through security and to my next gate or the appropriate waiting area. At Kansai, the cheerful gentleman charged with the task even wheeled me all the way to the airport hotel reception desk. I'm travelling with a different airline this time (the hefty prices rise for tickets has forced that one on me), and at this stage do not know if the help I have requested will be the equal to what was previously provided. And I'm changing planes again at Seoul's Incheon Airport, which is pretty darned huge, big enough indeed to present a serious challenge for someone with my mobility issues and who needs to get from one end of the airport to the other. This small uncertainty is the cause of stress point number one.
Which leads me directly to stress point number two. With the rise in ticket prices effectively forcing us to switch to a cheaper (Korean) airline, the waiting time between our arrival at Incheon and the departure of our connecting flight to Ōsaka is going to be a teeny bit longer than its four-hour Korean Air equivalent. Oh hell, it's 16 bloody hours, which means we're going to have to spend the whole night in the airport, with nowhere comfy to lie down and get some restful kip. For the young and adventurous I'm sure this is fine, but at my age you get aches where you weren't even aware you had body parts, and as sleeping on planes is an art that I have never mastered, I'm fully expecting to be seriously knackered even before we land at Seoul. My partner thinks this will all be rather fun. I have a feeling that our definitions of that term may differ. A water slide is fun, getting drunk with the locals in a backstreet bar in Ōsaka is great fun. Being stuck in an airport for 16 hours overnight after a 14-hour flight most definitely is not.
Then there's the process of entering Japan, which has unsurprisingly changed since my last visit. The worldwide spread of Covid 19 is the reason we've been unable to return to the country until now, as for two years Japan effectively closed its borders to foreign travellers in an attempt to keep the virus from spreading as widely there as it had elsewhere. This worked for a while, but the more infectious Omicron variant then formed an unholy alliance with the crammed nature of Japanese city life – where large numbers of people work, travel, shop and dine in close proximity – and cases skyrocketed anyway. With the lack of tourism really starting to impact on the Japanese economy, the decision was eventually made to open up the country again to foreign visitors, and we immidiately began planning this journey.
Now, if all goes well, this has the potential to be the smoothest section of the trip, as an online process has been set up to allow visitors to the country to complete the required immigration forms in advance, and even to upload the proof of triple vaccination that is required for easy entry. Theoretically, all I have to do now at specific points of entry is wave my iPhone with the Visit Japan web page open or the appropriate QR code displayed, and I should be able to scoot through without any real issue. No stress there, then. You'd think that, wouldn't you? The fact that this process is all new to me has added a small whisper of uncertainty to my easily triggered travel anxiety, but my real concern is for my partner. She has never shown even the slightest interest in owing a mobile phone, so in the hope of making the entry process easier for her too, I've given her my old but still working iPhone 6 with its iffy charging port, and used it to register her trip on the Visit Japan web page. All sorted, then. Well… Maybe it's the age of the phone or my partner's dual nationality, but the web page simply refuses to upload the required pictures of her Covid vaccination certificates, so she's resigned to having to do that bit with the paper printouts on her arrival. Adding to the fun is her complete lack of experience with smartphones of any kind, and as she'll be in a different queue to me, I will not be in a position to assist when the customs declaration QR codes are needed. That said, I have little doubt that the Kansai airport staff will be as heroically helpful as ever, and she at least has no language barrier issues to deal with. Oh, it'll all work out fine, I'm sure (I'm not, but it's always good to sound positive).
My biggest stress point of all is also Covid-related, but also the hardest to explain to more level-headed people. It's simply this – since the start of the pandemic, I've just not been anywhere (I don't count hospital trips), and following the lockdowns, 14 months of working from home, and my subsequent solo living and working, I have a feeling that I have become a little too used to the resulting social isolation, and the thought of breaking out and returning to the real world in such a grand manner is a little disconcerting. I'm also aware that my almost unconscious embracement of this lifestyle has ensured that I have so far dodged the Covid bullet, and that breaking it raises the risk of catching it. And yes, I know that for some (vaccinated) people the symptoms have been akin to a heavy cold, but I've met others who describe having it as worst they've ever felt. Despite the claims made by politicians and the client media, it's absolutely still with us. I just checked the official statistics, and in the UK in the past seven days, 24,298 people tested positive for Covid, 6,288 were admitted to hospital suffering from more serious symptoms, and 379 died of it, hence my apprehension about heading to crowded places like airports and airplanes. I'm going on holiday, dammit – I don't mind at all falling in line with the still widespread practice of wearing face masks in all public places in Japan (I'm not going to be one of those self-centred gaijin twats who refuse to wear one because they don't do so in their home country), but I'd rather not spend half a holiday that has cost me all my savings stuck in my tiny hotel room feeling like I've been hit by a mucus asteroid.
So how is all this going to affect the site in my absence? To be honest, at this stage I'm uncertain. The easy option would be to do what I did during my first two Japanese trips and simply put the site on hold for a few weeks, but I'm not happy with that this time. Illness and injury have already impacted on my output and I was just starting to get back up to a more productive speed, which has already stalled a little due to my daytime job and the work being thrown at in me for hasty completion before I depart. Yes, I'll be spending most of my time travelling, socialising, eating and drinking (especially those last two), and for four days will be zoning out completely at an onsen resort. But I'm taking my trusty and software-loaded MacBook Air and a few portable drives with me, and for the duration of the trip am renting a portable wi-fi, a battery-powered device that connects to 4G and 5G signals and provides you with a personal hotspot to which you can connect all of your devices, wherever you go.
I thus fully intend to keep posting any interesting news stories that are sent my way, as well as any reviews completed by my fellow site writers – I know Gary is already working on a few as I type this. As for me, let's just say that I suspect that my intentions are stronger than my resolve. Before my last trip, my stated objective was to write and post three or four reviews while I was away, but in the end I was just having too much fun to knuckle down, and my late evening down time was spent editing video diaries that I was shooting for expectant family and friends, something I'm going to be doing again on this trip. Despite that, I'm going to make a similar pledge, but be ready for it to yield the same paucity of results. Ideally, I would like to cover any outstanding review discs, plus any that land on my doormat in the next couple of days. The plan is to run them all through my home entertainment system before leaving to do the sound and vision specs, then transfer them to a hard drive and try to watch and write about as many of them as I can while I am away. At present, I have a few titles lined up, a couple of which have already hit the shelves but that are, I believe, well worth covering anyway – I'm currently working to complete a review Indicator's 2-disc release of Sergio Sollima's The Big Gundown. And for the first couple of days I'm going to have time to kill – it's a bloody long flight and an even longer stopover, and the film selection on most airline in-flight entertainment systems is usually pants.
So if updates are little erratic for the next few weeks, now you know why. It will be irritating if, for some weird reason, the portable wi-fi device does not allow FTP uploads, but I'm fairly certain the connection at my hotel has no such restrictions. So while I'm tempted to sign off by saying that I'll see you all in a month's time – figuratively speaking, at least – the likelihood is that I'll still be posting and tweeting while I'm away, and may even throw up a couple of travel photos for the smug hell of it. Of course, I still have four or five days of disorientating jetlag to look forward to, but I just know it'll be worth it. Right, I'd better start packing…