Wisconsin-born, but forever personifying the pop culture image of the wet-dream, Californian blond bombshell, Heather Graham's career defining characters in Boogie Nights (Roller Girl) and Austin Powers: The Spy Who Shagged Me (Felicity Shagwell), have proved both a blessing and a curse for an actress clearly keen to move on. Her place in Hollywood history ensured, the question is, where does she go from here and are audiences willing to go with her?
On first glance, the evidence would suggest no. Other than a recurring guest spot on medical comedy, Scrubs, none of her roles post Austin Powers have struck such a chord with the general public or dented the box office in anything near the same way. Yet, even a cursory glance at her filmography makes it clear it's not for lack of trying. As she herself has said often about being cast as Roller Girl and the subsequent impact it had on her career, it was all down to timing, and having watched at least two truly fantastic performances from her in the last decade, I'd say the timing has been off ever since.
The year that should have given her career a new lease of life and had people looking at her in an entirely new light was 2007. Adrift in Manhattan and Broken, were two small-budgeted independent films with hardly any distribution that nobody saw. In both cases, the films were not helped by critics, who clearly had an axe to grind, spending the length of their reviews taking the filmmakers to task (not altogether unfairly), without taking the time to probably evaluate Graham's performances. The former was ignored, and the latter unanimously heaped upon with savage reviews  and Graham's trademark doe-eyed, ditzy sex bomb was nowhere to be seen in either of them. In Adrift, an interconnected tale of three lost souls, Graham cuts a reserved, solitary figure, struggling – and failing – to overcome profound loss in her life. No longer cast as the lover who is proof of her partner's virility or hedonistic one night stand, Graham moves as far away as possible from what's expected in her portrayal of a grieving widow; those famous comely, "come hither eyes" wrenched opened like still fresh wounds, betraying deep wells of instinct and feeling wasting away in a woman who's a broken circuit. Adrift with no anchor.
She was Broken once again the same year, exploding the cliché (in a film full of them) of the naive Midwesterner fresh off the bus to LA, whose showbiz dreams invariably end in tatters and track marks in the junkie gutter. For all its sex, drugs and rock 'n' roll that came off as too tried-and-true for most, Graham finds humanity where the film is seedy; a still barely beating heart at rock bottom. Once again, this is all communicated in her most formidable physical asset, her eyes. Making ends meet on the night shift at a local dinner, Hope, a helplessly co-dependent heroin addict, encounters a rouges gallery of customers who represent the various outcomes her path to Los Angels could have – and still could – lead her. In this dream that's very much a sub-Lynchian but still effective nightmare, Graham's eyes are not so much windows to the soul as they are shifting rubix cube configurations of possibilities no longer in reach (discovered songwriter/movie star), and those she's still dangerously close to falling into (prostitution). When she's not shooting up, singing or shagging, Graham spends much of the film reacting to actors playing splintered shards of her personality, absorbing their tirades and making them physically manifest. And though her own words and mannerisms point to a disgust and desperation often in direct conflict with one another, there's always the ember of a spark in her eye, a flicker of hope that she might still find forge her own path out of the mental and spiritual quagmire she's fallen into.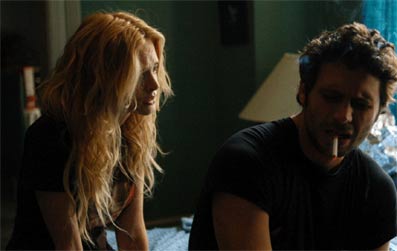 Both films are currently available on region 1 DVD, and while neither of them are sure-fire winners guaranteed to suit every taste, the performances of Heather Graham in both suggest a new course in her career as a dramatic actress that at age 40 (unbelievable, I know), is just in its initial stage. The talent is not in doubt, it's more a question of shrewd selection of projects, getting the critics behind them to increase audience support, and that most unknowable, unfathomable ingredient: timing.
That's what I would suggest as a starting point for a re-evaluation of Graham's abilities as an actress, but over a surprisingly lengthy roll call of credits, there's certainly much more worth checking out. I go back and forth on her best work, yet Two Girls and a Guy is undoubtedly my favourite. The watery-eyed vulnerability on evidence in Boogie Nights and Austin Powers, is that which veils a set of teeth, in a film where the actress gets to display a rarely seen dark side as well as showcasing her well-known but unheralded aptitude for comedy. Anyone who can keep pace with a hustler like James Toback for a director and an aggressive showman like Robert Downey Jr without visibly flagging gets my vote. Downey is indeed, another reason this overlooked film needs to be reappraised in light of the actor's new found popularity as a leading man; the playboy charisma of Tony Stark is given an early outing. To say that Graham and Natasha Gregson-Wagner (the other girl of the title) are more than equal to the task of sparring partners for what could have so easily become a one man show, would not be putting too fine a point on it.
Cake, Miss Conception and Baby on Board are inarguably best-forgotten disastrous misfires. In the case of the most recent of these three, "horsewomen-of-the-rom-com-apocalypse" abominations, romance and comedy are both M.I.A, in an epically mis-(judged) attempt to do American Pie-style raunch and gross out humour for older women ten years too late. Most actresses would be walking away from wrecks like these hanging their heads in shame, for Graham quite the opposite: dignity fully intact with an upbeat smile on her face that promises she did her best with what she was given. She can certainly never be accused of not being valiant in these efforts. The more uninspired the project, the more intent Graham seems to be on that old adage of making lemons, and it's infectious and charming enough to get you to the end credits based on her presence alone. She might not breathe the necessary life into material less than watchable, but at least for those ninety minutes she's spirited enough to make you believe that what you're watching is a whole lot better than you soon come to realise once the credits role.
One spirited comedic turn that manages to much improve the movie built around it is Committed. In her first bona-fide lead performance, Graham plays a character chasing her husband across the state of Texas that could come across as dangerously unhinged in the hands of an actress less willing to poke fun at herself. Graham is guileless, yet commendably determined, in a way that's as quirkily winning as the now retro Gen-X garb with dreads she sports in the movie from 2000.
In Boogie Woogie, an Altman-esque satire of the London gallery world, she moves from ingénue to ingénue facilitator as she attempts to climb from office assistant to gallery owner, her obvious aspirations leaving her wide open to be exploited by a cruelly ambitious video artist. There's a nude lesbian scene, but it's hardly the stuff of boy's fantasy that characterized her most famous roles. Instead, it's a moment of risky vulnerability for her character that visualizes the dynamic between user and used and how the two roles can so easily switch. In a cast that includes Danny Huston, Gillian Anderson, Stellan Skarsgard and Christopher Lee, her scenes stand out.
Most recently I took in The Exterminators, a surprisingly above average dark comedy in an age where such films lack the requisite venom or courage in their convictions to deliver (on their) wickedly intriguing premises.  It's as worthy a recent attempt as any. I've always smarted at the Oprah Winfrey "bookclub as film" school of counter programming, where women, run ragged by their men, rather than do anything about it, find solidarity in the misery of other women. This is one "sisters doing it for themselves" film where the sisters are actually proactive in their doing, bumping off the men in their lives who make them not worth living. It's Divine Secrets of the Ya-Ya Sisterhood, going on a Heathers-inspired killing spree. In a film full of larger than life female showboating (none larger than Best in Show's, hilarious Jennifer Coolidge), Graham this time leaves the goofy slapstick to others, brilliantly playing straight foil, and in over her head; wanting to stop the madness but without a clue or backbone as to how to go about it. She faces one of her biggest actorly challenges in the film's one major wardrobe hiccup of veering dangerously close to being undone by a pair of ridiculously oversized joke-shop geek specs, but once she trashes those it's smooth sailing and she's never looked better doing it than in this film. If she can continue to look this good into her forties, she can certainly maintain the more fickle of her fanbase.
As you'll hear in the interview below, she has many more indies on the horizon. The impact these projects will have on her career is less a question of the quality of the work but rather one of having the right distribution deals in place and a proper chance for moviegoers to check them out.
If this and my piece on Josh Hartnett have persuaded you in anything, it's that some of the best unseen and underappreciated work in recent independent film is being performed by the unlikeliest of actors.


---

This exclusive interview with Heather Graham was conducted at the
2010 Ischia Global Film & Music Festival by Timothy E. RAW.
Apologies for the brief soundtrack glitch that occurs just after the one
minute mark, which we have been unable to correct at this stage.
If you are unable to play the video click here.