| | |
| --- | --- |
| | "There were academics and theologians who spent hours calculating what they thought was the precise age of the Earth, on the basis of the Biblical account of it. And as early as 1650, James Ussher had come to the startlingly precise conclusion that the Earth was created in 4004 B.C. on October the 22nd – in the evening, apparently. What God had been doing that morning is still open to conjecture." |
| | Jonathan Miller, A Rough History of Disbelief, Episode 2, Noughts and Crosses |
The deaths of three famous people were reported yesterday, all lining up with each other, jostling for media space. Writer Clive James seems to have headlined most of today's press while chef Gary Rhodes' death from a blow to the head at 59 gives this 58 year old a shiver. The third's work as a director and writer has personally moved me so please allow a short but heartfelt tribute. Sir Jonathan Miller CBE has died and the world is poorer for his absence. People of his calibre are needed now more than ever. I read a tweet from author Philip Pullman this morning that makes this need even clearer; "There comes a point in the history of a nation where stupidity is indistinguishable from wickedness. That's where we are now." With bias, lies and deception now a powerful whirlwind destroying any semblance of civility and fairness, our politics and country seem to be in free fall. People like the ever-curious Jonathan Miller (he credited his 'rampant curiosity' for getting him into medicine at the start of his career) would be a counterbalance to reigning stupidity in public discourse. It's particularly upsetting that such an extraordinary mind was ravaged by Alzheimer's, a neurodegenerative disease that cares little about the quality of that which it slowly destroys.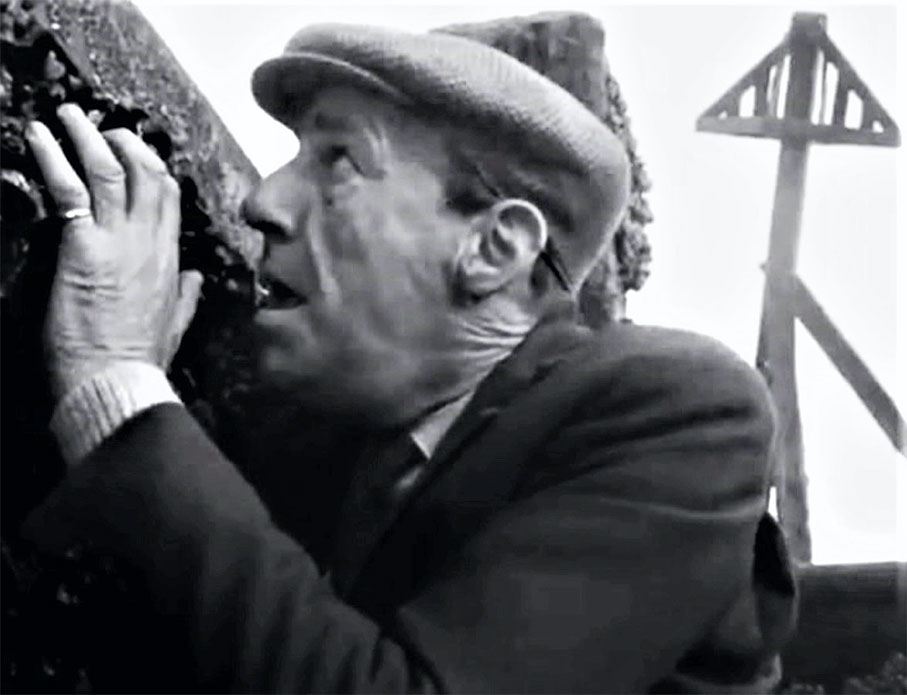 I was too young to appreciate his writing and performing role in the 60s theatrical comedy sensation Beyond The Fringe and too far from London for most of my life to appreciate his stunning operatic work (I do know his efforts were in evidence all over the UK and the rest of the world). Despite his well-earned theatrical fame, I became a fan of Miller's work almost solely down to one stunning supernatural drama he directed for the BBC's Omnibus flagship arts programme, a dramatisation of M.R. James' story Oh, Whistle and I'll Come To You, My Lad. A haunting character study of an academic on a walking holiday (played superbly by Michael Hordern), the film weaves a spell that is very hard to explain. Alerted to this 1968 production in the mid-80s, I was smitten and for months afterwards would still be doing impressions of Hordern as he adlibs his way through a terrifying tale of summoning up forces he cannot accept as real. "Wash and brush up!" is the phrase that comes to mind. The beach scenes where Hordern first encounters a supernatural presence were shot thirty minutes drive from my home. Dog walking there, I never fail to take a few furtive glances over my shoulder. I wished the 2010 John Hurt remake well but it pales in comparison to Miller's original.
Almost fifteen years ago Miller's other powerful effect on my life was screened on BBC 4. It was on the wave of an atheistic renaissance in popular culture and titled A Rough History of Disbelief. The series was cunningly subversive and overturned the applecart of 'normal' documentary right from the off. How can anyone (particularly a film and TV technician like myself) not be enchanted by these lines of introduction? "I will not be seen leaning over a balcony like this watching René Descartes nibbling his quill as he struggles with the problem of mind/brain duality. And there will be no blurred slow motion shots of people making leaps of faith… I suppose the doctrines and dogmas of modern television require me to present you with a trailer of what you have in store…" which the programme duly delivers. Almost reluctantly. Petulantly even! Miller's command of his subject means that the three part series is never less than enthralling (he is singing to the choir but with such a lovely voice) despite the fact that there's nothing to actually shoot except for churches and old libraries. Series like these are really hard to pull off. Inside The Medieval Mind was another such BBC 4 production, a series that brilliantly informed while being hamstrung in terms of what could be plausibly and relevantly filmed. Miller is a fine presenter and in just three hour long episodes presents an entertaining and hugely informative light jog through two thousand years of people bravely saying "Now, hang on a minute…"
I sent Miller an unabashed fan letter after seeing the series and was overjoyed to get a letter back, one that was kind, self deprecating, and mentioning that he still enjoys Michael Hordern's performance, "for old time's sake…"
Bless you, Jonathan. You shall be missed.