The London MCM Expo takes place every six months at the ExCel Center in London's Docklands area. I went along to the convention (for that is what it is) last October, and was thoroughly impressed by what I found there; the place is like a animé, manga, comics, sci-fi and collectibles shopping arcade like Forbidden Planet, the large comics and collectibles superstore on Shaftesbury Avenue, I could've spent hours in thereif only I had had more money!
Well, this time, I had more money. I visited the Expo on the Saturday (the busiest day, but also the day with the most activities), but although I bought a number of items that I wanted, such as some Star Trek books I've had my eye on, and an original-release copy of an Angel box-set, I was was very slightly disappointed. Compared to October, it just didn't seem as good.
Perhaps it was the fact that October's convention was the first time I'd been to such an eventI often find, and I'm sure many of you will agree, that the initial sense of wonder and excitement wears off after you've been somewhere more than once. Alternatively, it could be that there wasn't much of a "buzz" in the air aside from X-Men 3, there were no recent cinema sci-fi/fantasy releases (unlike October last year, which had King Kong, Narnia and Harry Potter) to hold people's interest. The theme for this convention, supposedly, Star Trek's upcoming 40th anniversary, and so the majority of star guests were from the various Trek series. The number of Trek-related merchant's stalls was unchanged, though, so it seems that this aspect wasn't well publicised.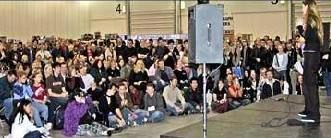 A presentation in the Expo's main viewing theatre
Staying on the subject of market stalls: there were a great many stalls that seemed to be selling cut-price DVDs and box-setsfor example, £4.99 for the recently-released Revenge of the Sith. The reason behind this incredibly low price is that the DVDs are all Region 1 editions, imported very cheaply over here, yet virtually unplayable to anyone unfamiliar with DVD technology. Although the expected crowd at this convention could be expected to know how to deal with the various regions, it still sends an unwelcome air of dishonesty into the conventionespecially at one stall, which had applied fake BBFC ratings stickers to Region 1 discs in order to make them seem like Region 2 copies.
Animé, as regulars to this site might know, happens to be my area of expertise. The four major animé publishersADV, Manga, MVM and Beezwere represented by stalls of varying size, all selling their released animé at prices very close to the RRP. Given that you can usually find them much cheaper if you're prepared to shop around, I gave them a miss. Also on the animé front, there was a presentation area playing single episodes from various up-and-coming animé releasesI spotted She, The Ultimate Weapon, Burst Angel, Submarine 707R, Battle Vixens and Tetsujin 28along with previews of the upcoming live-action Tetsujin movie.
Nintendo and Microsoft had areas dedicated to their DS and Xbox 360 consoles. I'd have to say that Nintendo's was the better of the two, as they had more games playing (the Xbox was limited to the new X-Men 3 game), but they missed the opportunity to set up a wireless "hotspot" that would let DS owners download game demos onto their own consoles. Atari was the other major gaming company represented at the convention, with a specially-outfitted bus full of laptops playing games like Fahrenheit.
The final frontier for the expo was trading cards. Upper Deck Entertainment were strangely missing from last year's event, but this year they were out in full force. Their main showcase was their signature license, the ever-popular Yu-Gi-Oh. I myself maintain a collection of the cards, but very rarely play against other people. I made an exception this time, winning my first game but losing my second. I was given a copy of Yu-Gi-Oh Online on my way out; in fact, everyone was, which seemed more of a testament to the game's popularity than anythingthey can't get people to buy them, so they're giving them away! Wizards of the Coast turned up with their Pokémon trading card game, which is rapidly on the decline, and Magic: The Gathering, which is still going strong after thirteen years and remains the most popular trading card game in the world. Finally, WizKids' HeroClix had a small area all to themselves.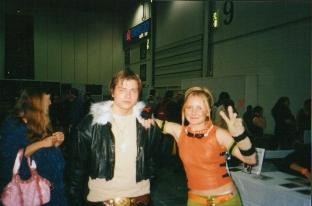 A couple of Final Fantasy cosplayers having a good time
Cosplay (the practice of dressing up as a character from an animé series or video game) is a mainstay of the London Expo. This year, the cosplayers weren't quite as memorablethere were more generic catgirls milling around, and characters whom I couldn't identify, as opposed to October's event which saw a great many Final Fantasy characters in attendence. My prize for the most elaborate costumes go to a group of attendees dressed in full robes and armour from, I believe, The Chronicles of Riddick. Also in the "armoured" category were a couple of Imperial Stormtroopers, a female Boba Fett, and a full-sized Dalek (roaming around yelling out-of-character statements like "GIVE ME A HUG!"). All of the cosplayers I saw were excellent; even the ones who didn't really have the right build for the character did a great job with making the actual costume. That kind of skill is something I admire. I'd like to cosplay one day, but probably only something simpleI think the simplest "costume" of all is the suit and tie, shades and earpiece of Agent Smith (of The Matrix fame) – can anyone think of anything simpler? Apart from Tarzan, of course.
In conclusion, although it wasn't quite as good as last year's convention (for whatever reason), I'll still be going back to it when the next one rolls around in October. If you're never been to an event like this, and you're a fan of animé, manga or sci-fi, try to find one in your areaI guarantee you won't be disappointed.
Further information: http://www.londonexpo.com/