On the face of it, 2010 seems something of 'quiet' year when compared it's big-ticket, award-winning highs predecessor. Not only were we were left without a summer blockbuster/genuine event movie of old, but our screens were also dominated, as I predicted (and feared) by remakes, reboots and sequels – the unholy trinity of contemporary filmmaking. Add to that the constraints of the economic downturn and all that brought with it, not least the demise of the UK Film Council at the hand of the newly-elected coalition government and things look rather bleak indeed. Whatever your opinion on the decision itself, you'd be forgiven for thinking this piece will be a lament regarding the state of the film industry on a global scale. For those with a keen interest in British cinema, this melancholia will be nothing new, since articles of that nature have floated around in print and online for some years. For that reason amongst many others, I've chosen to take a rather timely leaf from the book of Dennis Potter's The Singing Detective and 'Ac-Cent-Tchu-Ate the Positive.'
Yes, fair readers, rejoice! I pledge, that for the rest of this article will be free of negative discussion, rants, wistful musings about childhood favourites ruined or the continued devastation wrought by one Mr Michael Bay! Working within such rigorous confines, you're probably wondering what's left to write about.
Nothing!
I jest of course, since I know I'm in good company, and a vast amount of you reading this very article follow the same stringent rubric year upon year, and find a whole wealth of films to while away many an hour. This year, more than ever has reinforced by belief that modes of cinema consumption are changing; diversifying along with our taste. If the ceiling of your local multiplex holds more interest than it's release roster or your local art cinema venue is too far away or under threat), then there are many and varied avenues available to you, if you know where to look of course. As those of you well-versed in filmic scavenger hunts will know, reading more and looking deeper often leads to some surprising and wonderful discoveries.
Alongside the more traditional ports of call in the form of bricks-and-mortar shops or buying direct from a distributor's site, there are many and varied options available at the touch of a button. Thanks to the advent of Video-on-demand television services, iTunes, the rise in popularity of film rental sites such as LoveFilm and Cinema Paradiso (and Netflix for readers across the pond) and other online cinema avenues such as MUBI, all proving that you don't need to go to a cinema to call yourself a cinephile.
Even the oft-forgotten film channels have shown their usage this year, giving me the opportunity to finally see – amongst many others – Sam Mendes' Away We Go (definitely the quirky, amusing and yet incredibly heartfelt B-side to the dramatic and emotionally-draining powerhouse Revolutionary Road's A-side), and Max Mayers' Adam (a bittersweet and refreshingly honest in a way I never thought possible from the outset), both very different and interesting takes on contemporary romance, very much following on from where Marc Webb's (500) Days of Summer left off.
As you'll have gathered, this year has also been marked by how many films I've managed to miss for one reason or another, including Lee Daniels' Precious (gasp), Stuart Hazeldine's Exam, Sofia Coppola's Somewhere, the wonderful curio that is Bansky's Exit Through the Gift Shop, David Fincher's The Social Network (even bigger gasp!) and Henry Joost and Ariel Schulman's contentious and intriguing documentary Catfish, to name but a few.
Given the combination of outlets I've used, it's actually been much harder to make this list than I originally thought, so I leave you with ten of my favourite films (plus five honourable mentions), DVD and Blu-rays and the same number of speculative picks for 2011. In no particular order of course, if I'd tried my hand at ranking, the decision process would probably still be ongoing!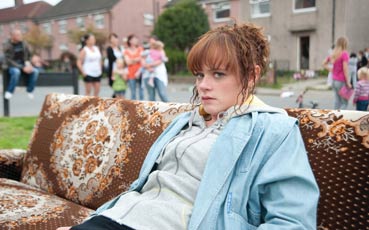 The Arbor
On paper, Clio Barnard's film is a biopic of the late Bradford-born acclaimed playwright Andrea Dunbar (best known for Rita, Sue and Bob Too, which she later adapted for film, directed by Alan Clarke). On screen, it's that and so much more. Barnard casts aside the tropes of social realism and instead the film's heart comes from the people who knew Dunbar best; her family at friends. Their words are the dialogue spoken by the cast, but not in the traditional sense. Acting, quite literally, as the stand-ins for their real-life counterparts, they lip-synch the interview gathered by the director over a two year span. The result is an inventive, poignant and completely unique tribute to a woman of singular gifts. Extraordinary.
Another Year
Mike Leigh's first film since the triumphs of Happy-Go-Lucky. Though it lacks the clear hook of its predecessor, which would likely bring a wider audience and some fresh eyes, it's arguable whether such things are applicable when discussing Leigh, since the value of his reputation and contributions to British cinema far outweigh that of ticket sales. Like the best vintage wines, Leigh's work gets better with age. It's an appropriate comparison, since in a world obsessed with youth; Leigh retains his nonconformist edge by daring to explore the lives of character in their middle age. As the title implies, we see a year in the life of happily-married couple Gerri (Ruth Sheen) and Tom (Jim Broadbent) unfold before us. This isn't a film which lays everything bare or tells its audience everything. Subtle and nuanced in terms of narrative structure, Another Year showcases Leigh in reflective mood. The film's bolder strokes come from the universally strong cast, with Lesley Manville on particularly good form as Gerri's colleague Mary.
Certified Copy
A Tuscan set film starring Juliette Binoche and opera singer William Shimell, which utilises French, Italian and English dialogue to tell its tale doesn't exactly scream Abbas Kiarostami, but then again, given that the Iranian director has a reputation for confounding expectations, that's hardly a surprise. Part comedy of manners, part odd couple romance and part mediation on the relationship between the real, the fake and our perception of both, the story centres on English writer, James Miller and his chance meeting with a local woman, as he prepares to launch the Italian version of his novel. Kiarostami's film is a fascinating and largely enjoyable expereince, due largely to the superior skill of the director and his leading lady Binoche.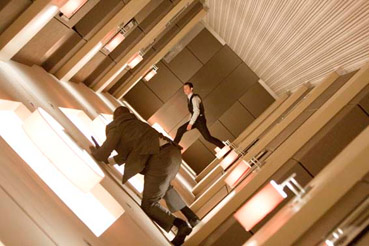 Inception (film review)
Christopher Nolan's film stands out rather in this list, as something of a mainstream pick compared the company it's keeping. However, it's not here because of Nolan's successes with The Dark Night or even because of the star-wattage of Leonardo DiCaprio (even though I prefer this film and his performance over that of Shutter Island). Quite simply, it's here because of a concept, narrative and visual style that managed to remind me in no uncertain terms that not only does good and clever contemporary cinema does still exist, but also that popular doesn't always mean bad. It wowed me in a way I hadn't been in years, and even managed to eclipse my enjoyment of James Cameron's epic CGI tour de force, Avatar. For that, Mr Nolan, I applaud you.
The Scouting Book for Boys
This film has two debuts for the price of one, marking the entrance of Tom Harper into feature film territory along with writer Jack Thorne. This deceptively simply story of childhood friends David (Thomas Turgoose) and Emily (Halliday Grainger) wiling away their summer is a keenly-observed film with a lush aesthetic. Thorne's writing is sharp, honest and genuinely funny, which allows tonal shifts between light and dark to occur in a way that feels natural rather than contrived. Elsewhere, Harper's skill with shape and space combines to dazzling effect with that of cinematographer Robbie Ryan (who previously worked on Andrea Arnold's Red Road and Fish Tank) and the pair make Norfolk look both warm and romantic, imbuing the film with a golden-hued kind of nostalgia that'll have you longing for summer's of old. Don't be fooled though, this isn't just a picturesque coming-of-age tale. Turgoose and Grainger are, utterly compelling to watch and the chemistry between the two is entirely believable. If you missed it during its theatrical run, seek it out on DVD, you won't be disappointed.
White Material
For those who have seen Claire Denis' stunning debut film Chocolat, her latest, White Material plays as an equally beautiful, but rather neater companion. Though the film contains all the usual sensory and emotive trademarks for which Denis is admired, their presentation here is altogether more streamlined, lending the film an inescapable air of tension that's as taught as a tripwire, simply because the director knows this territory so well, unlike her enigmatic heroine Maria Viral (a magnificent Isabelle Huppert), struggling to survive and keep her coffee plantation afloat as her world falls apart right before her eyes. After the French military are driven out by the local rebel militia, whose leader, only as 'the boxer' (Denis regular Isaach de Bankolé) has gone to ground, she and the other remaining residents are left to fend for themselves. A potent, bold, and intriguing character study of the highest order.
The Kids Are Alright
Lisa Cholodenko's modern take on the nuclear family is much more than a film about two teenagers Joni (Mia Wasikowska) and Laser (Josh Hutcherson) who live in an affluent suburb with their smothers Nic (Annette Benning) and Jules (Julianne Moore) in domestic bliss. With Joni soon to flee the nest for college, younger brother Laser, hankers after a male role model (or perhaps just a better one than his laidback best friend) so the siblings hatch a plan to contact the cyrobank and find the identity of their biological father, who turns out to be the effortlessly cool, motorcycle-riding Paul (Mark Ruffalo). Moving, funny and heartfelt, it's no stretch to say that Cholodenko's film is an important and daring piece of contemporary cinema. I say daring since it rather contentiously takes on the issue of what constitutes a family and explores it from all sides, without vilifying or marginalising Paul. In essence, this is Benning and Moore's show (with Ruffalo, as ever, strong in support), and Cholodenko's considerable skill with actors brings out the best in them both. Nic allows Benning to finally step out from the considerable shadow of American Beauty's Carolyn Burnham.
It shows, in no uncertain terms how much progress has been made in terms of acceptance for LGBT narratives in mainstream cinema. Once, stories like this one were marginalised; the preserve of young directors and created on little to no budget, which ultimately dictated the limited where and when the final film would be seen. A decade later there now exists a film directed by an out filmmaker, starring not one, but two Oscar-winning actresses, and it's their performance rather than the sexual orientation of their characters grabbing all the attention. A landmark film and Cholodenko's best to date.
Chico and Rita
Combining the talents of filmmaker Fernando Trueba and artist and designer Javier Mariscal, this 1940s love story set against the backdrop of both Cuban and Mexican jazz highlights how much our perception of animation has changed from something squarely aimed at children and therefore of lesser value as a result to a legimate form of artistic expression. As with any viewer of Ari Folman's visionary Waltz With Bashir, Sylvain Chomet's Les triplettes de Belleville/ Belleville Rendez-Vous and or anything made by Studio Ghibli can attest, the fact the film's main characters are in two dimensions rather than three will soon be forgotten and this is certainly true of Chico and Rita, since you become completely immersed in the world of piano player Chico and singer Rita (voiced by Eman Xor Oña and Limara Meneses respectively) almost immediately. Their turbulent romance packs as big an emotional punch as any of its live action counter parts, and the surprising scale of the story puts most of them to shame. Well worth seeking out.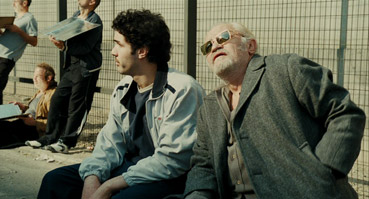 Un prophète / A Prophet (DVD review)
I caught Jacques Audiard's film after much pre-reading and a fair few trophies in the cabinet so for Tahar Rahim, exceptional in his first leading role. Thanks to that, I already had some idea what I was in for, but I didn't bargain on how much of an impact it would leave. The battle-hardened men young Malik encounters are every bit as dangerous as they look. Realistic is a word often bounced about in reviewing, but this film really does feel authentic simply because this is a well-made film with an equally compelling story. A Prophet is a return to the days of old, characterised by Alan Clarke's seminal borstal film, Scum and manages to breathe life into a genre that's become rather stale, damaged by offbeat comedies such as Bob Odenkirks Let's Go to Prison and less than successful re-imaginings of Robert Aldrich's The Mean Machine/The Longest Yard.
Winter's Bone
In a rather tumultuous year for American independent cinema, Debra Granik's drama stands out for many reasons, not least because of the surety of newcomer Jennifer Lawrence's performance, which has already garnered her, and by extension the film, a significant amount of attention. Based on the Daniel Woodrell novel, teeanger Ree Dolly searches for her mssing father Jessop in the backwoods of Missouri after he absconds from court. Throughout Ree's journey, Granik shows the timeless, desolate and iconic landscape to us with an entirely fresh perspective, which is no easy feat and means that whilst the film is undoubtedly contemporary in style, it also carries the weight of it's forebears, much like Ree, who struggles to run the family home as it falls apart around her and care for her mother and siblings during her father's absence. There's a haunting, raw, savage and desperate quality to this film that's utterly engrossing, helped along by the echoes of Southern Gothic literature and the Old West. Breathtaking stuff.
Toy Story 3
The creative minds at work with Pixar manage to maintain their outstanding batting average, and yet again prove themselves to be the best of the best as far as CGI animation goes, having seemingly landed themselves a place in 'best of' lists ad infinitum because they can simply do no wrong. Directed by Lee Unkrich, this is the final chapter for the much-loved inhabitants of Andy's toy box, and is undoubtedly the best since the first film back in the heady days of 1995 and pays back its audience considerably for their longstanding loyalty. When Andy leaves home for college and boxes up Woody, Buzz and the rest of the gang for safekeeping, intended for the attic, they're delivered to Sunnydale Daycare Centre by mistake, and it's not arbitrary that the name sounds more like a retirement home. Utilising the tried and tested Pixar method of self-referential humour one minute and genuinely touching moments that tug at the heartstrings the next, there's something here for everyone and the film's final moments will melt the hardest of hearts. If you've somehow been on Planet Z for the last eleven years and this whole franchise has passed you buy entirely, go and buy all of them now, it'll be one of the best decisions you'll ever make.
A Single Man
The lone survivor from my 2009 list. Tom Ford's directorial debut more than lived up to my expectations, and the few misgivings I had were quite quickly laid to rest. I'd argue there isn't a better looking film than this one, but, don't be fooled into thinking it's just something pretty to look at. A film of emotional extremes, it's an incredibly powerful journey through the grief of college professor George (Colin Firth). With a beautiful approach to design and aesthetic that dabbles in the expressionist and it's as meticulously detailed as any of Ford's photographic work or put anything he put on a runway during his days at Gucci. Julianne Moore is typically superb as George's best friend Charley, but it's Firth that steals the show here.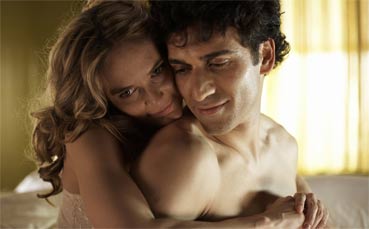 Adoration
Distribution lags can mean that sometimes films can take two years on more to make it off the festival circuit and into a cinema, in the case of Atom Egoyan's Adoration, it was more than worth the wait, since it turned out to be my favourite film of his output since The Sweet Hereafter. High school student Simon (Devon Bostick), sets about rewriting his past and making another version of the truth for a class assignment, mixing his family's personal history with a news report of an undetonated bomb hidden in the luggage of a passenger plane. A powerful, provocative and fascinating exploration of human dynamics and the search for identity, Adoration is assured return to form that provides the viewer with much food for thought.
Nowhere Boy
The second biopic film in this list, and definitely the more traditional of the two. Sam Taylor-Wood's directorial debut follows John Lennon (Aaron Johnson) in his youth, focussing on the turbulent relationships he shared with his strict aunt Mimi (a wonderful Kristen Scott Thomas) and mum Julia (an equally good Ann-Marie Duff). A beautiful looking film which highlights her artistic eye by nails its period completely. Furthermore, Nowhere Boy manages to show a different side to a legendary figure in popular culture. Personally, I think Johnson's performance here betters that of Kick-Ass, and genuinely shows him to be a rather talented young man, and does much more than mimic the young Lennon.
The Disappearance of Alice Creed
Given my usual disdain (dare I say abhorrence) for films gifted the moniker of 'torture porn,' you might think my inclusion of this film a little odd. This is strong debut from British director J Blakeson. Beyond it's quite frankly stunning opening sequence, showcasing the meticulous plans of Alice's kidnappers Danny and Vic (played by Martin Compston and the ever-chameleon-like Eddie Marsan respectively); the credit for this film working so well must go to Gemma Arterton. Vocal in regard to her experiences within the industry, between this and Tamara Drewe, she proves that she's much more than just a pretty face and outdoes the many pretenders to her throne in the process. A risky role Alice Creed may have been, but it's one that pays off.
In a year that's been plentiful in terms of quality and diversity, this list was incredibly hard to make, and could be twice as long without too much difficulty. However, for the most part, my DVDs and Blu-rays are the way I cultivate small collections of films by directors or writers I admire or keep things I genuinely treasure. The titles listed here are exemplary of all those elements and more.
The Frantisek Vláčil Collection
This fine collection from Second Run is comprised of the haunting and philosophical The Valley of the Bees, the sweeping historical epic Marketa Lazarová and my personal favourite, the ode to doomed love, Adelheid, along with Thomas Hejtmánek's unique documentary portrait-turned-biopic, Sentiment. I won't repeat myself here, since you can already find my opinions on three out of the four discs in this set right here on the site. However, I can honestly say that discovering this talented man's poetic brand of cinema has been both a pleasure and a privilege. If you're unfamiliar with Vláčil's work, then this set is a great place to start.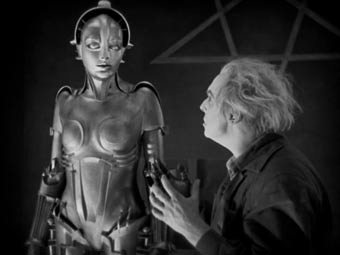 Metropolis: [Reconstructed & Restored] (DVD review)
This film will be familiar to any self-respecting cinephile. A founding film of German Expressionism, Fritz Lang's seminal vision of the future is presented here as intended, matching what German audiences would've seen upon its release 1927. Thanks to the painstakingly restoration work completed by the Friedrich-Wilhelm-Murnau-Stiftung, it looks glorious enough to pass the muster of the beady-eyed viewer in 2010 aswell. Regardless of whether you own it already, there's no excuse not to have it, since I consider it any essential part of anyone's collection.
This is England '86 (DVD review)
2010 has been a good year for Meadows fans, thanks to the success of this miniseries, and the long-overdue release of Small Time and Where's the Money Ronnie! on DVD from BFI. This is England '86 stands out as an all too rare example of quality contemporary drama, and cements the reputation of Meadows as one of our best writer-directors. I can't say much more here that isn't covered in my review, but make no mistake, whilst This is England was Thomas Turgoose's breakthrough role; its follow-up belongs entirely to Vicky McClure, and gives her a well-deserved moment to shine.
If you're after more of Meadows band of misfits, then you're in luck, since the reported final instalment, This is England '90, was recently commissioned by Channel Four.
Cronos (UK Blu-ray review - The Guillermo del Toro Collection)
I'm a big fan of Guillermo del Toro, and if you are too, then this year has also smiled upon you with the Blu-ray of The Guillermo del Toro Collection and Criterion's director-approved release of his ambitious debut feature Cronos. In addition to a rather lovely transfer that's just made me appreciate how rich and accomplished this film is visually, there's a veritable banquet of extras to feast on. A real treat that isn't easy to do justice to in words, so just go and buy it instead, or if you've got it already, pop in the player and enjoy!
Cameraman: The Life and Work of Jack Cardiff (DVD review)
I admire my fair share of figures within the filmmaking world, most of whom are directors or writers, but my obsession for the visual means I also have a great deal of fondness for cinematographers and, to my mind, there are none better than the late Jack Cardiff. Craig McCall's documentary proves I'm not alone in my esteem. Full to bursting with contributors, it exudes affection and admiration from every frame, and shows what a talented, humble man Cardiff was. If you love cinema as much as I do, then this is wonderful and at times incredibly emotional viewing experience. The relatively small yet important clutch of included extras are nicely done too.
The Edge of the World
Though not as well known as the other Powell and Pressburger release in this list, Michael Powell's first independent production is by no means a lesser film. Set on the deserted Hebridean island of Hirta, this is an incredibly evocative film, concerned with love, loss and isolation that's lost none of it's potency over time. What's more, it certainly looks fantastic on Blu-ray, thanks to the high-definition transfer, approved by Powell's widow, award-winning editor Thelma, who also contributes to the many supplemental features on the disc. Lovely stuff.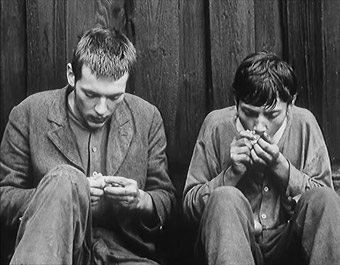 Diamonds of the Night (DVD review)
There's little else I can say to persuade you to add Jan Němec's haunting debut feature that I haven't written upon it's release earlier this year, but as with Metropolis and Cronos, though the extras are nice and bring some extra value to disc, there are times when the film has enough import to be the soul reason why you own something, because the film matters to you, and matters to cinema beyond the norm. It shouldn't be something you'd like to have or even want, because, simply put; you need this in your life.
La signora di tutti (DVD review)
If I were able to give actual awards, then at this point, Masters of Cinema would win one, for crafting such a beautiful release for Ophuls' only Italian film, available for the first time in the UK, allowing it to get the attention it so richly deserves. Arguably not as well-known as the sublime Letter from an Unknown Woman or the majestic Lola Montès, I'd argue that it's just as important as either of these films, and has a great deal in common with the latter, as it tells the life of actress Isa Miranda in flashback as she lies on the operating table. Powerful yet elegant, this is Ophuls settled and confident in his abilities and a joy to watch. The video essay and accompanying booklet are equally fascinating, and definitely added to my viewing pleasure of the film. Quite the gift for any Ophuls aficionado.
The Red Shoes (DVD review)
Though it's a rather obvious claim to make, this film is still my favourite of Michael Powell & Emeric Pressburger's work. The Blu-ray really shows off how fantastic Technicolor can look in the hands of this skilled pair, and thanks to the quite frankly glorious quality of the transfer, you can see every tiny detail. Beyond that, what makes this release stand out – and I'd argue warrants a double or possibly even a triple up purchase – are the number and variety of extras. Another quality release from Criterion that's a must for any fan.
In Loving Memory
Tony Scott's critically-lauded debut gets the BFI dual format treatment that shows off the work of celebrated Chris Menges and the murky, mysterious Yorkshire moor lands to great effect. Beyond the obvious, what really sells this are the extras. In addition to an illustrated essay written by Kim Newman there are two 1960s shorts included, the second of which Boy and Bicycle, is directed by Ridley with Tony playing the 'boy' in the title. A great release, which reminded me just how good Scott's work can be.
Mildred Pierce
OK, so, technically, this is cheating, since this is a miniseries and not a film and a remake, but in my defence, it comes from solid gold Oscar-winning stock, and this is no average project either. For one, it's directed by Todd 'Far From Heaven' Haynes, whom I've long-admired. For two, none other than Kate 'Wins it' Winslet is stepping into Joan Craword's famed shoes. Tempted? Yes, so am I.
Biutiful
Alejandro González Iñárritu's first film since Amores Perros/Love's a Bitch to be spoken in Spanish and arrives after the significant gap between it and Babel, starring Javier Bardem as Uxbal, a single father tied to the crimal underworld. Fearing for his life, he tries to reconcile with a former lover and safeguard his children's future before it's too late. From this short description alone, and the combined creative callibre of Iñárritu and Bardem, I can't wait to see it on screen.
Restless
Gus Vant Sant's first release since Milk already has the makings of a Van Sant classic. Typically quirky, and with a definite air of Hal Ashby's Harold and Maude, it tells the story a terminally ill teenage girl (played by Mia Wasikowska, previously seen as Alice in Tim Burton's take on Alice in Wonderland), who falls in love with the mysteriously named Enoch Brace (Henry Hopper, son of the late great Dennis Hopper), a boy who likes to attend funerals. Add to that the fact this wonderfully odd little couple frequently encounter the ghost of a Japanese World War Two kamikaze pilot, and you'll see why only Van Sant could a) get this greenlit and b) bring it to fruition. Does it sound weird? Yes, marvellously so. Could it be one massive indulgent folly? Perhaps. Will it be boring? I don't think so.
Submarine
Marking the directorial debut of Richard Ayoade (of The IT Crowd fame), and based on the Joe Dunthorne novel of the same name, this coming-of-age comedy received much praise during its run at The London Film Festival earlier in the year. In light of that, I'm genuinely curious to see what Ayoade's created and the performances he's drawn from his ensemble cast, including Sally Hawkins and Paddy Considine.
Black Swan
A little test fair reader. What do you get when you mix a ballet company performing Swan Lake with the vision of Darren Aronofsky and the music of Clint Mansell? The answer is Black Swan. Thanks to a fair amount of awards buzz for Natalie Portman and Mila Kunis for their portrayal of dancers Nina and Lily, and roughly the same amount of internet chatter regarding much-hyped love scene between the pair, the bandwagon for this twisted little tale getting rather full already. Jump on while you can, and remember, this is Aronofsky, so make sure you've fastened your seatbelt, tight.
Hanna
Directed by Joe Wright, of Atonement and Pride and Prejudice fame, this tale of a teenage assassin Hanna (Saoirse Ronan), piques my interest not only because of all the films it reminds me of – the Luc Besson triptych of cinematic delights that are Leon, The Fifth Element and Nikita – but also because I admire a director who takes opportunities to expand creatively, since it makes them harder to pigeonhole and accuse of complacency. I'd rather have a film which challenges me than something I can draw neat conclusions from. However, if the trailer is anything to go by, while it might sound not like a Joe Wright film, it very much looks like one.