Awards shows of any kind, across either end of the spectrum, be they the Oscars or the Independent Spirit awards, are largely bought and paid for, a truism that escapes nobody and one to which Britain's earthier Academy Award equivalent, the BAFTAs, is by no means immune. Collectively these back-slapping events at which recipients have not a bad word to say about anyone (you'll often hear stars thank both God and their lawyer in the same breath), represent a globetrotting political campaign trail of glitzy, glorified piss-ups. First and foremost, such celebrations are about packing as many glad-rag wearing celebrities as humanly possible under one roof so that fashion pages can be filled with bitchy comments from the 'experts' for the next few weeks. Shining a spotlight on the memorable films of the past cinema-going year is a distant second. In this regard, they are not only pointless but, moreover, utterly useless. Once journalists are done frothing over what Kate Winslet wore on the red carpet this year, the fact remains that the films in contention only reflect the past three months of awards season rather than the whole twelve. It's no coincidence that the bulk of those films being considered for accolades are still playing in your nearest multiplex, a shamelessly fiscal imperative over an artistic one. Studios pump untold amounts of moola into publicizing and promoting their latest wares this time of year, all rushing during a packed schedule to ensure their possible Oscar champion makes that December 31st deadline stateside in order to be deemed eligible. A complete cheat given that these films then roll out into many of the global territories on dates in the new year, all shuffling for releases as close to the big award shows as they can get – The Iron Lady (released December 30th in the US, January 6th in the UK) is a none-more-perfect example of this strategy. While its chances for awards outside of Meryl Streep's central performance are slim, if it nets the big one and brings home Best Actress (As if seventeen Oscar nominations isn't enough! We get it, Meryl can act! In the US they ought just rename the Best Actress category the memorial Meryl Streep award), chances are its theatrical run, which is just coming to a close in the UK, will be extended.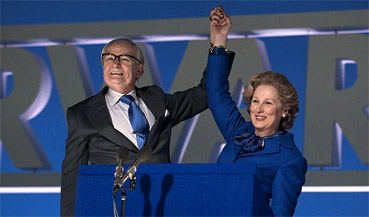 It doesn't matter if a studio releases their best film in January, it makes much more sense to actively push something still fresh in the public conscious – or better yet, still playing – a film that can benefit from a last minute boost of awards hype and sell more tickets. Such logic sees many award-worthy films like Aaron Schneider's Get Low and Peter Mullan's NEDs, for all their great reviews, fall by the wayside. Nowadays, more savvy industry insiders have recently made attempts to make this whole transparent charade seem more authentic, by plucking a hit from as far back as the summertime mid-year point and thrusting it back into the limelight. Last year it was The Kids Are All Right, this year it's the turn of prime cut 2012 Oscar bait The Help. Evidently there's nothing Oscar loves more than white man's burden (being based on a bestseller doesn't hurt either). If it's not black people struggling against self-inflicted oppression of their own people (Precious), it's a white on black struggle in which altruistic privileged white folk come to the rescue. Yet black audiences – and performers on the podium – eat this up, really believing the work to have some meaningful social significance that will ignite debate and change lives, rather than seeing it for exactly what it is, just this year's glaring example of inverse racism with Queen Latifah screaming "you go girl!" and giving out high fives at the 'people of colour' table as their entrenched ghettoization continues.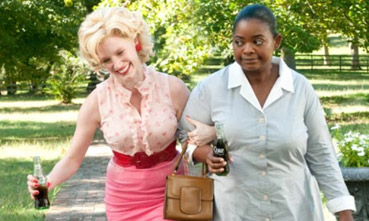 This kind of cynically dressed up awards bait pushes out films deserving the acclaim year after year. Extremely Loud & Incredibly Close may only stand at 47% on the tomatometer and may look for all the world like two hours of gag-reflex sentiment, but it ticks so many boxes it would be a crime not to include it among the nominees at this year's Oscars. America's favourite every man, Tom Hanks, stars in the film based on a bestseller, with references to both the holocaust and 9/11! At its centre is a pint-sized Rain Man-type protagonist with aspergers, whose journey to enrich the lives of everyone he meets is overseen by none other than Stephen Daldry, that purveyor of worthy but lifeless award-winners (The Reader, The Hours). And yet if it walks away with any bald gold men, I'm willing to bet that people will struggle to remember it this time next year, let alone for all time, which surely is what these ceremonies ought to be about? Recognising the year's best films over the most hyped. Films that will stand the test of time and be enjoyed for years to come. The best of the best, the cream of the crop.
The best we can hope for in that regard is a back-handed compliment where voters heap praise on a much less deserving film as a way of making up for achievements overlooked much earlier in a filmmaker's career. This year, the "we got it wrong award" comes courtesy of Alexander Payne's The Descendents, which despite lacking the director's most identifiably auterist trait of gleefully mocking self-pitying shlubs (like everyone else, he can't help but fawn over them when they're played with movie star good looks by George Clooney), this looks set to be the film which Payne will be remembered for in Hollywood. In the likes of Citizen Ruth, Election and Sideways, you were never able to discern tragedy from comedy, the two coming together as a thicker bandwidth of real-life emotion. Here he comes hopelessly unstuck, struggling to reconcile two separate tones pulling in different directions, leaving an unsure Clooney to play down his looks with ill-fitting comic buffoonery. One has to wonder at the absence of Payne's long-time writing partner Jim Taylor, in hindsight probably deserving of more credit than he's usually afforded. Together they wrote tragicomic mini-masterpieces worthy of Billy Wilder—on his own, Payne has crafted a made for TV HBO movie.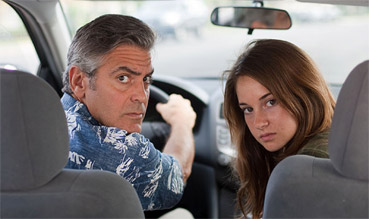 Making good on baffling past snubs finds its most odious variation in the "he could die now any day award" which is exactly what we'll see if Scorsese wins best director for Hugo, not only tonight at the BAFTAs but also the Oscars in a few weeks time. Members of the Academy have famously overlooked seminal work like Taxi Driver and Raging Bull. The irony being that Scorsese, a truer cineaste than any, will probably win for a nostalgia piece celebrating the history of cinema and film preservation, a history very different from that of Oscar, who if past winners are any indication, would save Driving Miss Daisy from a burning fire before he gave a second thought to My Left Foot. Rocky would be first to be rescued before Network, Taxi Driver or All the President's Men. As far as BAFTA is concerned, it'll be interesting to see if his "He's about to croak it award" Academy Fellowship will negate his chances of winning in the Best Director category – see what I mean? Politics.
The Artist sweeping the board in all categories is proof, if any were needed, that nostalgia is king of the awards circuit this year, but don't you think it's going a bit far to include a silent film as a nominee for best screenplay? All the great scripts this year and that gets a coveted spot? I'm reminded of ZZ Top guitarist Billy Gibbons' adage here; "it's not what you play, it's what you don't play" certainly holds true in the world of screenwriting, where there's so much more to the art of storytelling than just dialogue, but ultimately a great script lives or dies by what it does with words, of which The Artist has scant few.
So, we can all agree that award shows get it all wrong, that the buzz circles around twenty or so much talked about titles, many of whom are right place, right release date, but getting over the fact that the likes of Take Shelter, Get Low, Stone and NEDs (to name just a few) never had a hope, I'm pleased that BAFTA have chosen edgier fare from popular choice. The likes of Drive, Shame, The Skin I Live In and We Need to Talk About Kevin were always going to be too violent, kinky or dangerously ambivalent for Academy voters. Unlike the Oscars, at least here there's some films I'll gladly cheer for. On that note, it's nice to see Philip Seymour Hoffman get a nod for supporting actor in The Ides of March. As I said in my review, he's one of the few actors today who can act with his gut — I guess more people than I thought agree.
And even if that weren't the case, the highlight of the evening will surely be John Hurt's award for Outstanding contribution to British cinema, a speech I'm sure will be loaded with enough dignified grace, humble reserve and moving eloquence to ensure there's not a dry eye on couches around the country. Such qualities were in short supply when Morgan Freeman was given a similar old man's award at the Golden Globes by Sydney Poitier, who looked as though he was being electro-shocked through the floor, barely able to make it to the next cue card. The whole fiasco was calculated with a disingenuous Disney-esque pull of the heartstrings which we can safely assume won't happen tonight.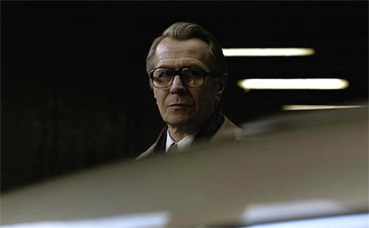 What we can assume is that British solidarity will surely mean Tinker Tailor Soldier Spy walking off with a few trophies after it was unanimously locked out of awards consideration elsewhere, so even if it wins big, I'm not sure the film's producers will be able to shake the feeling of a consolation prize from their own countrymen.
We might not be bucking the system (we simply have our own inner circle), but for better or worse, it's nice to see the BAFTAs offering up something different and the Brits doing it their own way.