"Vangelis worked on the score for weeks to perfect the soundtrack and make it in harmony with the visual power of the film. This resulted in emotive music which conveyed an atmosphere that had never been experienced before."
An extract (an inexplicably tiny one) on the making of the Blade
Runner score from the website of Vangelis' recording studio, Nemo.*
Amen to that. I came early to Blade Runner but the power of its extraordinary score seeped into my emotional receptors over time to the degree that I recorded the movie's entire soundtrack on to an audio cassette to play for pleasure on long journeys. There had never been a score like this before, one that tapped into emotions that the astonishing visuals couldn't evoke because you were simply so awed by them. Vangelis' sublime score unlocked the emotional power of the film almost tangentially. As a star-struck 21 year old, I held on to the promise delivered in the film's end credits that the score was available on Polydor Records. I could not believe how frustrating it was to leaf through the Bs of the Soundtrack section of Tower Records and never finding it. Until what must have been many months later… there it was. There it bloody wasn't. Exploiting their ownership of the rights and knowing that Vangelis had clashed with the producers so the original score would not be available until someone changed their mind or backed down, Warner Bros. released a cover version. Despite its own evident merits in hindsight, I felt like I'd waited months for a kiss and received a forceful poke in the eye for my trouble. The sad fact is – and still is – that no official CD or digital release of the entire score without extra dialogue and sound effects mixing – exists. It's only been 40 years… The nearest you can get is Edgar Rothermich's reverse engineered score that while not the original, is a very, very good copy. I wrote in praise of it here.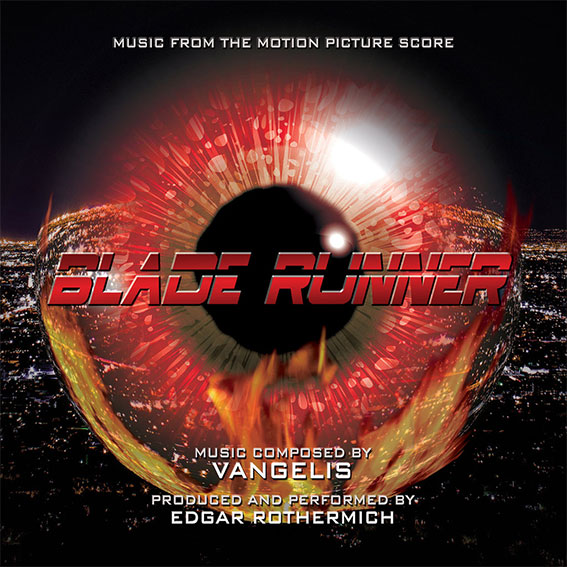 But despite his film score reputation being elevated by Blade Runner, Vangelis also provided a whole host of musical highlights throughout his career. I could utterly rely on the man for that one cue that would set me alight almost on a yearly basis. The only composer that does that for me these days is the matchless James Newton Howard. Vangelis' main thematic cue for the 1982 drama Missing starring Sissy Spacek and Jack Lemon looking for her husband and his son respectively during the military coup in Chile, so perfectly captures the forlorn hope of the protagonists, it seems such a shame it only accompanies the final scenes and end credits. But editorially this was probably the best decision. The entire cue is, on reflection, a massive spoiler. There's that Vangelis cue that pops up in The Year Of Living Dangerously, unavailable on the official score by Maurice Jarre, L'Enfant from his album Opera Sauvage. Another Ridley Scott film, Conquest of Paradise, allowed the composer's exceptional habit of producing iconic main themes to flourish but to most people Vangelis must be famous for his score (another icon) and main theme from Chariots of Fire. If you doubt its appeal or significance, watch the Mr. Bean section of the opening ceremony of 2012's London Olympics.
But Vangelis is a champion of mine for other more personal reasons. Please forgive the following explanation if you're in the film business but a word about 'temporary tracks', music brought in to bolster a film before the actual score is written. Composers are often - and rightly -  not fond of temp tracks. Editors have at their fingertips every note of music ever written. That's quite a few tunes. So invariably they enhance their cut scenes with music that no composer could hope to emulate and music no producer could possibly afford. But if the original composers have rights to their own music, there's always a chance… I'm getting ahead of myself. I started work in the mid-80s with a company that had made an extraordinary film on the Namib desert. Watching it, I was stunned by how high the music budget must have been as Pink Floyd's Dark Side of the Moon - almost the album's entirety - was lathered all over the film. It worked brilliantly but I still couldn't see how they could have afforded it. I asked this question to the executive producer Michael Rosenberg, who became a close friend over the decade I worked with him…
"Oh, that's easy," he said. "We just asked Pink Floyd and they said 'Yes!'"

OK. Good life lesson. If the worst outcome is that an artist says 'No.' why not ask? That's how Mike and I ended up securing the services of Michael Dorn performing the commentary for a series I produced in 1995. Does the name ring a bell? He played the Klingon Worf in Star Trek The Next Generation. Mike and I were both huge fans. So, my partner-now-wife had produced a stunning film on ice whales of the world narrated by Claudius himself, Derek Jacobi. The editor had temped it with the gorgeous front and end credit music from The Bounty and no one could see (or hear) how any other score could possibly have worked as beautifully as Vangelis' cues. See what I mean about editors having access to everything? So, the next move was to somehow get to the man himself. I wasn't privy to how my then partner managed to do this but do this she did paying a vastly reduced rate to use the music and the film is graced now and forever with his sublime cues. Now, not only once but twice did the great man allow us to use his music, this next time gratis. He wrote two pieces titled Roxane's Dance and Bagoas' Dance for the less than stellar epic Alexander but I was taken by these cues and temped them on to a promotional film for an ocean conservation organisation. Wheels turned and Vangelis must have had a soft spot for natural history filmmakers and conservationists because he gave his approval wholeheartedly. We got them for free.
His magnificence as a film composer was sensing the emotion, sometimes hidden, and bringing it to the forefront via his glorious and unmistakable sound. His generosity of character was the aspect of the man's life I will always celebrate. And what a legacy. The man and his music will be sorely missed.
---