Back in 2005, when I reviewed the Arts Magic UK DVD release of Tsukamoto Shinya's Bullet Ballet, I opened with an appreciation of what remains for me one of the most seductive titles in modern cinema (and it is the original title, not an English translation). Even if I hadn't been a fan of the director's work I'd have wanted to see this, but with Tsukamoto's name attached it skyrocketed to the top of my must-see list. The only problem was, back when I first read about it it was nigh-on impossible to track down, at least in the UK. For a while it remained no more than two sublimely mismatched words and enthusiastic adjectives thrown out by a small select few in the critical fraternity who'd been lucky enough to see it, presumably at the sort of international film festival that us working plebs could never afford to attend. It was four years after I first read about the film that I was able to get my hands on a copy – an iffy quality DVD from Chinese distributor Fejui – and another two years before it finally landed an official UK DVD release.
It was, as I stated in my original review, well worth the wait, and remains to this day one of the most technically and thematically striking films in a career that is jam packed with them. Although the follow-film up to Tsukamoto's 1995 Tokyo Fist [Tōkyō-ken], to the uninitiated Bullet Ballet has the visual hallmarks of being an earlier work, its gritty monochrome imagery providing a more direct link to the director's 1989 breakthrough film, Tetsuo: The Iron Man. But in the sophistication of its storytelling and its thematic complexity, it is very much a companion work to Tokyo Fist and builds on that film's themes into a riveting study of loss, grief, the widening generation gap, misdirected anger and the painful but ultimately liberating rediscovery of the self.
Before I start repeating myself at length, I'll direct you to my original DVD review, where I've already explained just why I hold this potent example of outsider cinema in such high regard. What I will reiterate here is how bold and thrillingly well made it is. Propelled breathlessly forward by Tsukamoto's own supercharged camerawork and editing, it cross-breeds cohesive narrative storytelling with avant-garde expressionism to sometimes startling effect. This peaks early on in a stunningly assembled sequence in which leading man Goda (played by Tsukamoto himself, as was the lead in Tokyo Fist) envisions the potentially devastating power of the gun around which his life now revolves as a series of blink-and-you'll-miss-them images of catastrophic destruction, brilliantly shock-cut to regular composer Ishikawa Chu's pounding industrial score. And yes, I fully realise that I also highlighted this sequence in the original review, but coming back to it for the umpteenth time I was still left reeling, not just by the sequence itself but by the way its furious energy – even more so on its fleeting second appearance – spills into the scene that follows and gradually dissipates, like the final ripples of the shockwave from a nuclear blast.
Restored from the original camera negative by Tsukamoto himself, Bullet Ballet presents more of a challenge for those in the pursuit of pristine imagery than Tokyo Fist, despite also being shot on 35mm film. I'm guessing that high-speed monochrome stock was used to allow Tsukamoto to shoot at night on the Tokyo streets with little or nothing in the way of additional lighting. This does result in sometimes very visible film grain, plus a less generous contrast range and sometimes softer detail than you'll generally find on a studio-funded project, but this is all par for the low-budget, indie film course. Run side-by-side against the earlier Arts Magic DVD – which upscales better than I would have expected – the most immediate and obvious difference is in the punchier and more consistent contrast and the solidity of black levels. But there is also a clear improvement in picture detail, something first really evident in the sequence of shots of Goda being questioned by the police at his apartment block. The final facial close-up in particular is visibly sharper and feels far more accurately graded than it was on the DVD, and it's in later close-ups of faces, guns and other metalic objects that the image really pops. Given the restrictions imposed by the film stock and low light conditions under which much of the film was shot, I'd say this is as good as it is likely to look.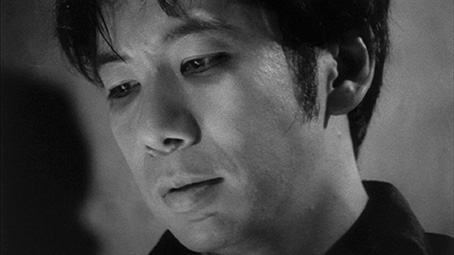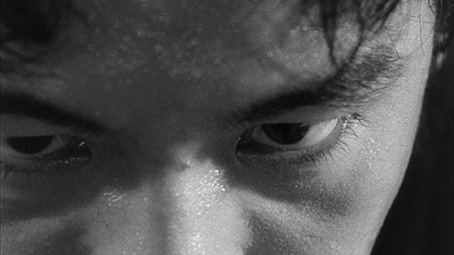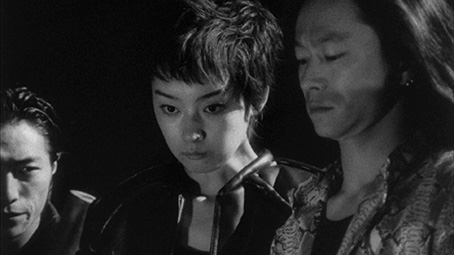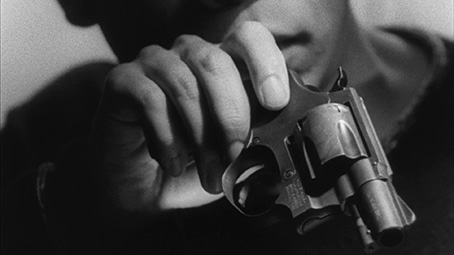 The DTS-HD Master Audio 2.0 mono track is as clear as the slightly range-restricted material will allow, with no damage or background flaws, and it's worth cranking the sound up to be properly assaulted by Ishikawa's superb score.
The optional English subtitles are clear and differ slightly in their translation from those on the Arts Magic disc.
Original Japanese Trailer (0:55)
A seductive montage of arresting imagery, fast-cut to the industrial main theme.
Music Video (3:05)
A longer version of the above but with no dialogue and an even sexier montage of imagery cut very specifically to an extended version of the main theme. The sound level is lower and less crisp than on the above, so I'd whack up the volume before running this.
Bullet Ballet UK Trailer (2:23)
Less aggressive than either of the above, but it is compiled from the restored print, so visually shines when compared to the Japanese teaser trailer.
In the absence of the informative commentary by Tom Mes (author of Iron Man: The Cinema of Shinya Tsukamoto – highly recommended for fans of this director's work) from the Arts Magic disc, the principal extra here is an Interview with Tsukamoto Shinya, which is divided into three unequal parts, the second and third of which have been copied over from the Tokyo Fist disc. My comments on those have been reproduced from my review of that release.
About Bullet Ballet (14:37)
Tsukamoto talks about the inspiration for the film, the modern Japanese phenomenon of 'teamers' (young people who lead a respectable daytime existence and run wild at night), the conflict between the generations, the influence of the work of Martin Scorsese and Larry Clark, the possibility of making a film that makes young people aware of "the solemnity of life and death" and more. There's quite a bit of discussion on the ending, so steer clear of this before watching the film, and there are hints that Tsukamoto may have tweaked the editing for this restoration, something I didn't picked up on in my viewing of the disc and may not actually have taken place.

About Tokyo Fist and Bullet Ballet (3:23)
Here Tsukamoto talks about the ideas he wanted to portray in both films, how acting in his first play changed him as a person, and his surprise at the suggestion that he might be attracted to miserable characters. As someone who has written about the two films as thematic blood brothers, I was hoping for more on their relationship to each other than we get here, but this is still interesting stuff.

General Thoughts (4:18)
Tsukamoto here talks about his love of film as a recording medium (like a number of old school film editors I've spoken to, including one of the key writers for this site, he loves not just the look of film but its tactile physicality), but also the practical advantages of shooting digitally, particularly when working at speed on a low budget.
One of my favourite films from a man I still regard as one of the most talented and adventurous filmmakers of the modern age, finally delivered at the quality it has for so long cried out for. No question about it, Bullet Ballet is modern outsider cinema at its most essential and exciting, and Third Window have delivered another strong transfer and a solid supporting interview with Tsukamoto himself. Highly recommended.