This review looks specifically at the German Blu-ray of Cargo released by
Ascot Elite. For a information on the film read our DVD review here.
When was the first time you really appreciated the role that sound plays in a film? Your answer may well depend on your age, not just for the title you select but also the evolution of film sound technology. Go to the cinema to see a Hollywood movie now and you expect to be aurally assaulted from every angle, but in the movie production timeline this is a relatively new experience, at least in provincial cinemas. Indeed, for its first thirty years the medium played without a synchronised soundtrack, and for a good while afterwards had to be largely content with mono sound of limited dynamic range and clarity.
I'll be honest and admit that I became aware of the role played by music long before I appreciated the importance of good sound recording and a creative mix. All that changed at film school, of course, where the issue was highlighted by the work that was required to get your film sounding as good as it looked. And this was a fine time for great film soundtracks. It was around then that I was first exposed to the aural delights of Eraserhead, The Conversation and Apocalypse Now, and started reading about people like Walter Murch and Alan R. Splet, two of the most talented and creative sound designers of their generation.
The increased availabilty of surround sound as an audio tool (you can now mix your own 5.1 surround soundtrack at home using Apple's Final Cut Studio suite) has allowed genre filmmakers in particular to create more immersive audio tracks to accompany their visuals, something that film enthusiasts are now also able to recreate in their living room. And when it works, it really works, and can genuinely transform the experience of watching the film.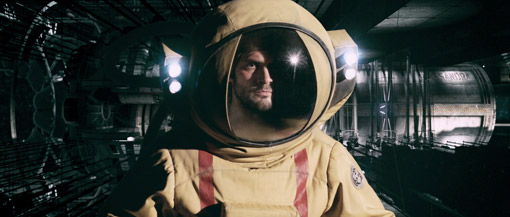 A personal example. A friend and I were watching Alejandro Amenábar's The Others for the first time in 5.1 surround in my living room. There's a moment in the film when young Anne is terrifying her brother Nicholas by insisting that the spirit of another child is in the room with them. As the young boy's panic reaches fever pitch, we suddenly hear the sound of footsteps running towards him. It was at this point that both my friend and I screamed and I hit the pause button in panic. Why? Because the footsteps ran loudly from the rear to the front of the sound stage, effectively passing us in the process. Loud, unexpected footsteps on a wooden floor. My living room has a wooden floor. For just the smallest fraction of a second our disbelief was suspended and we both thought that someone else was in the room and running past us. It was the biggest film fright I'd had in years, and it was all due to the clarity and the mix of the surround track.
It's the immersive nature of surround tracks that makes them perfect for horror and science fiction, their ability to place you in the centre of the action and trigger unease through the placement of sounds at corners of the room that require physical movement to confirm they were film generated.* It's thus one of the things I was particularly looking forward to on my first viewing of Cargo, a Swiss science fiction film that had been particularly praised by fans for its DTS EX surround mix. And yet the UK DVD and Blu-ray had only one soundtrack option: stereo. Now there's nothing wrong with a good stereo mix, but the film was mixed in Dolby EX surround and that's thus the way it was designed to be heard, and to deliver a stereo mix instead is akin to cropping the scope frame to 4:3.
As if that wasn't enough, the only included extra was a theatrical trailer. Considering what was achieved on a relatively small budget and that Switzerland is hardly renowned for its science fiction movies, it was hard to believe that there wasn't a little more material available. So it came as a pleasant surprise to discover the existence of a German Blu-ray that not only included a DTS surround track, but also quite a bit more in the way of extra features. It's easy enough to order and the price isn't too steep, so only one question remains: is it worth buying over Optimum's UK DVD or Blu-ray? Well I guess those questions will be answered by the following two sections...
Some images look better in high definition than others, and the deliberately grubby look of the spaceship interiors of Cargo is never going to shine as brightly as a film set outside in the California sunshine. But there's still a very clear increase in detail over the DVD release, most visible in clothing, facial and hair texture, computer displays and signs, though as with so many good Blu-ray transfers the image also feels richer and more authetically film-like than the DVD. Where the HD image really comes into its own is the exterior effects shots of space stations at both ends of the film, where the sharpness and detail are frankly jaw-dropping, just the sort of thing to sit friends in front of to demonstrate the loveliness of Blu-ray imagery. The film's deliberately dark look is well reproduced without loss of shadow detail, and black levels appear to be spot-on throughout.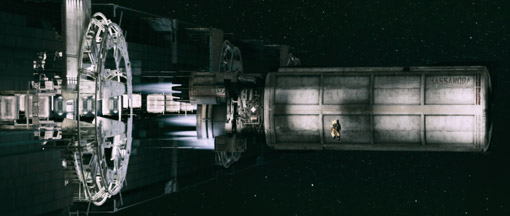 There's no stereo soundtrack on offer here, just the DTS-HD 5.1 Master Audio surround track, and it really is everything you'd hope for. The bass has real punch and the clarity and dynamic range are close to sublime, with every effect – from dripping water to footsteps to the tap of Yoshida's computer keyboard – sounding almost as though they're in the room with you. The full sound stage is most effectively employed for effects, music and ship atmospherics, placing us in the heart of the vessel, and in the midst the action when things hot up. Just occasionally the music sits a little too close to the rear of the room, but in all other respects this is an excellent track, and vastly superior to the stereo mix on the UK DVD.
You can also play the film with the effects track only, which is also DTS-HD with the same surround mix as the main track. Although a seemingly odd inclusion, it's actually quite interesting to watch individual scenes shorn of the music and dialogue.
English, French and Spanish subtitles are available for the main feature only.
The first two extras are frankly of no use to non-German speakers and it's a crying shame, as both are commentary tracks featuring director Ivan Engler, the first with producer Marcel Wolfisberg, the second with production designer Matthias Noger. Not being very good at all with German, I'm not in a position to comment on their quality. None of the other extras have English subtitles either, but all are presented in 1080p and all graphics and photos are sized as close to full screen as possible.
Teasers and Trailers contains the Official Cinema Trailer (1:59), and three unreleased teasers, "Gate" (0:26), "Decker" (0:26) and "Extreme" (0:26), all of which play on the film's borrowings from Alien, but are effective nonetheless.
Clips is a section that highlights the work of the production design team, specifically those charged with creating the graphics, animation, props and computer displays that are key to selling the ship as a real environment. All extras are in HD and really benefit from the extra resolution that provides.
Astrodance (0:49) consists of an astronaut dancing on one of the cargo pods, presumably a bit of fun on the part of the effects animators.

Screen Visuals Collection (3:43) presents the key computer and video screen displays created for the film.

Graphic Design Collection (0:59) is a quick roll through the signs and basic computer messages created for the film, which does nicely highlight the real world influence of existing industrial graphics and warning signs.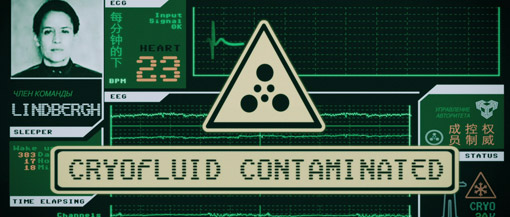 Hidden Props and Gadgets from the Film (12:18) is an intriguing tour through some of the signs, graphics and props, which are then highlighted in the scenes in which they appear – in some cases you'd never have spotted them otherwise, even on a large cinema screen. The photos of the crew members used in the video and computer displays are shown before and after their transformation, and the whole thing concludes with a few sequences in storyboard format cut to music – not quite sure why that's in this section.

Unused and Unrealised CGI Shots (4:27) is a bit of a showreel for the CG effects team. It may lack the final layer of cinematic polish, but is still visually arresting and really benefits from being in HD. Some line graphics and rough animatics are included, and the pod unloading sequence could almost be an exercise in mechanical engineering.

Storyboard 2006 and Unreleased Music (8:42) is just what it says and provides an interesting comparison with how the sequences it covers actually turned out.

Storyboard 2008 and Unreleased Music (8:00) covers different sequences and the pictures are less detailed and lacking its predecessor's textual notes.
Making Of contains five separate featurettes, all of which play like EPK teasers. The absence of English subtitles does make itself felt here, as all five are very interview driven, the spoken language generally being Swiss German, which is subtitled in what for the want of a better term I'll call regular German. There is still enough visual material and recognisable terminology (film and effects terms that originated in the US have tended to keep their original names) to interest those of us not versed in either language.
Pre-Production (8:40) shows the development of the production design, the planning and construction of the sets, and the fitting of the costumes.

Shooting (8:35) provides a welcome look at the shoot itself, stripping scenes of their post-production sheen and CG effects. It's still very interview driven, but there's still plenty to watch, including a brief look at the use of green screen and the shooting of the opening Rhea advertisement.

Post Production (7:49) inevitably focuses on the compositing and effects, which I always find interesting.
From Concept to Pre-Visual and Finished Scene (not an exact translation, but this is the gist of it) (15:04) provides a detailed breakdown of the shooting and compositing of effects for a single sequence set in the cargo bay, with running commentary from co-director Ivan Engler. Plenty of what what's shown is self-explanatory – the use of green screen, animatics and final compositing should be familiar to anyone who has watched such an extra feature before – but the sense that non-German speakers are missing out on the detail is strong here, though composer Fredrik Strömberg does briefly take us through his contribution and working methods in English. The completed sequence is shown at the end.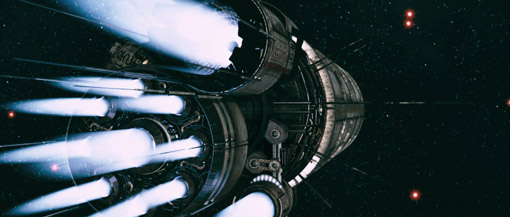 Original Pre-Visual Sequence details the planning of eight scenes (running times: 8:14, 8:30, 1:30, 2:27, 9:09, 2:47, 8:02 and 3:32), and the development of the effects work for each, which exposes the nuts and bolts of their construction. These are all visually driven and accompanied by music, so there is no language barrier to appreciation of the work involved. Includes the major effects of the opening sequence.
Deleted Scenes is divided into three sections.
There are ten Deleted Scenes (10:18) that can be played individually or one after the other. Once again there's no subtitle help for non-German speakers, but the clips are good quality and their original placement within the timeline is easy to work out. The usually silent Yoshida gets to speak a bit more here and there's some (coy) coverage of the sex scene that disappears behind a closing door in the film itself.

A section titled Bloopers and Funny (8:42) features a collection of out-takes where actors fluff their lines or props misbehave, followed by behind-the-scenes material whose comedy value is lost in translation.

Welcome to the Machine (0:52) appears to be an alternative take on the start of the Rhea transportation sequence.
One of the least useful extras for non-German speakers are three TV Reports, which are all interview and voice-over. A shame, really, since the first includes a brief chat with visionary artist HR Giger (2:28), who is invited to watch the film and comment on it. My computer translator suggests he was surprised by what the filmmakers had achieved on such a low budget and believes that the film measures up to its American genre equivalent. The second report is from the film programme Box Office (5:32) and interviews director Ivan Engler and actor Martin Rapold. The third appears to be made for a dedicated science fiction channel and interviews producer Marcel Wolfisberg, director Ivan Engler, and actors Anna Schwabroh, Claude-Oliver Rudolph and Yangzom Brauen.
There are five rolling Galleries, all set to music, namely Production Photos (I was unable to translate the actual title, but that's what's in here) (6:41), Production Design (4:29), Costume Design (2:41), Logo and Graphic Design (1:28) and Promotional Art and Final Posters (2:24). There are also three so-named 'Specials', specifically a Complete Design History 2002-2008, in which you'll find seventeen galleries tracing the development of the production artwork from early concepts through to the final concepts, which include some of the galleries above, Never Constructed Sets (1:29), featuring unused designs, and an Ivan Engler Picture Diary (24.55 total), a mixture of photos and artwork broken down into eight time-divided sections.
There are also three trailers for other available films on the Ascot Elite label, but I never count those.
If you're fluent in German then this is a no-brainer – a first-rate transfer, an excellent DTS-HD sound mix and a ton of extras make this the only version of Cargo to go for. But even if you don't understand a word of the language then there are still good reasons for buying this over its UK equivalent – the DTS soundtrack alone would be enough, but many of the extras can be appreciated for their visual content alone. The decision is simple: if you like this film and you have a Blu-ray player then this is the disc to buy. You can pick it up from a number of German-based on-line stores, but I got mine from Amazon.
---
* In an interesting reversal of this, a loud smash I heard in the surround mix on one film turned out to be the result of a window on my front door being broken by a passing goon, one who had long since departed by the time I realised my aural error.