David Lynch in high definition. Now there's a mouth-watering prospect. I'm actually surprised to see The Elephant Man make it first past the Blu-ray gate – had I been placing bets, I'd definitely have backed Dune as the most obvious water-tester, but there you go. Not that I'm complaining. The Elephant Man, was only Lynch's second feature and the one that saw him temporarily move from the art house into the mainstream, but without abandoning or even compromising his experimental and surrealist roots. It's a film I have a long and treasured history with, but one I've also reviewed in some detail not so long ago when I covered Optimum's UK Special Edition DVD, which you can read by clicking here.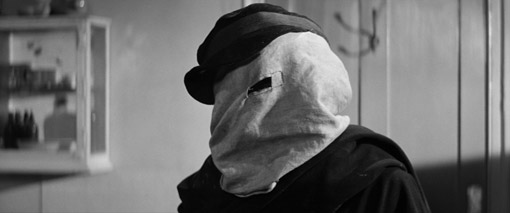 The picture quality on that release was a mixture of the good and not quite so good, but its extra features gave it a distinct edge over the Metrodome predecessor. This new Optimum Blu-ray disc, like the same company's 2008 DVD release, has been sourced from their mother company Studio Canal and is one of a number of prestige titles being released on Blu-ray this week by Optimum under the banner of The Studio Canal Collection. So how does the first high definition David Lynch transfer measure up?

Blu-ray, it has been observed elsewhere, has been particularly kind to black and white imagery, and though I have only had the pleasure of seeing one such disc so far – Luc Besson's Le dernier combat – I was suitably knocked out by the results. Now if The Elephant Man could look that good...
I'll cut to the chase – it doesn't. Make no mistake, this is still a marked step up from the DVD, but it never quite achieves that super-crisp sharpness that prompts you to drag people in front of the TV to gasp in unified awe. Image detail that on a prime transfer would be sharply evident – patterns on clothing, newspaper text, the tattoos of a fairground performer, facial hair – is often a little soft here, something usually (though not always) more pronounced in wider shots than close-ups, which fare rather better. Intermittently there are shots that really pop, however, particularly those involving machinery or Victorian buildings. Grain is evident throughout but not in a distracting way, and the contrast is spot-on, with little if any picture information lost to those inky black levels. There's also lovely richness to the image of the sort you'll often find on better high-def transfers that lifts them above their DVD equivalent. Although not a show-stopper, this is definitely still the best the film has looked on home video.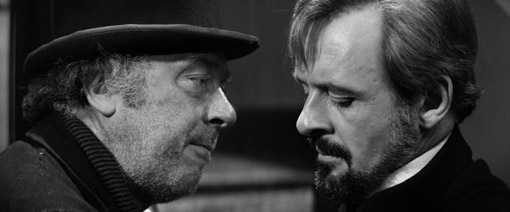 The stereo mix of both DVDs has been upped to DTS 5.1 surround, but before you get too excited, know that this is effectively still the original stereo track but encoded for DTS – there's nothing whatsoever going on at the rear of the sound stage. Fortunately the stereo track was always a good one, thanks in no small part to the legendary Alan R. Splet's gorgeous sound design – music and sound effects are crisply reproduced, dialogue is always clear, and the separation, though subtle for the most part, really leaps to life in places. One small but notable bonus of the re-coding is that the deeper bass elements of the soundtrack have been given a small but welcome subwoofer kick.
As with Optimum's simultaneous Blu-ray release of The Deer Hunter, some of the extra features here have been ported over from the previous DVD release, but have been joined by a couple of newcomers. To save you hopping between the reviews I've reproduced my comments from that release here and identified the new extras.
Extras from the previous DVD release...
Joseph Merrick: The Real Elephant Man (19:57)
Jonathan Evans, curator of the Royal London Hospital archive, outlines the true story of Joseph Merrick, Joseph being Merrick's real first name, having been changed to John in error by Frederick Treves in his book The Elephant Man and Other Reminiscences, on which Bregren and De Vore's screenplay was partly based. A thorough and interesting introduction, complete with archive photographs and extracts from the film, which Evans clearly admires in spite of its deviations from the facts, which are usefully highlighted here along with its accuracies.
John Hurt Interview (20:14)

Hurt looks back at the making of the film and recalls working with Lynch, his admiration for Anthony Hopkins and initial terror of John Gielgud, the difficulty of one particular location shoot and his approach to playing Merrick.
David Lynch Interview (24:50)
Engaging as ever, Lynch outlines in some detail how he became involved with the project, including the oft-repeated (but still engaging) stories of how executive producer Mel Brooks reacted to Eraserhead and why Chris Tucker was brought on board to do the Elephant Man makeup. The selection of Freddie Francis, Lynch's love of the now lost Victorian London locations and his passion for real French fries are also covered, and he rounds off the interview with a proclamation that he will never work on film again, so sold is he now on digital.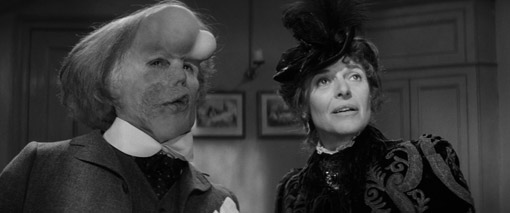 New to this release...
'The Air is On Fire': Interview with David Lynch (14:50)
Or, as the actual title of the piece has it, The Air is On Fire: David Lynch exposes at the Cartier Foundation Paris 2007. This is not a straight interview with Lynch about this or any of his films – a good thing since that's covered elsewhere in the extras – but a record of the first ever meeting between him and Michel Chion, whose first book on the director was published back in 1992. Lynch is in Paris for an exhibition of his paintings, and it's about them that the two engage in amiable and interesting conversation, with Lynch revealing the thinking behind specific pieces and his approach to art in general. It's rare that we get to hear Big Dave talk about his non-film art in any detail, so this is a valuable and welcome inclusion, despite not being specific to this film.
Interview with David Lynch by Mike Figgis (19:50)
An interview with Lynch conducted by fellow filmmaker Mike Figgis in a corridor of the Hotel Centrum in Lodz in Poland on 28th November 2006, with Lynch sharing frame with a large light bulb that clearly delights him. As ever with Figgis, this proves insightful and fascinating stuff (his interviews with actors and filmmakers screened on Film Four in its early days are a buried treasure of revealing discussion), though Lynch's enthusiastic discourse on the magic of ideas and the process of their development will likely leave anyone not on his wavelength wondering what the hell he is on about. Once again he celebrates the liberating nature of digital filmmaking and proclaims that he will never now return to film. If you've never noticed Lynch's habit of accompanying such discussions with a constant hand waggle that looks as if he is playing a floating and ever moving invisible piano then you'll get a good look at it here.
BD Live
As with the Deer Hunter disc, there's nothing much here at present, but more content is promised later.

A fine transfer rather than a spectacular one, but how much is down to the sharpness of the original print and the monochrome stock used is hard to judge this many years after my last cinema viewing. If you're a fan of the film then the upgrade in picture and sound quality and new extra features will probably justify the purchase, and if you don't already own it then this is certainly the one to go for.