Film writing/criticism almost inevitably goes searching for points of comparison. Essays and reviews predictably find other works to reference in a kind of pre-algorithm way of enticing the potential viewer to pay attention to something based on an affinity for another, often more popular thing. A multitude of websites and apps have reduced this idea to a kind of "if you like that then try this" shorthand but words and paragraphs are often devoted to doing something similar in a (hopefully) more elegant manner. The Emperor's Naked Army Marches On [Yuki Yukite, Shingun], a 1987 Japanese documentary directed by Kazuo Hara, tricks the system. It has little antecedent, at least in reasonably popular cinema. Perhaps some of the more recent Joshua Oppenheimer works like The Act of Killing and The Look of Silence might put someone in the right frame of mind but Hara's film is nonetheless easily a beast of its very own. It feels provocative and uncomfortable without losing a shred of its weight.
The focus is on Kenzo Okuzaki, a veritable star ready for anything and a former private in the Japanese army who's been convicted of three incredibly unusual and serious crimes. He killed a real estate broker and served a manslaughter sentence, spending more than ten years in solitary confinement. He later used a slingshot to attack Emperor Hirohito, Japan's leader during World War II – a feat he references on multiple occasions in the film by reminding whomever he's speaking with that he "shot" the Emperor as though the weapon was more dangerous than it actually was. Okuzaki then distributed fliers featuring pornographic images of Hirohito, giving him another arrest on a most interesting criminal record. When we first encounter Okuzaki in the film he's characteristically confronting an elderly former member of the military. This is essentially what the film portrays again and again throughout its two hours, though it does so to amazingly fluid effect.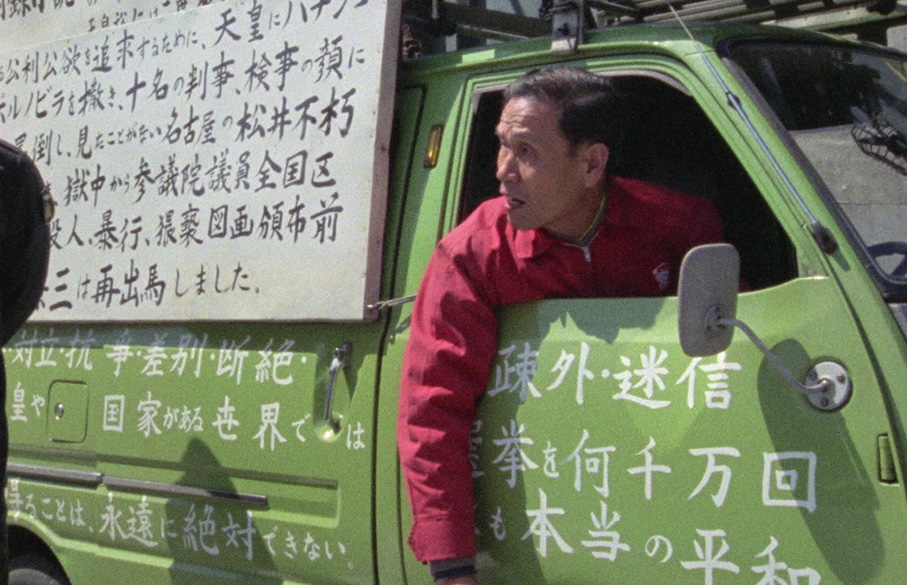 We forget about the camera. That might be a testament to Hara's placement and general unobtrusiveness, but it's also a result of the absolute lack of self-consciousness we see from Okuzaki. He's contradictory, abrasive and violently unstable but he sure makes for a great film subject. Okuzaki is passionate about exposing the men who did horrible things on the battlefield under the auspices of Japan during World War II. He seems compelled, in particular, to expose the firing squad deaths of the soldiers Yoshizawa and Nomura. These men were apparently killed by their own countrymen on charges of desertion, but after the war had already officially ended. Okuzaki initially takes along siblings of the dead men to his freeform interrogations. When things get more uncomfortable, though, the surviving family distance themselves and seemingly end their involvement. Undeterred, Okuzaki and the film crew use surrogates who pretend to be the family members of the deceased but are actually acquaintances of Okuzaki (including his wife).
The great schism between fact and fiction on the documentary spectrum gets a workout here. It's often difficult to know how much importance to place on non-interference by the filmmakers in documentary film considering the longstanding reality of directors like Robert Flaherty, who clearly influenced his narrative in Nanook of the North and Man of Aran. It's just not something with which I personally wish to concern myself. Any time cameras appear reality seems compromised. Here we have a documentary protagonist "performing" alongside fake relatives and a director reveling in it all. Hara also admits in the included interview on this disc that he encouraged the cannibalism aspect of Okuzaki's questioning. Grains of salt are useful here but nothing changes the ultimate, overarching truth we encounter in the film. There might be manufactured or greased outcomes but they don't seem to interfere with what makes the film so compelling. 
The cannibalism might not come as a total surprise to those versed in Fires on the Plain, a WWII-set novel by Shohei Ooka that has been filmed twice including the 1959 minor masterpiece by Kon Ichikawa. Humans resorting to eating other humans is referenced in that story and proves pivotal in Okuzaki's line of questioning as he asks various former military men about their experiences in New Guinea during the war. It's a macabre, uneasy topic. What do we make of this insistence on repeatedly bringing up the ugly rumor of cannibalism? On the one hand, it seems like a terrible, desperate measure that would have been taken only under the most dire circumstances. And yet, just as compelling is the potential for total resistance to the idea. Is Okuzaki (and Hara) suggesting that cannibalism has absolutely no justification? Does the viewer rest any easier knowing the soldiers who might have feasted on the flesh of other humans were left with no other choice? The off-putting idea itself is enough to inspire discomfort - something Hara likely understood when he encouraged Okuzaki during his interrogations. It's sensationalism packaged with a big red bow.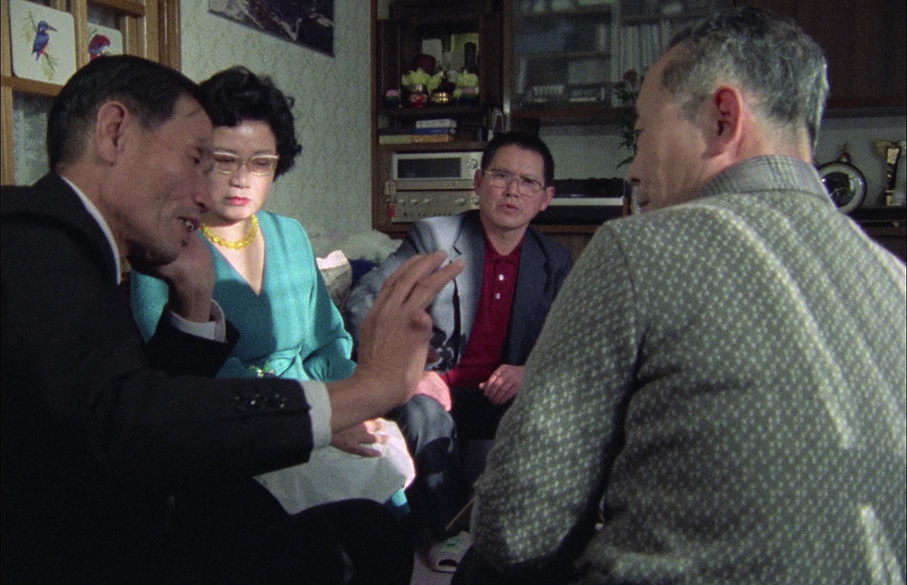 From one war veteran to the next Okuzaki maneuvers his way in suit and tie with a violent sense of urgency. The key scene, perhaps, comes when he confronts an ailing former military leader who seems to want nothing more than to sell the book he wrote on his experience. Okuzaki has other ideas and ends up physically attacking him after going through a whole self-righteous monologue. Just as quickly Okuzaki offers to call the police himself. It's a rare moment of comedy in the film, as we see the man who's instigated an attack report himself to the police immediately after it's over. Whether via a snicker or an outright laugh, it's difficult to miss the absurdity in the situation. 
If you know the films of Shohei Imamura you might imagine the two-time Palme d'or winner reveling in the messiness of Kazuo Hara's depiction of a madman keen on ripping off a few scabs from Japan's ugly experiences during World War II. Indeed, Imamura had originally intended to make a documentary focused on Okuzaki after hearing about his criminal exploits. Time passed and Hara, who had served as an assistant camera operator on a couple of Imamura films, became inspired to take on the project. Those familiar with Imamura's style can imagine it would probably have been a very different, likely more understated film had he pursued the subject but Hara seized his opportunity here. What he created easily stands out in the world of documentary. Once seen it's difficult to shake. The film essentially serves as a vital companion piece to every narrative film concerning the Japanese experience during World War II. That's quite a large swath but it's not undue. The Emperor's Naked Army Marches On must be seen to be fully believed.
The region-free Blu-ray from Second Run takes spine number 026. Blurbs on the back find both Errol Morris and Michael Moore gushing with praise. The UK boutique label often focused on releasing quality editions of classic Eastern European cinema remains excitingly unpredictable by giving this Japanese documentary its world premiere release on Blu-ray. 
Presented in the unusual aspect ratio of 1.55:1, the film carries the kind of grain one would expect based on its 16mm origins. Press notes cite a new HD remaster from original materials. It's more than fine - full of texture and true colors. This is surely the best it has looked for home viewers and perhaps the best it will look for quite some time.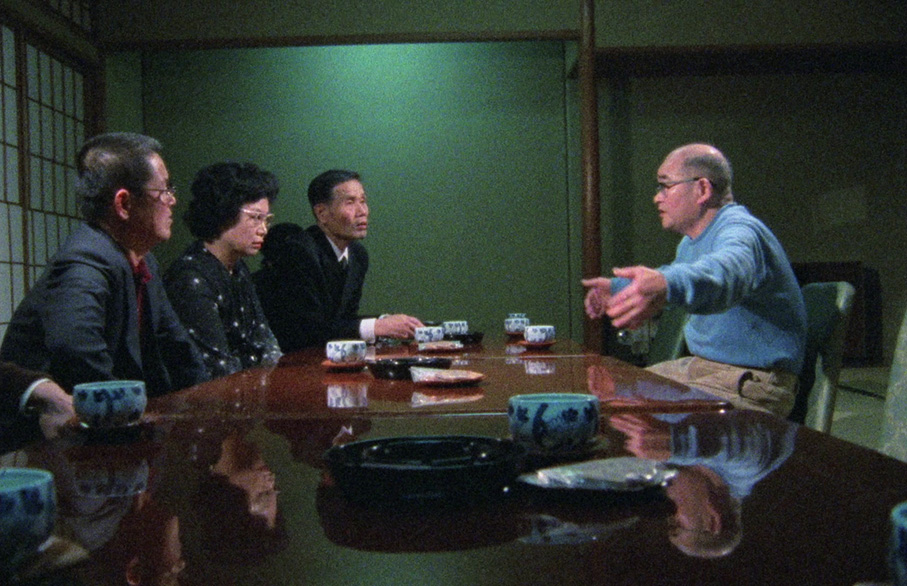 Audio similarly carries a clear, satisfactory standard. The Japanese Dual Mono 2.0 LPCM track remains steady and consistent throughout the film.
This release also boasts a new and improved English subtitles translation. These are white in color and optional. 
On the disc, an exclusive, newly filmed Interview (27:17) with director Kazuo Hara was conducted for this release. Hara seems exceptionally prepared for each question and gives thoughtful, sagacious responses. Of the many questions I found myself asking after watching the film, most were answered in some form by Hara's interview here. 
There's a conversation from the 2018 London Open City Documentary Festival entitled "Kazuo Hara Masterclass" (39:31) on the disc also. As is often the case with these types of events, I found this a bit less informative on the whole than the more focused and specific director's interview Second Run conducted. It's still a worthy addition, of course. 
Lastly, the included 20-page Booklet contains a trio of separate pieces. The first has critic Tony Rayns updating his 1991 review of the film from Monthly Film Bulletin while the second is a slightly shorter take by Jason Wood. A third piece, by Abe Mark Nornes, weaves together Hara and Michael Moore with some personal recollections of a discussion the two filmmakers shared on stage in Michigan more than a decade ago.
The Emperor's Naked Army Marches On is probably one of the more unique and compelling documentaries I can recall. It reflects a different image of Japan in World War II (and the seemingly repressed aftermath) than we typically see in cinema. The film's star attraction is its protagonist, who is determined to have these now-elderly men answer for their actions from almost forty years earlier. His charismatic craziness also gives the movie an element of entertainment we might not always get from this type of subject matter. Second Run's world premiere Blu-ray is another notch in the label's belt and a nifty expansion of its usual focus.