Invention for Destruction (Vynález zkázy) leads us down a path of respite from the outside madness of the world, as all great cinema can. Karel Zeman's film distracts from our demons and temporarily lifts away the daily burdens of adulthood because it's a straightforward fantasy for all demographics. It's also rather cutting in its depiction of the aristocracy and greed among those in power, so maybe not an absolute distraction from the real world altogether but nonetheless a respectable option. Scream into a pillow and we'll dive into this together. 
The prolific French writer Jules Verne was a world builder of the highest order and his books have been adapted into movies basically from the beginning of the medium. Zeman's work often brings to mind that of Georges Melies, the early French filmmaker who was clearly inspired by Verne on his iconic silent shorts A Trip to the Moon and The Impossible Voyage. The blend of live-action and animation, aided greatly by cinematic illusion, connects Melies and Zeman across the decades of separation. The two directors' homemade styles of exacting special effects further bonds their connection. Zeman spent several years making short films, including a popular nine-title run featuring a recurring character named Mr. Prokouk, but quickly leaned on his love of Jules Verne once he was allowed to make features. His first was called Treasure on Bird Island and he followed that up with A Journey to the Beginning of Time, a dinosaur-infused adventure tale owing heavily to Verne. By 1958 Zeman was ready for a full-on Verne adaptation.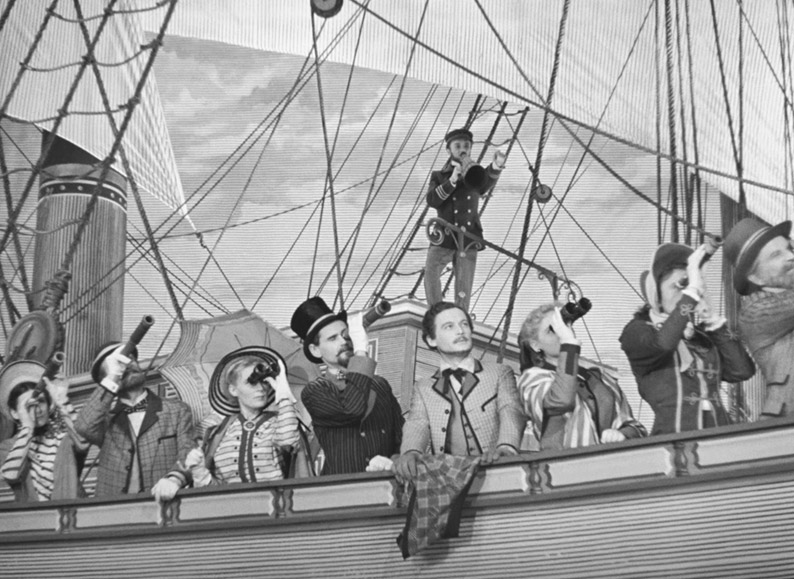 Invention for Destruction shows us a stack of books by a "Julius Verne" and then briskly moves into action. Zeman mainly used Verne's Face au drapeau (Facing the Flag), one of the dozens of novels in the Voyages Extraordinairesseries, as his inspiration. Our protagonist here is Simon Roch (played by Lubor Tokoš), an engineer intent on preventing a band of pirates from utilizing the weapon of the film's title. These bad guys have kidnapped Professor Roch and now want to take advantage of the explosive device he's created. Powered by the wealthy Count d'Artigas, the pirates are so unscrupulous as to sink ships only to recover the treasures inside. Collateral in one of these endeavors is the beautiful Jana, who becomes a love interest to Simon. 
The action largely takes place on the pirates' ship/submarine but that doesn't stop Zeman from giving us a wealth of awe-inspiring visuals. The director took his cues from the line engravings found in Verne's original book and these illustrations were so faithfully represented by Zeman that the film critic Pauline Kael humorously wrote "there are more stripes, more patterns on the clothing, the decor, and on the image itself than a sane person can easily imagine." Sanity is apparently relative and Zeman's manifestation of all of these hatchings creates an assemblage within the frame rarely seen in all of cinema. It's a delightful madness.
Both this film and Zeman's follow-up The Fabulous Baron Munchausen (also available on Blu-ray from Second Run) feel like adventure stories that even the most jaded of us can enjoy. In part because it transcends language and era, Zeman's highly stylized work is mesmerizing to watch. There's just hardly anything else like it on that scale. The handcrafted aspect touches every frame but not precisely in a way like, for example, stop-motion animation. There's a constant unpredictability here because multiple approaches are used. There are models and live-action and miniatures and various types of animation. Everything always feels new. The artificiality becomes a strength rather than a crutch.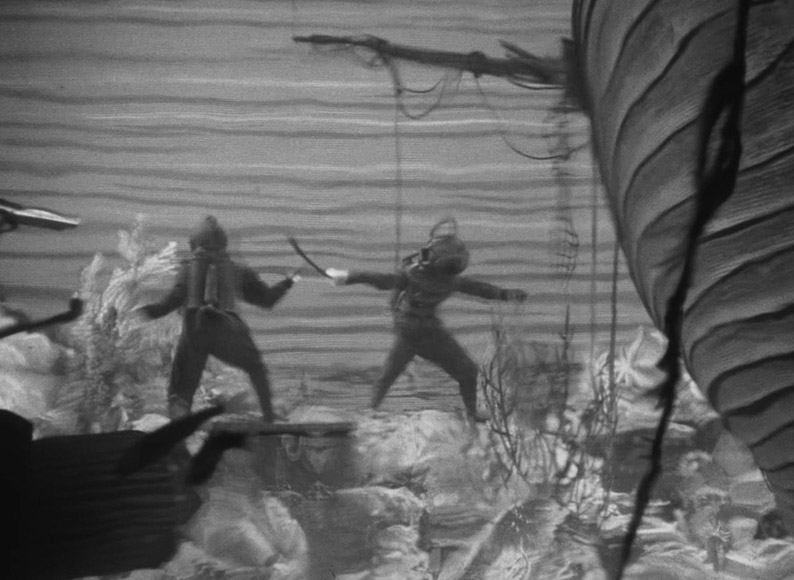 Zeman's ode to science and adventure proved to be a massive hit at the Czech box office. Second Run even calls it the "most commercially successful Czech film ever produced" on the back of this release, a claim also made by the Czech Ministry of Foreign Affairs in a 2010 publication. Three years after its domestic run the film was dubbed in English and released in the United States under the title The Fabulous World of Jules Verne, though it apparently didn't receive the same popular reception as it had in Czechoslovakia. (That said, the restoration's press notes do state the film screened at 96 cinemas simultaneously in New York.) The film also at least seems quite influential across time and place. Perhaps most importantly, it's still a blast to watch. 
Second Run adds Invention for Destruction to its ever-expanding catalog with separate DVD and Blu-ray releases, both region-free. This is the third Karel Zeman film Second Run has issued, following A Jester's Tale on DVD and The Fabulous Baron Munchausen on BD and DVD. It is spine number 017 on the Blu-ray and 124 for the DVD.
The film recently received a 4K restoration as part of the "Restoring the World of Fantasy" project in its native Czech Republic. Presented in its original 1.37:1 aspect ratio, it looks exceptionally clean and detailed. This is a sixty-year-old movie that utilized various production techniques and it's quite amazing how crisp it looks. The black and white contrast shines.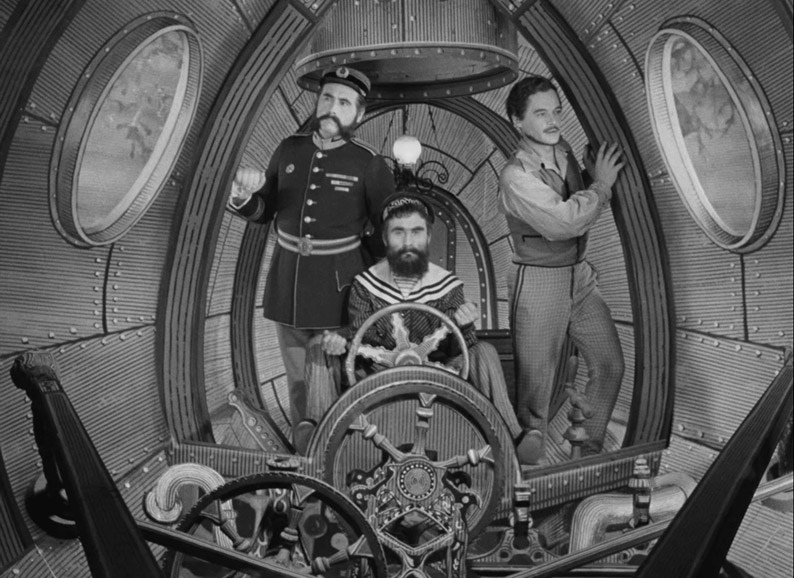 The Czech audio also sounds pleasing to the ear in a two-channel mono LPCM track. It makes for a clear, measured listen. More than the English-subtitled dialogue, the musical score by Zdeněk Liška, whose work can be heard across much of the Czech New Wave as well as in the films of Jan Švankmajer, is the great aural pleasure here.
The disc is well-supplied with supplemental features, including the English-dubbed alternate version The Fabulous World of Jules Verne. This has a different opening, with a title card for producer Joseph E. Levine, and a staid introduction by American news anchor Hugh Downs that leads into the scene with Verne's books stacked on a desk. The dubbing certainly gives the picture a different, maybe downgraded effect but, for non-Czech speakers, it also allows the attention to go entirely to the visuals. It's a neat contrast. 
A pair of Zeman's magical short films are presented. Inspiration (11:30), from 1948 or 1949 depending on the source, shows a young artist trying to draw a figure skater. He looks out his window at the rain and we're taken to a world inside a raindrop, complete with a swimming fish, an ice skater and a clown. Zeman uses glass here to great effect amid the seamless animation of this color short. King Lavra (29:37), his 1950 stop-motion short featuring puppets. The main character here is the monarch of the title who has unusual ears. It's potentially more kid-friendly given the kind of animation but there are a large number of barber casualties to be aware of here. Both of these shorts are in color and, while they don't have dialogue, the opening title screens are not subtitled
Done just for this edition is a nice video appreciation (16:17) by John Stevenson, co-director of Kung Fu Panda and other animated films, that is especially good. Stevenson is clearly a fan of Zeman, even commenting on how he had to import Japanese DVDs of the director's work in the mid-2000s. He makes mention of the wonderfully out of place sword fighting sequence in the film, which was also probably my own favorite single bit in the picture. It's interesting, too, the point he makes on Zeman wanting to keep the audience in the mindset of escapism, that they are watching a movie, and the artistic nature of that idea.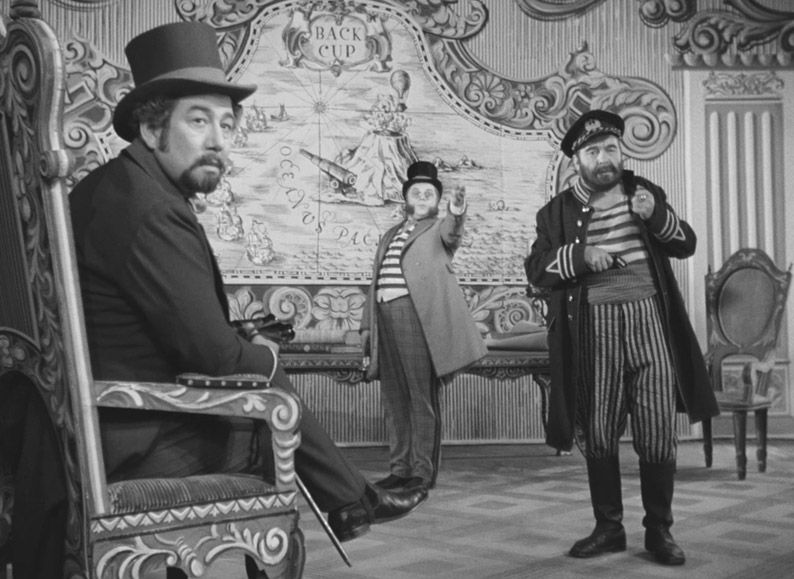 Several shorter featurettes seem to be holdovers produced by the Karel Zeman Museum.
Why Zeman Made the Film (3:33) starts with a brief archival interview clip with Zeman talking about Verne that then leads to the filmmaker's daughter remembering how she was asked by her father to help make stripes with a paint roller for the sets.
Zeman's Special Effects Techniques (3:20) has some older footage of the animator with, for example, an underwater model inside an aquarium.
Restoring the World of Fantasy (3:32) features the film archivist James Mockoski talking about finding new inspiration by looking back at the past via these restorations. He also makes note of keeping in Zeman's "fingerprints" in brief shots where you can still see reflections of the animators, for example. 
Restoration (2:49) shows phases of the restoration with examples, including taking out scratches and fixing frame damage, and examples of before and after the 4K scan and the final image.
Karel Zeman Museum (1:13) is a short advertisement for the tourist attraction that emphasizes the activities for children at the museum.
Trailer (1:19) looks to be a new clip showcasing the restoration and done for the English language market. 
There's also a short 12-page booklet that contains a new essay by James Oliver and credits for the film and disc.
The net is fairly wide for Invention for Destruction. Obviously any and all who adored the earlier Second Run release of Karel Zeman's The Fabulous Baron Munchausen will have to snap this up, but those still unacquainted with the Czech filmmaker are warmly advised to discover one of the more unique artists in world cinema history. Whether you love animation or simply enjoy a good adventure yarn you're unlikely to be disappointed with this one.