5 February 1956 is a significant date in British film history. That was the date of the showing of a programme of three short films at the National Film Theatre (NFT, now the BFI Southbank) which began the Free Cinema movement. The directors of two of the two films, Lindsay Anderson (O Dreamland) and Tony Richardson and Czech-born Karel Reisz (Momma Don't Allow), went on to long filmmaking careers. The third film of the showcase, Together, differed from the other two. O Dreamland and Momma Don't Allow were short documentaries, shot on 16mm, taking us around a Margate amusement arcade and a North London jazz club respectively. However, while it shared the documentary impulses of the other films – specifically of a London East End still showing the devastation of World War II a decade after the conflict had ended – Together was longer, at 51 minutes a short feature, or mid-length film if you prefer. Together was shot in 35mm – though like the other films, in black and white – and it was a fiction film, though none of the cast were professional actors. It was also the work of a woman, Italian-born Lorenza Mazzetti. Her career was much different to those of her colleagues.
Free Cinema began life in Anderson's writings in the film journal Sequence. "No film can be too personal," he wrote. Anderson and Mazzetti, who helped him draw up Free Cinema's manifesto, identified an attitude, a documentary influence even in works of fiction. The films were made cheaply, outside the conventional film industry, though often with money from the British Film Institute's Experimental Film Fund. They often focussed on working-class people, feeling that such people had been overlooked by the mainstream cinema of the day. Although the three films were made separately, there was some crossover of personnel. Anderson was supervising editor of Together, and German-born cinematographer Walter Lassally, who had shot Momma Don't Allow, did additional photography on Mazzetti's film.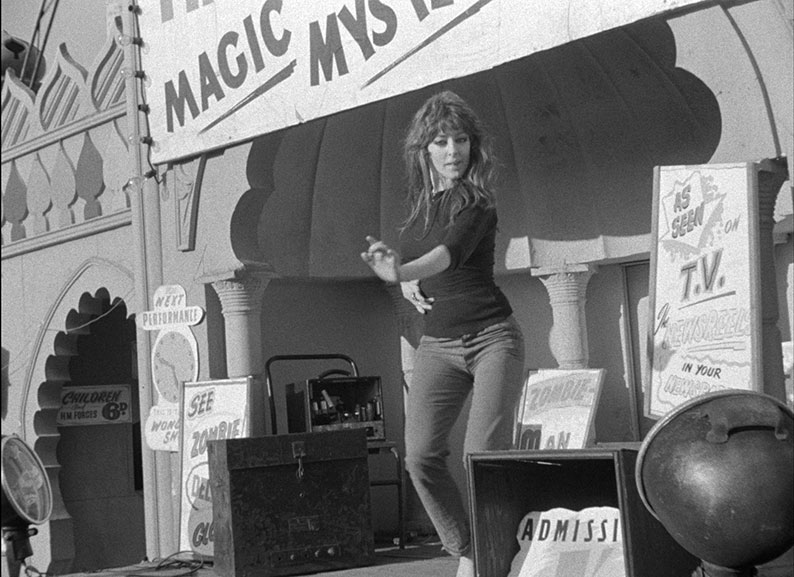 There were five further Free Cinema programmes at the NFT between 1956 and 1959, which included sessions devoted to films from Poland, France and elsewhere. The movement was very influential on the British New Wave of the late 1950s and early 1960s, with Richardson co-founding Woodfall Film Productions, which produced such films as The Loneliness of the Long Distance Runner (directed by Richardson) and Saturday Night and Sunday Morning (directed by Reisz). Meanwhile, Anderson's first feature, This Sporting Life, shows many of the same influences. Free Cinema was no longer a going concern at the end of 1950s, but what about the woman who had been there at the start? This Blu-ray collection brings together her works, Together and two experimental shorts she had made before that, and includes a new documentary based on interviews with her.
Lorenza Mazzetti was born in 1927 in Florence, one of a pair of twins with her sister Paola. Her mother died soon after their birth. The girls moved in with their aunt Nina, her husband Robert Einstein (cousin of Albert) and their two daughters. However, then came World War II, and the farm they lived in was occupied by the Nazis. Robert, being Jewish, was targeted, and he hid in the woods. But when the Germans arrived at the farm and did not find him, they killed Nina and her children. Lorenza and Paola were spared because their surname was Mazzetti and not Einstein. The following year, Robert killed himself and Lorenza and Paola were left in the care of a custodian. After finishing high school, Lorenza moved to London. She worked as a waitress and struggled to survive in the city, but she caught the eye of William Coldstream, director of the Slade School of Art, and enrolled there. The Slade is part of University College London and one day Mazzetti chanced upon the clubroom of the UCL Film Society. And so the seed was sown. While at the Slade, she made two short experimental films.
K is notable in being the first screen adaptation of Franz Kafka, in this case being a loose version of his novella Metamorphosis. As Kafka, who had died in 1924, was still in copyright, Mazzetti approached his executor Max Brod, who denied permission to adapt the story, but she went ahead anyway. The film was shot in 16mm, mostly handheld, with an amateur cast led by Michael Andrews, a fellow art student and Mazzetti's then boyfriend. One of their teachers, Claude Rogers, played his father.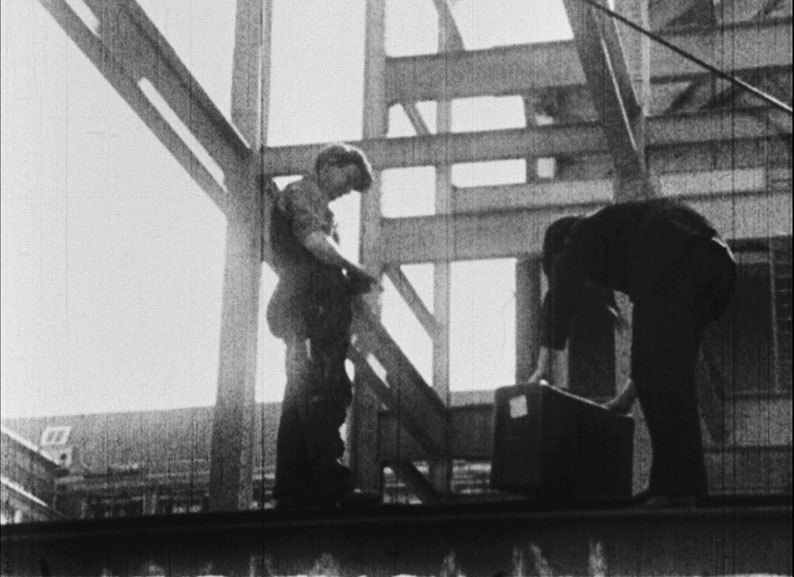 In the original story, salesman Gregor Samsa wakes up one morning to find he has transformed into a giant bug. A faithful adaptation would have involved special effects beyond the scope of this production, so Gregor's response to being treated like a dog by his management is to behave like one.
The film has a soundtrack, made up of music by Daniele Paris, some sound effects and dialogue which is not lipsynched (avoiding closeups to get round this). The film was shot on locations around London, including the Portobello Road market and a fabric wholesaler's which stood in for Gregor's workplace. Mazzetti edited the film on her bed in her digs. Mazzetti made a false statement in order to have the film processed, risking prison time, but was saved by Coldstream who organised a showing of K at the Slade in December 1953. This prompted Denis Forman, director of the British Film Institute, to suggest she make another film, financed by the BFI Experimental Film Fund. This was Together. Meanwhile, K was distributed by the BFI on 16mm, to be shown at film societies, under the title Metamorphosis.
The Country Doctor was also made at Slade and for many years was not only not known about, but believed no longer to exist. As I write this, it is not mentioned on Mazzetti's Wikipedia page and has no IMDB entry. Just over a third of the length of K, it shares with that film the device of having the main title and credits superimposed over the letter K. Some of the film was shot in Italy, though most of it was in London. Based on another Kafka story, the country doctor of the title (played by Slade student Victor Willing) is called to the bedside of a man who has a wound no one can see.
Also shot in black and white 16mm, The Country Doctor shares its style with K, in that it has no direct sound other than voiceover and music and a few sound effects. The credits call this "a film by Lorenza Mazzetti and Denis Horne", with Horne credited with the scenario and editing, though as the disc booklet advises, the two had not met at the time of the film's making, so this should be treated with caution.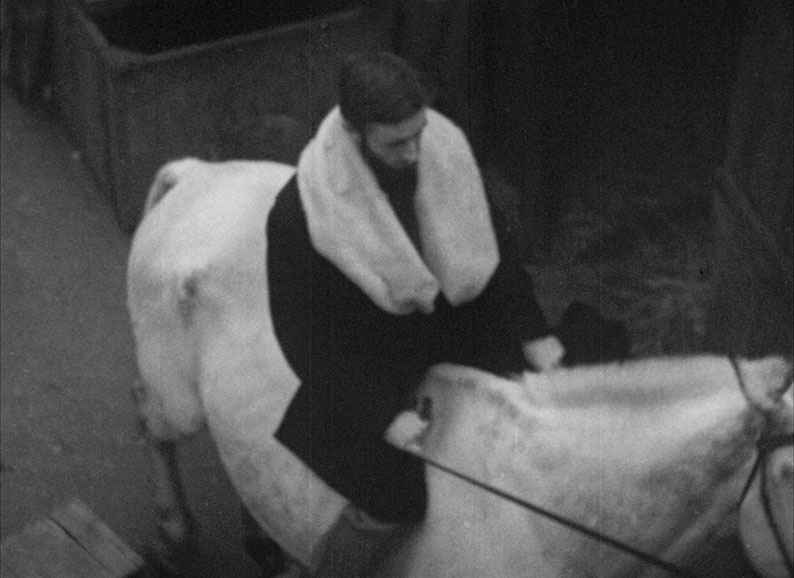 Both K and The Country Doctor were sent to Amos Vogel, who was the organiser of the Cinema 16 (as in millimetres) film society in New York, and there the film was lost, only to be found again in 2019 during the making of the Together with Lorenza Mazzetti documentary. Therefore Mazzetti was able to see her own film again after sixty years.
The two central characters are two deaf-mute dock workers, one tall and thin (Michael Andrews), the other shorter and heavyset (Eduardo Paolozzi, a sculptor). They live in a London East End still bearing the scars of War devastation. We follow them as they go about their lives, living in a boarding house, walking through the streets followed by a pack of mocking children, at work, at the market, going to the pub. Communicating with each other by sign language, they are close friends. But soon their closeness is threatened.
Mazzetti shares the directing credit with Denis Horne, who also is credited as the sole writer, and as with The Country Doctor, this is "a film by Lorenza Mazzetti and Denis Horne". However, the two did not meet until after the film had started production in 1954. They were in a relationship for a while, but at some point Horne left the film, though he still retains credit.
Shooting on 35mm this time (Ahmed al-Hadary, who had shot the previous shorts, was the main cinematographer), Together is a development in style from the earlier shorts. There is very little dialogue, and no lipsynch. Sometimes the sound drops out completely and while we can see people talking, we cannot hear them (and we can only guess what they are saying, unless you can lipread). This brings us into the two men's world. Otherwise on the soundtrack we have music (Daniele Paris again), sound effects, background chatter, and the songs sung by the children. (One of them is "Eeny Meeny Miney Mo", including the racial slur, which gains the film an opening caption advising that the film contains "racist langauge" [sic].)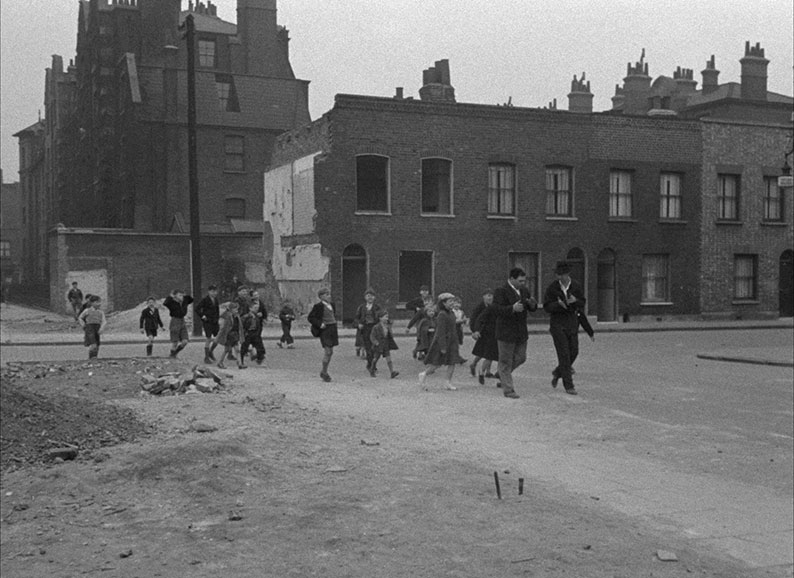 Principal photography took place in 1954, and the following year Lindsay Anderson stepped in, helping Mazzetti by arranging for additional shooting (some of it photographed by Walter Lassally).
Mazzetti intended the film to be entirely observational, with nothing "happening", but some things do happen, including the taller man becoming attracted to a woman he meets in the pub. The film resolves somewhat melodramatically. However, Mazzetti's film is a singular and affecting work, like her previous films, almost deriving from silent cinema, although with a soundtrack.
As mentioned above, Together was shown at the first Free Cinema session. The film won a prize at Cannes in 1956: a Special Mention for Investigative Documentary, Short Film. It also had some cinema distribution, showing at the leading arthouse of the day, the Academy in Oxford Street, presumably as a supporting feature.
The following year, Mazzetti returned to Italy, unable to raise finance for further films in the UK, and reuniting with her sister. She made some further films in Italy (now lost) and contributed to two portmanteau films. She also began to write fiction, publishing her first novel, The Sky Falls (Il cielo cade) in 1961, based on her wartime experiences. It became a bestseller and was itself filmed in 2000. Mazzetti married Bruno Grieco, worked as a journalist and in later life became a painter and wrote a book about her experiences in London.
TOGETHER WITH LORENZA MAZZETTI
---
Please note, this section of the review contains a plot spoiler for Together.
Together with Lorenza Mazzetti is a documentary film based on interviews with Mazzetti in London in 2013 and Rome in 2018. It was directed by Brighid Lowe, with Gilly Booth co-directing the Rome interviews. Film historian Henry K. Miller was the main interviewer. Like Together, it's a film of mid-length and concentrates on Mazzetti as a filmmaker. For more detailed information about her life and later career, please see the booklet with this Blu-ray release.
With the aid of photographs and some captions, Miller talks the now elderly Mazzetti, who is clearly in good form, through her early life, her arrival in London and at the Slade and her discovering filmmaking there. Lucian Freud, whom she knew at the Slade, has "eyes that could see monsters". She speaks of having had two "angels" in London, namely William Coldstream and Denis Forman, of whom she is clearly fond. After the making of Together, the film doesn't discuss Mazzetti's later career other than the publication of The Sky Falls, but ends with the rediscovery of The Country Doctor. Along with Mazzetti's cat, sister Paola makes an appearance partway through.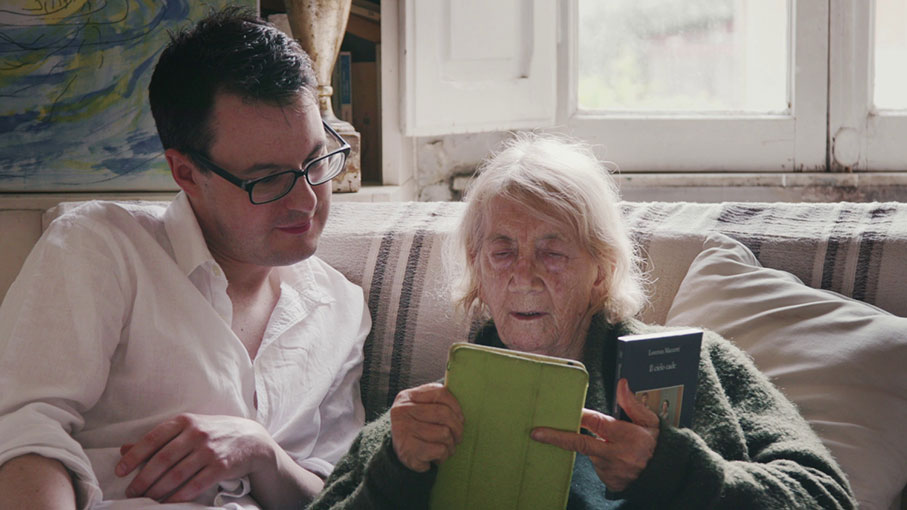 The documentary was being edited when Lorenza Mazzetti died on 4 January 2020, aged ninety-two. Mazzetti is open about how the close relationship between the two men in Together was inspired by her own relationship with her sister, with whom she shared a home towards the end of her life. When asked which of the men represented her, Mazzetti says, "The one who died." The two men are parted forever at the end of the film, and the sisters were parted too with Lorenza's death. Paola died in 2022.
Lorenza Mazzetti Collection is a Region B Blu-ray release from the BFI. Together originally had a U certificate but is now a 12 due to the racist language referred to above. K and The Country Doctor have both been passed at PG. Together was previously released as an extra on the BFI's Blu-ray of Mark Cousins's series Women Make Film, and before that on the Free Cinema DVD box set, along with other films shown at the NFT programmes.
K was shot in black and white 16mm and the transfer is derived from a duplicate negative and combined positive elements. It is presented in its original ratio of 1.37:1. Inevitably, given its tiny-budget 16mm origins, the film is often very soft and grainy, and there is a lot of visible damage, such as vertical scratches.
Much the same can be said for The Country Doctor, and again allowances have to be made for the film having been lost for so many years and there only being one surviving copy, a 16mm combined positive. The transfer is as soft and grainy as K is, though there are far fewer visible scratches.
There's a big jump in quality with Together, which was shot in black and white 35mm (and much of it 35mm nitrate, at that). The transfer is the result of a 4K scan and a restoration from the camera negative and a 35mm finegrain positive soundtrack. The results are sharp and detailed, with strong blacks and excellent greyscale. Some shots are softer-focus, but that's no doubt intentional. Grain is natural and filmlike. It is presented in the ratio of 1.37:1, which it could have been shown at in the NFT and the Academy, although commercial cinemas were in the widescreen era by then.
Together with Lorenza Mazzetti is a digitally shot documentary, presented in 1.78:1, with clips from the films respecting their original aspect ratios. There's nothing untoward here: the picture is sharp and colourful, as it should be.
The soundtracks are in all instances mono, rendered as LPCM 2.0. Given the absence of almost any lipsynch on the film soundtracks, the sound is clear and well-balanced with the music and sound effects. Subtitles for the hard of hearing are available on all the films and the extras, and Together has a female-voiced audio-descriptive track. Together with Lorenza Mazzetti has two subtitle streams: a standard one and a hard-or-hearing track rendering such things as sounds heard and the points where Mazzetti speaks in French. The film is subtitled by default but the tracks can be switched off so you can watch the film unsubtitled if you wish.
Audio commentaries with William Fowler, Mike Kohler, Elena Nepoti
Normally on a disc, commentaries, at least if there's only one, will be about the film itself, with production information or interpretation. The commentaries on Mazzetti's three films are different, as they are specifically about film restoration in general and the restoration of these films in particular. The participants are BFI curator William Fowler, video/audio restoration specialist Mike Kohler and conservation manager Elena Nepoti.
With the two 16mm films, the three talk about the production process, with the films having one edited negative, rather than the A and B roll system often used. (The negative is in two separate rolls, with a scene on one and black frames on the other at the same points, alternating at each transition between shots.) This does mean that splices are visible on the print. They talk about restoration processes, such as the material being cleaned and before it is scanned. Given the state of the two films, much damage removal was clearly not possible. They also talk about the discovery process of The Country Doctor, which was received at the BFI on a hard drive from the University of Wisconsin-Madison, where the print was held and preserved, just before lockdown.
Regarding the sound, Kohler talks about the types of optical soundtracks and the differences between analogue (tape) recording, which is how the films were recorded at the time. Copying analogue tape adds hiss, which is not the case with digital recording.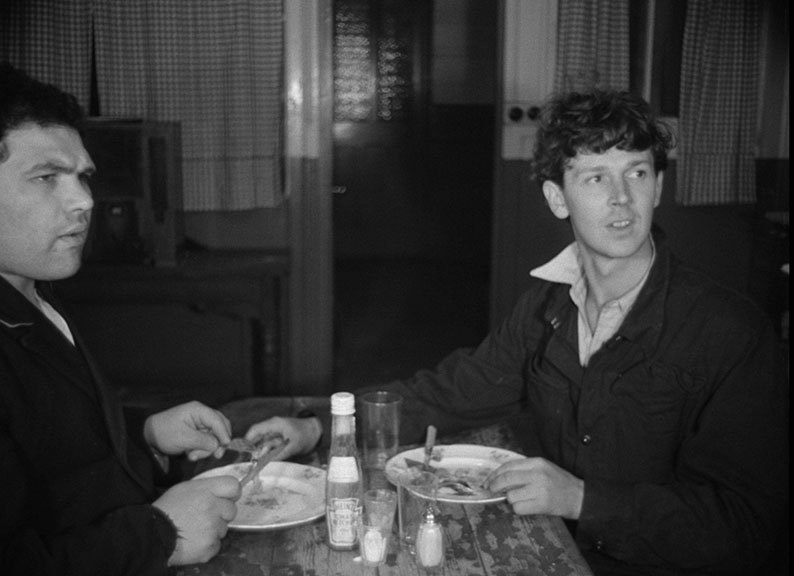 Together is a longer film, and has a longer commentary to match. The restoration was done from the original camera negative, held at the BFI National Archive. I was surprised to learn that the film was made up of mostly nitrate negative with some scenes (the reshoots) shot on safety stock, given that 35mm nitrate stock was discontinued in 1951. However, clearly stock still existed to be used, on this film apparently dating from 1949. Kohler again talks about the sound, and the difficulties of synchronising a film with no synch points, except where the shots are edited.
These commentaries are inevitably specialist, but contain a lot of information if you have any interest in film making and film restoration.
The Landscape of Free Cinema (3:17)
A short video essay by William Fowler, cowritten with Gemma Starkey (who also produced). This was made for the Open University's course A Study in Documentary Film. Fowler narrates over clips from Together, talking about how the film is a time capsule of a devastated post-War London – a decade later, it was still bearing the scars of the Blitz, as were other cities. This landscape, which we see as the two men wander around, informs a lot of Free Cinema's films. In Mazzetti's case she had an outsider's eye, not being British-born and so having a distance. Given the death of her family during the War, the making of the film during this visible war damage, may have helped her process her trauma.
Refuge England (26:06)
This film was part of the sixth and final Free Cinema NFT programme in 1959. Shot in grainy 16mm with Walter Lassally as one of the cinematographers, it was directed by Robert Vas, who had arrived in England from his native Hungary and you can tell how personal it is, as it was based on his own experiences. A refugee (played by Tibor Molnár) arrives in London at Waterloo Station. Barely able to speak English, he has a few coins in his pocket and an address where he can find shelter – but finding it is the issue. As he wanders through London, from the West End into suburbia, with his voiceover on the soundtrack, hope turns to despair as he becomes aware of the great gulf between him and those around him. However, the film ends on an optimistic note.
Booklet
The BFI's booklet, available with this limited edition of 1000 copies, runs to thirty-six pages. It has to be said that there are only brief credits for the films in the set and none at all for the documentary.  The booklet begins a warning of potential spoilers for the films and an essay, "Noise and Silence", by Brighid Lowe, director of the documentary on the disc. She begins by retelling how she and Ginté Regina were editing the film on 3 January 2020, a Friday. Over the weekend, they heard that Lorenza Mazzetti had died. Together is about amongst other things the fear of separation, and now the twin sisters were separated. On Monday, they recommenced where they had left off, and it was spookily at the point where Henry K. Miller asked Mazzetti which of the two men represented her. (See above for the answer, spoiler alert.) The essay continues about how she and Henry K. Miller had arrived in Rome in 2018 to interview Mazzetti, in the apartment which adjoined and was connected to her sister's. That interview gave them pointers to locate The Country Doctor, which at the time was lost. Lowe talks about a personal connection she had with Mazzetti: they both studied at the Slade and Lowe teaches there. They had had to improvise to make their films: Mazzetti edited hers on her bed, while Lowe had to improvise when she couldn't access the Slade's facilities due to lockdown. She sees her documentary not just as a tribute to Mazzetti, as a woman who was a pioneer, but also an elegy to the times in which she made her films and what she calls the "darkness and opportunity".
Next, Henry K. Miller provides notes on Mazzetti's three films on this set. In "Capital Punishment", William Fowler talks about Mazzetti's response to London as an arrival from Italy, and how this is reflected in her films, particularly in K and Together. A major city which she in some ways disliked, finding it "smoky and foggy", it in some ways reflected her state of mind, traumatised by wartime experiences she didn't speak about, and so came out in her work.
This is followed by extracts from Ali Smith's novel Summer (published 2020), one of a seasonal quartet making a point of being of the moment as much as possible as to when they were written. The narrator talks about seeing Together and learning about Lorenza Mazzetti and hearing that she had died. The narrator then delves into Mazzetti's life. Henry K. Miller then contributes biographies of Mazzetti and her associates on these films, both cast and crew. There are notes on and credits for the special features, including an extended one by Christophe Dupin on Refuge England.
Lorenza Mazzetti was the only woman associated with the Free Cinema movement, and in her films she brought an outsider's eye to her subject matter, much of it a London devastated by the war, which reflected her own trauma from the conflict. Her small output has led her often to be overlooked compared to her Free Cinema compatriots, but she's clearly worth further attention, and this BFI Blu-ray showcases her work.