At first blush, The Love Witch might seem like it's pulling your leg just a tad. Here's a brightly lit picture shot on 35mm that's full of garish colors, anachronistic acting styles, and enough close-ups of its lead actress's sky blue eye shadow to remind us of the joys of high definition. Behaviors are sometimes over the top by modern standards. Other actions are so lacking in natural emotion as to seem wooden or theatrical. A lengthy interlude in the second half defies all instincts with a Renaissance-inspired mock wedding that could confuse viewers into thinking they're suddenly watching an Eastern European fairy tale from half a century ago. There are witches and deaths but this never takes on the tone of a horror movie. So what exactly is going on here?
Its creator Anna Biller has been fairly vocal in insisting that she was not (intentionally, at least) making camp or parody or homage or pastiche with The Love Witch. Fair enough, as the film runs away from some of these ideas anyway, and many of the easy labels are unfortunately the product of the lazy and uneducated. The potential comparisons are nearly endless but it especially helps to have a strong foundation in cinema history. Biller, it seems, was pulling from Hollywood melodramas of the 1950s and their progeny. Many have also cited European horror films from the 1970s but that would be pure aesthetics if the connection is even there since the tone never settles into what we might encounter with a giallo, for example. It's easy to get a Russ Meyer vibe, too, as in Beyond the Valley of the Dolls but, again, that's largely superficial and not really a match on the whole.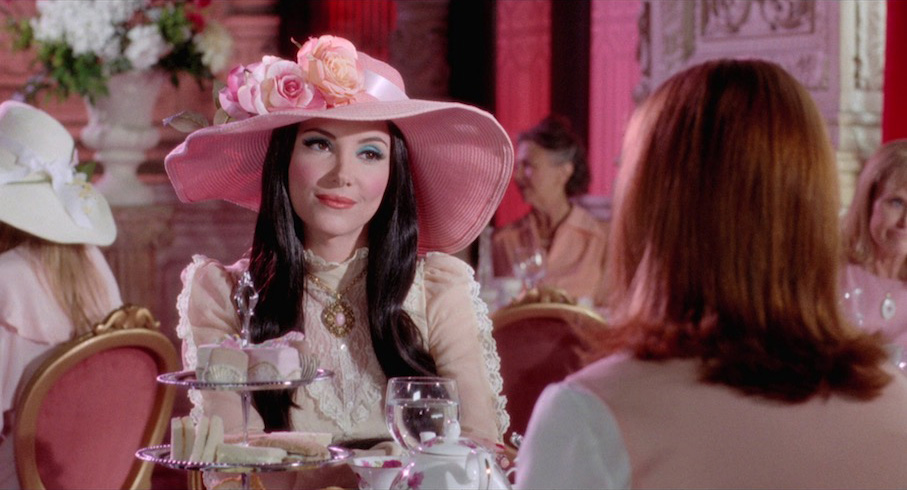 The clearest takeaway is that The Love Witch is being presented as cinema above all else (at least as filtered by Biller), and that's probably the key entry point even more so than the limitations of genre or era. What Biller does here, in a nutshell, is present a modern film set in the present day that nonetheless so adheres to cinematic and fashion styles of the 1960s that it more closely resembles a period piece than one taking place this century. She's on record stating as much but one must still wonder how many people will watch the film without either having a strong knowledge of its influences or being aware of Biller's stated intentions. It's far too easy to simply dismiss what she's aiming for rather than engaging with the movie at its intended level.
The extreme take on style should at least be apparent even to those less committed to the substance. Red, in particular, gets an early workout in the film, as lead Samantha Robinson is first seen driving a bright convertible (via rear projection) and wearing glamorous lipstick en route to a new start after the death of her husband. She may or may not have played a vital role in this unfortunate occurrence, a tightrope walk of a plot point that will ultimately inform a great deal of Biller's film. Robinson is Elaine, the witch of the title and someone in search of true love at almost any cost. Gender politics play a vital role in The Love Witch. Attempting to understand it all is included in the price of admission. If this is feminism then it's something of a requirement for the male viewer to tread lightly and with an open mind. Though on a different plane, it's an ideological descendant or relative of Vera Chytilova's Daisies.
Essentially, Elaine seems to crave a relationship with a man where she would feel loved yet one that isn't completely undone by its element of lust. She's also a witch who is unafraid to insist on her companions ingesting a drink laced with hallucinogens. It's complicated, perhaps. Sex is the barrier and the enabler. Elaine wants to be wanted but not too much. Her conquest of Wayne, a professor, ends poorly for him. She reacts by urinating in a bottle, stuffing a used tampon in for good measure and adding some herbs as she buries the glass container alongside her deceased lover. This is eventually going to arouse suspicion.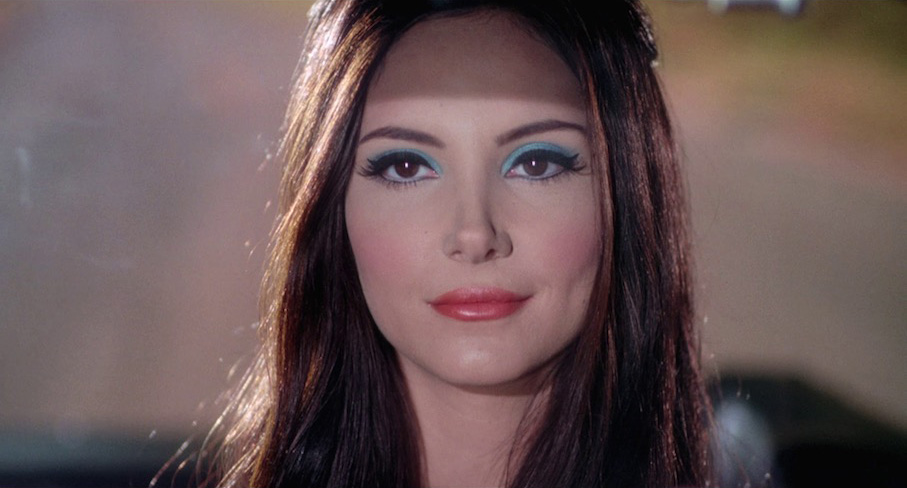 As the film progresses, Elaine becomes a divisive figure. Is she a feminist icon unafraid to go after what she wants, or is she a selfish, borderline serial killer lacking any sense of grounded discipline? The film very much wants its audience to see Elaine as multi-dimensional rather than simply an easy dismissal. It may be impossible for one gender to truly value how the other side might view such a protagonist. Biller's answer is to intentionally employ metaphor in the more sensational aspects. Death maybe isn't exactly death so much as it's a sense of crippling loss of masculinity. If Elaine isn't really causing her lovers to die then she's at least witnessing their emasculation.
Regardless of how you view the end product, Anna Biller must be commended for putting an enormous amount of heart and soul into this film. She not only wrote, produced, edited, and directed it, but she's also responsible for creating many of the costumes and aspects of the production design – things that lend the movie much of its character. It's difficult to actively root against someone so invested in the success of an endeavor like this. At two hours, The Love Witch is arguably too long and could have possibly used another set of eyes to trim things down a little bit. Regardless, it's an artisanal treasure of a movie that especially rewards those who are passionate about the frequently neglected styles it adopts. There's a great deal to enjoy and digest over the course of those couple of hours. This is not disposable entertainment, and even those somewhat cool to the ideas bubbling below the surface might at least enjoy its uniqueness.
In the U.S. boutique label Oscilloscope Laboratories brings The Love Witch to Blu-ray in a region-free edition. It's housed inside a handsome cardboard digipak with a smooth, light finish. British consumers not wishing to import can opt for Blu-ray and DVD iterations from Icon.
The film utilizes the 1.85:1 aspect ratio. It was shot on 35mm film and even displays hints of speckles in the opening credits. The colors look vivid and breathtaking. The palette Biller and cinematographer M. David Mullen opt for is full of bright hues and shades closer to candy than everyday life. Classically lit, and emphasizing glamour above all else, the result is striking. We also see generous layers of texture and detail, all impressively reproduced here on disc.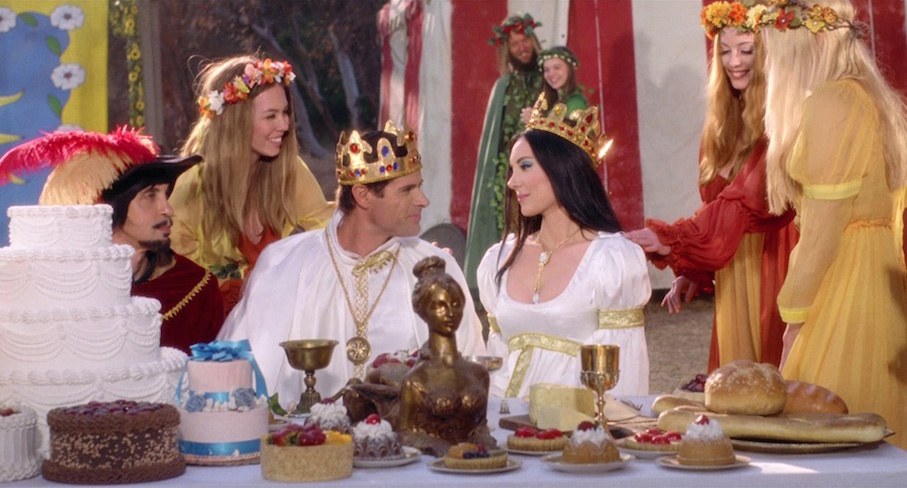 Audio is more functional than dynamic since this is a dialogue-heavy picture without many effects or loud musical touches. Included are a pair of English language options, both DTS-HD. The 2.0 stereo track sounds entirely appropriate for a movie with such vintage influences while the 5.1 surround mix is only slightly more atmospheric on the whole. While the flute-heavy musical piece in the film is unlikely to stretch out one's home theater, the voiceovers and verbal interplay between characters all sound clean and unencumbered. English subtitles are optional.
With the clear involvement of Anna Biller, Oscilloscope is able to supplement the film with a healthy collection of pertinent extras.
Audio commentary
Director/writer Anna Biller is joined by lead actress Samantha Robinson, cinematographer M. David Mullen and producer/actor Jared Sanford for an audio commentary. The conversation is mainly between Biller and Mullen, with Robinson interjected or giggling on occasion. It's very production-oriented, with other films often referenced as influences. There are times in the track when it sounds like Biller has edited it to add comments and her audio quality doesn't quite match.
Interview with cinematographer M. David Mullen (10:54)
This was easily the most fascinating of the special features, as Mullen talks quite a bit about the approach to shooting on 35mm and some of his visual influences.
Behind the Scenes Videos with Anna Biller (10:38)
An entertaining take on the behind the scenes featurette has the director speaking over various bits of footage rather than the typical promotional fluff usually found on major studio editions.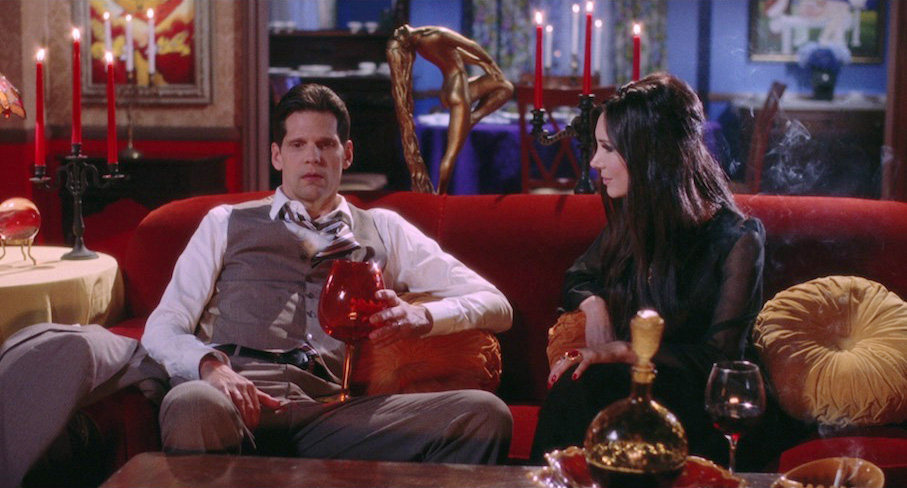 Deleted and Extended Scenes
A plethora of unused footage but missing a "Play All" function; there are two deleted scenes, "Elaine and Jerry" (1:19) and "Trish on the Phone" (2:06), and also a pair of alternate cuts, "Renaissance Tears" (2:40) and "Gemini Twins" (1:59); extended scenes include "Trish Dressing" (2:47), "Magic Bottles" (2:12), "Ritual 1" (4:08), "Ritual 2" (4:05), "Ritual 3" (1:59), "Elaine Cooking" (2:53), "The Room" (1:23), and "Police Investigation" (2:24)
Samantha Robinson Dance Audition (2:41)
The film's star – out of her character's signature make-up and costumes – performs with a chair.
Unreleased trailer (1:47) -
Robinson hosts this unused preview.
Theatrical trailer (2:36)
Using much of the same footage as the unused version, this slightly more traditional take sells the film to slightly unsuspecting audiences
Also included are trailers for the Oscilloscope releases Always Shine (1:49) and Kelly Reichardt's River of Grass (1:39).
It's tough to say whether Anna Biller's unique approach to filmmaking will be sustainable over the course of a career but her latest feature, The Love Witch, clearly strikes a nerve. A mix of sex, horror, glamour and feminism packaged in candy-colored classic Hollywood aesthetics doesn't come around often nowadays. The lovely Blu-ray package from Oscilloscope Laboratories containing a wealth of extra material helps make this easily worth a look.