The bureaucracy and corruption of post-colonial Senegal is highlighted when a Senagalese man receives a money order from his nephew in Paris. Mandabi (1968) is Ousmane Sembene's second feature film and it won the International Critics Prize at the 1968 Venice Film Festival.
I was highly impressed by Sembene's Black Girl (1966), which received an outstanding Blu-ray release by the BFI in 2015. When StudioCanal announced the release of Mandabi (1968), I was looking forward to buying it immediately on it's release. The film did not disappoint – it is the work of a great storyteller and an important artist.
My first viewing was highly enjoyable – the story and script are wonderful and rich with detail. My second watch of the film two days later was quite different – the story and film-making was just as engaging as before, but my emotional response had totally changed. This was due in part to knowing how the story concludes and to the excellent commentary track which explained so much about the culture and politics of Senegal at this time.
The film centers around a man trying to cash a money order in which each interaction he has brings into focus the corrupt order that now resides in Senegal. Sembene is scathing in his portrait of a country that is abandoning its traditional culture and embracing a foreign capitalist ideal. Sembene was a Marxist and an idealist who hoped to bring about change through his moviemaking and, to a lesser degree (because the majority of Senegalese were illiterate), through his writing.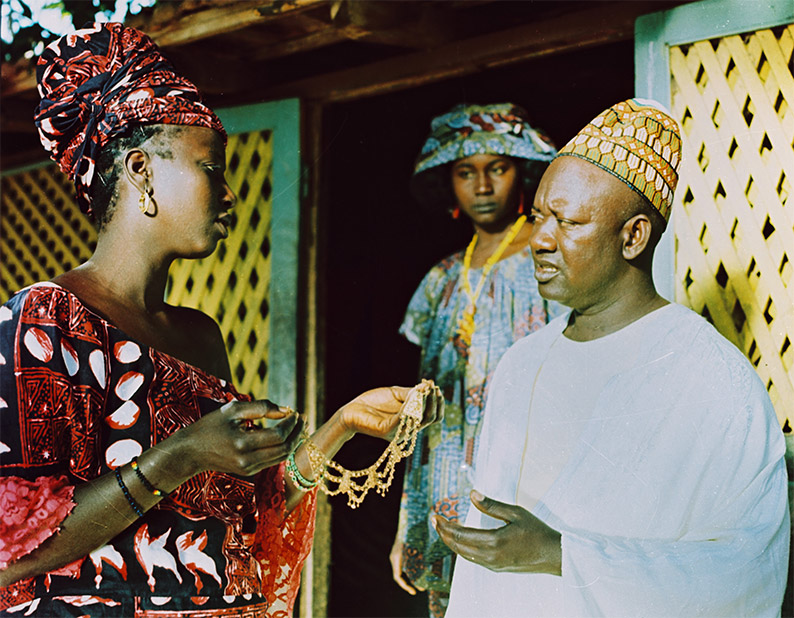 The film was funded by the French National Centre for Cinematography and this required the film to be shot in French – Sembene also shot the film in the local Wolof dialect and that version is what we have on this release. The film was the first ever Sub-Saharan film in a local African language. When discussing the film in the special features, Professor David Murphy appears to have seen the French version, although Samba Gadjigo (another Sembene scholar) is unaware of any existing copy in French.
The performances are superb – the central character is brilliantly played by Makhouredia Gueye (an accountant by profession who was also a theatre actor) and the roles of his two wives are expertly played by Younousse N'Diaye and Issa Niang (she also sings the recurring Mandabi theme). Sembene highlights the injustices that women face in this society as well the essential role that they play in keeping things together when the men are unable to do so. Every character is expertly played by a cast of mainly family and friends of Sembene.
Sembene is a kind of a magician – Mandabi appears to be a very simple story on first viewing and it is light and very funny. Reflecting on the story and rewatching the film reveals a dense commentary on post colonial Dakar and at an even higher level it becomes a universal commentary on human nature. Sembene is not a dispassionate observer of events but an activist who hopes to bring about societal change through his films – Mandabi succeeds both as entertainment and as a catalyst for revolutionary change. The film made me reflect on the society in which I live and ways in which I act with self-interest instead of a shared sense of community.
The Blu-ray set has no details on the restoration so I have copied information from the StudioCanal website:
"The film has been painstakingly remastered in 4K with STUDIOCANAL's partners at VDM, scanned from the original 35mm interpositive, which had been badly damaged. Significant work was also undertaken to repair defects in the photochemical development, and special attention has been given to filtering, to provide a crystal-clear copy without chips or blemishes. The restoration team also fully graded the film to restore the vividness and beauty of Sembene's original shots, to fully realise his original vision."
The result is excellent – the print is clean, with very good detail and wonderful colours. The film is presented in 1.66:1 Ratio. There is only one instance in the film (at the 13 minute mark) where the image loses clarity for just a few seconds.
The audio is Dual Mono PCM. The sound is clear throughout and the musical motif which is repeated regularly sounds wonderful.
Audio Commentary with Jason Silverman and Samba Gadjigo
Samba Gadjigo is a Senegalese film professor and he explains the cultural and political aspects of 1960s Senegal that allowed me to better understand the film and helped to shape my second viewing. The commentary track is informative and is synced up with what we are viewing onscreen. This duo made the 2015 documentary Sembene! and I have since imported the Kino DVD from the U.S.A.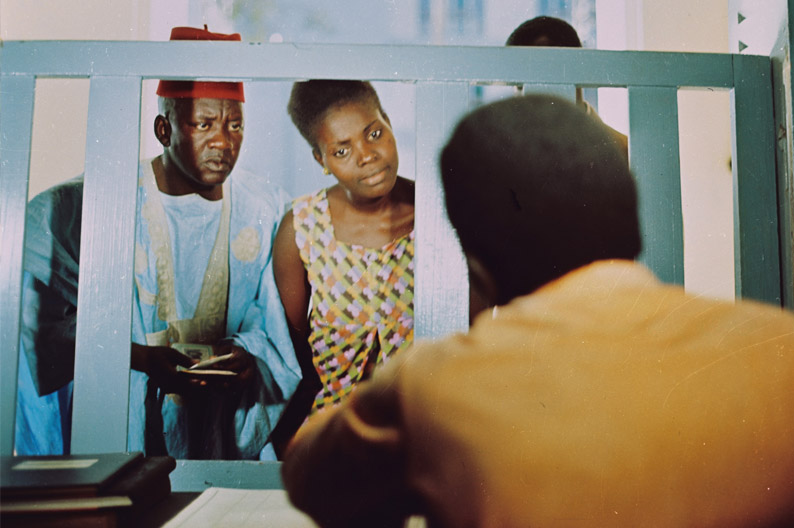 Interview with Alain Sembene (28 mins)
The son of the film-maker gives a warm and personal tribute to his father and all the details surrounding the making of the film.
A Senegalese Story (David Murphy) (24 mins)
Professor Murphy gives an excellent overview of Sembene and this film. David is the author of Sembene: Imaging Alternatives in Film and Fiction and his expertise comes across in this feature.
A Date With Dakar (Keith Kiri) (21 mins)
Keith reminisces on screenings of Mandabi together with details on his meeting Sembene at a Film Festival in Burkino Faso.
Conversation in Dakar with Diop and Savane (19 mins)
This is a wonderful contemporary conversation between journalist Diop and Sociologist Savane. The two give invaluable personal insights into life in Dakar in the 1960s. It is a wonderfully animated exchange that deepened my understanding of the film.
Shooting Mandabi – Silent Footage from British Pathé (2 mins)
This contains very short clips of the filming of Mandabi.
Theatrical Trailer
Booklet
The booklet contains an uncredited (I had to check StudioCanal website) essay from Professor David Murphy. It is rich with details on the making of the film and context on Senegal in 1968.

This film deserves a place amongst the major films of world cinema on it's artistic merits alone however when we consider it's historical context (first Sub-Saharan film in an African language) this adds to the importance of the film. African cinema has been utterly neglected until recent years. The Film Foundation launched the African Film Heritage Project in 2017 with the goal of restoring 50 films. Some of these restorations are completed and a few have received Criterion editions in the United States.
We are fortunate that Sembene's first two feature films are now available in such excellent editions from BFI and StudioCanal. Sembene has a rich filmography that stretches to 2004. I sincerely hope that we get to see more of his films restored and that this artist gains the recognition that he deserves.
The story is a timeless and universal tale – how self-interest can destroy traditional values of community. This was relevant in 1968, it is relevant today and it will remain relevant in the future regardless of where in the world we are watching from.
StudioCanal have provided us with a wealth of valuable supplementary features that complement a superb 4k restoration. I urge everyone to purchase this release to support this effort and to encourage future similar projects. Highest Recommendation.
---
Due to technical limitations, this review has been illustrated with promotional stills rather than our usual screen grabs.