It's perhaps a little presumptuous to start comparing a modern-day Korean crime drama to Gillo Pontecorvo's 1966 masterpiece The Battle of Algiers. They do, after all, have precious little in common, but both do begin in surprisingly similar fashion, on a static shot of the victim of torture at what appears to be the tail end of his suffering. In Pontecorvo's film, however, the man has finally told his tormentors what they need to know, whereas in Park Hoon-jung's 2013 New World [Sinsegye] the unfortunate individual is still protesting to his gangland persecutors that he's not the rat they're looking for. They don't believe him, and a few hammer blows later they're pouring a viscous liquid down his throat and burying him at sea in a barrel of cement. In the following scene we're introduced to the head of this criminal organisation, Seok Dong-chool, when he's cleared of corruption charges, much to the chagrin of the authorities. He celebrates by paying a late-night visit to his mistress, but is critically injured on the way home when a lorry ploughs headlong into the side of his car in what may or may not have been an assassination attempt. His eventual death leaves a power gap at the head of the organisation, one that bitter rivals Jung Chung (Hwang Jung-min) and Lee Joong-gu (Park Sung-woong) are both vying for. Hoping to take advantage of this opportunity, Police Section Chief Kang and his superior, Director Ko, have a plan to influence Seok's successor, one that requires the help of Lee Ja-sung (Lee Jung-jae), who has been working undercover in this very criminal organisation for ten years, and is now Chung's trusted second-in-command.
I've not read a single review of New World that doesn't pick up on the influence of Andrew Lau and Alan Mak's Infernal Affairs, a film in which a detective is working undercover in a Hong Kong criminal gang that has its own man strategically placed within the city's police force. Here it's not the revelation that the police have a mole within this criminal organisation that surprises, but the fact that he has risen to a position of such influence within it, making you wonder just how many laws he had to break and what moral price he has paid in order to do so. That there are also intermittent echoes of The Godfather is perhaps hardly surprising, given that director Park has cited it as a favourite film and claims to have watched it over 100 times.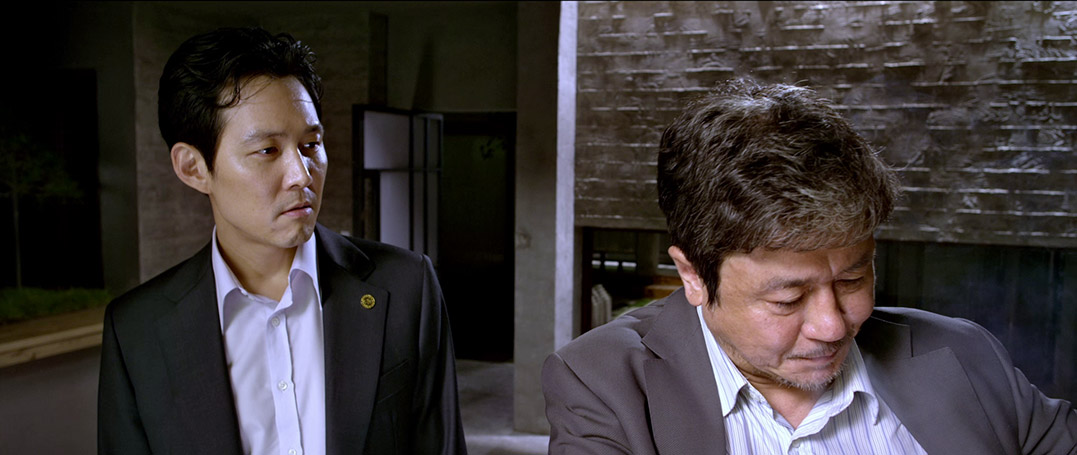 New World intrigues from an early stage in its portrait of a sizeable amalgamation of criminal organisations as the surface-legitimate Goldmoon corporation, whose identically dark-suited employees look more like Japanese salarymen than stereotypical gangsters and even all wear the same company lapel pin (the cops, by comparison, look like criminal ruffians). A number of popular shortcuts are used to quickly establish Jung Chung as the firm's unpredictable hothead rebel when he is met at the airport by a party of his men led by the comparatively straight-laced and wearily tolerant Ja-sung. While his reception party are soberly dressed in the regulation dark suits, the curly-haired Chung is sporting a white jacket and airplane slippers, makes a point of publicly bulling one of his men, badmouths his late boss ("he got what he deserved for never sharing his Viagra") and buys knock-off designer sunglasses because he thinks they make him look cool. His rival Lee, meanwhile, is the epitome of smug confidence and self-importance, immaculately dressed and contemptuously dismissive of the part-Chinese Chung as his cultural and business inferior. So insufferable is Lee that it's easy to side with the sheepish young cops whom he catches trying to surreptitiously photograph the attendees at Seok's funeral, and the first appearance of the unkempt Kang (played with typical swagger by Choi Min-sik), who refuses to be intimidated by Lee and prompts him as his men to back down, is thus perfectly timed. But this casting of Kang in a positive light proves to be short-lived, and during the course of his first secret in-film meeting with Ja-sung – who was due to end his undercover posting and is furious at Kang for changing the terms of a deal he clearly has no control over – it becomes evident that he is prepared to do whatever it takes to achieve his ultimate goal, regardless of the consequences. As Ja-sung finds himself in increasing danger, Kang and Ko behave like ageing WWI generals, making plans that put the lives of their own people at risk without a serious thought for their lives or their welfare. "Some sacrifices are needed to win a war," says Ko at one point, with little appreciation of what that means to the men and women on this lethal front-line.
New World is driven forward less by action than the political and personal consequences of Kang's game-playing, but like the films from which it borrows, this makes for compelling viewing. The key characters are all clearly defined and cannily cast, and in spite of the transparency of its influences, it's genuinely hard to predict at any point where the story will head next. This gives rise to a number of very real surprises, as well as some nail-biting tension and a couple of seriously affecting emotional gut-punches. And when the violence comes, it's as brutal as you would expect from a modern Korean crime drama without ever crossing the line into excess. The lead performances are all first-rate, and there's some very fine work in the supporting roles (I'll give a special shout here for Song Ji-hyo's icy cool portrayal of Ja-sung's police handler and Go teacher Shin-woo), and as a director (he also wrote the screenplay), Park knows just when to stand back and let his actors carry a scene, but also how to best showcase the action. This peaks in an extraordinary scene in which an injured Chung is trapped inside an elevator with a posse of assassins and continues to battle furiously for his life in a brilliantly staged and choreographed example of just how to stage realistically violent close-quarters action.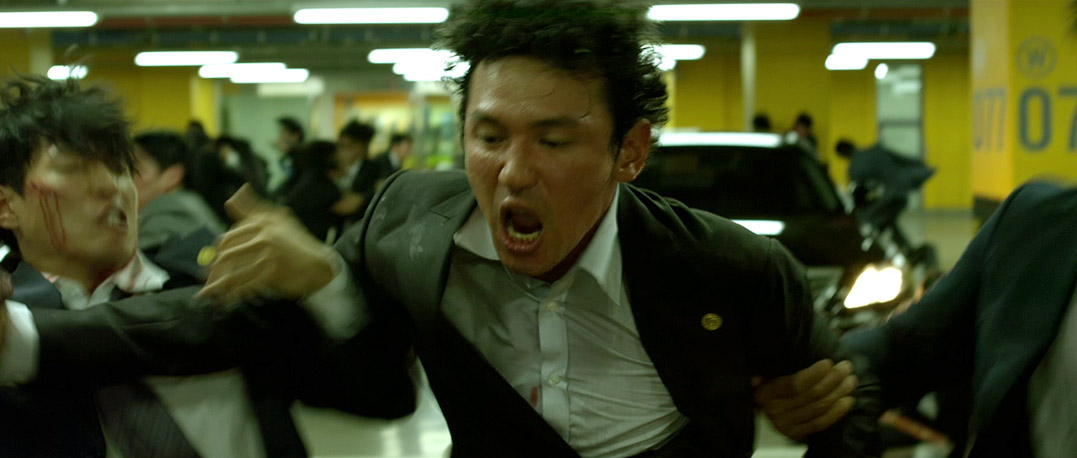 Some have complained about the dominance of gangland politics and character drama over action (which was also a feature of The Godfather, as I remember) and the belief that the film is allowed to run past where it logically should have ended, but none of this bothered me in the least. I was riveted throughout, by the story, by the characters, by Park's precise direction, and particularly by Ja-sung's increasingly challenging loyalty struggle, as he continues to take orders from Kang but instinctively steps up to protect Chung when his life is put at risk. It's a bond symbolised by Chung's insistence on calling Ja-sung "Brother" and which later proves instrumental in the shaping the latter's future. It all builds to a thrillingly violent and plot-twisty climax and a thoroughly satisfying and logical conclusion. Now this is want I want from a gangster movie. Terrific.
I'm not sure why it is that so many modern Korean films look so pristine on Blu-ray, but the 2.35:1 1080p transfer on this Montage Pictures release of New World is no exception. The detail is consistently crisp, the contrast punchy without eating image detail, and the largely naturalistic colour cleanly rendered with no distracting stylised tints. As you would expect from a modern digital transfer, there's not a mark on the picture anywhere. Lovely.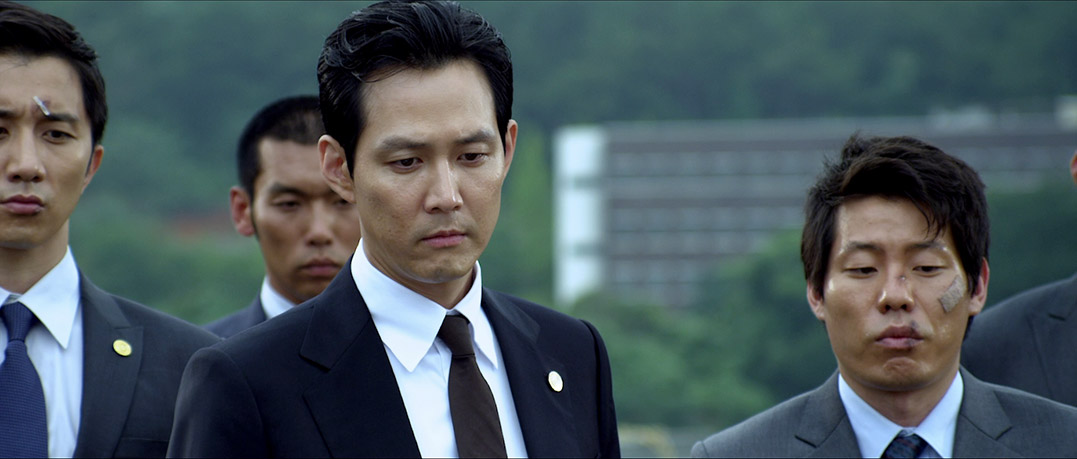 You can choose between Linear PCM 2.0 stereo or DTS-HD Master Audio 5.1 surround, both in the original Korean. Both are crystal clear with an excellent dynamic range, but while the stereo track is perfectly serviceable, the DTS-HD surround track is really the only way to go, having a more inclusive mix, more punch to the bass and a subtler rendering of dialogue, location sound and Jo Yeong-wook's impressively low-key score.
The optional English subtitles are clear and crisp. Just occasionally I struggled a little when they say against the bright white of the gangsters' shirts, despite being subtly outlined. I need new glasses.
Being part of Eureka's bare bones Montage Pictures range, all that's on offer here is a Trailer (1:35), which somewhat misleadingly pushes the film as a fast-paced action thriller.
I was seriously impressed with New World, and while it doesn't really take us anywhere new, it does tell a thoroughly gripping story with appropriately low-key flair, aided by strong performances and director Park Hoon-jung's thoughtfully structured script. Being a Montage Pictures release, this is effectively a movie-only disc, but the low price reflects that and the transfer quality is superb. Recommended.