I got into cinema as a teenager and remember recording Iranian filmmaker Jafar Panahi's The White Balloon (1995) from a television screening, and following this I developed a keen interest in Iranian cinema. I had the good fortune to see many Iranian films in the late 90s/early 2000s in the cinema. However I did not see another film from Jafar Panahi until 2013. I bought several of his films on DVD and only now have I gotten around to watching them for this review.
With the exception of The White Balloon, all Panahi's films have been made available on home media in English editions in Europe. Many of these editions are now out of print and it seems uncertain as to when they may become available again, so I would advise those interested in collecting his films to act without delay.
Watching a director's filmography in chronological order gives a clear overview of a directors themes and style and how they develop. I watched Panahi's films from The Mirror (1997) through to No Bears (2022) (with the exception of Closed Curtain, 2013) and will give a personal overview of these films below.

THE MIRROR [AYNEH] (1997)
The Mirror invites a certain comparison with The White Balloon (1995), as the main character is a young girl and the actresses in both films are in fact sisters in real life. Panahi explores the nature of filmmaking, and in doing so follows in the footsteps of his contemporary, Abbas Kiarostami. It is a beautiful and thought-provoking film with a central adventure built around a little girl getting home safely in Teheran. The film was issued on an English-friendly French DVD (from Tamasa) and it is still available on Amazon.fr, but looks like it is out of print and may get very expensive in the near future. The DVD has a very good picture and audio quality.
THE CIRCLE [DAYEREH] (2000)
After two films centered around children, Panahi focuses here on stories of marginalised women that highlight social injustice within Iranian society. The film is an extremely well crafted film, but its themes elevate it to the level of essential cinema. The opening scene of the film establishes the baseline belief in Iranian society, that males are valued more highly than females. Then we see a series of stories of intelligent and resourceful women being systematically broken by a society which harasses them because of their sex. The film flows expertly from story to story and the tone is tragic and insightful. It is a masterpiece of storytelling. I have the now out-of-print Fox Lorber US edition DVD (Artificial Eye also released it on DVD), which has mediocre visuals and a Panahi interview as an extra feature. Essential Cinema.
CRIMSON GOLD [TALAYE SORKH] (2003)
Panahi continues his focus on the margianalised in Iranian society with an insightful character study of a pizza delivery man and small-time crook in a story that has a tragic conclusion. The central performance is very effective, although the knowledge that the man (Hussein) is a non-professional actor who in real life is a pizza delivery man with a serious mental disorder led me to reflect that his performance is not a testament to his acting skills but a presentation of the man himself. Hussein fought in the Iran-Iraq war, and he was continuously medicated as a result of this – he may have been exposed to the chemical weapons that (supplied by America!) Saddam Hussein used against the Iranians. It is a great film that made me think of Taxi Driver. The barebones DVD from Drakes Avenue offers a very good picture quality. Essential Cinema.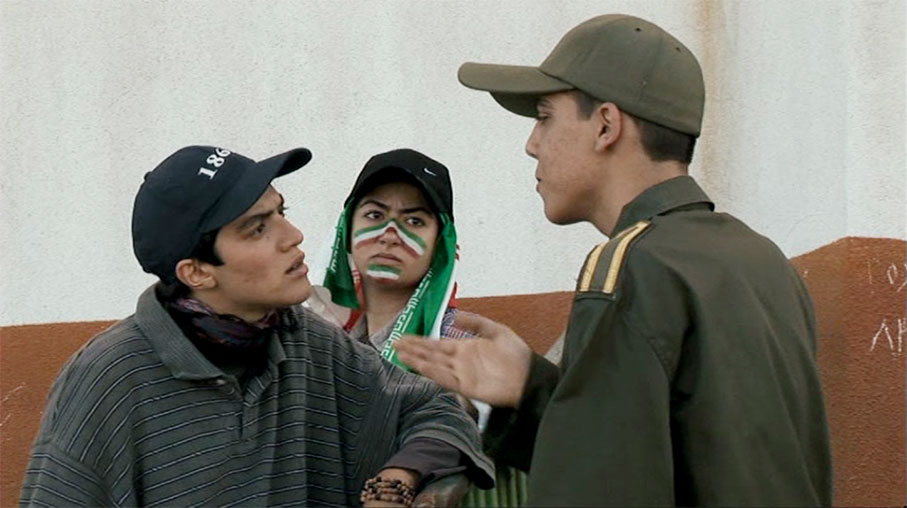 OFFSIDE [AFSAID] (2006)
In common with the two previous films, we get a strong critique of Iranian society, albeit here in a more lighthearted story. Based on true events, several teenage girls smuggle themselves into a football stadium for a World Cup qualifying match between Iran and Bahrain. The film has a light touch that expertly combines absurdity, a critique of oppression, humanity and humour in one story. The transgressions in the narrative are relatively light and innocent, however the threat of prosecution could lead these girls in the direction of the women portrayed in The Circle (2000). However the film ends on a note of jubilation and hope that these girls got lucky and avoided what could have been a disproportionate retribution. Perfectly acted and directed. The Artificial Eye DVD is very good (see cineoutsider review here).
THIS IS NOT A FILM [IN FILM NIST] (2011)
This film marks a turning point in the director's career. In 2009, he was arrested following accusations of supporting Iran's Green Movement opposition. He received a six-year prison sentence (enforced as a house arrest, although he could travel within Teheran) and a 20-year ban on filmmaking. In 2011, he made a film anyway (shot and "directed" by someone else) of himself discussing his situation and outlining a film that he had been set to make years earlier. I am not receptive to reality TV-style media, and so I found this a bit indulgent, however I must confess that I was not in the right humour for the film and despite Panahi's charm I was distracted watching the film. I will rewatch. The Palisades Tartan DVD is very good.*
TAXI TEHRAN [TAXI] (2015)
This is a delightful film shot in a car (à la Kiarostami) with Panahi blending the lines between fact and fiction, as he seems to be acting as a taxi driver in Teheran, picking up various passengers along the way. It seems certain that all the passengers had agreed to act in the film and that everything was scripted, but I was thrilled to be a passenger in Panahi's car and to observe the conversations he has. The societal critique is subtle and he deftly questions his young niece on her school filmmaking assignment, which highlights the absurd rules imposed by the Iranian regime. Panahi defiantly makes the statement that he is still very much engaged with Iranian society, and the final passenger is a renowned human rights lawyer whose involvement here shows the solidarity that exists for the film-maker. The New Wave Films Blu-ray is excellent.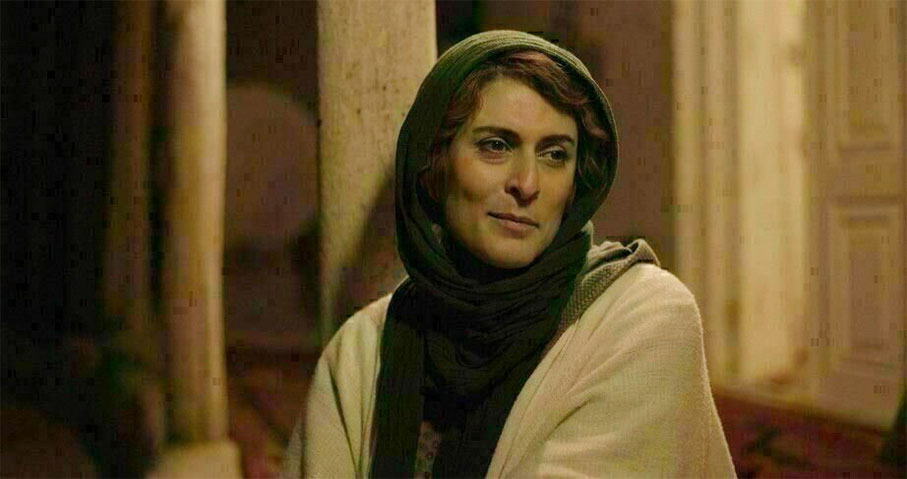 3 FACES [SE ROKH] (2018)
Panahi's defiance of the Iranian regime's ruling continues and develops as he makes a film that was shot close to the Iranian/Turkish border. The video message that sets the plot in motion creates a real emotional tension to the film, and it gets resolved in quite an unexpected and original manner. By examining the traditional culture in this village I suspect that Panahi is commenting on Iranian society at large. For all the positive aspects that the village community have there are rules that create a kind of an unseen threat – in this story we see how artistic ambition and talent is scorned upon and how it changed post-1979 Revolution. Also we get a frightening insight into the violent coercion and control that girls and women face. A superb film. The New Wave Films DVD is excellent.

Watching these films during the past few weeks has solidified for me Panahi's importance as a filmmaker. In the 1990s, he made allegorical films centered on children, and hence there is a necessary innocence and lightness to the stories. During the 2000s, he made a series of three essential films that critique Iranian society and he demonstrated his expertise in the area of film craft. In the 2010s, his films are a brave defiance against a totalitarian regime and a commentary on the place of art in Iranian society. Panahi has been awarded prizes at Cannes, Venice, Berlin, Locarno and other major film festivals.
No Bears [Khers nist]

(2022)
---
In his latest film, Panahi continues to push the boundaries of his artistic endeavours. He has already defied the filmmaking ban several times, and here we see him actually on the border with Turkey and on camera refusing to cross the line – remember a condition of his sentence was that he would not leave Iran. In the film, he openly shows himself directing another film (albeit through a video link like Zoom) set in Turkey, and he has travelled to within a few kilometres of the filming location as he feels it is essential to be close to the production and actors. He has chosen a tiny village close to the Turkish border.
It is essential to understanding the story to know of the ban on Mr Panahi making films or leaving Iran. Panahi here fearlessly portrays the controversy of Iranian artists fleeing the country under desperate circumstances. In an Iranian style blend of fact and fiction, he casts Mina Kavani (an Iranian actress in exile in France) as someone fleeing Iran through Turkey onto Europe. Once again, a Panahi film contains layers of complexity that invite repeat viewings to better understand the story and its links to reality, and there is a particular authenticity to the performances. There is an insightful interview with actress Mani Kavani on the Film Comment podcast.
Panahi weaves another story into the film. In the village in which he is staying there is an incident which brings up the issue of dishonour and the violent male reaction that seems to be part of the culture. These traditions may seem absurb to us, but the ability to maintain some sort of harmony in a village is not easy, and these traditions may have served a purpose in the past.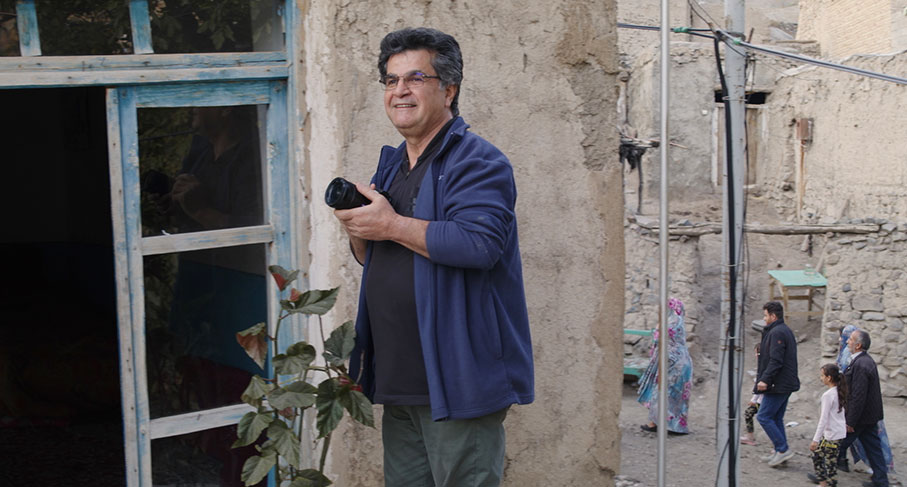 Panahi's skill as a filmmaker is on full display here – No Bears is expertly paced, and he has an ability to create tremendous drama and tension from ordinary events. It is also apparent since 2011s This Is Not A Film that Mr.Panahi is very charismatic and natural as an actor – he is utterly endearing and believable here. His skill at directing actors is also on full display – the villagers perform their roles in a manner that seems true-to-life. He makes everything look effortless but this is a testament to his experience and talent.
The title of the film would seem to reference superstitions and traditions used to control and frighten people. I interpret it as Mr Panahi rejecting these threats of oppression.
The film was shot in the Spring of 2022, and in July Mr Panahi was arrested for voicing support to a fellow filmmaker who was openly criticising the government. In February 2023, he began a protest hunger strike and after two days was released from the prison.
The film was shot on digital camera and the bluray displays an impeccable HD image. All scenes are shot on real locations and appear to only use natural lighting. This adds to the real documentary feel of the film. Colours look realistic to my eyes.
The Linear PCM stereo 2.0 soundtrack is very good. The disc also has an optional 5.1 DTS-HD Master Audio surround track. The sound recording is clear with a lot of detailed backround noises and dialogue throughout (I am reading subtitles but the spoken word is clearly audible). The film has no soundtrack music.
Trailer
The reality is that trailers are usually misleading and this one is no exception, portraying the film as more physically dramatic than it actually is and with an overemphasis placed on conflict.
I took the opportunity of reviewing Jafar Panahi's latest film, No Bears, to watch most of his filmography. Mr Panahi is a very talented filmmaker and screenwriter with the versatility to engage in many different styles of storytelling, and the ability to make films under extreme restrictions. Although I will need to watch them again to see how my view might change, I am confident in saying that The Circle and Crimson Gold are essential cinema and that all these films should be seen and more widely discussed [and try to see Offside, it's a politically charged joy – Slarek]. Mr Panahi is famous for his persecution by the ruling regime, but reviews and commentary on his films is sadly lacking. I think he is one of the important contemporary filmmakers.
No Bears is a terrific film – insightful, empathetic, creative and brave. I would like to say that I look forward to his next film, but more important is my hope that he can live without further persecution. No Bears is one of my favourite films from 2022, and this Blu-ray from PictureHouse Entertainment comes highly recommended because of the film in question. even if the lack of supplementary materials is disappointing.
---
* As he was banned from filmmaking during this period, Panahi had the film smuggled the film out of Iran on a USB stick hidden inside a cake. As a result, it was widely seen in film festivals worldwide and won many international awards.