Otley was Tom Courtenay's lone star vehicle and therein lies the film's appeal. While Courtenay was the lead in other pictures, notably the one-two introductory punch of The Loneliness of the Long Distance Runner and Billy Liar, it's tough to go through his filmography and really find another commercially viable movie built pretty much entirely around him. That's both sad and somewhat understandable. As fascinating and unique of an actor as Courtenay was in his youth he was not even close to being a traditional leading man. He had neither the looks nor the mainstream appeal for it, and his apparent preference for the stage over film indicated at least a compromised desire for celluloid success.
When I discovered Courtenay in those two British New Wave classics the impact was enormous, even four and a half decades after their debuts. Here was someone so far removed from any obvious antecedents as to feel wholly original and refreshing. The contrast Courtenay displayed against, for example, Albert Finney or Richard Harris made him seem like the truly rebellious one. Whereas you can perhaps trace those other actors' performances back to Brando and Newman and Dean, there's nothing like that for what Courtenay was doing. He seemed (and still does, I'd say) more relatable and less of an out-of-reach ideal mired in drama. The imperfections are what dictate those characters but it's all in a manner very consistent with youthful anxieties.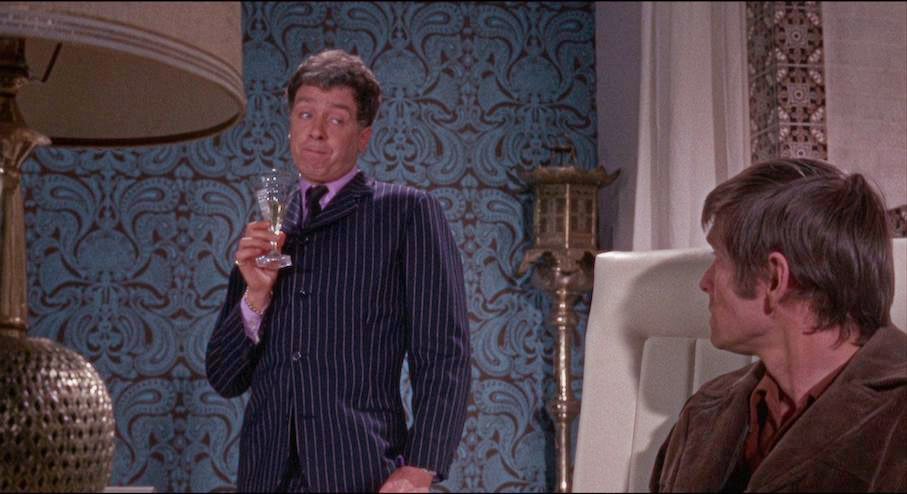 So often we elevate actors on the basis of their ability to make us want to be like them yet Courtenay, at least in my own case, was able to reveal something more familiar. His Billy Fisher and Colin Smith were cathartic explorations of facets rarely bothered with on film. That said, his Gerald Arthur Otley is on a different plane entirely, if still a potential relative of the charmingly disobedient dreamers Courtenay had played earlier. Otley is a petty thief not above sleeping with his landlady in the hopes of avoiding eviction. He's aimless and without shame. It's not a terribly compelling character until he finds himself in way over his head. Crashed on a friend's couch, shoes off and holes in socks showing, Otley happens to be in the adjoining room when a mysterious murder occurs. He barely flinches after the gunshot and a confident cut takes Otley to an airfield, the start of being on the run from multiple agencies and organizations.
Producer Bruce Cohn Curtis, an American with Hollywood royalty in his lineage, was in his mid-twenties when he gave director and co-writer Dick Clement the opportunity to make his feature film debut helming a studio picture alongside writing partner Ian La Frenais. The source material was a novel by Martin Waddell, who actually wrote four books centering around the title character. Columbia took a chance on Curtis, whose grandfather and great-uncle founded the studio, and attached the Austrian-born star Romy Schneider as the female lead. A roster of British character actors, including Leonard Rossiter, Edward Hardwicke, and Phyllida Law, fill out the supporting cast.
Apart from the plot, which is simultaneously convoluted and quick enough to hold the viewer's interest, it's easy to notice the distinct look and feel of the movie, defiantly set in a London winter. Brown is the color of choice. Its prominence defies any sense of accident or coincidence. The filmmakers almost certainly wanted to paint Otley's initial struggles with copious amounts of brown and grey against the natural thickness of London on film. The result is not what you'd call attractive while nonetheless holding a distinct charm for what seems to be an intentional lack of gloss. As our protagonist's life takes a turn so too does the color palette, now offering up green grass, a pale yellow convertible and Romy Schneider in both a red wig and a bright red coat on Otley's bed. The dull blue sky continues to look bathed in film grain.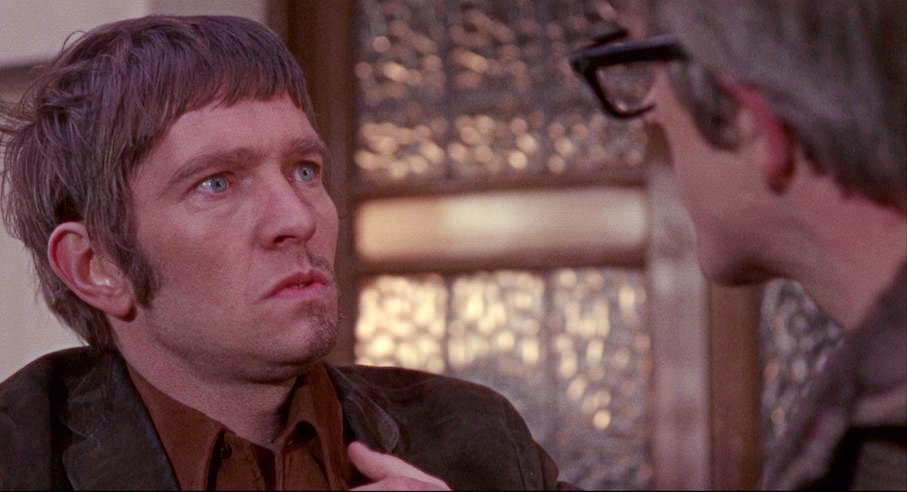 Otley is a late-sixties movie undeterred by the downward trend of spy movies, and seemingly comfortable in its own skin. Its deeply unheroic, both because its lead character skates by almost entirely on charm and because lines are blurred beyond recognition among the so-called good and bad guys. We learn nothing, we feel nothing, and it's okay. Our protagonist emerges mostly unscathed - notwithstanding a bit of blood - and largely unchanged. He is no more or less likable in the end as in the beginning. Confidence does not waiver in either direction. It's a testament, maybe, to the belief that we are inherently who we are - incapable of true change - regardless of how extreme the circumstances we endure. And there's some comfort in that, to be sure, as Otley finds resiliency amid crashing into rubbish bins and failed driving tests.
Indicator rescues Otley, in a release few could have possibly seen coming since the movie's previous home video treatment was a DVD-R by Sony in R1, with a region-free Dual Format edition limited to 3,000 units.
The film is presented in its original 1.85:1 aspect ratio. There's an abundance of grain to enjoy here, with some shots and scenes - darker and outdoors shots in particular - showing more than others. Detail at times is quite good. No real damage is obvious. The overall thickness to the look of the picture is very prominent and in line with how many movies from this era of the late sixties to mid-seventies appear. A sequence inside an underground train station seems noticeably off and different than the rest of the film, explained in the director's commentary as owing to a different kind of film stock being used for those scenes (presumably because of the particular lighting found there).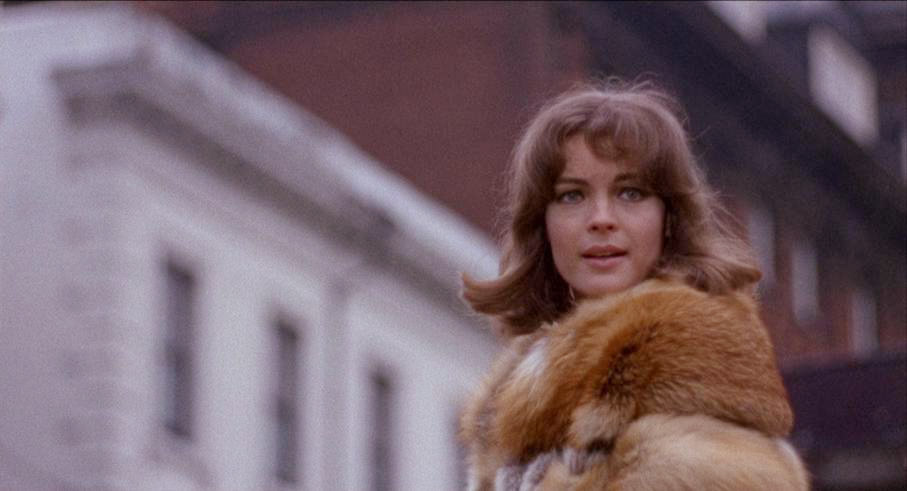 The English language audio is a single-channel LPCM track. It sounds warm and reasonably consistent. Dialogue as well as the musical cues and effects come through cleanly. Optional English subtitles for the hearing impaired are included.
Audio Commentary with Dick Clement
Joined by Sam Dunn, who helped curate the BFI's Flipside series of Blu-ray releases (a grouping Otley would have fit like a glove), the director and co-writer Clement chats amiably about his debut behind the camera. A newly recorded audio commentary featuring the director of a film made roughly fifty years previous is a rare pleasure. He's able to add specific details and recollections about the production that prove to be a charming listen. Nothing scandalous or bitter either, as Clement even concludes by stating how fond of the film he remains.
The Guardian Interview with Dick Clement & Ian La Frenais
This is from June 17, 2008, recorded at the National Film Theatre in London and with audio playing over the film up until about the seventy-six-minute mark. The duo discuss the origins of their writing partnership, segueing to the early success they had with the television program The Likely Lads and their first film experience working with Michael Winner. The pair also add some insight into working as script doctors in Hollywood, on films like Never Say Never Again and The Rock, and on to more recent work like their screenplay for Across the Universe. There's not really any additional insight into Otley to speak of, with the picture only mentioned briefly, but it's a pretty free-flowing conversation covering much of the writing duo's career.
Tom Courtenay on 'Otley' (5:58)
The film's star speaks a bit on his involvement in this exclusive new interview. Beginning with his friendship with co-writer Ian La Frenais and jumping around to cover a few highlights of the filming like the opening walk Otley takes through Portabella and the driver's test car chase, Courtenay concludes by mentioning his decision to primarily do theatre over the movies after this picture's relative lack of success.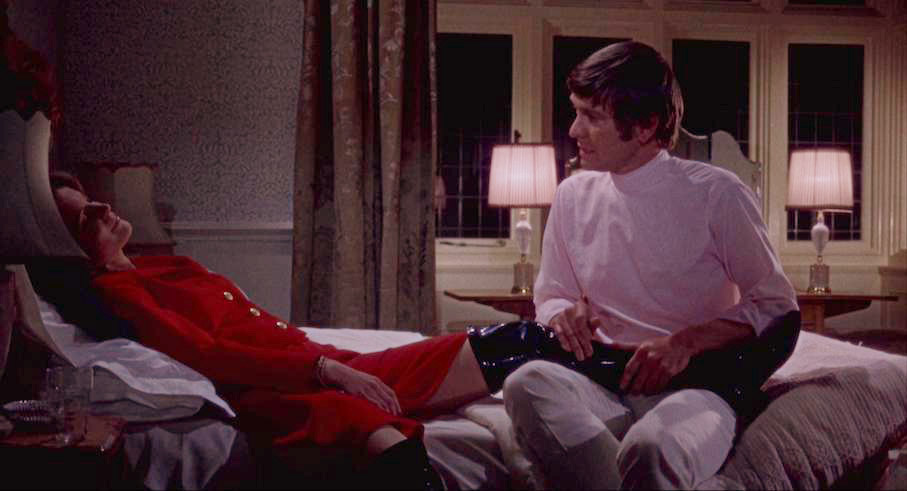 Ian La Frenais on 'Otley' (16:15)
Reminiscing on his start in the movies, the film's co-writer details some of the process in getting Otley made. He also shares a few wonderful stories, including Romy Schneider not gaining admittance to a hotel dining room because she was wearing trousers instead of a skirt.
Theatrical Trailer (2:47)
Tom Courtenay introduces his character and the film, narrating  the set-up for this rather lengthy original trailer.
Image Gallery
15 screens in total, with about half being black and white publicity stills and the rest color images of the soundtrack vinyl, the tie-in novel and posters
Booklet (40 pages)
A new essay by Laura Mayne highlights this lengthy insert booklet and is joined by an extract from Martin Waddell's source material on the Otley character. There are also excerpts from newspaper pieces chronicling the movie's filming and a separate selection of interview bits with star Tom Courtenay. A round-up of critical responses finishes things off, with credits and photo stills breaking up the action.
Like its lead character, Otley slides by with little substance or depth but that hardly lessens the enjoyment. Its affable star Tom Courtenay rarely took on such roles, much less comedic ones, and he makes the most of it here. Indicator has given the film a dream release, sure to please fans yearning for lightweight espionage movies from the late sixties set in the British winter.