South London, the present day. Travis (Natey Jones) is released from prison, reunited with his partner Candice (Alexandra Burke) and their daughter Kenisha (Temilola Olatunbosun). While Travis gets work in the kitchen of his brother's restaurant, Candice applies to play Tina Turner in a West End musical, and buys a red dress for her audition. It's a dress that Travis finds a strange attraction to...
It's as likely as not a coincidence of scheduling, but I can't help but see similarities between Pretty Red Dress and the BFI Blu-ray it shares a release date with, Young Soul Rebels. One is a new film which is set contemporarily and the other is a reissue of a film from 1991 which was an intentional period piece, set in 1977. However, both are first dramatic features (following several shorts) from directors of colour, both have people of colour in the leading roles. Both are set in London – in the case of Pretty Red Dress, Norwood specifically. (On the other hand, an answering machine message from Kenisha's school gives out a number beginning 028, which is the dialling code for Northern Ireland.) Both films amongst other things explore their characters' sense of identity. That's not just black identity, or working class identity, but sexual identity too, as both explore themes that come under the broad umbrella of LGBTQIA+. Pretty Red Dress is an engaging debut from writer/director Dionne Edwards, if overlong at 110 minutes – it would best have shed about fifteen minutes.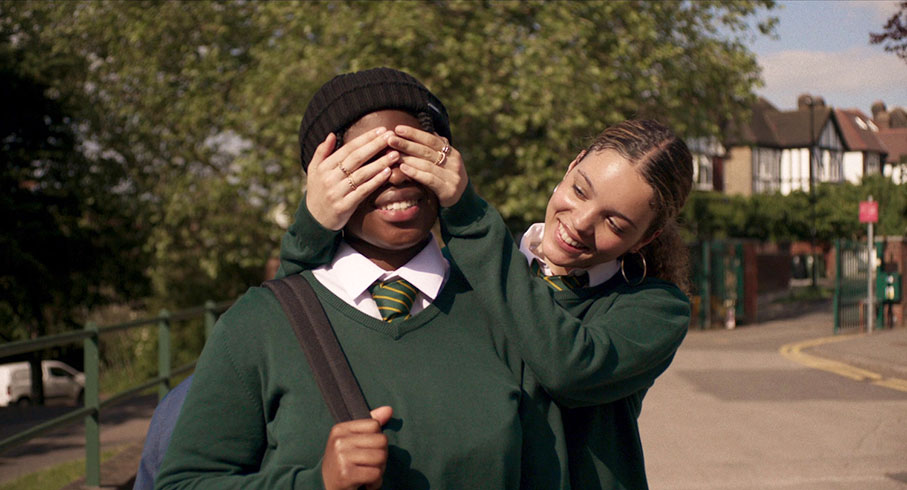 Another link is that while one film was directed by a Turner Prize-nominated artist and the other wasn't, is their visual eye. In many ways in both films, it's for the colour red, which is of course in the title of one of them. Pretty Red Dress begins with the opening credits playing over an orange-red-saturated performance of Ike and Tina Turner's "You Shoulda Treated Me Right" performed by Vivian (Tsemaye Bob-Egbe). It then cuts to Travis being released from prison and picked up by Candice, and a palette dominated by ice-blues and steel-greys. However, reds and orange-reds do make a comeback soon enough, not least in the eponymous dress.
That dress means different things to different characters. For Candice, it's a symbol of her singing aspirations, and it's a vital part of her audition and hopefully eventual performance, channelling Tina Turner. For Travis, the dress unlocks a part of himself which, we learn, has been there for some time. Although he's not gay nor trans – both are suggested but there's no evidence for either – crossdressing is a vital part of his identity and the film says, why not if it makes him feel good? (Given that Natey Jones is noticeably taller and bigger than Alexandra Burke, it's fortunate that he can fit in that dress, or in her underwear for that matter.)
The third leading role is their daughter Kenisha. While the dress doesn't feature in her storyline, other than her helping Travis out in a lie as to how it becomes damaged, a struggle for identity does, which includes the possibility of attraction to other girls, or maybe just one – the film leaves this question open. Her anger is what gets her into trouble at school, though being picked on by other girls in her year is part of that too, and as the film progresses it's the support of her family which helps her find a potential way out of this.
Of the three leads, Alexandra Burke as an X Factor-winning singer is no doubt the biggest name, though she is billed third after an "and". However, Natey Jones is the one with the most acting experience. It's a first screen acting role for Temilola Olatunbosun and Burke, and they both give strong performances, with Burke's undoubted singing abilities vital to her role. She makes for a creditable Tina Turner.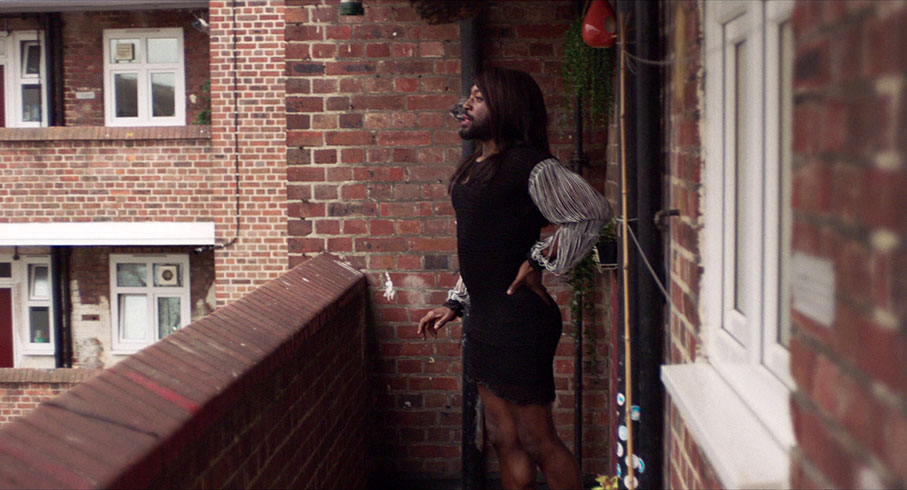 Pretty Red Dress is an engaging first feature which doesn't duck away from some more troubling aspects but resolves as a warm-hearted, possibly a little sentimental, story of acceptance, particularly self-acceptance. Following a London Film Festival showing, it had a cinema release on 16 June 2023 and comes out on Blu-ray in short order.
Pretty Red Dress is a Blu-ray release from the BFI, the disc encoded for Region B only. Both the main feature and the short We Love Moses have 15 certificates.
The film was digitally captured and is presented on Blu-ray in its intended aspect ratio of 1.85:1. There's not much to say here, given that the film has existed in the digital realm from shooting to post-production and beyond to projection and now disc: you'd expect it to look pristine, and it does. I've no doubt that this looks much as it would have done if you'd seen it in a cinema via a DCP.
The soundtrack comes with two options: LPCM 2.0 (playing in surround) and DTS-HD MA 5.1. There's very little difference between the two, so the choice is yours – maybe a little more bass in the DTS track, but this isn't a mix with a big low end in either version. There is also a 2.0 audio-descriptive track. English subtitles for the hard of hearing are available on both the feature and the short.
Commentary with Dionne Edwards and Georgia Goggin
At one point, producer Georgia Goggin says she's beginning to cringe at how much she and Dionne Edwards are loving their own movie. However, she and Dionne Edwards aren't uncritical, and in fact begin the commentary by talking about their first mistake, namely the colour-grading of the opening credits sequence. There's an obvious rapport between the two, who have worked together on three shorts (including the one on this disc, see below) as well as on this feature. There's not a great deal of detail on how films like this are made, but they do discuss how Covid shut the production down for a while. The role of Travis in particular was hard to cast, as many actors were clearly uncomfortable with the cross-dressing in the role. Production designer Phoebe Platman gets a few namechecks (the three principals' home is a studio set) and the film is something of a family affair, as the score composer and musical director Hugo Brijs (sometimes billed as simply Brijs) is Goggin's brother. Edwards points out some filmic homages in camera movement, such as to Mean Streets in Travis's introduction and Saturday Night Fever in his final scene.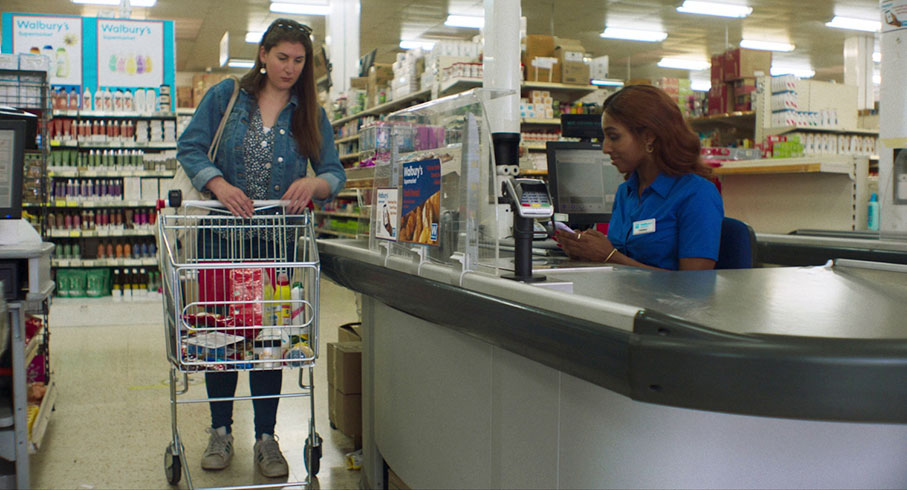 Q & A (22:35)
Following a showing of Pretty Red Dress at the BFI Southbank on 13 June 2023, Caleb Femi is joined on stage by Dionne Edwards and Georgia Goggin. Edwards begins by talking about casting issues, as Travis and Candice in particular were hard roles to fill. They are joined by Temilola Olatunbosun, who three years on from shooting (and having aged from fourteen to seventeen), can't remember much of it and says she was basically playing herself. Natey Jones and Alexandra Burke also come on stage, with the former talking about his big coming-out scene in the park towards the end of the film, shot at the end of the day with him needing to stay in character for hours beforehand. Questions from the audience appear as on-screen captions.
Dressing Up (14:01)
Dionne Edwards talks about the production of Pretty Red Dress, and her and her colleagues' "wilful naïveté" at the start of their first feature film. She describes how important South London is to her work (though she was actually born in Bristol) and gives a shout-out to Franco Rosso's 1980 film Babylon for its sense of place.
Picking Up the Thread (26:56)
It's Georgia Goggin's turn in the interview seat (also at the BFI Southbank). She begins by talking about how her ambitions for filmmaking began in her teens, fuelled by behind-the-scenes DVD extras and home movies made with her grandfather. She met Dionne Edwards in 2012 via a mutual friend and they worked together on five shorts before this feature, including We Love Moses, which she discusses. Covid shut the production down in 2020 and by the time filming started the following year, the roles of Travis and Candice had to be recast.
Starting a Conversation (3:21)
Interviewed on set this time, choreographer and movement director Johannes Radebe talks about how he became involved in the film, and how he wanted it to provoke uncomfortable conversations in his community. This is a very short piece and he doesn't say much about his actual role in the production, though we do see some behind-the-scenes footage.
Sundance Director's Lab scenes
The Sundance Director's Lab is an initiative where directors can shoot scenes from their films, particularly difficult and testing ones, to work them out away from public gaze. In 2019, Dionne Edwards shot some scenes from Pretty Red Dress with different actors (Eric Kofi Abrefa, Riann Steele and Aria Harrell) to the final film. It's interesting to see the different interpretations – and the American accents – that they lend to their scenes. Presented are Scene 1 (3:15) and Scenes 5-9 (4:14), with a Play All option.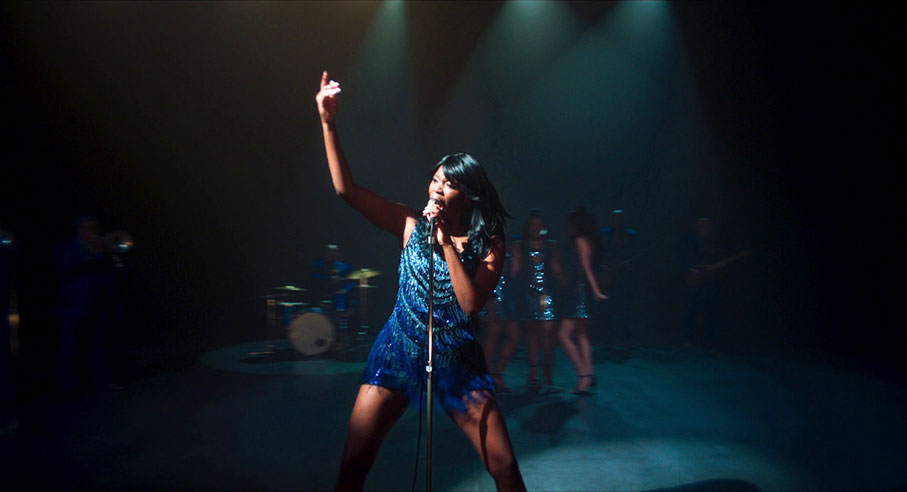 Trailer (1:44)
A briskly edited trailer with, as so often, what might have been plot spoilers if presented in context. It's noticeable that this trailer plays down any potential LGBT content, or the cross-dressing in the film.
We Love Moses (15:48)
A short film written by Edwards in 2009 and directed by her in 2016, produced by Goggin who had been introduced to her four years previously. It tackles many of the same themes as Pretty Red Dress in miniature, as twelve-year-old Ella (Danaë Jean-Marie) deals with school bullies and awakening sexuality. Although it has a different cinematographer, the short does visually resemble the later feature, though it was shot in and is presented in Scope.
Booklet
The BFI's booklet, available with the first pressing only, runs to twenty-eight pages. Unusually there isn't an essay by a third party. It begins with Dionne Edwards's director's statement. She reveals that the idea for the film came in 2014 with the character of Travis while she was working an ushering shift at the Hackney Picturehouse, and she talks about her aims for the film. Next up are extracts from Georgia Goggin's diaries of the shoot, from the first day on 27 April 2021 (the prison scene) and the wrap on 15 June. There is more nuts-and-bolts stuff here on the making of a low-budget feature than you will find elsewhere on this release.
I said there wasn't an essay in this booklet, but that's half true. There isn't a new one, but there is a piece by Ben Walters reprinted from Sight & Sound, with an overview of the film's themes, sexual as well as racial. Also in the booklet are film credits, notes on and credits for the extras (including a piece by Goggin on We Love Moses), and stills.
As a first feature, following several shorts, one of which is on this disc as an extra, Pretty Red Dress is a welcome first feature which makes you wonder what writer/director Dionne Edwards and her producer partner Georgia Goggin will do next. It's well presented on this BFI Blu-ray, with an earlier short by the same makers among the extras.