Not a lot of movies pushing sixty years since release are still able to shock us jaded modern viewers but Suddenly, Last Summer has some tricks. It approaches, with varying degrees of subtlety, themes that simply were not broached by Hollywood during the thirty-plus years of the Production Code. Other films that blazed similar trails now perhaps come off as tame by current standards but this one really doesn't. Even acknowledging that there are more hints and clues than outright declarations, the 1959 Columbia production goes places – and the horrific variety of topics at work is the key – few would be prepared to see in glossy black and white. We're talking homosexuality and its implications, mixed with incest, mental illness and lobotomy, and a sprinkle of cannibalism, all part of a larger interest in predation.
Suddenly, Last Summer emerged from the mind of Tennessee Williams and was first performed as a one-act play just a year before the film's release. (Producer Sam Spiegel apparently purchased the film rights to the play, which was half of a double bill with another of Williams' one-acts, just after seeing it off-Broadway.) Gore Vidal wrote the screenplay (by all accounts without Williams' input despite the screen credits) and Joseph L. Mankiewicz was tapped to direct. Mankiewicz had just adapted Graham Greene's The Quiet American to little success either commercially or critically. This might have seemed like an incongruous fit for Mankiewicz but his relative unpredictability was certainly one of the hallmarks of the writer/director's career, along with an interest in exploring class disparity.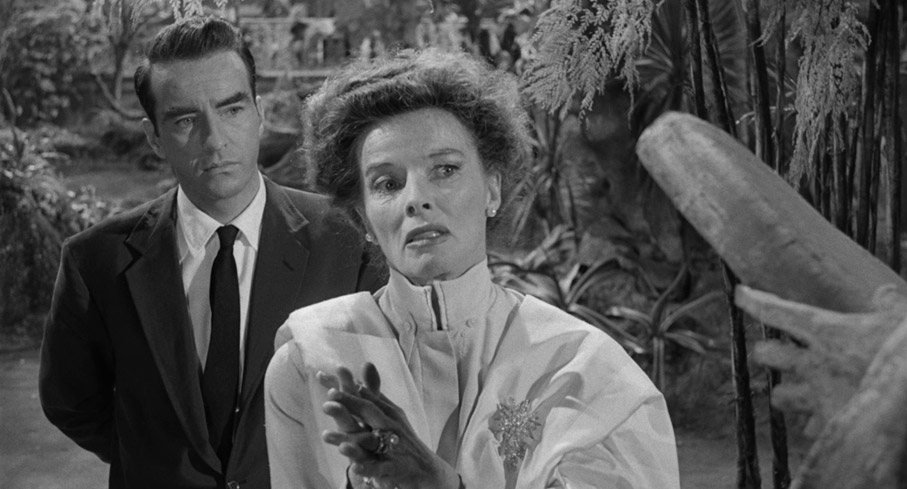 The main trio of actors was a formidable one. Elizabeth Taylor and Katharine Hepburn both earned lead acting Academy Award nominations for their work while Montgomery Clift, hired at Taylor's insistence, appears in nearly every scene. This was two years following Clift's terrible car accident, leaving him disfigured and addicted to alcohol and pills. It's not the same Clift of A Place in the Sun but he remains an intriguing presence as the outsider surgeon Hepburn's character Violet Venable wants to lobotomize her niece Catherine (Taylor). Mankiewicz allegedly tried to fire Clift but Taylor and Hepburn both objected sternly enough to keep him on the picture. The production turmoil never bleeds over to the finished film, and Clift, mostly reacting as an observer against the lead actresses' lines, pushes his character's humanity to the forefront.
The doctor, Cukrowicz (meaning "sugar" in Polish), is first seen performing a lobotomy in an operating theatre as medical students observe. His frustrations at the facility's limitations lead him to a meeting with the wealthy widow Venable, who agrees to finance a major new building with the condition that the doctor perform his surgical procedure on Catherine. There's so much to unpack here and most everywhere else in this film. It's chock-full of dialogue that engages, provokes and even horrifies the viewer. The encounter between doctor and widow is a foreboding doozy, where she takes him through her poet son Sebastian's unusual garden that includes a Venus flytrap among its charms. Here also is when we're alerted to the death – suddenly, last summer – of Sebastian while he and Catherine were in Spain. It's no coincidence that Venable wants that lobotomy for the person who was with her son when he died of, she says, a heart problem.
The particulars of the issues typically deemed taboo are best left, even sixty years on, unspoiled. It's fine to go in knowing of some controversy connected to the film but everyone deserves the accompanying reaction that goes with a first viewing of Taylor's split-screen flashback monologue at the end. It's one of cinema's most alarming yet rarely cited descents into shock and horror. Taylor performs it in a heightened state but does so appropriately while Hepburn, in the film generally and in reaction to this development in particular, shatters one's preconceptions of her entire film career to that point. Rationalizing any kind of synthesis of Bringing Up Baby, Woman of the Year and Suddenly, Last Summer all at once is a head spinner.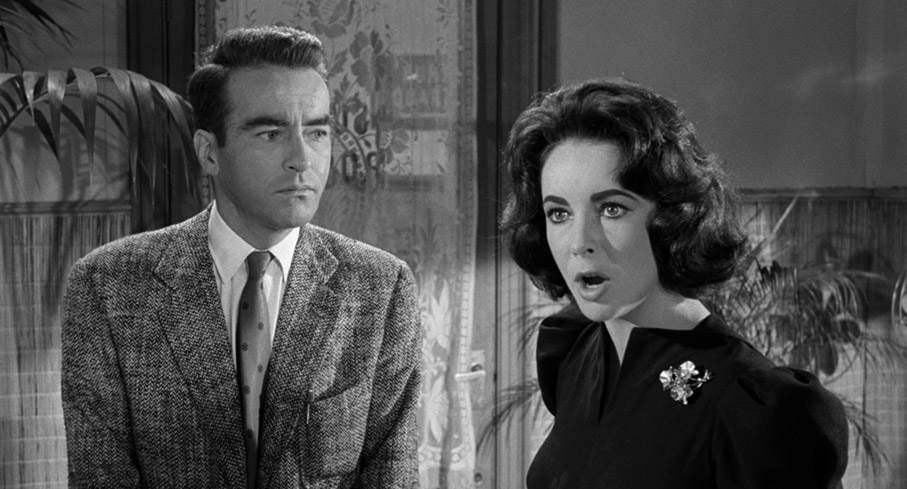 It's easy enough to find the flaws in Mankiewicz's film version of the Williams play. It's a bit stagey, as most scenes are dialogue-heavy and unravel the plot little by little rather than developing any true sense of cinematic inertia. There's also the trouble with how Catherine comes off as too naive to be portrayed by an actress like Elizabeth Taylor, a flaw Williams himself cited in later years after the film's release. Williams disagreed with how literal some of his points were taken when they had been intended to be steeped in metaphor. The overlying idea of the play, it seems, was to show mankind's tendency to devour others from an emotional standpoint. This spiritual destruction is turned into something else on film but that's largely what makes it such a fascinating watch.
Had Mankiewicz and/or Vidal tried to retain the intended spirit of Williams' play it would have lost the grotesque oddity the film still has. Those who love and appreciate film often gravitate towards the imperfect movies because those are the more interesting ones. Suddenly, Last Summer is a jolt because of its unusual features. Here we have three of the greatest movie stars of all time performing a filmed version of a play by perhaps the most noted playwright of the 20th century and doing so with the benefit of a skilled, auteur-type director at the helm. It's a bonkers result that, if you're patient enough, also finds Liz Taylor wearing a super tight, mostly transparent white bathing suit that is still pretty eye-opening. The film's studio and producers seemingly used Taylor for bait in much the same way her character is dangled out there, with perversely similar results.
The Indicator Blu-ray is region-free and limited to 3,000 copies. It presents Suddenly, Last Summer in the 1.85:1 aspect ratio. The image is clean and free from damage. This is a 4K restoration from Sony and it looks quite good overall, with grain still present but detail and contrast at impressive levels. The depth of detail, in particular, is interesting because we see things like remnants of Clift's scars, a vulnerable Hepburn's wrinkles and generally unmade-up face, the unusualness of Taylor's eyebrows and, of course, the latter's figure-hugging swimsuit.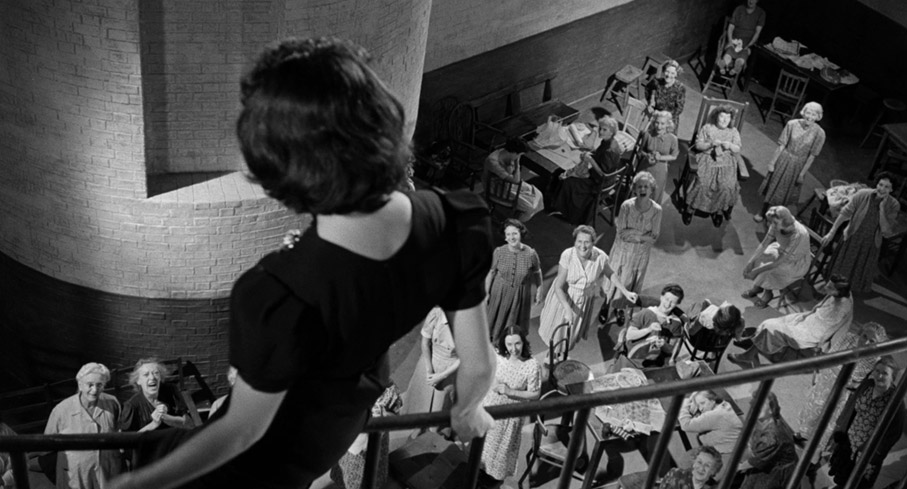 The English language audio is an LPCM single-channel audio track. It emphasizes dialogue but sounds satisfactory and without issue. An English SDH subtitles option is included.
Joseph L Mankiewicz Interview (9:51)
The director speaks with a French program in this interview from 1990. It has burned-in French subtitles but is in English (though the questions are tough to understand). He mentions, too, how his 1972 film Sleuth was owned by Bristol-Myers-Squibb and they had no interest in showing it. (That film still remains largely unavailable – out of print on DVD in the UK and US and never released on Blu-ray.)
Elizabeth Taylor on Montgomery Clift (1:50)
Shown on French television and still retaining French translation (mitigated by optional English subtitles) this is Taylor paying tribute to her good friend in July of 1966, five days after his death.
Gary Raymond Interview (6:14)
Co-star Raymond, the only British actor in the cast, remembers how he was cast and his time working with other members of the cast and crew, including the professionalism of Hepburn and the charm of Clift.
About Last Summer (15:36)
2nd Assistant Editor John Crome talks about his experience working on the picture, including what exactly a 2nd assistant editor's duties were. He tells us that Katharine Hepburn liked to watch the rushes but never commented on them. Crome also recalls, in contrast to other accounts, that Mankiewicz was actually protective of Clift and even prevented Sam Spiegel from seeing rushes where the actor was inebriated.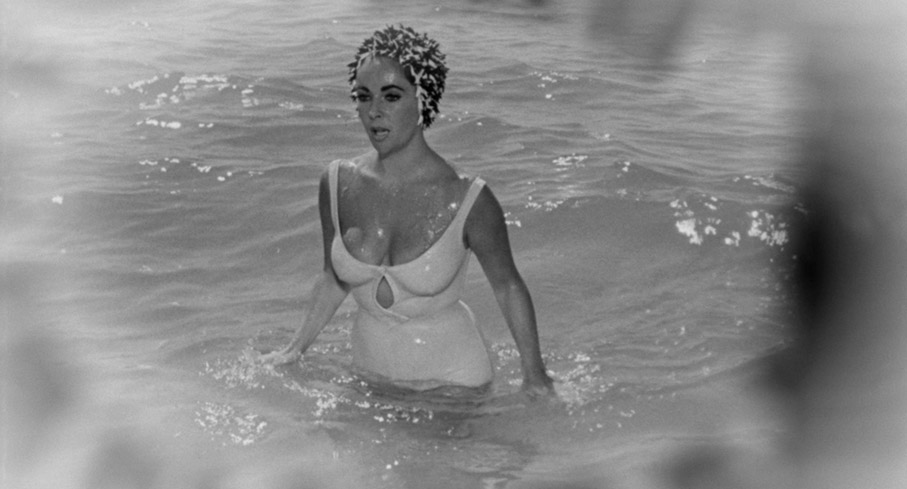 Remembering Last Summer (3:02)
Continuity supervisor Elaine Schreyeck talks about how strict Mankiewicz was on set with keeping the actors sticking to the script.
The Predator and the Prey (25:36)
Made for the 2017 French Carlotta Blu-ray release of the film, Michel Ciment discusses the film, particularly in the context of Joseph L. Mankiewicz's career. He notes, among other things, that Katharine Hepburn did not spit in her director's face at the end of filming as has been claimed elsewhere (including multiple times in this release). He also makes an interesting connection of Sebastian's fate with Italian director Pier Paolo Pasolini. He concludes that it's one of Mankiewicz's great films despite a somewhat chilly initial reception upon release.
Isolated Music and Effects Track 
An option to hear Malcolm Arnold's score minus the film's dialogue.
Theatrical Trailer (2:43)
This preview promises "the world's most provocative play" but is not really representative of the film as it shows a lot of the flashback scenes from Taylor's final monologue and really doesn't give you any idea of the film's intentions.
Dan Ireland Trailer Commentary (3:04)
From the Trailers from Hell series, this quick analysis and overview of the film can be heard as the trailer plays on the screen.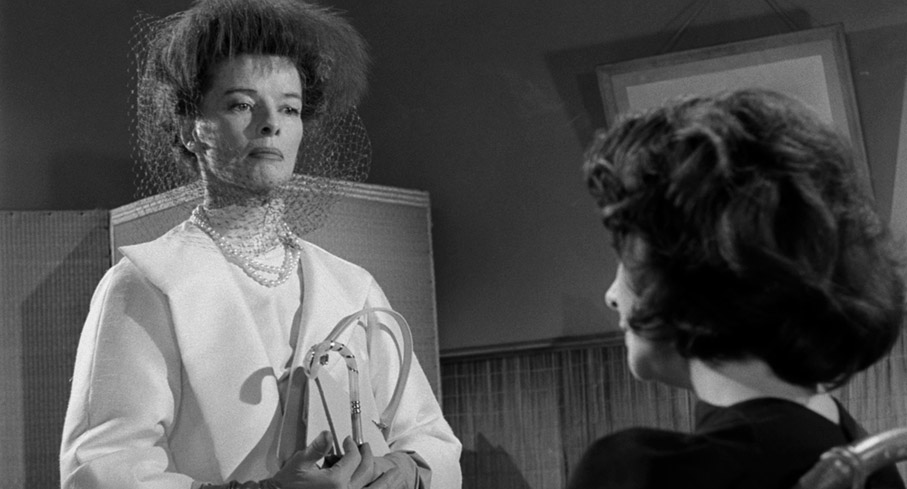 Image Gallery
Totaling 40 screens that contain stills, behind-the-scenes shots, including some in color, and posters used in several markets around the world.
Booklet (40 pages)
A lengthy new essay by Samm Deighan opens the Indicator release booklet. Its main interest is the Gothic element of the film, with Deighan calling Suddenly, Last Summer "one of the defining films of Southern Gothic cinema" in her nine-page essay. A visit to the Shepperton Studios set of the film was the basis for a 1960 piece by Derek Conrad that appeared in Films and Filming magazine. Three pages on production designer Oliver Messel and four more detailing some of Tennessee Williams' thoughts on the adaptation follow in the booklet. Producer Sam Spiegel's statement from the original Columbia pressbook for the film is reprinted across a pair of pages. Lastly, four pages are devoted to critical responses to the film. The insert is otherwise outfitted with film and disc credits as well as a generous portion of stills.
There's an insanity lurking just below the surface of Suddenly, Last Summer and director Joseph L. Mankiewicz seemed unafraid to embrace it without exploiting it. The fact that Mankiewicz and writer Gore Vidal turned Tennessee Williams' metaphor-heavy play into a more straightforward adaptation gave the film an element of eerie gothic horror that remains unsettling. There's plenty of subtext there too, with Williams' themes present yet given room to breathe outside the one-act structure of the play. This new Indicator release is another in the label's consistently excellent releases, showing first-rate technical quality and a dedication to extra features rarely seen elsewhere.