Johnny hates jazz, at least if 80s British band names are to be believed. He's not the only one. As it happens, I don't hate jazz at all, it's just a genre of music that I've never particularly warmed to. If it's playing, I'm unlikely to flee the room, but I wouldn't go out of my way to listen to it either. My late father, on the other hand, was an enthusiastic fan and in his younger days spent many an evening in the audience at London's premiere jazz club, Ronnie Scott's, a time he often looked back on with real affection in his later years. I inherited my love of movies from my father, but when it came to music we walked very different paths.
On one hand, the 1942 film Syncopation is a fascinating early attempt by a Hollywood studio (in this case RKO) to celebrate, acknowledge and salute the origins of this still-popular musical genre. On the other, it's a rather by-the-numbers tale of love born of an appreciation of music and the importance of having the guts to just follow your dream. It certainly gets off to an arresting start, with a workers' collective approach to drawn-in-sand opening credits and an opening scene where the process by which Africans were enslaved by white traders is simplistically but economically covered in dialogue-free shots. A breezy montage follows showing how the descendants of slaves are now working in service jobs and even finding success as wealthy bankers and we first encounter young black talented cornet player Reggie, whose refusal to read written music prompts his kindly teacher to suggest he's wasting his time with music lessons. After this, we're in more familiar territory, as we're introduced to George Latimer (Adolphe Menjou) and his young, music-loving and piano-playing daughter Kit (Peggy McIntyre), both of whom resided in a swanky New Orleans mansion where their needs are tended to by rotund black maid Ella (Jessie Grayson). Gone With the Wind, anyone? Yet not all is quite as it initially seems here. It turns out that the cheerful George's former wealth has all but gone and that Kit's closest friend is Ella's young son, who it turns out is the cornet-playing Reggie (Jack Thompson), whose talent wows the local black church congregation and sees him invited to join a club band led by local legend King Jeffers (Rex Stewart). It's a career move that initially upsets the disapproving Ella, who doesn't want her young son in the sort of clubs in which Jeffers' band performs, but when she drags him from the stage and starts heading for home, Jeffers intervenes and convinces her that if she allows him to nurture Reggie's talent then he could go far.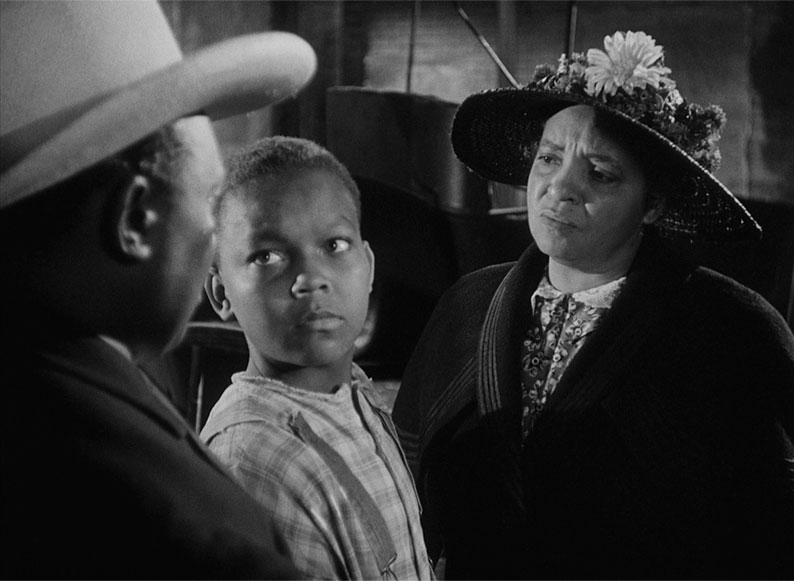 Now for a Hollywood movie made in the early 1940s, things are looking pretty darned progressive at this point, with no racial barriers to friendship and the unfolding story of George, Kit and Kit's new friend Paul (Lindy Wade) seemingly taking a back seat to the altogether more vibrant one involving Reggie and King Jeffers. The very idea that a mainstream American film of this vintage could tell a story from a primarily black perspective struck me as borderline revolutionary. How is it that I hadn't seen this film before? Oh yeah, the jazz thing. But still… Then it happens. George decides to move to Chicago to make some sorely needed cash and takes Kit and Ella with him, leaving Reggie to blossom under King Jeffers' tuition, and what looked so promisingly as if it was going to be a black-centric story becomes as white as any other you'll find in the Hollywood of the day.
Nine years pass in an animated montage and Kit is now an attractive young woman (from the conversation and number of candles on her birthday cake – at least when it is presented by Ella – that seems to make her a mature-looking 17) who has lost none of her early love of New Orleans jazz, and is now played by the more bankable Bonita Granville. The early suggestion that the film would at the very least switch back-and-forth between Kit and Reggie's stories is dashed when it focusses exclusively on Kit as she strikes up a friendship with self-confident but luckless cornet player Johnny Schumacher (Jackie Cooper) and is driven to seek out new and exciting musical experiences. She's also romantically involved with the now adult Paul (Ted North), a dull individual who clearly doesn't share Kit's passion for jazz and whose relationship with Kit prompts jealous glances from Johnny. Only when war is announced does the even older-looking adult Reggie (Todd Duncan) re-enter the story, now leading his own band under the name of Rex Tearbone and making such great music that a cop charged with enforcing the nightly curfew puts the barroom clock back an hour so he can continue playing. Even then his primary narrative function proves to be to inspire Johnny to seek his own path as a musician instead of slugging it out as a faceless orchestra member playing tunes and arrangements that fail to inspire him.
If I'm being fair, then I have to admit to being a little naïve to be expecting a black-centric story from an early 1940s Hollywood production, but this is precisely what those captivating opening scenes seem to promise, or at the very least one in which as much screen time is devoted to Reggie as is spent on the misadventures of Kit and Johnny. And while their story is definitely not without its pleasures, there's not much here that you won't have seen before a few times, though once again I'm being a a tad unfair as some of the films with similar story elements were definitely made after this one. Yet I still can't help thinking that Reggie's evolution from talented child musician to dynamite band leader would have made for altogether more arresting viewing than what the film actually delivers.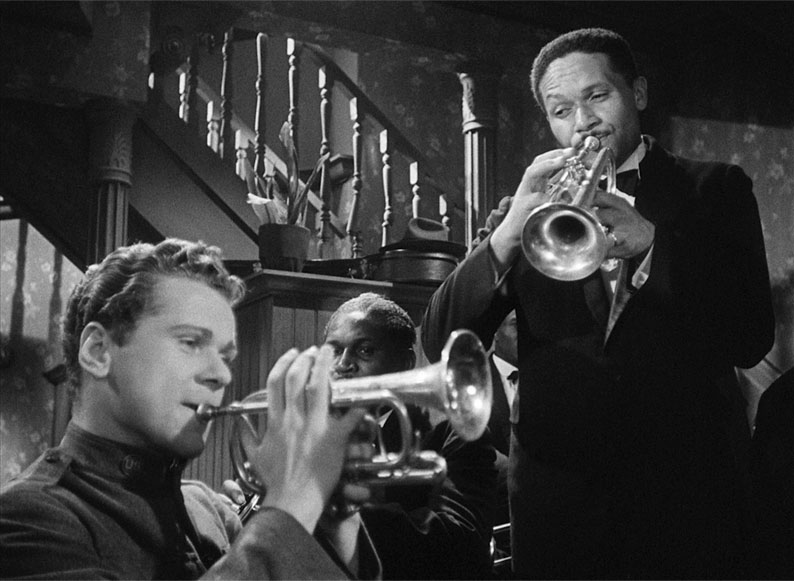 Yet for all my gripes, I still have to hand it to director William Dieterle (he of The Hunchback of Notre Dame and Dr. Ehrlich's Magic Bullet) and screenwriters Philip Yordan and Frank Cavett for making a film whose black characters are as well defined and acted as their white counterparts and who are treated not just as equals, but as musical pioneers from whom the white musicians can and do learn. There's even a sly dig at a once too-common single word putdown used by racists to belittle men of colour, when a Johnny reveals that he's never heard music like Reggie's and Reggie responds, in just the right tone of voice for us to get it, "You just ain't been to the right place, boy." And if you're into the music then there's a great deal to enjoy here, much of it so energetically arranged and performed that even I caught myself nodding along in appreciation, despite some illusion-shattering mismatches between the hand movements of actors and the tunes they are miming to.
I'm well aware that I too quickly built unreasonable expectations for a film made during a period in Hollywood in which black characters were rarely more than background detail, and on that score alone Syncopation has to be saluted as a progressive work. The music is definitely a key attraction, and the simple fact that the film acknowledges the importance and influence of black musicians on the American jazz scene is worthy of praise for a film of this vintage. That this ultimately forms the basis for a mildly engaging but largely unsurprising white-centric musical love story is perhaps par for the period course, though it concludes with a treat for jazz fans in the shape of a sharply edited (by future director John Sturges) and musically vibrant montage of real-life jazz legends – including Benny Goodman, Harry James, Gene Krupa and Jack Jenny – who were chosen by the readers of the Saturday Evening Post as exemplars of their art. It's perhaps a sign of the times that in spite of the film's recognition of the origins of this much-loved musical genre, there's not a single black face in this whole triumphantly assembled sequence.
The Eureka Classics Blu-ray sports a 1.37:1 1080p transfer sourced from a 2K restoration by the Cohen Film Collection and is in great shape. The image is consistently clean and boasts a generous contrast range with decent shadow detail, solid black levels and no highlight burnouts. Detail is generally crisp, only losing its edge a tad every now and then, and a fine film grain is visible throughout.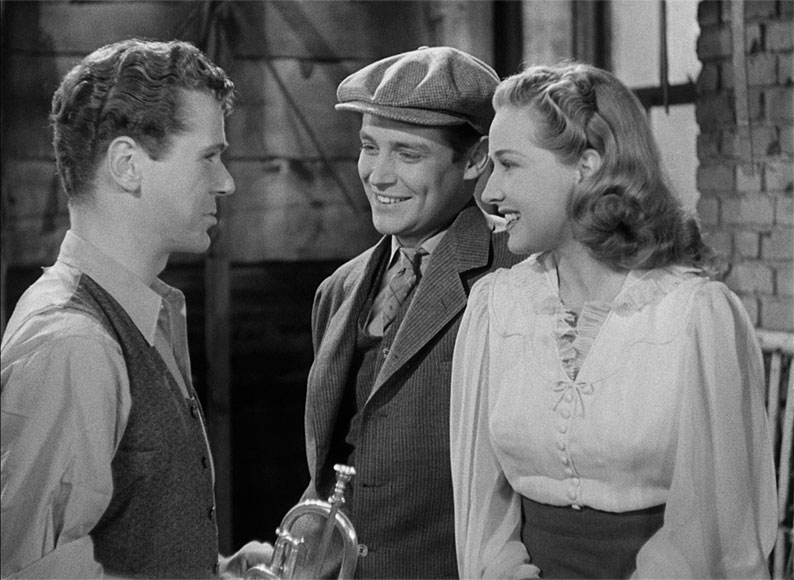 The Linear PCM 2.0 mono soundtrack is also in very good shape, with some range restrictions but no distortion and consistently clear dialogue. The music sounds great, with way more oomph and body than you'd normally expect for a film of this age.
Optional English subtitles for the deaf and hearing impaired are available.
As a Eureka Classics release, there are no on-disc extras, but the release does come with a Collector's Booklet featuring a new essay by Pasquale Iannone which I'd be interested in reading, but as far as I'm aware this was not supplied for review.
Syncopation is a tricky one, a film that I perhaps should be praising more for what it achieved instead of focussing on the unmet promises of its early scenes without appreciating the nigh-on impenetrable wall of studio resistance the filmmakers would have had to go up against to make that happen in Hollywood in 1942. I still enjoyed the film and do suspect that others will get even more out of it than I did, and if you're a jazz fan you owe it to yourself to see (and hear!) it. It's a film-only disc, but it looks and sounds good, so if jazz is your thing, then despite my reservations this still comes recommended.