Jim Lang (George Bancroft), known as Thunderbolt, is wanted for robbery and murder, but he goes to a nightclub with his girlfriend Mary, known as Ritzie (Fay Wray). However, she tells him she is going straight. The club is raided, but Thunderbolt escapes. He finds out that Ritzie is living in the house of Mrs Moran (Eugenie Besserer) and that her son Bob (Richard Arlen) is in love with Ritzie.
Thunderbolt was Vienna-born Josef von Sternberg's first sound film, released in 1929. (It was also made in a silent version.) However, he had been prolific before then, directing his first feature film, The Salvation Hunters, in 1925, the year he turned thirty-one. He made seven more silents after that, plus some uncredited work on other films. Of those silents, four are lost, as is the silent version of Thunderbolt. Unless a copy shows up, all we can do is imagine those films, which are now mostly out of living memory. One of them, A Woman of the Sea, was made for Charles Chaplin as a vehicle for his off-screen partner and frequent onscreen leading lady of the previous decade Edna Purviance. It was never publicly shown after one preview and was destroyed by Chaplin as a tax write-off in 1933. Of the silents which survive, Underworld (1927) is an early example of the gangster film which made an impact in the talkie era in the following decade. It also features George Bancroft, the star of Thunderbolt. The Docks of New York (1928) also featured Bancroft in a love story set in the seedy milieu of the title. (Bancroft and von Sternberg's other collaboration, The Drag Net from 1928, is missing from the archives.)
Then, after the now-lost The Case of Lena Smith (1929, only a fragment of which survives), came Thunderbolt, made for Paramount. It has tended to be overshadowed by the two silent films mentioned above and in particular the seven-film partnership with Marlene Dietrich which began the following year in Germany with The Blue Angel. Thunderbolt harks back to Underworld in that its central and title character is a gangster, played by Bancroft. In the absence of the silent version (often reckoned to be superior, by those who saw it), Thunderbolt also shows how quickly von Sternberg adapted to the new medium of sound. Along with Hitchcock and others, von Sternberg made use of the possibilities of sound, both onscreen and at many points offscreen, in this very early talkie, and the dialogue (written by Herman J. Mankiewicz, twelve years before he won an Oscar for Citizen Kane) is pungent.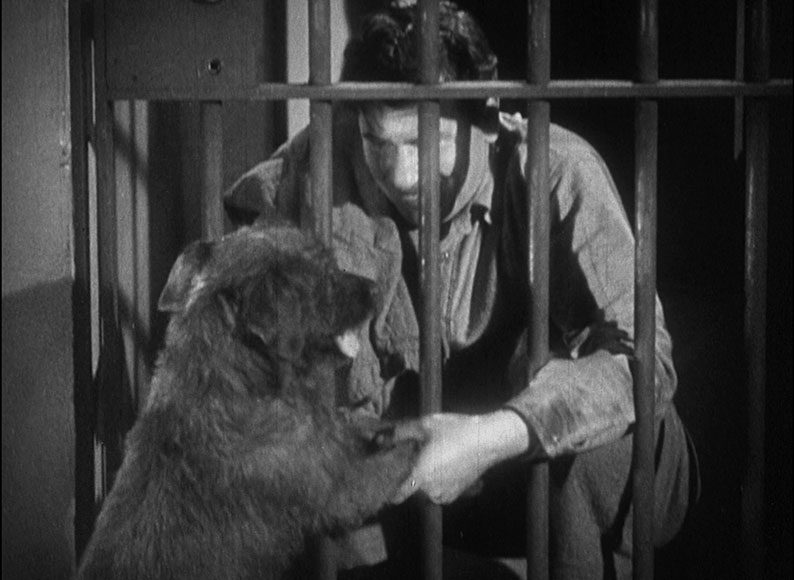 The gangster films we have come to know from just a few years later, were often made for the rival studio Warner Bros. Warners' films often tackled social issues, and a gritty realism – as much as censors and the later Production Code allowed – was characteristic of them. Von Sternberg's main mode was not realism but artifice. His films created worlds made out of light and shade, the blacks, whites and greys of black and white 35mm. Von Sternberg, working with some top-flight cinematographers, production and costume designers, paid a lot of attention to the look of his films, with no chiaroscuro out of place. He shot most of Shanghai Express (1933) although Lee Garmes was the credited cinematographer, and did get his name in the credits as DP for his final film with Dietrich, The Devil is a Woman (1934). Elements of social realism did find a way into his films, but he was more concerned with psychological realities, particularly of people fixated or obsessed, erotically or otherwise, with each other. This progressed throughout his career to the point that his final film, Anatahan (1953), made in Japan, was entirely a studio creation, with the only realistic element, to von Sternberg's regret, being stock footage of the sea water surrounding the island on which the film takes place.
Thunderbolt, written by Charles Furthman (spelled "Furthmann" in the credits) and Jules Furthman, with Mankiewicz's dialogue in the sound version, is structured in two halves. In the first, we see Thunderbolt as a gangster in an unnamed city, including scenes set in apartment houses and seedy nightclubs like The Black Cat, where Thunderbolt and Ritzie have their evening out at the start of the film. In the second half, he is a prisoner on death row, and the triangle between Thunderbolt, Ritzie and Bob plays itself out. While the first half does look and sound like a realistic picture, on the surface at least, the second takes place almost entirely in one of the most stylised prisons you're likely to see. You have to wonder how realistic audiences in 1929 found it.
The story goes that the coming of sound all but destroyed the visual fluency that had been achieved in nearly three decades of silent filmmaking, and one and a half of American silent feature filmmaking, with the camera anchored to the spot and in a booth so as to enable the new recording technology. However, you can see from Thunderbolt that directors like von Sternberg made efforts to overcome those limitations – in fact you can see a tracking shot at the very start of the film. His use of sound also deviated from simply hearing what we see people saying on screen. Much of the sound comes from offscreen, and through much of the second half, we hear an offscreen gospel quartet on the soundtrack, almost turning this part of the film into a musical. This was before the major early-talkie musicals, such as the "negro musical" (as it was called then) Hallelujah, directed by King Vidor in the same year, 1929.
In his fourth film for von Sternberg, George Bancroft gives a commanding performance. He was a big man (a sizeable 6'2") and von Sternberg emphasises his size the first time he appears, towering over a nightclub MC who doesn't even come up to his shoulders. This was Bancroft's second talkie, after The Wolf of Wall Street earlier in 1929 – a silent which was reshot to become a talkie and is now lost, nothing to do with the Martin Scorsese film of the same title, and certainly topical given that Wall Street crashed while the film was being made.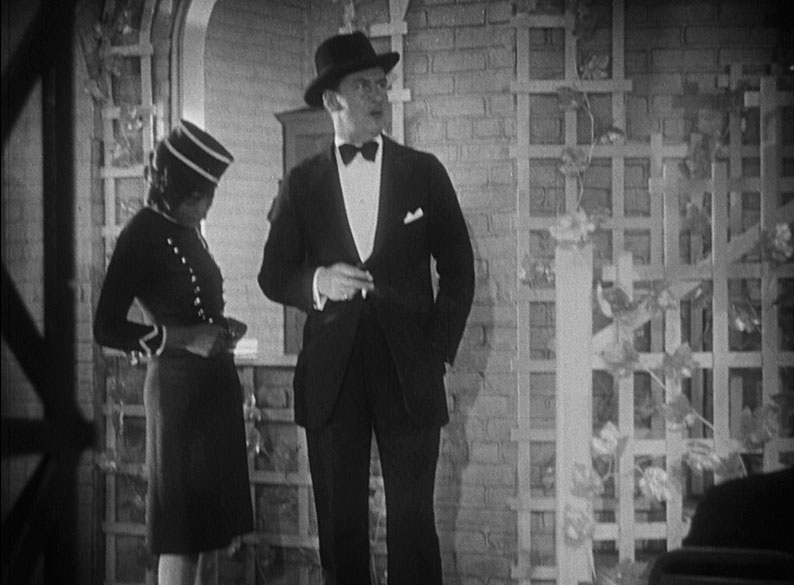 As Tony Rayns says in his featurette on this disc (see below), Bancroft embodies a particular von Sternberg type of male lead: physically dominant, often criminal, but with an underlying almost feminine sensitivity. He's contrasted with the much less imposing Bob Moran, played by Arlen to type as one of the director's second male leads. Bancroft tends to dominate the screen so that Arlen and Fay Wray are much less effective. It's immediately clear that von Sternberg found much more to work with when he teamed up with Marlene Dietrich. It's unfair to the Canadian-born Wray that she will be forever associated with King Kong, made four years later, but there it is. She's a presence in horror films of the time (Doctor X, The Vampire Bat, The Most Dangerous Game and The Mystery of the Wax Museum) that she simply isn't here, as a gangster's moll looking to go straight, even if that involves falling in love with someone else.
Thunderbolt was released in the USA on 20 June 1929. It was released in the UK in November 1929, it would seem in both silent and talkie versions. (See the details of the booklet, below.) George Bancroft was nominated for the second-ever Academy Award for Best Actor, losing to Warner Baxter for In Old Arizona. Thunderbolt was a commercial success, though a mixed critical one – it turns out that some critics saw the silent version, others the talkie. Soon after, in Germany and both in his native tongue and in an English version, he made The Blue Angel, and the rest is history.
Thunderbolt is released by Indicator as a Blu-ray, spine number 292. The disc is encoded for Region B only. The original BBFC certification (presumably A) is not currently on their database, but this disc carries a PG certificate. Unfortunately the silent version is no more, or no doubt Indicator would have included it.
The film was shot in black and white 35mm (which then would have been 35mm nitrate stock) and  transfer is based on Universal's HD restoration from a 35mm safety composite finegrain print. The aspect ratio is 1.37:1, and that begs a question. That is Academy Ratio, which was standardised in 1932. Silent films and early talkies using the sound-on-disc system (mostly made by Warner Bros and First National) were 1.33:1 and those films with the soundtrack printed on the film itself used a narrower ratio, namely 1.19:1. (This ratio, often called the Movietone ratio, was too close to a square to be aesthetically pleasing to many filmmakers, and was discontinued in favour of Academy, though much more recently the 2019 film The Lighthouse used it.) No doubt this is the ratio of Universal's restoration, and to be fair the film doesn't look unduly cropped for the most part. No doubt due to the original's age, and its being more than one generation removed from the original negative, the transfer is soft and quite contrasty and there's certainly grain present, as it should be. There's also damage, including some noticeable scratching for most of what would have been one reel. However, with a film this old, the fact that it exists in as good a condition as it does, outweighs quibbles like this.
The soundtrack is the original mono, rendered as LPCM 1.0. With an early talkie like this, you get what you would expect: a fairly limited dynamic range, mostly in the middle with little at the top and low ends. There's a lot of hiss, but this wouldn't be an early talkie without that hiss. It's clear and well balanced, undoubtedly a product of late-1920s Hollywood professionalism. English subtitles for the hard-of-hearing are optionally available, and I didn't spot any errors in them.
Commentary by Nick Pinkerton
Recorded in 2021, Nick Pinkerton's commentary tends to the scene-specific and doesn't avoid taking a brief tour of the Internet Movie Database each time someone new appears on screen. However there is a a lot of interest here, with Pinkerton talking about the changeover from silents to talkies and this film's part in that, the critical response to the film, and its place in von Sternberg's career.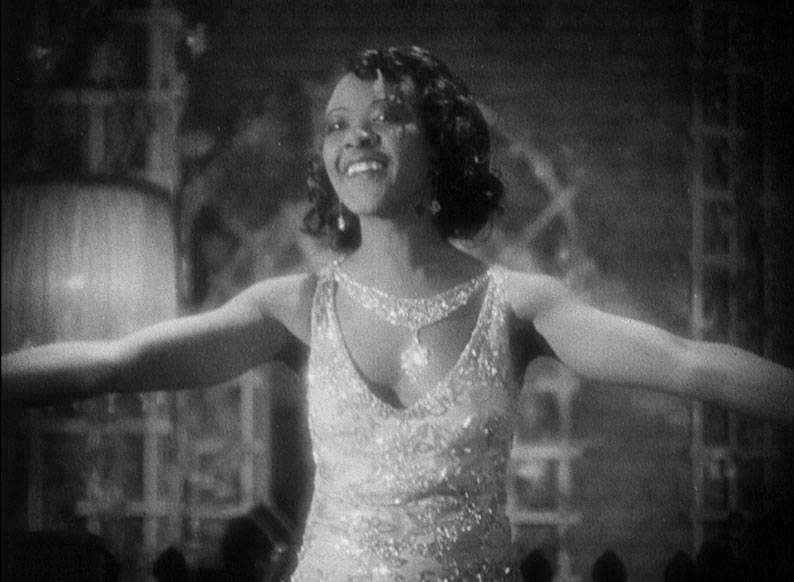 The Guardian Interview with Fay Wray (90:34)
This interview was recorded at the National Film Theatre, London, on 3 September 1990. Wray's interviewer isn't identified on the disc or on its sleeve, but Wray addresses him as "David". I'm assuming that it's David Robinson, and it does sound like him. Aged eighty-two, Wray is on good form, sometimes quite frank and clearly enjoying herself, especially at the start when he announces that they have to do something intimate in setting up the microphones. Robinson begins by mentioning what is by far Wray's most famous film, King Kong, and then rather perversely doesn't talk about it again for the next hour and a half, including the questions from the audience. There's no mention of Thunderbolt either. After the interview, you could get her to sign her autobiography, On the Other Hand, published two years earlier. Inevitably, many of the questions from the audience, coming in after forty minutes, aren't easy to make out, though Robinson does help out by repeating them, for the benefit of Wray's hearing as much as that of us in the future.
Sound and Vision (45:00)
Tony Rayns speaks to camera in a piece that is as much about Josef von Sternberg's career as it is about Thunderbolt itself. He covers the director's early career, including the silents which we can no longer see. (He tells the story about the surviving four or five minutes of The Case of Lena Smith being found in North Korea, of all places.) He also covers von Sternberg's work with Chaplin on A Woman of the Sea, a debacle which von Sternberg clearly didn't blame Chaplin for, though it did affect his career for a few years as he became known as the maker of an unreleasable film. With Thunderbolt, Rayns discusses von Sternberg's use of sound and his typical clash of two male protagonists, here played by Bancroft and Arlen. There's a lot packed in to forty-five minutes and if you want more, there's another Rayns featurette on Indicator's simultaneously-released Blu-ray of von Sternberg's penultimate film, and the last to be released, Jet Pilot.
Image gallery
A thirteen-image gallery which you advance via your remote. It contains six stills. These are in black and white, as you might expect, but the rest of the selection is in colour. These are three lobby cards, a Swedish pressbook for I mörkaste New York, plus a poster under that title and two other posters.
Booklet
Indicator's booklet, available with this limited edition, runs to thirty-six pages. After a cast and crew listing (both short, as many of those involved, weren't credited on screen). The title of Pamela Hutchinson's essay, "Black Cats and Stray Dogs", refers to a couple of significant animals we see on screen. She makes a case for the film's undeserving neglect, identifying an element of wish-fulfilment in von Sternberg's screen treatment of his leading man. As for Fay Wray, Hutchinson sees her performance as similar to her breakthrough role in Erich von Stroheim's The Wedding March (1928). However, it's hard to avoid the fact that Wray and Arlen are overshadowed by their co-star. Hutchinson also discusses von Sternberg's use of sound. It seems that von Sternberg thought his use of sound was largely overlooked, with the exception of director Ludwig Berger, who sent him a letter of appreciation.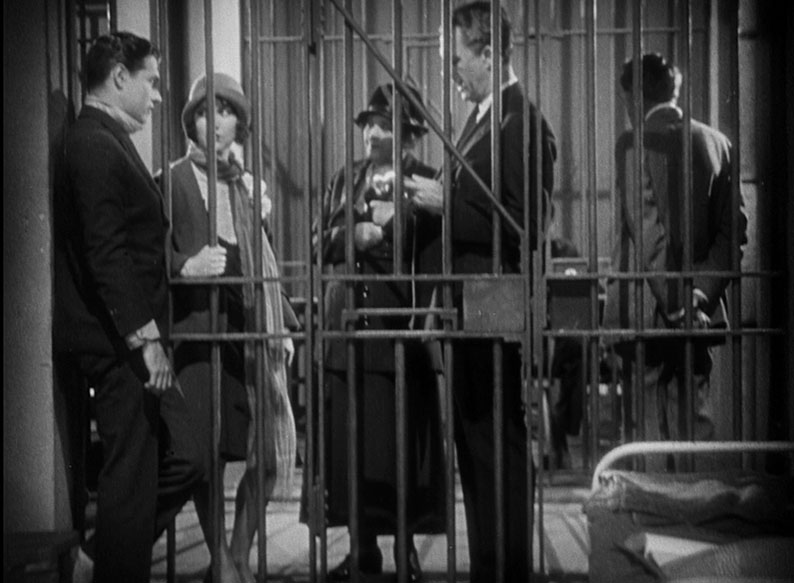 "Making Thunderbolt" is a collection of article extracts, three of them contemporary – George Bancroft interviewed in a piece in the Los Angeles Times, Charles Furthman in the Macon Telegraph and von Sternberg in the Washington Post, and with some hindsight von Sternberg again in his 1965 autobiography Fun in a Chinese Laundry. Also in the booklet are a selection of reviews of Thunderbolt, some contemporary, some from later, such as the Monthly Film Bulletin on a reissue on 16mm in 1974, the original release having been too early for that journal. Interestingly, an article by Claire Johnston in Focus on Film in 1970 received a reply from Harold Truscott of Huddersfield, who had seen the film on its original release, firstly in the talkie version in London's West End and then the silent version at his then local in Ilford. Over forty years later, he was able to  remember the differences between the two, confirming that they were shot differently. (He preferred the silent version.)
Josef von Sternberg's collaboration with Marlene Dietrich's reputation is secure and all seven films are available on Blu-ray. Thunderbolt joins the set of the six films they made together at Paramount, which Indicator put out in 2019. The director's collaboration of with George Bancroft is now much less sung, though that's no doubt partly due to availability: three of the four were silents, and one of those three is lost. While Thunderbolt will not go down as von Sternberg's best work, as a film by one of the great directors working in the studio system it's of considerable interest, and is well served by this Indicator Blu-ray.