Note: Unprecedented periods of paid work have meant my usual commitment to Outsider has had to be curtailed. For that I apologise. Unfortunate timing meant this period coincided with Slarek's health woes. This review is more than six weeks late which doesn't help Indicator's sales push but if they are gracious enough to send the review discs of films we feel we can champion, it's our pleasure to provide a review but paid work always has to come first.
| | |
| --- | --- |
| | "Get the best people around you and listen to them. Don't pretend that you know how to do it. Know what you want out of the material, but listen. I think the mistake that first-time directors make is thinking they can do it all. Even the most experienced directors can't do it all. Keep a central vision of what you want, then listen to what people have to say." |
| | Michael Apted on directing, Venice Magazine 1999 |
That's damn good advice. It dovetails nicely with Ed Catmull's superlative tome, Creativity Inc., which boils down the essence of being creative and emphasizes the need of candour in communication. Again, while it's not common sense, it's all a sort of graspable rarefied sense if you stopped and thought about things with some exceptional clarity. It's clear from his first film that Apted knew what he was doing from the off even though he may not have thought so at the time. Two huge actors, one literally, at the peak of their powers had signed off on a script that had to be shot in a truncated shooting period so the producers looked to the director of Granada television drama at the time, a man whose star was on the rise. Michael Apted got his big break and with that inherited a project with an enormously vulnerable premise and a casting nightmare. What man is going to play the part of a deserter who has to dress as a woman to keep people unaware of his true sex and then be lusted after by Oliver Reed? If you don't believe that Reed's overpowering sexual desire will go for 'her' then the movie is scuppered.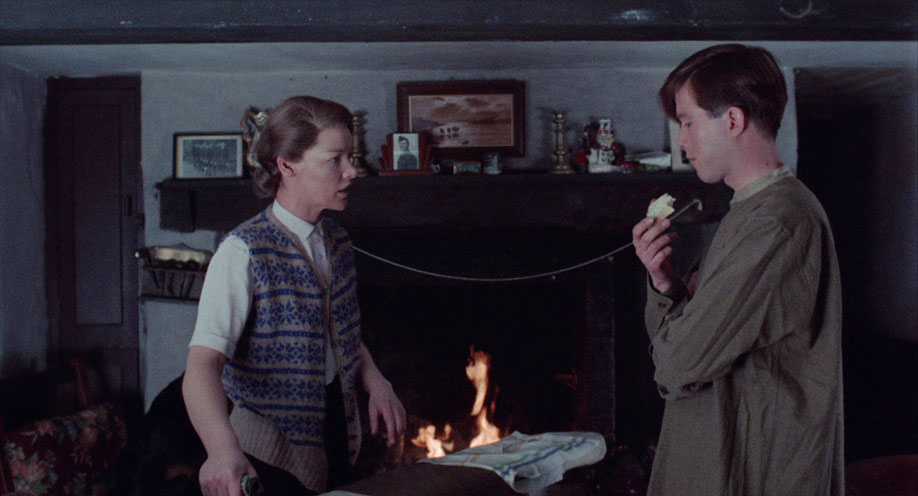 It's the Second World War and Alice is tending to her farm in Wiltshire, her husband a world away in a Japanese POW camp, possibly dead with no way of knowing for certain. Trespassing on her land is a young soldier, Barton and despite Alice's shotgun coolly inviting him to bugger off, the two strike up a friendship that quickly turns to love. To avert suspicion and village tongue wagging, Barton cross-dresses posing as Alice's sister. He chooses to desert and stay with Alice rather than re-join his regiment. In a thundering metaphor for power and rampant destruction, a tank rolls over the horizon and makes two long gouges of mud in Alice's field. Hullo, Sergeant and his superior. The soldiers are very interested in nearby females (yes, very 70s) and are neither coy nor indirect. Alice dismisses them but the Sergeant is persistent. He finally gets to meet Alice's 'sister' and targets him/her so relentlessly and aggressively, you get a glimpse at what those poor actresses suffered in meetings with Harvey W. Every cut to Alice tells us that she knows exactly what this man is (he never hides it) but over time Barton feels trapped in the house and agrees to go to a Christmas dance with the Sergeant at the army base. This must go down as one of the dumbest decisions of his life. Why?
Because the Sergeant is played by Oliver Reed who here is at his most commanding, mischievous and frankly sexually terrifying. His entire body language and manner embody and personify a certain man (I'd like to say now consigned to history but there are monsters like him still about) and his presumed right to a woman's body and in 2019, this stuff is really hard to stomach. Reed's libido threatens to burst out of the frame and every time he's on screen the camera cannot help to gravitate towards him. In one scene, he literally jumps into the room. And if it's not the camera, it's your eye. He has the most morally dubious balance of sex appeal and repulsion and I mean that as a compliment to the actor. In his performance of the virgin-hunting teacher in Take A Girl Like You, he's subdued compared to the Sergeant he plays here. His uniform may as well have 'Potential Rapist And Proud Of It' sewn in as an addition to the three-stripes on his arms. In his uniform (he's never out of it) he looks like he would cheerfully pull any man's arms off. Glenda Jackson as Alice has an extraordinary ability to play power and vulnerability sometimes in the same shot. I don't know if it's lighting effects or hair and make up but in some shots she seems to be as vulnerable as china and in others jaw-clenched and determined. In this role she was sandwiched between two performances that got her two Oscars (Women in Love and A Touch of Class). And it's an unshowy role of an ordinary farmer's wife whose life is blighted by the war as were so many others'. Great actresses can play a multiplicity of roles convincingly. I would love to see her King Lear (if you're in New York right now, lucky you). Jackson's control is a marvel of nuanced containment because you never feel she's doing anything at all except being this person. With by far the hardest role to pull off successfully in this particular film is that of the young soldier who wanders onto the farm, strikes up a relationship with Alice and then has to cross dress as a convincing young lady so he fools Oliver Reed. Brian Deacon does a sterling job and it's all the more surprising as this was his first film role. It's nice to see Daphne Heard in the small role of the shopkeeper. I was so convinced by her accent in To The Manner Born, I was convinced she was Czechoslovakian.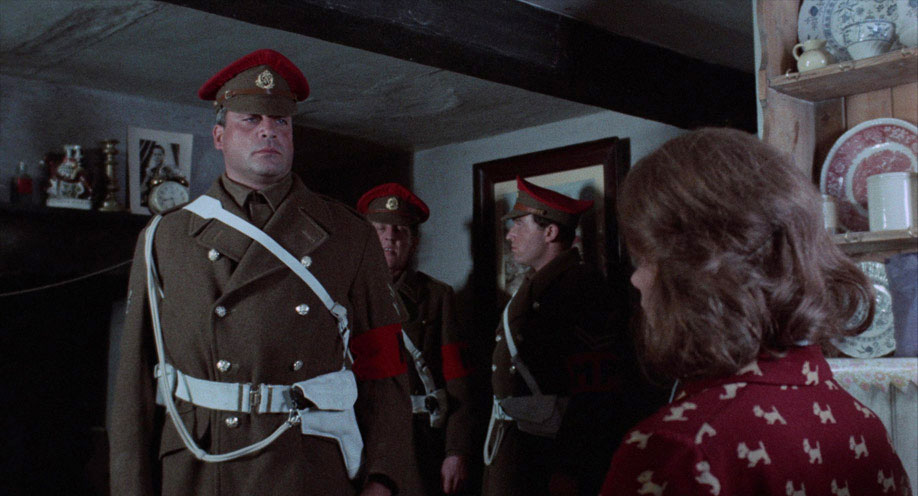 Apted uses hand held cameras in confined spaces and his command of film grammar is evident. The story pushes through at quite a pace (many believed the romantic opening act a little slow but I didn't feel that at all) and things lurch tonally as soon as that monster of a Sergeant literally comes over the horizon. Apted never calls attention to his choice of angles, movement of the camera or framing. It's all to serve the tale (as it should be) and as he notes in his own extra on this disk, Oliver Reed would improvise and Apted would have to use all his good judgement to placate Reed with support and luckily, the superbly prepared Glenda Jackson understood his dilemma with Reed and worked harder to join in and make those scenes work. When I told a friend I was reviewing this film that I'd not heard of (I was eleven when it came out), she mimed the actions and simply said to me "Dippy, dippy, dippy..." I said "What?" She replied "You'll see..." I saw and wanted to run a mile from the man who said those words.
What a small thrill to see the original UK 'X' rating card just before the film. Presented in the 1.85:1 aspect ratio, this 2K restoration has produced a wonderfully rich and sharp picture with grain practically non-existent. The colours are vivid, flesh tones in close up jump out at you and the contrast levels are spot on. The night scenes have an overall blue tint and the lightness of the sky convinces me they were probably shot day for night. That's hardly a criticism and I may be quite wrong.
The original mono audio is perfectly fine with the score at quite high levels at the start of the romance. That changes as the whole tone of the film shifts.
There are new and improved English subtitles for the deaf and hard-of-hearing.
Note: Almost all extra features discuss the ending. See the movie first.
A Matter of Life and Death (2019): director Michael Apted reflects on his feature debut and its place within his prolific career (14' 47")
Apted looks amazingly dapper at 78. He explains how he got the job at 31 (based on his ability to deliver at a faster pace – Jackson was under contract and available for six weeks only). He notes how much he learned from Reed whose methodology was a long way from his co-star's. Reed of course got Apted hammered, his way of testing his director. To be fair, Reed's performance is also playful which makes him even more terrifying. Apted also reminds us how many films he's made with strong female protagonists as he finds women's lives more interesting and unpredictable than men's. He also gives us his interpretation of the intriguing title.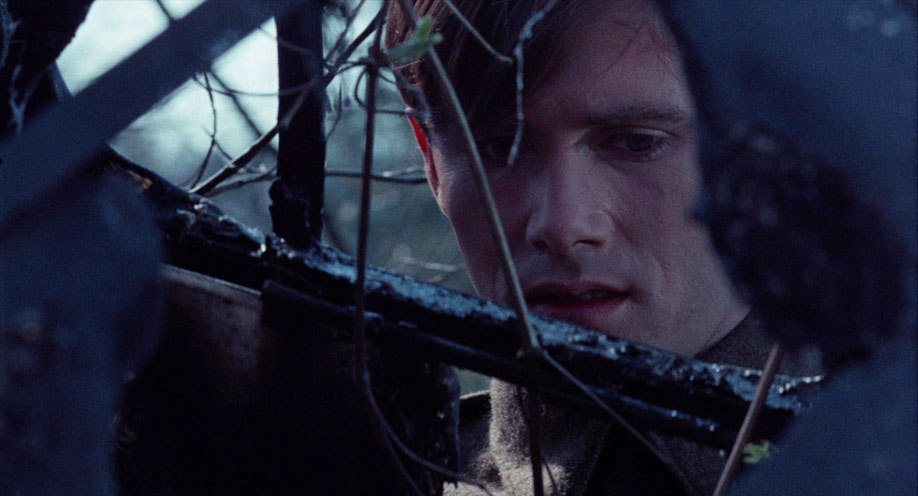 Identity Crises (2019, 29 mins): actor Brian Deacon recalls his first film role starring alongside Glenda Jackson and Oliver Reed (28' 51")
This is a terrific trip down memory lane by an actor with an amazing recall. But then yours would be too if you were co-starring with Jackson and Reed on your first film job. Deacon's memory seems to vividly recall the smallest moments even if he takes frequent long pauses to marshal his thoughts. His memories of Reed are intertwined with alcohol (I think the word is 'D'uh!') and he notes the strength of Jackson and how later she apologised for being wrong about an aspect of the production they argued about. I'm loving her even more. Also the sight of a post-Reed night Apted (who is not a drinker) on all fours facing the last few days of directing is not one to forget in a hurry. Deacon also does an uncannily accurate - in timing too – impression of Reed's line "Chuck him down 'ere to me...Bastard!" Oh, it's nice to have it confirmed that Reed's utterly mesmerising "Dippy, dippy, dippy," was improvised. Apted was smart enough to understand the power of it.
A Different Perspective (2019, 25 mins): editor Barrie Vince recalls shaping and structuring the film  (24' 33")
Vince explains the role of the editor, an avatar of the audience who is not moved by problems or on set knowledge. I used to say we care only about what's contained within those four lines. He tells a few stories about how he manoeuvred Apted in to reshooting a scene because of timing issues and how Apted's geographical awareness was irrelevant because the audience doesn't know what Apted knew. It's a fascinating extra not least because it's my subject. I also noticed the poster in detail for the first time. I won't say anything so that should tell you all you need to know... What were they thinking?
Dressing Up (2019): costume designer Emma Porteous on the challenges of recreating an authentic wardrobe for The Triple Echo (8' 55")
A very spirited and enthusiastic costume designer, Porteous has fond memories of the film, even citing it as her favourite from her career. She'd also worked on Aliens, a few Bonds and even Performance! She recalls Glenda Jackson willing to wear anything as long as it was authentic, the importance of deference towards directors and what a pain it was to shoot a film with uniforms because there's always some nerd out there (like myself) who'll spot a mistake and let her know.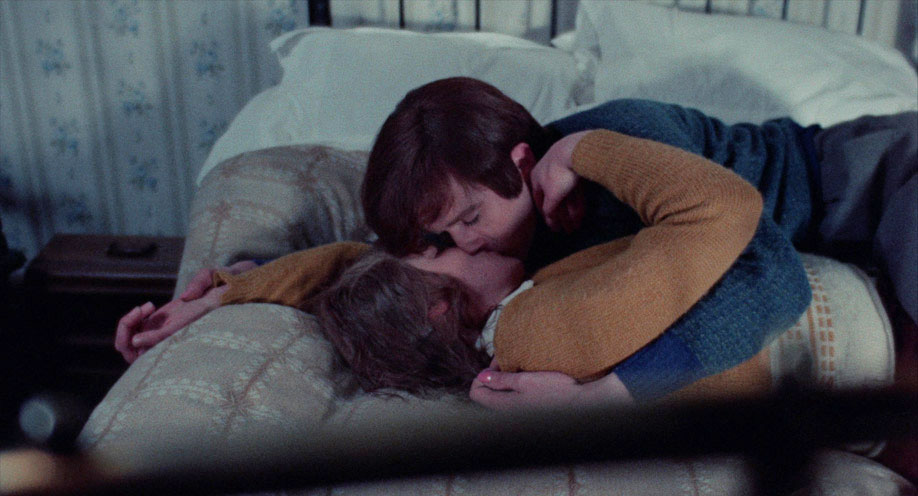 The Emotion of the Moment (2019): composer Marc Wilkinson discusses highlights from his score (8' 02")
An elderly Wilkinson talks about how he was offered the job and how he saw the opening of the film as full of promise as a romance is born and how the score stayed optimistic and hopeful and how a line is drawn as the deceits pile up leading to its violent conclusion.
A Sense of Justice (2019): an in-depth appreciation by author and film historian Neil Sinyard(22' 42)
Ever dependable and 'brain the size of a planet' when it comes to his knowledge of the subject, Sinyard is almost a comfortable staple of these Blu-rays and very welcome. He is framed against a blank wall with the bottom of a picture frame top left that would have taken very small camera adjustment to frame out. Over the course of the piece I kept staring at this wondering about its significance. Sinyard gives us another possible meaning of the triple echo (three characters are all echoes of each other which bears some weight). He also highlights the arrival of the tank, something I alluded to in the review, a scene ripe for layering. It's a solid twenty minutes of Echo appreciation.
Super 8 version: original cut-down home-cinema presentation (19' 14")
This is a 4:3 aspect ratio presentation from the Super 8mm home version of the film. It's as dirty as you might expect with tramlines, sparkle and dust all over the frames. It keeps the last third of the film mostly intact while foreshortening the start but despite the state of it, the narrative still manages to be effective.
Original theatrical trailer, edited by the legendary Jean Fouchet  (3' 28")
Where to start?! Fouchet is that rare beast, a title designer who carved out some fame from within the industry. His selling of The Triple Echo is intriguing. With a cut glass RP commentary from what sounds like the voice of the BBC home service, Fouchet takes the 'triple' and plays with three ways of interpreting the plot. Let's just say the optical printer was probably smoking while this was produced. Each of the three mini-narratives stops as Reed lunges in for a kiss with the commentator shouting "Stop!" Practically the whole narrative is teased but it is entertaining and different enough to be taken as effective.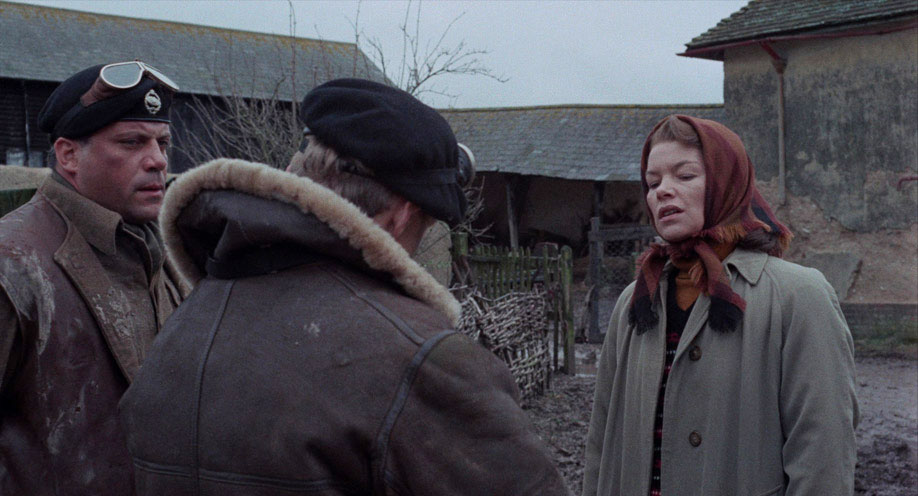 Teaser Trailer (1' 03")
Colour stills and a RP commentary introduce us to Jackson and Reed ("...together for the first time since Women In Love") and newcomer Brian Deacon. The love story is announced but not the cross-dressing. And then over the last still, the words "...in a shocking and final act." The fact that the shot is a still of the penultimate shot of the movie and is a massive spoiler is mystifying to me. I guess you have to have seen the film to appreciate this.
Image gallery: on-set and promotional photography
This consists of 11 black and white, 8 colour and 4 international poster designs.
Limited edition exclusive 36-page booklet with a new essay by Pasquale Iannone, an archival interview with Michael Apted, H E Bates on The Triple Echo, an overview of contemporary critical responses, an analysis of Jean Fouchet's theatrical trailer, and film credits
The booklet was not available for review.
The Triple Echo is an intimate and frightening drama in which societal norms force people to act in desperation to keep secrets that might bring them down. It has three terrific performances from Jackson, Deacon and Reed and successfully pulls off the gender switch although even Deacon's twice daily close shaves are still not quite close enough. For fans of solid, superbly acted drama, this disc is well recommended... "Dippy, dippy, dippy..."