'They told me it was one of the most popular films of the retrospective
[at New York's Film Forum]. Oddly enough, I got an email from Fox telling me
they were doing a 4k restoration of it. I said, "Why do you want to do that?"
And they said, "Well, it's very popular." My quote about it is that it went
from a failure to a classic without ever passing through success.'
Writer/Director John Boorman*
"I am simultaneously both repulsed and horribly intrigued."
SaltManZ in the Comments Section reacting to the trailer**
Zardoz. A classic? Right. It's more camp than a battalion of Butlins Red Coats. It's as uncomfortable as those space hippies from a rather embarrassing third season episode of Star Trek and at times, it's funnier than it really should ever be. Its very name detonates inside a shoebox of ideas that had been percolating throughout the sixties and had become barely drinkable in the 70s. This was the end of "Make love, not war", flower power and ever more proclamations for peace as a placebo for all of society's ills. Writer/director Boorman had conjured up a cock tale (spelling intended), a phallic themed story of a distinct stratum of future human beings, unable to procreate, a side effect of being immortal. Beneath their contempt are the workers and those who brutalise them. One of the latter enters the former's world. It's Beverly Hills Cop writ psychedelic, a fish out of slaughter story. Coming after Deliverance, God only knows what the 20th Century Fox executives thought while watching Boorman's finished movie. Though an acronym not in use in the 70s, you cannot resist the idea of 'WTF' being born that day. It is one of the strangest mainstream films you'll ever witness. As one commentator has said (and I'm paraphrasing) "I saw this movie high. It made no sense at all. I think I better see it again sober. I saw it sober and thought that made no sense. I need to be on drugs for this." It's precisely that kind of film. On the face of it, ridiculous is a very inadequate word to describe Zardoz, because it's not up to the task of describing a straight reading of its narrative. Let's not wander down allegory-avenue just yet. I'm not going to give you a scene-by-scene synopsis but let me describe in some detail its opening scene (and I'm not including the prologue that ends with the delivered line to camera "Is God in show business too?"). Did Boorman intend for Zardoz to be some kind of twisted comedy? I'm not covering the Extras but I am very keen to hear Boorman's thoughts on the film in his commentary. He must have known he was making something extremely easy to criticise, almost too easy. You don't put James Bond in a nappy and hope no one notices...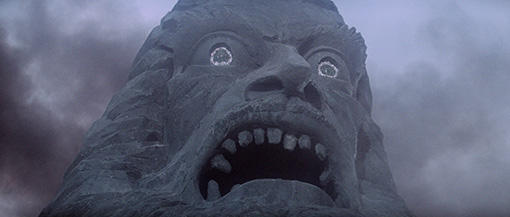 It's 2293. A giant, flying stone head with a face of fury lands in front of a group of horsemen, ardent believers dressed in red nappies and over-the-shoulder bullet belts (Borat's 'mankini' comes to mind, unfortunately) and covered in a sort of white cracked goo that J.J. Abrams saw fit to emulate at the start of his Star Trek movie sequel, Into Darkness. The worshippers are sporting Janus-like two-faced masks of the stone head, a respectful representation, one assumes, of their deity. They are all crying out the name of their god, Zardoz. So far, so utterly bonkers. Zardoz speaks to the chosen ones and the chosen ones reply "We are the chosen ones!" and without any choice of rescue I'm hurled into Monty Python land and Brian's mother at the window. A smile forms (on me, not the giant stone head). Zardoz then says "The gun is good. The penis is evil." And rifles and bullets are hurled (vomited?) out of the stone mouth by the score. Now, we're four minutes in. See what I mean about 'ridiculous' not being up to the job? At five minutes, a very familiar figure inspects his new gun (a very old army pistol in reality) and in a cheeky and irreverent reference to his most famous role, he turns, points it at the camera and fires. You can almost imagine John Barry's orchestration of the James Bond theme thundering in completing the reference. Yes, Zed, the brutish rapist and killer, is played by Sean Connery and if you've seen any stills of Connery in the film, you would have noticed his attire or lack thereof.
Christel Kruse Boorman, the director's wife at the time, designed the costumes. I have to say I have not been so mindful of costumes in a movie since Luc Besson's The Fifth Element. I'm not criticizing the designs per se but I am made so aware of them in every shot, I wonder if they take the focus off the drama because of their eccentric nature. To be frank, Connery must have known that he was serving himself up for some ridicule (at one point he appears in a wedding dress). At a screening of the film on Channel Four in the UK, a commentator used the 'n' word and the idea of Connery in a nappy stuck. It suggests two things (let's overlook the thigh high boots and the ammunition 'x'ed over his chest and back). Firstly, any actor at forty-four that agrees to star in a film dressed in something that looks like a nappy for ninety per cent of the film deserves some serious respect. Connery, of course, started his career as a Mr. Universe contestant so was aware of how exceptional his physique was. But at forty-four? He gets away with it because he is so, so comfortable in his own skin that even when he's being prodded and caressed by attracted women being the ultimate symbol of male fertility and machismo (which he sort of was at that time in his career), he is perfectly stoical about it. He was also trying to force Bond into the shadows so he could fulfil his potential as a serious actor (remember his career best performance was in his previous film, the brilliant and underrated The Offence). What better way to skewer Bond than run around in a nappy while being whipped by John Alderton, a man then more famous for playing a stuttering teacher in the TV series Please, Sir.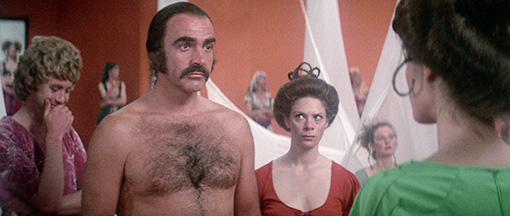 Connery stows away on the giant stone mask aircraft, driven to find out the truth about his god. He shoots the only other man on the ship with him (who them manages to fall to his faux-death with a complete disregard of physics) and ends up at one of the Eternals' localities, a Vortex protected and isolated by an invisible barrier. Connery is an Exterminator. He culls the Brutals, enforced human labour who provide the raw materials for the Eternals' health and well-being. His presence in the community is akin to Australopithecus wandering into Silicon Valley. Physically, the Eternals are all fey descendants of the group in Mad Max 2 refining the gasoline. Their costumes (again with the costumes) are a little more colourful but just as new age, hippy-dippy. Connery stands out as there's no one in the Eternals to hold a candle to his huge physicality. The Eternals are able to exert psychic force that keeps him in check. They also practice lots of physical representations of the power of their minds. In short this means that they act ludicrously.
This behaviour reminded me instantly of a very curious French movie called La Belle Verte. Written by, directed by and starring the actress Coline Serreau. She and her relentlessly whimsical kind live in another solar system and come to Earth as extraterrestrial tourists. The visitors are determined to show us the errors of our material and planet-raping ways. Serreau's physical manifestations of spiritual harmony and enlightenment went some way to eliciting acute embarrassment (you must know of some examples in other movies or TV shows when people are trying to evoke something ineffable and end up looking like dickheads). Our Eternals (mostly effeminate, thin men and slim 'away with the fairies' women and girls) act in this way several times throughout the film and the only shield against this behaviour is to laugh. Particularly ripe for mirth are the Apathetics, those Eternals who've given up on life (there must be a few dips in an everlasting existence). But because of the impossibility of death, it's what they all secretly crave. I have no idea where Boorman got the idea for this absurd but curiously and intermittently engaging movie. I'd love to read a modern review by someone hailing it as a classic and understand what I'm not seeing.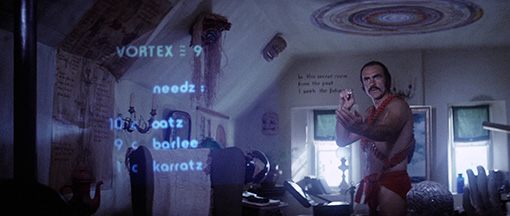 The director's been a staunch left-winger throughout his life and there are allegorical seeds flying about Zardoz like flies with arrow placards. Some of the scenes contain behaviour that would be very difficult to shoot or even countenance these days. I suspect Boorman believes his extraordinary film is a political treatise on class and power served up with a huge dollop of sexual politics to stew over. Connery, the anti-hero at first, undergoes a change whereby the brute becomes educated and enlightened. Until that moment, he's Oliver Reed in the nunnery in The Devils. There are two women battling over him. May (Sara Kestelman) is fascinated by this hulking specimen as there has never been such a breach in the Eternals' sanctuary before. She becomes his science subject with a three-week life span imposed. Intimidated by Zed is Consuella (Charlotte Rampling), a woman almost too desperate to kill the intruder. The connection between them is revealed in one of Zardoz's wackier scenes (and boy, is that saying something). Consuella shows her people an animated penis erecting and tries to make the same thing happen to Zed by showing generic images of pornography. But there's not a glimmer of a twitch. I was frankly pleased to have been spared this image – Connery's nethers are kept below the frame line. It's just a grim smile that spells out what's on the up and up. And it's all because of the allure of Consuella herself. Her desire for death starts to get seriously polluted by her dormant sexual desire and the Eternals' society starts to seriously unravel.
The plot does indeed thicken but I'll leave you to mine the small absurdities and pleasures that Zardoz offers. This preposterous and often ridiculous movie is undeniably unique and it sits in my film-soaked imagination in a room all on its own. Love or loathe it, you cannot deny that you will not, in this life or the next, ever see any movie quite like Zardoz. 'Unique' is not necessarily a positive adjective but neither is it negative. To those who have since championed the film, I look forward to finding out why. Granted, there is some serious talent behind the scenes (it's shot by Geoffrey Unsworth for a start) but the style in which it presents its ideas, its production and costume design, all make it so easy to mock and deride and I don't think Boorman had that in mind as the entry point of his film. I stand by Connery's bravery and trust in his director but at the end of the day, Zardoz is a curio that no rational person could ever imagine bringing into being.
God, I love film...
Those hungry for a pin-sharp and pristine image might initially suffer a few small pangs of disappointment at the opening scenes, but as Boorman points out on his commentary this is very much down to technique employed by Geoffrey Unsworth to shoot the film, using smoke and a light fog filter to soften the image slightly. This small level of diffusion is present throughout and always intended, but once Zed reaches the Vortex the qualities of the transfer become more apparent, with a good level of detail, sometimes crisp contrast and colours that, while deliberately muted at times (the costumes tend to have pastel hues) really leap from the screen when required, notably in the vivid blue walls of the courtyard outside the bakery. The image is clean throughout and sits solidly in frame.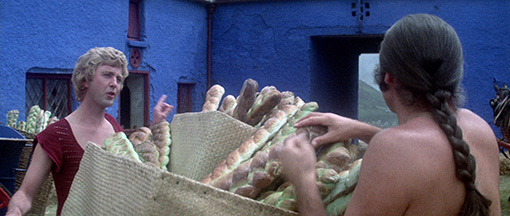 There are two soundtrack options, Linear PCM 2.0 stereo and a more unusual English 3.0 DTS-HD Master Audio stereo track. Sonically there's not a great deal to choose between them; both are very clear with a rich reproduction of a strong sound mix and boast an unexpectedly beefy bass response.
Optional English subtitles for the deaf and hearing impaired are also available.
Commentary by John Boorman
Recorded in Los Angeles, quite possibly for an earlier DVD release, this is one of those commentaries that add immeasurably to your appreciation of the effort that went into the film's making. Writer-producer-director Boorman kicks off by revealing that the oddball prologue was tacked on afterwards in an attempt to clarify a story that audiences were having trouble understanding. "It didn't work," he dryly adds. He usefully provides details on how many of the optical effects were achieved (astonishingly, all but one were done in camera rather than in post-production), the locations (all were within 10 miles of his home in the Wicklow Hills in Ireland), techniques employed by cinematographer Geoffrey Unsworth, hiring Sean Connery after first choice Burt Reynolds fell ill, and a whole lot more. There are some interesting anecdotes about the filming (one involving a roll of accidentally exposed film gave me a shudder of recall) and of Connery in particular, and just occasionally Boorman turns his comments against himself – "When I see the film now I'm astonished at my hubris in making this extraordinary farrago," he says late in the film, then claiming that if he were making it today then he would cut down the scene where Zed enters the tabernacle. "You can fast forward this bit if you want to," he suggests. There second half is more focussed on deconstructing the action and subtext than the technical aspects, but is still well worth a listen. A fine commentary track.
Interviews
John Boorman, writer-producer-director (21:59)
In as interview conducted at his home in Ireland, Boorman talks about the origins of the story, his collaborations with close friend Bill Stair (who on Zardoz is credited as design and story associate), the difficulty he had securing studio funding, the influence of Aldous Huxley's After Many a Summer, and more. Some of the stories here are also told in the commentary, so how fresh they seem will depend on which you run first.

Sara Kestelman, actor (16:54)
Actor Sara Kestleman remembers landing the role of May, Boorman's close collaboration with Bill Stairs, the switch from Burt Reynolds to Connery when Reynolds fell ill, and her work on a number of key scenes from the film. She has several stories about cinematographer Geoffrey Unsworth, for whom she has a particular affection and describes warmly as "a wonderful man."

Anthony Pratt, production designer (17:32)
Frequently praised in the extra features, production designer Anthony Pratt kicks off by describing Zardoz as "one of the strangest commercial films ever, which made it very interesting to work on." (It was also one that was required to look big in spite of a budget of just $1 million, $200,000 of which went to Connery.) He confirms that there was only one matte shot in the film and that all of the other effects were done in-camera, and discusses the specifics of individual scenes from a designer's viewpoint. Providing another angle on a story told by Boorman, he assures us that the similarity of the Zardoz head to the sculpture that adorns the tomb of Karl Marx was purely coincidental (it was modelled on Boorman and designed to look like a ferocious concept of Jehovah).

Gerry Johnston, special effects (21:18)
As you would hope, Johnston focuses mainly on the effects, revealing (to my quiet delight) that the combination of the piano wire used to support the flying heads and the winds in the Wicklow Hills produced musical notes. He provides further details of a story from the commentary about Boorman getting injured by a pistol blank, and another involving a pair of agitated baboons. It was, he assures us, a tough picture to do, with different effects to do every day and little money to do them, but he continued to work with Boorman on subsequent pictures.

Peter MacDonald, camera operator (15:28)
The film's camera operator, who later became a director and whose work on the Zardoz is repeatedly praised in the extras, remembers being excited by the prospect of working with John Boorman, shares some of the technical aspects of Geoffrey Unsworth's approach to cinematography, and describes production designer Anthony Pratt as a genius. He likes that the film is a little rough around the edges, and having recently watched it again admits to being surprised how well it stands up, "in a quaint way."

Simon Relph, assistant director (13:46)
Assistant director Simon Relph remembers pushing to get work on a film being directed by John Boorman and photographed by Geoffrey Unsworth, and not for the only time in these interviews, associate producer Charles Orme is named as being instrumental landing people their jobs on the film. He recalls the lead actor switch from Reynolds to Connery and doing tests with projectors to find one whose projection beam was bright enough to register on film. There's also a story about Point Blank star Lee Marvin visiting the set, a tale that stops just as it seems to be getting interesting. Another engaging inclusion.

Colin Jamison, hair stylist (8:47)
Unsurprisingly, Jamison talks about the freedom he was given to create the hairstyles of his choice and getting a long wig made for Connery, but spends most of the interview relating anecdotes from the shoot, and does confirm Boorman's claim in the commentary track that the extras at the back during the opening scene had their costumes painted on them to save money on materials.

Seamus Byrne, production manager (9:30)
Byrne recalls how he became the film's production manager, outlines the process of planning the shoot and remembers being asked to model Connery's loincloth. He relates a story of a visit from the police about one of the guns used, and remembers it a very happy film to work on.

Alan Jones, assistant editor (7:38)
Assistant editor Alan Jones (not the one who brings us FrightFest every year) remembers making the back projection prints and having to project images onto Connery during his initial arrival in the Vortex. He's not the only one to bring up the story of the clapper loader who accidentally fogged a key role of film ("Connery wasn't happy") and provides a clear beginner's guide to how you mark where you want a dissolve on the cutting copy of a film.
An Appreciation by Ben Wheatley (16:24)
Kill List and A Field in England director Ben Wheatley explores his long-standing love affair with Boorman's film. His arguments are persuasive and his passion clearly genuine, and he's kind of on the nose when he describes the film as a full science fiction vision and points out how rare this actually is – most modern sf films, he argues, are stories from other genres in futuristic hats. He highlights the unique look of the film ("it's kind of like a funky Kubrick") and the still impressive effects, and salutes Connery for wanting to make something so interesting at the height of his fame. A most enjoyable and rather infectious piece.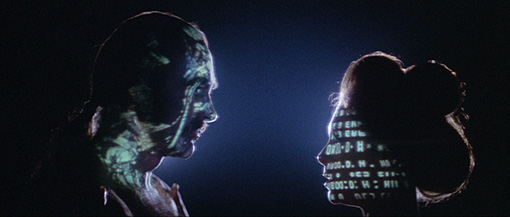 Trailer (3:09)
An appropriately offbeat and intermittently trippy trailer whose title graphics look like they've been grabbed from an episode of Masters of the Universe. If you can work out what the film is about from this then I salute you.
Radio Spots (2:58)
Four radio spots that are actually a slightly better sell than the theatrical trailer, although someone should tell the serious-voiced narrator that it's not pronounced "Zardaz".
Booklet
A particularly meaty booklet that kicks off with an essay on the film by John Upton titled Future Imperfect that examines charges made on its initial release that it was misogynistic and salutes its more imaginative aspects. It also begins with, "Sean Connery in a nappy.... Let's get this out of the way." Clearly a sore point. Next up is a 1985 interview with John Boorman by Michel Ciment in which the director draws parallels between Zardoz and his other mythology-based works, and (re-) examines the film from angles not covered in the other extra features here. This is followed by a piece by Arthur Smith on the novelisation of Zardoz – written by Boorman himself – and examines the differences between the book and the film. Finally there are two extracts from Michel Ciment's book, Boorman: un visionaire en son temps in which editor John Merrit and screenwriter Bill Stair – both of whom have since passed away – recall working with Boorman. Details of the transfer, production credits and some quality stills are also included.
I first saw Zardoz many years ago as part of a double-bill with John Carpenter's deliciously witty low-budget debut Dark Star. I'd gone to see Carpenter, I'd never heard of Zardoz, and I left the cinema shaking my head in disbelief. Over the course of the next year I spent far too much time arguing with a fellow film student about the merits of this most peculiar film. I really disliked it, he thought it a masterpiece. Then again, this is a man who once shaved his head and painted it silver, then came into College and acted as if there was nothing whatsoever unusual about his appearance.
I've not been near it since, and when Arrow announced this Blu-ray release I'd already decided to pass this one up. But my curiosity got the better of me, and I would have taken the review on myself were I not already behind on three other reviews. I thus jumped (perhaps a little too enthusiastically) at the offer from Camus to cover the movie if I took on the extras. Before doing so, of course, I rewatched the film, and while I concur with much of what my colleague says above, my earlier hostility had definitely mellowed and I found myself rather enjoying "one of the strangest commercial films ever made." Much of it is daft and more than a little camp but unapologetically so, and there are some really interesting notions tucked away in the madness. I also can't help but salute a director who makes the film he wants, regardless of how the audience and even the studio that funded it might react – surely the foundation for any number of later cult movies. And the extra features really do make a difference here, revealing as they do the thinking behind the project and specific scenes and the effort and invention it took to bring them to the screen.
If you've never seen the film then I'd be nervous about openly recommendeding it. As production designer Anthony Pratt states in his interview, some will love it and others will hate it. But I'd suggest that everyone with a taste for the offbeat and bizarre absolutely should see it, and if you are sympathetic to (or indeed wildly enthusiastic for) Boorman's vision, then this splendid Blu-ray delivers the goods in spades. So why not take the chance and get your hands on a copy? You can always thank or angrily blame me later.
---
* https://thedissolve.com/features/interview/947-john-boorman-looks-back/
** http://www.tor.com/2011/04/11/stay-inside-my-aura-why-zardoz-is-the-arty-dystopian-film-you-cant-believe-exists/