Antiviral, the debut feature from Brandon Cronenberg, is an exciting thing for those of us who still look back fondly on earlier genre films of Brandon's celebrated father David. Don't get me wrong, I still adore his more recent output and regard A History of Violence as one of the finest American films of the past twenty years. But I grew up on this director's unique and ground-breaking body horror cinema, films such as Shivers, Rabid, The Brood, Scanners, Videodrome, The Fly and Dead Ringers. I miss them especially because no-one else has ever made anything quite like them. Even the work of Cronenberg's closest artistic contemporary, the brilliant Japanese auteur Tsukamoto Shinya, is influenced by, rather than directly comparable to his cinema.
That Cronenberg's son Brandon has also become a director may not be completely surprising – the offspring of actors and filmmakers frequently follow their parents into the business, though Brandon chose to do so via the same film school route that many aspiring young directors follow – but that he choose to make what we can enthusiastically label a Cronenberg film definitely is. I could elaborate on this, but my fellow reviewer Timothy E. RAW has already covered what makes the film so special in impeccable detail, and so if you want to know more I strongly suggest you read his review and watch his interview with director Brandon Cronenberg here, as I will be focussing solely on Momentum's UK DVD.
Now here's a thing. Antiviral was shot digitally using an Arri Alexa camera kitted out to produce an image that cinematographer Karim Hussain describes on the commentary track as "so damned sharp you feel you can walk into it," something Tim confirmed from the DCP screening he attended. The perfect candidate for a Blu-ray release then. So why oh why is it only being released on DVD? There's certainly nothing wrong with the 1.85:1 anamorphic transfer here, which copes impressively with a contrast range that places black-suited men against brightly lit white walls without any major loss of detail in shadows or burn-out on the highlights (except where intended) and displays no obvious compression issues. The level of detail is also impressive for a DVD. But everything about the film's aesthetic cries out for a pristine HD transfer.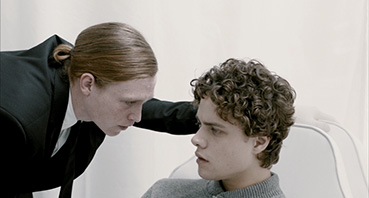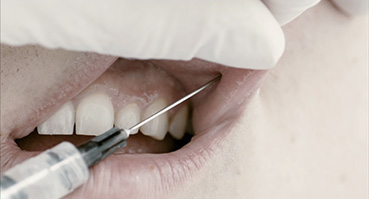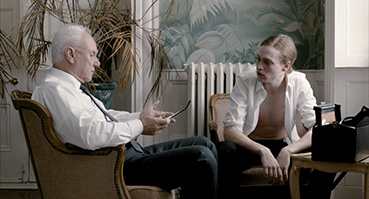 No complaints at all about the Dolby 5.1 soundtrack, which boasts and excellent dynamic range and a seductive and inclusive use of the full sound stage for directional effects and E.C. Woodley's deeply unsettling electronic score, which attacks you from all sides and builds to a serious volume when given full reign.
Commentary by writer-director Brandon Cronenberg and Director of Photography Karim Hussain
A lively and virtually pause-free commentary that bristles with information about the shooting of the film, with particular focus on the visuals (Cronenberg wanted the image to look like a cross between a visit to the doctor and a fashion shoot), the locations, the effects, and the work of lead actor Caleb Landry Jones. Some of the biggest surprises concern the use or unexpected absence of CGI – seemingly live shot cityscapes were actually composited, but the distorted facial imagery on the ReadyFace consoles was created by shooting live on a domestic camera and holding a plastic magnifying glass in front of the lens. I was particularly intrigued to hear about the sneeze fetish forum that the filmmakers discovered in the course of their research, one that prompted the inclusion of a slow-motion sneeze to reward forum users who were disappointed at the lack of sneezes in Contagion. I'm not making this up.
Deleted Scenes (3:36)
Two intriguing deleted scenes, both of which were cut for pace following the film's screening at Cannes. The first involves a meeting between Syd and his boss, and the second has Syd making a house call to one of his clients, a young man who has also built a sizeable fan base. The second scene is particularly interesting, providing as it does a small peek into the psychology of those buying the service offered by The Lucas Clinic. Both clips are similar quality to the main feature and playable with or without a commentary by Cronenberg and Hussain.
Behind the Scenes
This consists of four brief featurettes in which interviews are intercut with on-set footage: Brandon (2:29) looks at the film's genesis; Design of Antiviral (1:59) focuses on its look; Manufacturing Celebrity (1:57) on its critique of celebrity culture; and Sarah & Caleb (2:15) on the working relationship between actors Sarah Gadon and Caleb Landry Jones.
A terrific debut feature on a solid DVD, one we have no problem recommending. But this is a film that cries out for a quality Blu-ray release, and for those with multi-region Blu-ray players it may well be worth keeping an eye on what happens when the film lands an American or Canadian home video release in the hope it will get the HD edition it so richly deserves. In the mean time, the image quality, soundtrack and commentary make this a must-have for body horror fans.