The Assassination of Jesse James by the Coward Robert Ford – the title alone tells you much about what to expect, a long film with a long title and one which makes no attempt at subtlety. It is a title indicative of a journalistic statement, a headline in a newspaper – iconography that plays a pivotal role in the closing chapters of the film. It is a biased statement too, based on media hype and post Civil War myth, suggesting an unfitting end to a national hero at the hands of a lowlife. It is a loaded label attached to a much anticipated movie. But in the end was the film up to its grand title? In a word, yes!
As much as I try to give as objective accounts of film as possible I don't believe the job of a reviewer is objectivity. To review something is to give a personal opinion based on knowledge of the subject, and a personal opinion is never unbiased, no matter how balanced it may seem on the surface. Therefore, as with other reviews, I must go with my gut on this one and simply state my humble thoughts.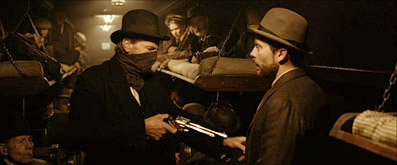 I have not read the book on which this film is based, but I can say Jesse James etc is my kind of film. It is a slow burning, considered, beautiful, thoughtful, melancholy piece of cinema. One glides through the landscape as if in a dream, settling on troubled faces uttering considered words. This is a post-Western. This is the aftermath of robbing and riding the plains. The calm after the storm, where survivors fight to live in the rubble of their own destruction. It is an eloquently poised movie, as deliberate and unflinching as the men who fill the screen. Jesse James is both built up as a legend and grounded by human flaws in the opening voiceover, a man struggling with the duality of celebrity persona and harsh reality. Robert Ford moves within the gang of experienced outlaws like a stray animal looking for comfort, but his earnestness and over eager disposition makes him an outsider to all, including his own family.
After the final James Gang robbery, the band disperses and when a large reward is put on Jesse's head he becomes uneasy at the prospect of treachery by his former gang members. From this point the narrative moves around the gang which is now spread out in various hideouts, most clustered at the Ford home, and from place to place Jesse visits bringing tangible menace with his paranoia. An in-house squabble between Jesse's cousin Wood Hite and friend Dick Liddel over Liddel's advances on Wood's step mother turns the pressure cooker atmosphere up a notch when a confrontation between the two ends with Wood's death at the hands of Robert Ford, who took Liddel's side over the bully Hite. The Ford brothers protect Liddel with trepidation, if Jesse were to find out the fate of his 'favourite cousin' the whole household would be in grave danger.
From this point on the sense of dread and tragic fate, intensified by the knowledge of the eventual outcome, escalates to its inevitable conclusion.
We have all seen good and bad examples of Brad Pitt at work. From his two excellent films with David Fincher at the helm and 2006's Babel, to blockbuster hogwash such as Troy and Mr & Mrs Smith. He has been an actor to counter mainstream work with some well judged roles of more substance, and he has recently said that now entering middle age he is no longer interested in pleasing the masses. Like friend George Clooney, Brad Pitt will now only have any involvement (on or off camera) with projects he truly believes in, and has reached an age and a pinnacle of fame to comfortably achieve this. All this is evident in his portrayal of Jesse James. It is a role played by an actor who has reached maturity, physically and mentally. Jesse is 34 years old in the movie, and Pitt is ten years the character's senior (as is Affleck in relation to his character), but this seems right. The man was not in good health at this point in his life, and years of fighting took their toll. In one of James' and Ford's first conversations in the film Robert tells Jesse he is 19, and Jesse replies wearily, "Bet you feel older though." This is a comment on his own feeling, and many others at an age where the Civil War and its aftermath created a generation of disillusioned young men, an obvious parallel to our own time. Pitt's performance achieves a gravity and presence I have not experienced in any of his previous work, and it is what was necessary to front a film of this weight. The class of this role is of a younger version of both Brando in Apocalypse Now and Eastwood's William Munny, such is his world weariness and controlled menace.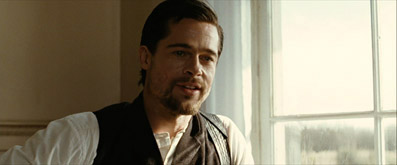 Pitt can't take all the glory though, there is a Judas to the twisted Christ figure of Jesse. Casey Affleck's Robert Ford is genuinely creepy where he could have so easily created a pantomime disposition in the characteristics of the young man. One thing is certain, the younger brother of Ben Affleck eclipses anything his brother has done by a mile in this film. If he continues to make smart role choices, the young Affleck is definitely one to watch out for (he stars along side Morgan Freeman and Ed Harris in Gone Baby Gone, released this summer. It is a modern Serpico-esque movie directed and written by brother Ben – one to keep an eye out for). As for the rest of the cast, they are pretty impeccable, especially Sam Rockwell as Bob's brother Charley. He is the guy the audience can identify with the most, stuck in the middle between Jesse and Bob, his nerves slowly crumbling along with everyone else's. His fate is one of the saddest things in the story.
The music of the piece is beautifully melancholic as one would expect from a score by Nick Cave and Warren Ellis (of Cave's Bad Seeds) and envelopes the floaty atmosphere much of Roger Deakins' breathtaking cinematography has. The man behind the Coen Brothers' camera, amongst distinguished others, does not disappoint in photographing Dominik's vision. A blur to the edges of frame in many outdoor panoramas accentuate a dreamy feel and connote a concession required of historic period pieces to blur the edges of reality, almost visually apologising for any historical inaccuracy, with shadowy and claustrophobic interiors adding to the unrelenting closing in feel.
The Assassination of Jesse James by the Coward Robert Ford is a deconstruction of the myth of a Robin Hood character in American history, carried out by a visionary director and performed by a more than accomplished cast. A feather in the cap of everyone involved in the production, it is for Dominik a fantastic follow up to Chopper, to Pitt a milestone in his successful career, and for the young Affleck the role he surely has been waiting for to showcase his talents. If this film becomes anything less than a cult classic I'll eat my ten gallon hat!
A pristine 2.35:1 anamorphic transfer with razor-sharp detail and whose contrast achieves a perfect balance between deep blacks and clear shadow detail. The almost inevitable colour tinting we now tend to associate with historical films, especially those set in the Old West, is faithfully reproduced.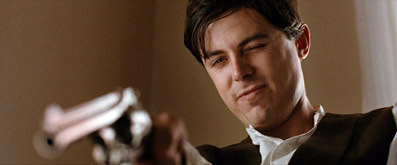 The 5.1 surround is beautifully mixed, using the entire sound stage with sometimes disarming precision, placing you in the middle of gunfights by sending gunshots and bullet hits to every corner of the room. The clarity and range are top notch, and the bass full without over-usage.
Also included is an audio descriptive track for the sight-impaired, while the subtitles on offer are English, English for the hearing impaired and the slightly odd trio of Arabic, Hebrew and Icelandic.
One of the most pointless uses of two separate DVDs I've seen for a while. On one disc is the film (alas, with no commentary track) and on the other, Death of an Outlaw documentary that is only half an hour in length. It is a concise and well made piece, similar to the one features on 3:10 To Yuma, with historians' accounts of the life of Jesse James, including the author of the book the film is based upon, assembling a biographical picture. This is a worthy and interesting feature and it's good to find out details about the man that are not shown in the film, but surely it does not necessitate a disc to itself!
The only other feature is within the packaging; the set comes in the form of a hardback book with each disc inside covers, between them is a glossy 44 page booklet with stills and quotes from the film as well as excerpts of an interview with director/writer Andrew Dominik and a list of all known robberies committed by the James gang. Swishly packaged but seriously anaemic on information.
An excellent film with a so called Special Edition DVD that does not do it justice. If you ask me you're better off buying the single disc version and holding out for a better edition, maybe on region 1. I hope the standard of mainstream DVDs will not continue to suffer due to the new focus on HD.