Just recently I was talking to a friend of mine and the subject of Austrian director Michael Haneke came up, as these things do, I was somewhat surprised to learn that he'd never even heard of him, despite the similarity in our cinematic tastes. By the conclusion of our conversation even he was feeling surprised, wondering how on earth so many intriguing sounding films had managed to pass him by. He went straight out and located Hidden [Caché], one of the director's most admired films and his most recent non-remake. He loved it, which only deepened his confusion at never having seen a frame of Haneke's work before.
Of course, given that I've seen almost every feature he's made, it was very easy for me to pose as some sort of expert who'd been following the director's career from his acclaimed early features. But like my friend and a fair few others, I discovered Haneke's early work retrospectively following my shell-shocked exposure to Funny Games, films I located first through screenings on the then non-commercial Film Four and later via Tartan's Michael Haneke Trilogy. Each new film from the director was also sought out, always with an enthusiasm that was balanced by the knowledge that it would be no easy ride.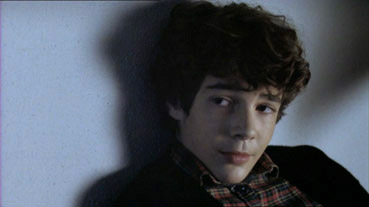 Benny's Video was the first Haneke film I tracked down following that memorable first screening of Funny Games, being immediately attracted to a perceived similarity in a number of its themes. True to expectations it was far from comfortable viewing, and I'm not just talking about the notorious mid-film murder, which although rightly horrifying (despite how little you actually see of it) seems ultimately less disturbing than the manner in which Benny and his parents deal with what has happened. As with Funny Games, the deadening effect of continual media exposure appears to be Haneke's main target, and if it seems at times to be overstating the case, the subsequent growth in youth (and to a degree adult) reliance to the point of near-obsession with the mobile phone in the UK, sometimes to the exclusion of all other immediate inputs, can't help but make you wonder if the director was on to something after all.
It seems clear that this stand-alone DVD release from Tartan has been prompted by their recent cinema release and upcoming DVD release of the director's English language remake of Funny Games starring Naomi Watts and Tim Roth. Previously Benny's Video has only been available as part of the Michael Haneke Trilogy box set, and for a full review of the film and that disc, click here.
sound and vision and extras
---
This stand-alone DVD is exactly the same as the one in the Michael Haneke Trilogy, right down to the menus, picture and sound quality and the lone extra feature. Thus the details provided in that review for these features all apply here.
Benny's Video has remained as quietly compelling and deeply disturbing as when it was first released. If you're looking for a companion piece to Funny Games then, despite the many differences between the two films, this is probably as close as you'll get. But if you've come to the cinema of Michael Haneke through his more recent work and are looking, as I did, to retrospectively experience the earlier films, then consider Tartan's still available Michael Haneke Trilogy 3-disc set – as well as Benny's Video, you also get The Seventh Continent and 71 Fragments of a Chronology of Chance, and if you do a bit of digging you can pick it up for a similar price to this stand-alone disc.