Disc 2 – Dangerous Days: Making Blade Runner Documentary

3 hours 34 minutes (and 6 secs)

• Newly created documentary: Through interviews with the cast and crew, critics and colleagues, this feature-length documentary provides a mainstream-friendly yet meaningful in-depth look at Blade Runner's literary genesis, its challenging production and controversial legacy.
The publicity blurb is such a lie. It's not feature-length at all. It's over TWICE feature length (3 whole hours and 34 minutes, Jesus! And 6 seconds)! It is an epic and with every special minute justifiably so.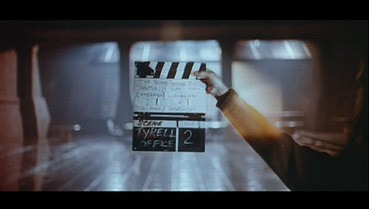 Well, the superlatives are piling up. I was afraid this was to be the excellent Channel 4 documentary (which I have seen a few times now) but after ten seconds, it was clear, this was to be THE definitive documentary on Blade Runner. It seems as if everyone involved (including Harrison Ford) has something to add and the tale of its genesis, production and post is as tragic as any Shakespearean drama. My favourite contribution is from editor Terry Rawlings who said that Ridley Scott was making Blade Runner for people who would not understand the film. It's art and commerce again locked in a room and only one will come out. But what the documentary does well is eke out why Perenchio and Yorkin (the two financiers aka 'the Blade Runner Partnership') didn't get Ridley Scott's extra multi-layering. I mean why a unicorn? What's that all about?
I am so steeped in Blade Runner lore that the idea of a dream including a unicorn and then a silver foil unicorn at the close of the movie is almost mundane to me now. But seen from the financiers' points of view at the time, they must have thought Ridley was cuckoo (with 28 million dollars of their money!). The documentary also features dozens if not hundreds of out-takes but not in the "Harrison just corpsed on set, how droll," variety – no. Ridley Scott's out-takes actually get you worked up because they feature different coverage of scenes now so familiar that you shiver with a thrill that it could have been cut any other way – Rutger Hauer makes his final jump towards the camera (4 mins and 16 secs from the end) and screws up a Deckard arm snatch (at 4 mins 35 secs from the end). It's somehow thrilling to have access to this material even though it was discarded at the time.
And there are special FX out-takes which seems like a colossal waste of money but maybe these were test shots (but still looking good).
Produced and directed by the guy in charge of the restoration, Charles de Lauzirika, the documentary is a love letter – a staggeringly well researched and note for note fan-boy's dream on a movie that would not go away. The range of interviewees is staggering including all the principals except (RIP) Jordan Cronenweth, the astonishingly talented cinematographer who died of Parkinson's disease in 1996. If you love Blade Runner, this documentary is its gantry, its fan club, its archive all rolled into one. Superb.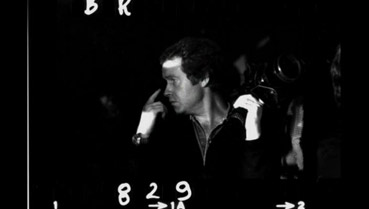 Last word to Blade Runner's editor: Terry Rawlings described a leading London critic who felt unmoved by the film but as she stepped out in Leicester Square, she said she 'got it' because had just stepped into Blade Runner! Compare this with an extract from Slarek's earlier review after the sneak in 1982...
"...both left reeling, and stumbled out of the screening and into a pub, where we drank an awful lot of ale and wandered out into Chinatown in a dazed attempt to recapture the atmosphere of the film. It seemed only right that it was raining."
I was there at the same time, noticing things in a fresh way. I ran through the rain IN Blade Runner, IN Los Angeles 2019, IN Dick's and Scott's world. I cannot stress that enough. The future that was Blade Runner made you really see the present. That is why Blade Runner is a work of genius.

special features (of disc 2)
---
None but with a 3 hour 34 min superb documentary, what special features do you need? A free Shiatsu massage?
The doc is presented in anamorphic 1.85:1 with hundreds of 2.40:1 clips (as you would expect). The quality is crisp and sharp and the sound quality (Dolby Digital 5.1) is quite fine. Of course some out-takes look ropey because they've been on a cutting room floor or the equivalent for 25 years...
It's advertised as having an English DD2.0 language track – but my amp said 5.1 – not that this odd blip detracts from the greatness of the doc itself. There are sub-titles in English, French, German, Italian, Spanish, Dutch, Danish, Finnish, Greek, Norwegian, Polish, Swedish and Portuguese.
---
Disc 3 – 3 Complete Archived Film Versions
'82 U.S. Theatrical version: 1 hour 57 mins
'82 International Theatrical version: 1 hour 58 mins
'92 Director's Cut: 1 hour 55 mins
All these versions ("...will be lost, like" sorry) are branched from a principal source so guess what? Most of the grading is the same (as it would be from the same source) but what's interesting to me given these versions have also been spruced up, is that the grading is noticeably different to the Final Cut – possibly more in keeping with grading technology in either the early 80s or 90s.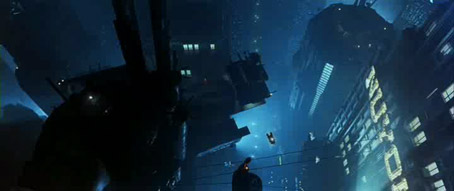 To save undue repetition of the marvelous title, I'll refer to the versions as 82-US, 82-I and 92-DC. So which one shines brightest of all? The Final Cut of course. The differences between the three archived versions are well known to fans. My respect and admiration and (disappointment) with the first two versions can be read in my original Blade Runner article. It's not these versions that the true Blade Runner fan wants to get his/her hands on. The real star of this box set, extras wise, is without question 'The Workprint', a version of the film about which Ridley Scott says "A lot of fuss over nothing..." Don't say that, Ridley! It's the best kept secret/non-secret in Blade Runner's history. What did those lucky Californians packing the limited run cinema actually see? I knew it was named 'The Workprint' and it was what was sneaked to preview audiences. Being an editor I know how different films can become once several oars have been pitched in – but still I was excited by seeing the Holden in Hospital scene and pointing out the many differences. And guess what? The Holden scene isn't in the Workprint but as I said, in good time.
special features (of disc 3)
---
Introductions to all three versions by Ridley Scott (a la the Final Cut) outlining the differences between each version.
All movies in the 2.40:1 anamorphic aspect ratio look good though differently graded to the Final Cut. And the sound seems to have been given some serious attention (though if the archived versions have had the same fuss as the Final Cut's hugely improved soundtrack I'd be surprised). To be frank, each of the versions sound as good on my system with the Final Cut's soundtrack giving an overall better presentation (maybe that's just the emotion talking – it's the best cut so therefore it sounds terrific but it does sound terrific).
English DD5.1, English DD2.0 Surround and German and Spanish DD2.0 language tracks.
On the sub-title front, English/English for hearing impaired, German/German for hearing impaired, Spanish and in their native tongues for the fun of it: Dansk, Suomi, Norsk and Svenska.
---