I'll admit that I'm working at a disadvantage with Bossa Brazil: Stories of Love – The Birth of Bossa Nova. The thing is that even after watching this comprehensive and well constructed look at the Brazilian bossa nova scene and being exposed to many of its most respected practitioners, I actually don't care for the music. It's a bit too laid back for me, too reminiscent of the sounds that have haunted me in hotel lounges and bars when all I wanted to do was drink and read my book in peace. My ignorance of the identities of many of the key musicians also robbed me of one of the principal pleasures that come with the viewing of any music documentary, the buzz that comes from recognition of names and songs and moments in musical history that touched your own life. The flipside of this, of course, is that the information supplied by the film was all new to me and functioned instead as a total learning experience, a detailed introduction to the music and its principal exponents.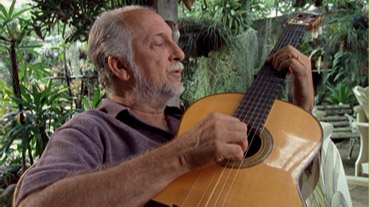 For those who do not know, bossa nova is a style of Brazilian music, partially influenced by jazz and samba, that is gentle in tone and whose songs tend to focus on love and beautiful women, exemplified by 'The Girl From Ipanema' ('Garota de Ipanema'), a song that found widespread popularity outside of Brazil and the only one I was familiar with. A number of musicians are cited as being key to the development of the music, with Antônio Carlos Jobim given particular credit for its widespread popularity, the claim being that the only artists whose work has been more widely covered are The Beatles, and as Jobim himself once pointed out, there were four of them. The only living major figure not interviewed, those in the know inform me, is João Gilberto, who is represented only by archive footage after he refused to take part in the film.
Two of Jobim's contemporaries, Roberto Menescal and Carlos Lyra, make for most genial hosts and not only take us through the origins and development of bossa nova in some detail, but break down its structure and style in illuminating and engaging manner. I particularly liked the (possibly apocryphal) explanation for the music's gentle performance style, the result of the originators gradually reducing the volume of the playing and singing so as not to disturb neighbours during their after-work late night rehearsal meetings.
Employing a blend of interview, direct to camera explanations, archive material and nicely shot performances by a number of artists, Bossa Brazil is a thorough and informative exploration of the origins and development of the bossa nova musical style and is as good natured and easy-going as the music itself. My original caveat remains, however, and if you're not sympathetic to the music then it's unlikely that the film will do anything to change that. But if you're already a fan and are looking to learn more about its history, Bossa Brazil should fit the bill nicely.
A clean, well balanced anamorphic 1.78:1 transfer for a film that was likely shot on HD or digibeta. Contrast and colour are fine, though a slight softness to the credits and captions and some giveaway jaggies on diagonal lines suggests the print may have undergone a conversion rather than have been sourced directly from an HD master.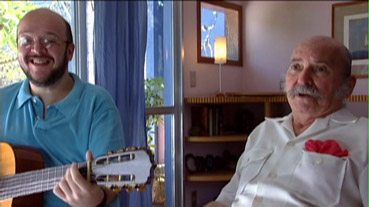 The Dolby 2.0 stereo soundtrack makes very subtle use of the front sound stage, which is only appropriate – this is not a music style in need of a show-off mix. Clarity and dynamic range, however, are fine.
Bonus Song Selection (23:18 total)
Effectively 12 deleted scenes ranging in length from 1 minute 15 seconds to 8 minutes 22 seconds, each one of them featuring a musical performance and even some interview material. If you're a fan of the music then this is a treat. If not...
Ignore my prejudices, unless of course you share them, Bossa Brazil is as complete a documentary on the bossa nova music scene as you could hope for under the circumstances, and if you're already a fan than this is a must-have. As for me, it's back to the Nine Inch Nails CDs...