There is a bitter irony to the fact that one of the world's most acclaimed and influential filmmakers finally won an Oscar for Dersu Uzala, a film made in Russia rather than in his home country, following a period in which almost no-one seemed interested in funding his work. Mind you, being a Japanese writer-director of primarily Japanese films, he'd have to wait another ten years before being recognised by the Academy specifically for his skills as a director, by when the whole world seemed to be waking up to what they had previously overlooked. Take a peek at awards section on Kurosawa's IMDb page and note how many are for films from the later part of his career, then cast an eye over the body of work that he completed before Dersu Uzala, one that includes Drunken Angel, Stray Dog, Rashamon, Ikiru, Seven Samurai, Throne of Blood, The Hidden Fortress, Yojimbo, Sanjuro, High and Low and Red Beard, plus a string of other, less widely seen but equally worthy films. This is why so many renowned filmmakers the world over still fall at Kurosawa's metaphorical feet with cries that they were not worthy.
Dersu Uzala is, in some ways, an atypical of the director, being his only feature set exclusively outside of Japan and in which no Japanese is spoken. But in its underlying humanitarianism and the simple beauty of its storytelling, it's every bit a Kurosawa work, and a key one at that. I'm in danger of repeating myself here, as I've already made the case for both the film's considerable qualities in my coverage of Artificial Eye's 2007 DVD release of the film, which you can read here.
If you read the whole review, you'll also be aware that the picture quality on that release, which was licensed from the Russian Cinema Council, left a lot to be desired. Hell, I'm being generous here. Given that Dersu Uzala was the only Kurosawa film to be shot on 70mm, a film format celebrated for its glorious imagery and eye-popping sharpness, the transfer there was dismayingly poor. The image was fuzzy and slightly cropped, the colours weak, and there was aggressive flickering on many scenes that suggested the source print had suffered some corrosion or chemical damage. The result was still watchable, but so far short of what you'd expect of a digital transfer of a widely celebrated and Oscar-winning film shot on 70mm, that despite the high regard in which I hold the film, I've never felt inclined to re-watch that DVD since. Until now, that is.
Recently Artificial Eye re-released the film on UK DVD, alongside a Sergei Bondarchuk's mammoth adaptation of War and Peace. This was also a license from the Russian Cinema Council, and apart from redesigned menus and a front end that dumps the RCC logo, it appears to be exactly the same as the 5-disc 2007 release. I initially assumed it would be the same story with Dersu Uzala, but on popping the disc in the drive I became immediately aware that either my criticism of the original disc was overly harsh, or we were looking at a new transfer. A direct comparison with the original disc confirmed the latter to be true. Good news, then? Well, in part, yes. So let's get down to specifics.
First of all, a re-examination of the 2007 release only served to emphasise my original disappointment. What looked weak on a 32" CRT monitor looks even worse on a 42" Plasma, with the picture softness and lack of any fine detail really suffering at that size. The new transfer is a considerable improvement here. Now we're still not talking the sort of sharpness you would expect from a 70mm source, but this at least appears to have been mastered from film rather than tape, which adds texture and detail to imagery that was previously little more than a blur. The colour is also noticeably richer than its sometimes more washed-out predecessor, though in some scenes this adds a hue that doesn't always feel as correct for the location (the earthy tinge to the ice-scapes, for example). The contrast has more bite and the image itself feels more accurately graded, even if this does mean that some shots are darker than how they appeared on the previous release. A side-by-side comparison also reveals more picture information on both sides of the frame, which explains why the aspect ratio on the earlier release was 2.20:1 instead of the more accurate 2.35:1 here. What has remained is the chemical flickering, although this is largely confined to (or perhaps most visible on) sequences where there are large areas of similar colour, notably the scenes set in the Siberian wasteland, where it is impossible to ignore. So there's still room for improvement, one that would clearly require either a better source print or substantial restoration, but this is definitely an upgrade on the previous release.
The grabs below are from the 2007 Artificial Eye release licensed from the
Russian Cinema Council (top) and the 2011 re-release (bottom)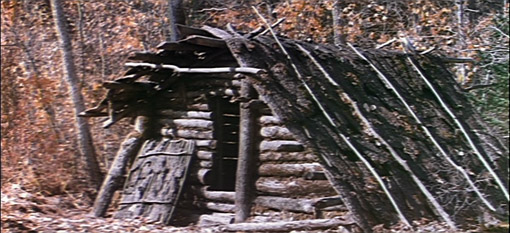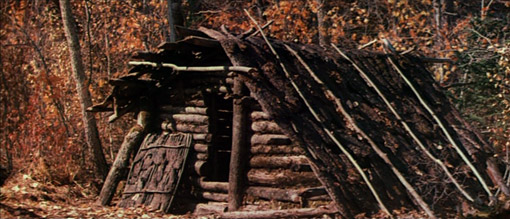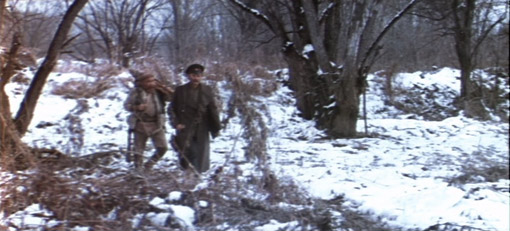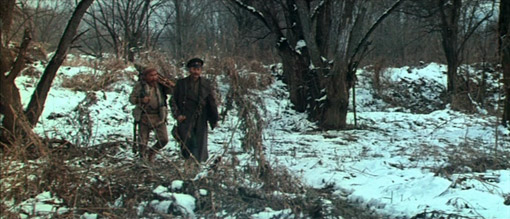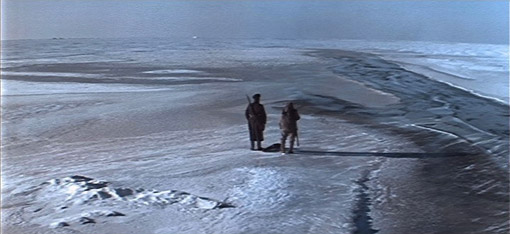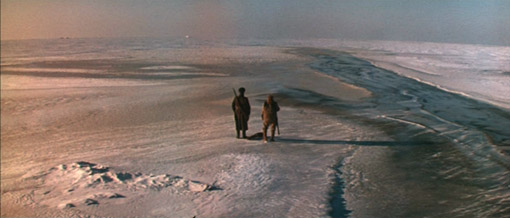 The only soundtrack on offer is a Dolby 2.0 mono track, one that was absent from the previous release and that is, research suggests, very likely the one that accompanied the film's more widely seen 35mm release. What is missing here is the earlier disc's Dolby 5.1 surround track, which we can presume was sourced from 6-track original that accompanied the 70mm screenings. It's great to have the mono track back, but the 5.1 track was superior in almost every respect, being richer, with a greater range (the trebles are slightly crisp on the mono track) and more inclusively mixed, particularly in its reproduction of the sounds of nature – the room-filling blast of the Siberian winds are vivid enough to make even a heated home feel cold. Thus full marks for including the 35mm mono track, but we have to knock a couple off for not offering the 5.1 alternative. I can probably live without the English dub from the earlier release, but it was still better than many I've listened to and was also 5.1.
Apart from the missing filmographies, these are exactly the same as on the 2007 release and I've covered them in that review. This release is a single-disc rather than a two-disc affair, but this in no way affects the content or quality – I never understood why the film and its brief extras were spread over two discs in the first place.
A sizeable step in the right direction, but with distinct reservations. Clearly there are issues with the source material that are not going to be easily resolved, at least without the discovery of a carefully preserved 70mm print or negative and/or substantial and expensive restoration work. But this is definitely an improvement over the film's previous DVD release, and if you don't already have it then this is definitely the one to go for, at least for now. It's just a shame that the 5.1 surround track has not also been included.
Confusing the issue a little – and why I initially chose not to include the cover image in our sidebar – is that all of the on-line retailers I've checked are marketing this as being identical to the 2007 disc– even Artificial Eye's own web site features a cover that has been only slightly modified from the previous release, complete with its "2 Disc Set" label. So if you're looking for this version make sure you're not picking up old stock from 2007.