When Dexter first appeared on our shores it was on a wave of hype created by the American showing of the premiere season on the Showtime channel. Many people over here had however already seen the show by download and were already eagerly awaiting the release of the second series. So, as the DVD of this highly anticipated sequel season comes to region 2, I ask the questions; is it as good as the beginning season? And, is any of it any good in the first place?!
There are a few things that set Dexter aside from other serial killer or crime/detective shows out there at the moment. The first person focal perspective of the killer as the programme's main character is one (and with it contains a theological discussion I will come back to), its unflinching look at murder coupled with dark humour is another – but the one that has made Dexter a sustained success is the brilliant central performance by Michael C. Hall. He managed to do the difficult job of being a thoroughly despicable character yet still keeping the audience on his side. Okay, much of this can be attributed to the writing, but it shines the most when the words are coming out of Hall's mouth. He has a seemingly effortless charisma and it was a bold career choice to take on this role after playing a stuffy homosexual funeral director in Six Feet Under. Hall is one of the many Six Feet Under actors to go on to further success, and as with the like of Richard Jenkins in is well deserved. Whether you like Dexter or not, Hall plays the role perfectly. So, it is good to see his snappy, dryly witty well-written monologue continues to be brilliantly delivered in the second series and the almost unnatural charisma of the character shines through once more.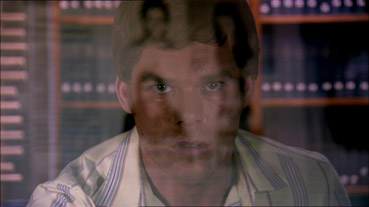 I'm assuming if you have an interest in this DVD set then you are already familiar with the Dexter premise, but just for those who are not:
Dexter Morgan is a forensic blood splatter analyser for the Miami police by day and a serial killer/vigilante murderer by night. His foster sister Deb (Jennifer Carpenter, now wife of Hall) is an ambitious policewoman who is constantly assisted in her cases by her more intelligent sibling.
The plot to this series involves Dexter searching for his own identity while trying to evade capture after his cache of dismembered bodies are discovered by treasure hunters. It sees Deb struggle to recover from her ordeal at the end of the last season, and her character is explored in more depth as she develops a relationship with Lundy, the FBI officer assigned to the case played by Keith Carradine. Dexter begins a Narcotics Anonymous plan to cover up his true addiction from girlfriend Rita and meets a girl there he can identify with and is drawn to. Meanwhile hardboiled cop Sgt James Doakes (a wonderful persistently acidic performance by Erik King) is suspicious of Dexter and embarks on his own plot to uncover Dexter's dark secret.
What we have here is one long and intriguing story arc spanning other smaller detective cases in a similar way to the first season, although there is more complexity and character exploration in this series. It all begins promisingly enough with all performances on form, yet Dexter's struggle to equate his private life with his addiction is never as interesting as when he is in his work environment or planning and executing a kill. Unfortunately towards the end of the series I couldn't help hoping for Dexter to actually get caught, as the believability of his evading capture so long starts to wear thin. The cat-and-mouse subplot with Sgt. Doakes is the highlight of the season for me and one of the only storylines from the second book that made it into the series. The character of Doakes is explored more in this series and his own morality is called into question. The conclusion of this part of the narrative is suitably climactic, although I feel the fate of Doakes is more fitting and interesting in the book than its TV counterpart. Other subplots, like that of the affair with Lila played by English actress from BBC's Hustle, Jaime Murray (thankfully bereft of a fake American Accent), are less successful, despite the ramp up in pace for the last few episodes.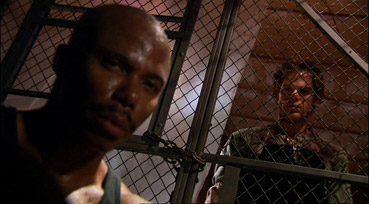 Morality as a grey area is always a fascinating region to explore and Dexter stirs many questions that make it an intriguing topic for debate. One such question: is Dexter's image counter-productive to a culture that already forces violence upon society via the media? In order to get the audience on his side, the writers (beginning with Lindsay's books of course) have deemed it necessary to give him some morality if not humanity, and that is in the form of vigilantism. Can killing in any form be acceptable? These are interesting topics to discuss and they divide society both in the U.S and over here. They are addressed nicely in the series when Dexter comes across a comic book hero taken from the media persona of Dexter's alter ego – known to the press as 'The Bay Harbour Butcher'. Hall wryly comments, "It's too hot to wear all that leather in Miami."
It is perhaps most worrying that a large portion of its audience enjoy Dexter as almost whimsical entertainment, overlooking the obvious questions it poses. This is not difficult for an un-inquiring mind, as there is a playfulness and dark humour to the show, but it is the incapacity of many to read between the lines and see Dexter for more than just an engaging crime thriller that makes me wonder if he is not so much in the minority of someone losing their sense of humanity as one would like to believe.
I can't help thinking that I am preaching to the converted to some degree with this review, and that is why I've tried to steer clear of the obvious points that make Dexter so popular. To my mind I think anyone who was totally absorbed by the premiere season will be equally happy with this one, but I can't help questioning the longevity of a series that ultimately rides on one gimmick. With Dexter already coming so close to being caught and evading apprehension I find it hard to think how the series will sustain interest for the planned five seasons. I fear this will become another example of an American series that doesn't know when to quit.
We've almost come to expect a particular standard from American TV series when transferred to DVD and Dexter doesn't disappoint. The Anamorphic 1.78:1 picture looks consistently good, the sharpness, contrast and colour all of a high standard and the black levels spot on. Even upscaled to a large TV the detail is impressive - facial hair and clothing detail is crisp with little in the way of digital conversion issues.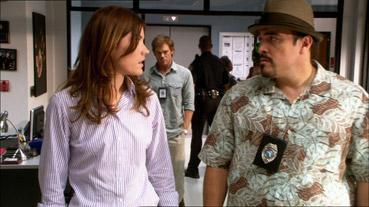 There's a choice betwen Dolby 2.0 stereo and Dolby 5.1 surround on the soundtrack front, but there's not much in it. There's some frontal separation on both tracks and some activity at the back for location sound, but dialogue is pretty much all confined to the middle. Clarity and dynamic range are of the expected high standard, though.
Disc 4
This is the final disc of episodes and with it are an extensive list of cast interviews (40:13) from Michael C. Hall to Erik King, from Keith Carradine to Jennifer Carpenter. These interviews are very insightful and include much more substantial information than the fifth disc detailed below. Hall talks intelligently on a few aspects of playing the character as well as how the second series begins to largely deviate from the original novels. There is also a little time taken in discussing Dexter's moral ambiguity. King talks about the relationship between Dexter and Doakes and also mentions the books. Carpenter addresses her characters post traumatic stress disorder and how that influences her relationships in this season. These are just a few examples of what this feature contains and it is well worth a look, especially for real fans.
Disc 5
There is a whole fifth disc dedicated to special features, but don't get too excited because they're not great...
The Code of Harry (6:38)
Interviews with the cast about the discipline Dexter's foster father created to keep him from getting caught. If you're a fan of the series this will tell you nothing you don't already know, however it does touch on the morality debate briefly.
Interview with composer, Rolfe Kent (4:35)
Here the composer of the recognisable theme to the show talks about writing and recording the piece, and the array of instruments and styles used in its composition.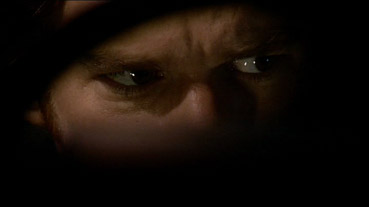 Interview with Jeff Lindsay, Author of Darkly Dreaming Dexter (3:03)
A misleading title, as what I was hoping to include interesting insight into the adaptation of the books to TV serialisation is mainly just an advert for the show from the cable channel FX. Lindsay says very little of any import yet generally saying how wonderful the series is and how everyone in the world must watch it. Disappointing.
Dexter's Toolkit
A rather strange extra that somewhat fetishises the implements of murder and dismemberment Dexter uses in the programme with detailed close up photographs of each item, many of which with captions denoting the conventional use of each tool.
Victim Slides
A way of navigating through the major kills in the season with a menu comprising of Dexter's box of slides with arrows to showing each victim, taking you to clips from the series where the murders take place. Once again this trivialisation of the act of murder, and although in keeping with the mood of the programme, I find it a little unsettling.
Trivia Game
An entertaining little feature with some quirky questions posed to the cast and crew at the end of the quiz that makes going through the rather easy game worthwhile.
Stills Gallery
This is the usual screenshot photo album with over twenty stills of mostly single characters.
Factoids
This comprises of three full length episodes of the series with occasional subtitled information that seems random and pretty arbitrary to the programme. For example in one of the episodes we are treated to the Miami humidity rate throughout the day and some facts about the inventor of the plasma screen! Sometimes I wonder who the brains behind thinking up these ingeniously redundant and facile features are and why things like this make it onto DVD packages instead of infinitely more useful commentary tracks or making-of features.
Cast Bios and Filmographies
Exactly what it says on the tin. Detailed text features on each main performer.
An intriguing series continues on fair form with general character and plot expansion from the first season. Fans will probably already have this by now but for anyone with only a passing interest in the programme I advise borrowing the DVD set from a friend or waiting for a price drop, as the extras are not really worth forking out for. With season three already on its way to FX in the UK and the fourth in production, there's more guaranteed from Dexter – the question is, will the standard fall fowl to the high concept?