A confession. I don't much care for Disney's animated films, particularly the more recent ones. I dislike their mawkish cuteness and their sometimes insipid songs, and I'm not fond of the concept of projecting human characteristics onto animals. I have even less time for the studio's live action output, which too often demands from the adult section of the audience a willingness to shut down any trace of cynicism, any concept of how the real world actually is, any memory they have of clever writing or smart and sophisticated ideas, and instead let themselves be washed over by formulaic family pap.
But in the late seventies and early eighties, something interesting happened at Uncle Walt's firm. A new regime of young Turks started to make films that were darker and more adult in tone, a recognition that the very fairy tales on which many children are raised are themselves based on sometimes sinister folk stories of old. Artistically, this was to be one of the studio's most interesting periods, but financially it was a disaster. Disney films had a formula, one that their audience expected them to stick to, and some of the most notable of the films make during this period simply did not. Presumably as a result, executive heads rolled and the studio went back to telling the sort of stories that have left their attitude and output easy targets for digs by the likes of Matt Groening and company.
Of the live action films make during this period, two in particular stood out and for my money the passing of time has only increased their standing. One was Jack Clayton's atmospheric and sometimes frightening adaptation of Ray Bradbury's Something Wicked This Way Comes, the other was Matthew Robbins' dark fantasy Dragonslayer.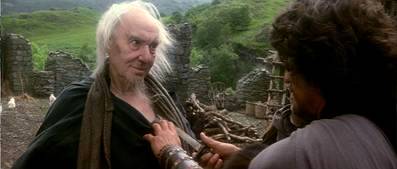 There are two key reasons why Dragonslayer stands out as the best of the Sword and Sorcery films that found popularity during the 80s. The first is basic cinema stuff – it's an entertaining, intelligent and well crafted work. It's smartly performed, beautifully shot (the director of photography was Derek Vanlint, a man who worked almost exclusively in commercials and only shot two features until his recent directoral debut The Spreading Ground, and they were Dragonslayer and Alien – enough said, I think), handsomely scored by old hand Alex North, impressively designed by Elliot Scott and directed with wit and gusto by Matthew Robbins. It also has what is possibly the single best dragon in fantasy film history, a horned, fire-breathing creature of prehistoric lineage that even has a Latin name to describe its particular species: Verminthrax Pejorative. Made before the numbing effect of CGI, this is a genuinely threatening creation, a creature with a demonic head, a maliciously purposeful stride and real grace and power once it takes to the air. The stop-motion work here really is first rate and the sense of destructive meance that the creature exudes makes any wandering into its lair a trigger for nail chewing tension.
On the surface, at least, the storyline appears to be traditional genre stuff. In ancient times, the kingdom of Urland is under the tyranny of a fearsome Dragon, whose wrath the locals curtail by regularly offering up a young virgin girl as a sacrifice to the monster. The victim is chosen by lottery from all of the eligible girls in the region, with even the king's daughter, the beautiful Princess Elspeth, required to take part. Desperate to end this reign of terror, a group of male villagers, led by the young Valerian, travel a considerable distance to hunt out the ageing sorcerer Ulrich to request his assistance in defeating the dragon and free them from it's curse. But when disaster befalls Ulrich, it is left to his young apprentice Gaylen Bradwater to take up the challenge.
At first glance, this is a tale with all of the required fantasy elements, and save for a few minor plot details, just about any savvy genre fan could write the rest for you. Or could they? This brings me to the second key reason for Dragonslayer's credentials as a great genre work – Robbins and his co-writer Hal Barwood not only realise that this is potentially formulaic material, they know that we know it, and right from the start they play games with the rules by which such films are usually bound, rules that which, as the film demonstrates, they need not be suffocated by.
As a fantasy sub-genre, Sword and Sorcery is often limited in its scope, a somewhat inevitable result of its origins and development. Although a key inspiration for most modern takes on the theme is Tolkein's Lord of the Rings, which has itself received definitive film treatment in the hands of Peter Jackson, its origins stretch back far earlier to folk stories and the fairy-tales they gave birth to. Back in 1949, in his book The Hero With a Thousand Faces, Joseph Campbell drew on these tales as a basis for what became known as The Hero's Journey, a breakdown of the basic story structure and character definitions common to all folk tales and, essentially, all stories involving any sort of quest on the part of a single character. This was later refined and simplified by Christopher Volger in his 12 Steps of a Hero's Journey, which broke all narratives down into 12 distinct stages and even specified the order in which they would occur. What Campbell and Volger were proposing was monumental stuff, that almost every narrative-based story has essentially the same structure and the same set of characters, with the dressing and fine detail being the only real difference between them. And for the most part they're right – I've been astonished at the sheer range of films I've been able to successfully apply this structure to, from indie vampire movies to Chinese family dramas. In Hollywood today, The Hero's Journey is the basis for almost every film that gets greenlighted, having proved a major influence on George Lucas when writing the original Star Wars, whose blockbuster success every studio is looking to repeatedly replicate. Hell, if it worked once – and let's not forget, Star Wars has been making a packet ever since – it should work again. And again. And again.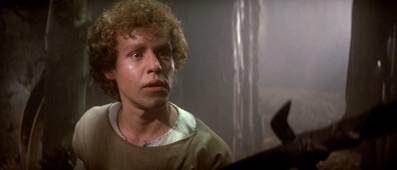 But it's the fantasy genre where this story structure is most visibly recognisable, in part because of the influence of folk tales on the terminology – Volger's stages include such terms as "Seizing the sword," "Return with elixir" and "Approach to the innermost cave." Add to this the character breakdowns of folk tales done by Vladimir Propp – Hero, Princess, Villain, Helper, Donor etc. – and you have stories that can seemingly almost write themselves. An inexperienced but good-hearted man (Hero) will fall for a woman (Princess), who will be kidnapped, imprisoned and/or threatened with death (or marriage) by the a bad guy (Villain). The Hero will accept the call to adventure, which may well come from the Father of the Princess, and will be aided in his task by a secondary character (Donor) – who will give him a key weapon, elixir or even information – and a sidekick (Helper), who will assist him in his quest but never overshadow his efforts. He will be repeatedly hindered by the efforts of the Villain, and sometimes even a friend who will later betray him (False Hero), but will triumph over his inexperience and ultimately complete the set task and defeat the Villain, free the Princess, and join with her in a union that is blessed by the Father – often the King – who will bestow great gifts on him and his new bride. With this in mind, take another look at Star Wars and you'll see all this play out pretty much to the letter – it's no accident that Lucas had Obi-Wan (Donor) give Luke (Hero) a light sabre (Sword), which would aid him in his rescue of (Princess) Leia and his fight against the dark Lord Vader (Villain), aided on the way by Han Solo (Helper). Lucas knows his Campbell well.
Now review again the plot summary for Dragonslayer above. This appears to be every bit as drawn from Campbell, Propp and Volger as Star Wars and a thousand other Hollywood films you care to name. You thought The Matrix was the freshest kid on the block? Strip away the glossy surface and take a good look at the story structure and you'll find that it's a lot more Joseph Campbell than William Gibson. But Campbell's work was not designed to belittle the aspirations of storytellers, but to identify and understand those elements that we, as those who read the stories, have come to expect as key components of the tales we are told. Their repeated use in Hollywood films is part of the reason for the dismaying predictability of the vast majority of that product, but is also key to why many independent films seem so fresh and innovative – when that underlying structure is challenged or toyed with, we unconsciously know that things are not playing to expectations and that we are seeing something new.
---
If you have not seen the film, be warned that there are a MAJOR spoilers ahead.
If you just want to skip to the disc details, click here.
---
Dragonslayer is first and foremost a Hollywood film, one that both recognises and embraces those elements its audience will expect to see. But as the story unfolds, it repeatedly challenges these expectations, and although in the end the monster is inevitably defeated and peace is restored, the manner in which this achieved does not adhere to standard folk-tale/Hollywood conventions, and few of the characters play out as defined by Vladimir Propp, despite some red herrings scattered along the way.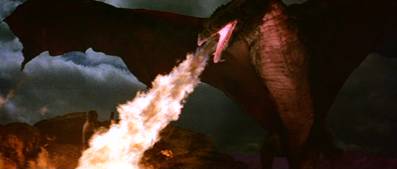 Let's take our Hero, Gaylen Bradwater, Sorcerer's apprentice (as Valerian almost mockingly calls him at one stage). Certainly, he has all of the surface requirements for a storybook hero – he is young, good-looking, eager and inexperienced. The best heroes are always inexperienced or flawed in some way, which gives them the opportunity to prove themselves against the odds. They are, the theory goes, men and women like us who go on become something we can only dream of being. When his master is most unexpectedly killed so early in the film, it's our first hint that things are not going to play as expected – the wise old sorcerer throws down a challenge to an unbeliever and loses, killing the only individual really equipped to take on the dragon even before the story has got properly under way. Gaylen thus takes up the challenge and accompanies the villagers back to their homeland, and as soon as they reach their destination he brings a mountain crashing down on top of the Dragon's lair, imprisoning it forever. Hoorah! The hero has defeated the monster and all is well! Except he hasn't, of course. Instead of destroying the dragon he enrages it, and the beast responds by laying waste to a nearby settlement. Rather than saving the locals from this prehistoric tyranny, Gaylen's actions result in a greater loss of life and property than they were already suffering.
The requirements that a Princess to be rescued and a King send the hero on his quest initially seem to be met by the beautiful Princess Elspeth and her ruling father, Caseodorus Rex. But the latter is quickly established as a humourless and ultimately corrupt monarch, one who steals the amulet that is the source of Gaylen's shaky powers and has him thrown into a dungeon for his trouble. At the end of the tale, comatose with shock, the king is paraded puppet-like by members of his own court to pose with a sword over the fallen dragon so that all in the Kingdom may look to him as the source of their salvation. The beast is dead, but the corruption of the monarchy is clearly set to continue. The Princess, meanwhile, is a noble innocent, but initially needs no hero to fight her corner because she is secretly protected from sacrificial death by her father, who has rigged the lottery so that her name will never be called. It is Gaylen who makes her aware of this fact, a revelation that prompts her to re-rig the lottery so that only her name can be chosen. Thus instead of saving the Princess, it is the Hero who inadvertently sends her to her death. In return for this knowledge, Elspeth sets Gaylen free, the Princess rescuing the would-be Hero. Gaylen still attempts to protect Elspeth from the dragon, but his efforts are hampered and Elspeth responds by walking into the dragon's lair and offering herself as a sacrifice for those who have died in her name, an action that results in her being killed and eaten by the creature's offspring.
To find Propp's Father and Princess you have to look elsewhere, and even then things often do not play to convention. The Princess role falls to Valerian, a village girl who since birth has been disguised by her father as a boy to protect her from lottery inclusion and in which guise she led the mission to track down Ulrich.* Believing the dragon defeated, Elspeth reveals her true identity at the celebration feast that follows and in doing so becomes a "legitimate" (for that read "heterosexual") object of desire for the Hero. He does later get the chance to save her from the dragon, not by freeing her from the sacrificial post in the nick of time but by excluding her from inclusion in future lotteries by ensuring that she is no longer a virgin. It is typical of the film's progressive approach to character that this idea comes from Valerian rather than her would-be savior. It should be mentioned that Gaylen's underwater discovery of Valerian's true identity is a very effective revelatory moment, in no small part due to savvy casting and some very convincing boyish mannerisms and body language on the part of actress Caitlin Clarke.
This challenging of convention is nicely interwoven with the more traditional elements, all of which are handled with real aplomb. Valerian's father doubles up as the narrative's Donor, presenting Gaylen with a lance that with magical assistance is capable of slicing clean through an anvil. This impressive weapon is nonetheless employed by Gaylen to kill not the dragon – despite his best efforts and some very real bravery on his part – but the creature's young offspring, hardly the actions of a clean-cut hero and a move that only serves to anger the monster further.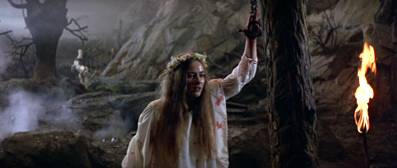 There was some negative kickback on the film's release over the decision to have an American leading man, a familiar gripe that does have a degree of logic at its source, as the country's relative youth makes any broad American accent something we immediately associate with more modern times. Debate may still rage about exactly how we spoke in Olden Days, but it certainly was not with a cheery Californian twang. But if you can put this aside – and in this case you should – then Peter MacNicol makes for a most engaging Gaylen, nicely balancing youthful enthusiasm with stumbling self-doubt, but capable of all the necessary athletics when the time arrives. That Gaylen ultimately fails to fulfill the hero's role is not down to ineptitude or stupidity on his part, but because in his eagerness to prove himself he fails to realise that he is in way over his head. The aforementioned Caitlin Clarke does a fine job as Valerian, her boyish looks and male pushiness really selling the gender switch, and it's a nice touch that when she does chose to reveal her identity, she retains many of the male character traits she has lived with for so long, which in many ways makes her stronger than Gaylen. Ralph Richardson is consistently wonderful as Ulrich, making even the delivery of even a single word like "Yes..." seem loaded with meaning, and while his early departure is initially disappointing, his later return ("Did you bring anything to eat?" are his first words on re-materialisation) is gloriously timed moment, and it is ultimately on his shoulders that the Hero's duties fall. Like the dragon he faces, Ulrich is long past his prime, and while it may kick against expectations for the climax to come down to a battle of the ancients, it makes perfect sense within the film's narrative framework. Both Ulrich and Verminthrax are the last of their kind, and their deaths are set to mark the end of an era. "If it weren't for sorcerers there would be no dragons," Ulrich tells the villagers at the start of the film. "Once the skies were dotted with them." Clearly the creatures are on the road to extinction, a fate echoed by those of Ulrich's profession – when he gives the villagers the names of other sorcerers they could ask for help he is told that they are all dead. Ulrich has even prophisised his own demise and expresses doubts about the usefulness of sorcerers in the world: "All this magic," he says to Gaylen, "What has it accomplished?" But it is Valerian's father who is most vocal about the changing times: "You know what I think?" he says to Gaylen, "Magic, magicians, it's all fading from the world, dying out. That makes me happy. That means the dragon will be dying too." If magic is passing then religion is not seen as offering an effective alternative, and when a holy man leads a procession to confront the dragon with Christian faith, he – like the equally naive priest in Byron Haskins' War of the Worlds – is scorched to a cinder as a reward for his efforts.
Ultimately, you may not care a hoot about Propp, Volger or Campbell, the nature of traditional story structure or character spheres of action, but it is precisely because Dragonslayer both embraces and challenges these elements that it still plays as thrillingly fresh today. That it is executed with such wit and skill makes it all the more mysterious that Robbins and Barwood have made so few films since and that none that come close to this extraordinary achievement. At Outsider we enjoy seeing conventions played with or challenged, and until someone makes Sword and Sorcery film with Dogme-style visuals and a Ken Loach approach to realistic dialogue and character, Dragonslayer rules that particular lair.

At bloody last. Ever since its disappearance from cinemas we have had to suffer horribly cropped, shabby quality TV and video prints, and finally the film here gets the treatment it has been crying out for. Framed at 2.35:1 and anamorphically enhanced, the transfer is probably a couple of notches short of perfect, but on the whole looks rather splendid, being generally sharp and well defined with great contrast and strong black levels. Colours are sometimes a tad stylised, but I suspect this was intentional, the visuals having a sometimes beautiful other-worldly feel, the use of dark hues reflecting the dark tone of the film and the earthy nature of the costumes and sets. Derek Vanlint's beautiful compositions are well served here.
There are two mixes here – 5.1 and 2.0 surround. To be frank there is not a huge difference between them. Both are front-weighted mixes with little in the way of effects or dialogue separation – only the music score seems to make any use of the rear speakers. The 5.1 mix does does have a tad more spread at the front. Both are solid enough without being particularly special. Little use is made of lower frequencies – there clearly has not been an extensive remix done here.
Not a sausage. Not even a trailer. A sadly missed opportunity, I'd say.
Dragonslayer is a fantasy film for adults – it both plays by the rules and kicks against them, it toys with expectations but still delivers the goods as an adventure tale in both expected and surprising ways. It's darker and more violent than any other fantasy film of the period (it is even at times genuinely grisly, at least in its uncut version – beware the UK DVD release on this score), and it dares to credit its audience with intelligence and then reward them for it. This is a work that can be enjoyed immensely purely for its storytelling and is sumptuous visuals, but dig a little deeper and you'll find one of the finest mythological fantasies yet committed to film. For discerning fantasy fans this is an essential purchase – its just a shame that Paramount, having finally got around to releasing it, couldn't have included some worthwhile supplementary material.
---
* This does raise a couple of interesting moral and perhaps even socio-political questons. While both the King and his narrative substitute use deceit to protect their daughters, the action of the former is seen as morally corrupt and the latter as the ingenious act of a desperate father. And when Elspeth is selected in the re-rigged lottery, it is Valerian who leads the chant to let the decision stand, in spite of the fact that she also also previously been protected from selection.