The fourth volume of the BFI's DVD releases of the BBC Ghost Stories showcases a number of significant changes for the series. There are no adaptations of M.R. James stories here, and two of the tales are set in modern times and not adaptations of literary works. The Ice House also saw the departure of director Lawrence Gordon Clark, who by then had left the BBC, and after popping back to helm Stigma was uninterested in doing a further film set in the modern day. It's a volume that showcases the series at its best with The Signalman, at its most narratively anaemic with Stigma, and at its most experimental with The Ice House, the final film in the original Ghost Story run.
Charles Dickens, it has to be said, is not widely known as a ghost story writer, which is a tad ironic when you consider his 1843 novel A Christmas Carol includes three of the most famous ghosts in literary history. He did, in fact, write a number of supernaturally themed short stories, the most chilling of which was The Signal-Man, which was inspired by personal experience and first published in the 1866 Christmas edition of the author's own periodical, All the Year Round.
The film, like the story, begins with an unnamed Traveller calling out to a lone signalman who is standing at the mouth of a tunnel in the viaduct below. At first the worried-looking Signalman fails to reply, then points the way to a path that will bring the traveller down. Once the Signalman's curious apprehensiveness abates, the two men retire to the warmth of the signal box interior, where they converse until late into the evening. When the Traveller departs, he agrees to return the following evening to continue their conversation, when the Signalman promises to reveal the source of his anxiety. On the Traveller's return, the Signalman informs him that the manner in which he first hailed him was identical to the call of a mysterious apparition, one whose every appearance has been followed by tragedy. The Traveller attempts to rationalise what he is told as hallucination and coincidence, but recently the figure has begun to reappear, and the Signalman is fearful that some terrible event will soon occur.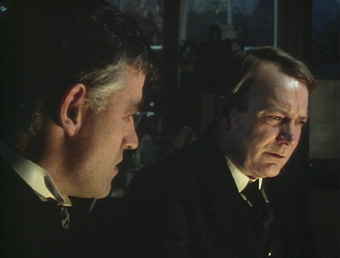 Apparently inspired by both the Clayton Tunnel collision of 1861 and the Dickens' first-hand experience of Staplehurst rail crash four years later, The Signalman is without question one of the strongest films in the Ghost Story series and remains today of the finest of all televisual tales of the supernatural. The story was adapted by Andrew Davies – who was later to pen such luminary television works as A Very Peculiar Practice, House of Cards and a number of adaptations of literary classics, including two Dickens novels – and benefits greatly from being faithful to the source story, right down to the period formality of the dialogue.
Essentially a two-hander, the lead actors are both first rate. As the unnamed Traveller, Bernard Lloyd is solidly convincingly in his self-assured rationalism, but the real prize here is a beautifully nuanced performance from Denholm Elliott as the Signalman of the title. From the first moment we see him in face-revealing close-up, his inner torments and fears are clearly evident and subtly underscore every subsequent verbal exchange. This is particularly effective when the Traveller assures him that he will return for a third visit, prompting a response in which gratitude is laced with quiet desperation.
Everything clicks here, with the writing and performances working in complete harmony with David Whitson's atmospheric cinematography, the telegraph-wire tones of Stephen Deutsch's minimalist electronic score and Clark's understated direction to captivating and genuinely haunting effect. It even scores on a subtextual level, subtly exploring the psychology of social isolation and grimly commenting on the destructive potential of the industrial age.
Stigma was the first film in the Ghost Story strand not to be adapted from a previously published short story, and the first to be set in modern times. A degree of continuity with the previous films is provided by director Lawrence Gordon Clark, whose last film for the series this proved to be. The original screenplay is by Clive Exton, whose busy CV includes screenplays for such prestige works as Night Must Fall (1964), Isadora (1968) and 10 Rillington Place (1971). In Stigma his focus is more on effect than cause, but in the process strips his story of an underlying sense of purpose.
Katherine and daughter Verity arrive back at their recently purchased country cottage, where workmen are in the process of clearing the grounds. Their final obstacle is a large flat stone, one that proves too heavy to lift with their current machinery. In their attempt to dislodge it, the stone moves enough for something unseen to escape from beneath it and invade Katherine's body, which temporarily places her in a trance-like state. A short while later she discovers that her clothing is stained with blood, but can find no trace of a wound anywhere on her body.
And that, for the most part, is the meat of the story. What holds our attention from then on is Katherine herself, specifically her growing terror at what appears to be happening to her body, something actress Kate Binchy communicates with sometimes unnerving aplomb. Pleasingly, her affliction proves to be not the result of some delusion on her part but a real physical issue, one that terrifies her husband Peter (played by an instantly recognisable Peter Bowles) and is visualised as a surprisingly convincing make-up effect.
But the lack of narrative substance and the recycling of a few well-worn genre motifs do make themselves felt, with the revelation about just what has lain under the stone for so long being too old-hat in concept and too random in deployment to deliver the sorely needed gut-kick of surprise. It's a well made and well acted work, no question, but one whose lack of narrative and subtextual depth make it play more like the unfinished first draft of a longer and more complex tale to come.
The final film in the original Ghost Story strand was the first not to be directed by Lawrence Gordon Clark. It remains the oddest and most narratively oblique of the series, never openly explaining the nature of its horror and in the process leaving itself open to multiple interpretations.
Recently separated Paul (John Stride) has checked in at an upmarket health spa, where he hopes to relax and come to terms with the pain of his recent marital breakup. The spa is run by uber-polite brother and sister Clovis (Geoffrey Burridge) and Jessica (Elizabeth Romilly), who devote a disproportionate amount of their time to ensuring Paul's wellbeing. Deep in the spacious grounds grow two unusual flowers that are impervious to hardship and have an intoxicating scent, behind which sits the spa's famed ice house, which Clovis and Jessica encourage an initially apprehensive Paul to investigate. Over the following nights, Paul's sleep is disturbed by a small hole in the window of his room, one that grows and shifts in shape to resemble that of the strongly scented flowers.
Despite being theoretically part of a community, Paul is effectively isolated from the moment he arrives. The other guests appear to sleepwalk through their days and never engage Paul or each other in conversation. Clovis and Jessica aside, the only person with whom Paul is able to converse is a young masseur named Bob, whose intermittently cold hands he describes as having "a touch of the cools," an affliction apparently affects all who work at the spa. One day, Bob unexpectedly asks for Paul's help to leave, but is interrupted by Clovis, and the following morning Paul discovers that Bob has disappeared.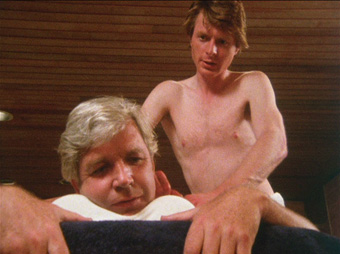 So what, you might wonder, is going on here? To be honest, it's something you might still be pondering long after you've ejected the disc and placed it safely in its case. Is this horror, metaphorical drama or even science fiction? There is, after all, an almost Twilight Zone-ish feel to the spa and its guests, who drift through their days in a semi-hypnotic state, while Paul's conversations with Clovis and Jessica are peppered with oddly mannered lines. At times there is almost a sense that they have been unknowingly cast in a Samuel Beckett play being rehearsed in the afterlife.
This does tend to place some distance between the audience and the characters, whose actions and eventual fate you observe rather than emotionally engage with. But there is still a steely creepiness that pervades every scene, with the artificiality of the upbeat surface detail – personified in Clovis's ad-man smiles, psychiatric nurse pleasantries and Aryan looks – clearly masking something sinister and unspoken. But what, exactly? The lack of narrative clarity has clearly and understandably frustrated some viewers, and certainly had me scratching my head the first time around. But watch it a second time and a few intriguing pointers start to make themselves known, quietly suggestive sentences tucked away in the dialogue disguised as almost throwaway lines.
Bold, intriguing if not wholly successful experiment, The Ice House is strong on suggestion but short on explanations. Such ambiguity simply will not work for some, while others, quite reasonably, might wonder if this particular entry into the BBC's Ghost Story strand is actually a ghost story at all.
All three films have been transferred in their original aspect ratio of 1.33:1, and are well up to the standard set by previous volumes. The image quality is clear and detailed – The Ice House is sometimes exceptional in this respect – with well balanced contrast and reasonable (if slightly muted by age) colour reproduction. The image on Stigma does feel a little light at times, and the contrast on The Signalman is a little stronger in some shots than others, but there is very little in the way of dust in any of the films, and no visible damage. Particularly pleasing is that image quality of The Signalman is visibly superior to that on the BFI's previous stand-alone release, clearly indicating that these are newly prepared transfers.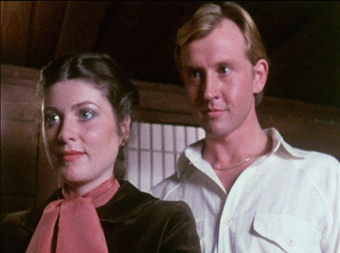 The Dolby mono 2.0 soundtracks are all clean and clear. As with the picture upgrade, the soundtrack on The Signalman has been considerably improved since the previous release, being clearer and louder, and is evenly distributed between the main front speakers rather than sitting in the centre as it did on the earlier disc.
As with previous volumes, all the extra features here contain spoilers, and should be watched or read after the films themselves.
Introduction for The Signalman by Lawrence Gordon Clark (10:41)
Clark talks enthusiastically about what clearly remains a fondly remembered film, praising the work of writer Andrew Davies, cinematographer David Whitson and leading players Denholm Elliott and Bernard Lloyd (there's also an interesting tidbit about Elliott not having learned his lines). His own analysis of the story and particularly its subtext is fascinating, and gives good indication of why this film feels so thematically strong.
Introduction for Stigma by Lawrence Gordon Clark (8:45)
It's said that you can learn as much from what a person doesn't say as what they do. With that in mind, you can read what you like into the fact that Clark spends half of this interview talking about his career in general and what remains his favourite work, the acclaimed political drama, Harry's Game. When he does focus on Stigma he praises the performances and likes the fact that writer Clive Exton doesn't include stage directions in his screenplays, but remains uncertain where the story's malignancy comes from. As do we all.
Booklet
Unsurprisingly, perhaps, The Signalman receives the lion's share of attention, with a very informative essay by Matthew Sweet on the original story and the film adaptation, and a similarly detailed piece by Simon Farquhar on Davies' screenplay and Clark's direction. There are also, as you'd hope, worthwhile pieces on Stigma by Helen Wheatley and The Ice House by Alex Davidson, plus credits for all three films.
If you're a fan of the BBC Ghost Stories series then this will likely be an essential purchase, despite the uneven quality of the films themselves. But even if the modern tales do not tickle your supernatural fancy, the disc is worth getting for The Signalman alone, a superb entry into the series that is in noticeably better shape here than on its previous, stand-alone release (albeit without the reading of the original story that was that disc's best extra feature).