I feel I've made all of my most pertinent comments on Gunslinger Girl's sound and visual effects in my review for Volume 1; if you have yet to read it, that review goes into more detail about the background to the story and the characters.
We return to modern-day Italy with Gunslinger Girl, which continues this year's theme of "innocent-looking girls with guns". Volume 2, released by MVM on 15th May, continues the story of a top-secret government agency that rescues terminally-ill girls, only to give them cybernetic implants and put them to work killing terrorists. The series' focus is not always on the action, placing just as much – and possibly more – emphasis on the relationships between the girls and their male "handlers", whom they call fratello (siblings).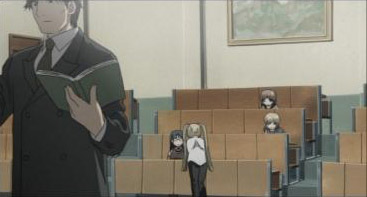 Volume 2 delves more deeply into the 'work' aspect of the girls' tragic lives, while still finding the time to introduce two new characters – Angelica, who was one of the original test subjects, and the aloof and anti-social Elsa, who is dedicated only to her handler. Four episodes are contained in this volume, with the remaining four to follow in Volume 3 (released 10th July).
06: Ice Cream Henrietta heads up a mission that involves the entire team, and targets a new group of terrorist revolutionaries that seeks independence for northern Italy. Together, the girls infiltrate one of the group's terrorist cells.
07: Protection Rico and Jean, her handler, go to the city of Florence to protect an accountant who may have ties to the revolutionary faction. While looking through the art galleries, Rico starts to learn more about art and has thoughts on what she'd like to do when she gets older.
08: The Prince of the Kingdom of Pasta Marco, Angelica's handler, tells the story of how Angelica came to the agency, and his feelings about the conditioning process. All Angelica wanted was to listen to another story – a story about a prince who lived in a kingdom made of pasta...
09: Cluster Amaryllis Henrietta is told that she may be working with Elsa, who is regarded as being anti-social and a loner by nature. To prepare for their assignment, Henrietta tries to make friends with Elsa, but finds that all Elsa cares about is her mission – and her handler, Lauro.
As I mentioned in my review of She, The Ultimate Weapon, this central theme of seemingly-innocent young girls who become killing machines is becoming ever-prevalent this year. What sets Gunslinger Girl apart from the others, however, is its decision to use characters that are not busty teenagers with little or no clothing. These girls are between the ages of nine and thirteen; too young to serve as sex objects, leaving the plot free to discard the ever-present animé staple of "fanservice" altogether.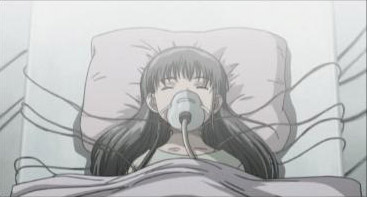 Gunslinger Girl is a gritty, tragic drama. There is no ongoing plot for the girls, only for their enemies – no end in sight, no foreshadowing as to how the girls' lives, and deadly "jobs", could end. The girls simply go through each day training, fighting, and trying to understand the memories and emotions that have been all but eliminated from their minds. As a series, it's capable of providing base action shots, with plenty of guns and martial arts – but every now and again, throws in a piece of background information that just breaks your heart.
The picture is, like volume 1, 16:9 and enhanced for widescreen TVs. The transfer is very good, being sharp with solid colours and no digital blocking in areas of single colour. The slightly overexposed look evident in the screen grabs is a deliberate artistic decision and is coped with well.
As with volume one there are two soundtracks available, the original Japanese stereo 2.0 and the English 5.1 dub. The English 5.1 track is considerably superior to the Japanese original in terms of sound quality, with better clarity, bass reproduction and voices that are better integrated to the locations, something especially evident in the museum in episode 7. Surrounds are well used, especially with atmospherics such as crowd noises.
Volume 2's special features far surpass the meager offerings of Volume 1. The main attraction is Meet The Real Gunslinger Girls, where the English voice actors for Angelica, Claes, Rico, Triela and Henrietta get to talk about their experience working on the show, and how they view their characters. Some of them offer great insights into how the girls "think" – Laura Bailey, who voices Henrietta, seems to really understand her character's "innocent yet mature" attitude.
Continuing on from Volume 1's look at Henrietta, Building Rico shows how Rico was drawn, step-by-step. The usual clean opening and closing credits – the opening theme song is really growing on me, by the way – and trailers for Yu Yu Hakusho and Fruits Basket.