"It was always my luck to run into bad luck."
Jan Díte
The cinema of many nations is peppered with films in which episodic life stories are used to explore the social history of the country or society in which they are set. The protagonists are usually male and from humble backgrounds, and their stories are sometimes told retrospectively by the central character as he looks back on his life in his twilight years. The respected novels on which they are frequently based are often sizeable tomes and much of their detail is lost in cinematic translation. But these movie adaptations are still often held in high regard, not least for their storytelling ambition, their structural inventiveness and their layered characterisations. If you're looking for an introduction to this yet-to-be-named sub-genre, two fine examples I'll happily recommend are Arthur Penn's 1970 adaptation of Thomas Berger's Little Big Man and the 1979 The Tin Drum [Die Blechtrommel], directed by Volker Schlöndorff from the novel by Günter Grass. The 2006 I Served the King of England [Obsluhoval jsem anglického krále] was adapted from the book by the celebrated Czech writer Bohumil Hrabal, and can trace its lineage to both of these movies, employing the look-back, first-person narration of the former and the Nazi occupation story thread of the latter. It's lighter in tone and breezier in execution than either, though does briefly touch on more serious issues as it bounces its way through a turbulent period of Czech history.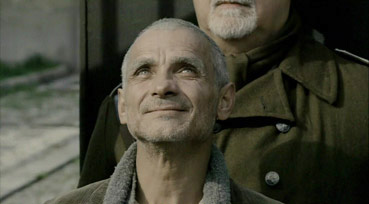 The year is, well, somewhere in the early-to-mid-1960s, and middle-aged Jan Díte is released from jail after serving a fifteen year prison sentence for a later-to-be-specified offence. Sent to isolated corner of woodland to lay a gravel road, he finds himself in the company of others who have in some way offended the state, and quickly fixates on the pretty and flirtatious Marcela and her musically inclined partner. As he settles in to his new freedom in a run-down cottage once occupied by now departed German workers, Díte looks back at his youth and the series of misadventures that led to his eventual incarceration.
It's in the trips back to pre-war Prague that the film is at its liveliest and most enjoyable, as Díte weedles his way from lowly station Frankfurter salesman to lead waiter at the plush Hotel Paris under the tutorage of multi-lingual Maitre d', Skrivánek, a master of reading character, a talent he traces back to the fact that he once served the King of England. On his way up, Díte doesn't so much learn lessons on human nature as make sometimes ill-informed judgements about it. He assumes a universal lust for wealth, for example, on the basis of his own ambitions and his oft-repeated trick of secretly tossing coins on the floor and watching those nearby scrabble to retrieve them, whatever their social status. His passion for money and women, meanwhile, keeps him largely ignorant of politics and social change, even when their consequences are unfolding under his nose. Even the Nazi occupation of Prague becomes background detail to his romance of passionate party member Liza, a young German teacher whose starry-eyed devotion to Adolf Hitler only bothers Díte when she insists on being able to gaze lovingly at the Führer's portrait during sex. It's left to the increasingly agitated Skrivánek to act as the symbol of subtle Czech resistance, refusing to comprehend a drunk German guest and then soundly slapping him for his insults to the Czech people.
Díte advances his career through a combination of chance, ambition and blatant opportunism. The money he keeps when he is unable to return it to a train-boarded customer gives him a taste for the high life, which is further fired when the very same customer – salami slicer and scale salesman Mr. Walden – visits the bar in which Díte works, covers the floor of his room in bank notes and tells him, "Money can lay the world at your feet."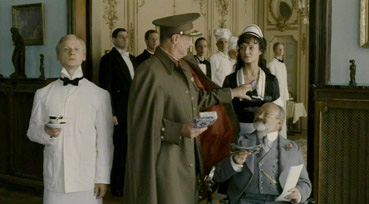 Díte's lust for women kicks off when Jaruska, the pretty new prostitute from local knocking shop known as The Paradise, runs into the bar to escape the rain and he takes to visiting her on a regular basis. When she starts to fancy him as much as he does her, her very public display of forwardness prompts the first of his tactful location switches. But here we encounter the first signs of a problem that more than one commentator has had with the film. If the young Díte's adventures in table-waiting prove consistently entertaining, the handling of the female characters is less likely to meet with unreserved audience approval. The women in I Served the King of England appear to be on board primarily to entice, seduce or morally lead men astray. They are longingly gazed at, lusted after and bedded without putting up much resistance – only Liza's commitment to the demented cause of racial purity prevents her from jumping into bed with Díte, at least until he has located a trace of German ancestry and his sperm has been carefully checked to make sure it is worthy of impregnating a girl of good German stock. For a film made as recently as 2006, this is both disappointing and more than a little surprising.
All of which is a shame in a film whose many fine qualities are worthy enough to forgive smaller sins, and whose entertainment value is unquestionable in spite of its retro male viewpoint. Visually it's a constant delight, with Jirí Brozek's smart editing and Jaromír Sofr's lovely cinematography serving the narrative as effectively as they delight the eye. Director Jirí Menzel – the brilliant director of Closely Observed Trains and Larks on a String – takes a whimsical approach to his storytelling from the start, and in post-Amélie cinema this usually means CG-assisted post-modernist flourishes, evident here in Díte's silent movie memory of his early days as a frankfurter salesman, a monochrome-to-colour transition in which coins are tossed skyward and return to earth as product advertisements, and Walden's meticulously laid out carpet of bank notes that float into the air in an expression of their owner's joy at his own wealth.
Like Amélie, there is a creative exuberance to the execution and Menzel places similar importance on the figure at the film's centre. This is particularly evident in the casting of Ivan Barnev as the young Díte, who is likely to prove something of a revelation to audiences unfamiliar with modern Czech cinema. His precise comic timing and almost Chaplin-esque way with facial expression and body movement create an instantly likeable character that you occasionally find yourself wanting to slap some sensitivity into, but never come close to abandoning. It's his actions and reactions that provide the film with its most inventively funny moments, the perfectly choreographed series of accidents that see him land a small fortune at the Hotel Tichota being being a fine example of how to skim the surface of farce without falling head-first in. Thankfully he's not alone – there's not a (male) actor here, no matter how small his role, who hasn't been cast with care and an eye for character and humour.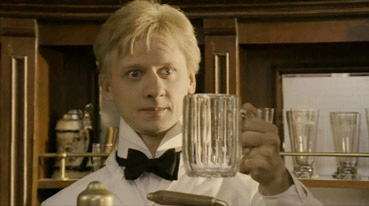 Impeccably made, littered with inventive scenes and memorable characters, and a great deal of fun, the film really does deserve to find an audience beyond the world cinema faithful, in spite of its sometimes archaic attitude to its female characters (and blaming it on the source novel won't cut it, I'm afraid). That it was the Czech Republic's official submission for the Best Foreign Language Film category at this year's Oscars is not surprising, but don't let this dissuade you from hunting it out, as its potential international appeal comes not from some middle-ground compromise, but from the wit, ambition and quality of its execution. If you can tolerate the gender bias, and in the name of its central character's innocence I'd suggest it's worth a bash, then you really could be in for a treat.
A fine anamorphic 1.85:1 transfer that scores well on all fronts, having very good contrast, colour and sharpness and only a hint of compression artefacts in one area of single colour (it's too brief to single out for complaint). The print upscales very well to HD, but surprisingly has only fixed English subtitles – these are always clear, but when the background is light they will occasionally be encased in a rather obtrusive black box.

A clean and clear Dolby stereo 2.0 soundtrack is the only one on offer, but you'll find no complaints here. Separation is reasonable but not flashy, and the dynamic range very good.
Absolutely nothing. Bit of a shame, that.
Almost... I Served the King of England is so well made and so entertaining that it's tempting to turn a blind eye to its male-centric viewpoint and write it off as the result of subjective storytelling. But even in the scene that just begs to be read as a criticism of traditional gender roles – the transformation of the Hotel Tichota into a Nazi breeding centre in which women are effectively baby-makers for the Fatherland – the emphasis is on Díte's privileged position as the one male allowed to gaze upon their naked perfection. But there's nothing deliberately derogatory or offensive about this viewpoint and it really shouldn't act as a barrier to a film in which so much else works so damned well. Arrow's DVD is woefully lacking in extra features, but the picture and soundtrack are fine.