Benny Chan clearly likes to break glass. His credentials as a director of martial arts action are beyond question, but in Invisible Target [Naam yi boon sik] he appears to be trying to work something out of his system. Just about every location in which a fight breaks out is festooned with glass panels, glass top tables and glass cabinets, none of which are able to get out of the way of the bodies being punched, kicked and thrown in their direction. So frequently do these objects collide with each other that I began to suspect that this glass was infused with metallic particles and the clothes of the fighters were lined with magnets.
Despite its science fiction sounding title, Invisible Target is a 2007 entry into what has proved a popular sub-genre for recent Hong-Kong cinema, the contemporary police actioner, in which hard-kicking cops take on equally hard-kicking bad guys, and despite a few carefully devised character flaws, there's never any doubt about which side we should root for. With a few notable exceptions, these bad guys are hangovers from classic kung-fu cinema, being corrupt, greedy, unscrupulously evil monsters who would kill your mother and sell your twelve-year-old daughter into sexual slavery in the blink of an eye. And they also tend to be devilishly good fighters, so stopping them is not going to be easy, even for supercop.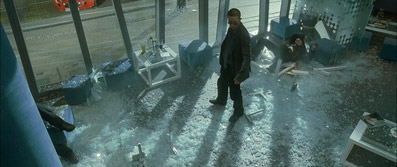 In a trend that has recently become common in the genre, Invisible Target has more than one lead character, in this case three unconnected policemen of differing ranks who are eventually united by their determination to bring down ruthless criminal gang led by Tien Yeng Seng (Wu Ching), each for different and sometimes very personal reasons. It all kicks off with a spectacular bullion robbery that blows in the window of a nearby jewellers, killing the fiancée of Crime Investigation Department detective Chan Chun (Nicholas Tse) just as she's chosen her wedding ring. Six months later, a confrontation with the same gang following a routine vehicle stop leaves two policeman critically injured and trainee detective Fong Yik-wei (Shawn Yue) sitting on the toilet trying to expel three bullets from his own gun, having been forced by Tien to swallow them. Clean living rookie cop Wai King-ho, meanwhile, is concerned at the disappearance of his brother Wai King-tat, an undercover cop whom his superiors believe has switched sides and joined Tien's gang. Initially disinterested in working together – early on Fong describes the now headstrong Chan as "useless" – their cooperation in a night club brawl (an establishment with lots of glass panels, I should point out) unites them in their determination to bring Tien and his gang to justice.
If I occasionally seem a bit flip in my plot description then be sure it's the result of genre familiarity laced with genuine affection for its defining elements. Martial arts cinema is prone to formula, and Invisible Target certainly ticks most of the expected boxes, including wire work, eye-popping stunts and CGI, though all three are smoothly incorporated into the generally excellent fight choreography. The bad guys certainly live up to genre expectations, imprisoning young children on a bomb-rigged school bus and demolishing anyone who stands in their path. Indeed, Tien is so hard that he doesn't even take off his sunglasses to dish out a beating.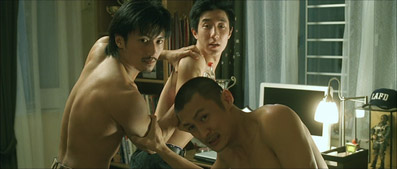 But the film also has its share of distinctive components, not least a sense of humour that surfaces rarely enough to catch you off guard and is all the more effective for being underplayed. Examples range from Chan and Fong's impassive time-biding as Wai single-handedly battles a club full of criminals, to the departmental sniggering that accompanies Fong's efforts to pass his force-fed bullets through his system. It's this low key humour that distinguishes my favourite scene, one I've never seen in a martial arts policier before, as the three cops reconvene in Wai's bedroom following the night-club brawl and strip to the waist to nurse their bruises, then apply healing liniment and dish out mutual massage, all of which is amusingly misread by Wai's warmly understanding grandmother.
Invisible Target breaks no new ground but is certainly a cut above the genre average, delivering on the expected elements and boasting a plot with more substance than the usual between-action filler. The fights themselves are well up to scratch in both choreography and execution, complete with a sprinkling of spectacular and painful-looking stunts and the post Ong-bak fondness for multi-angle repeats of the more impressive acrobatics. Breathless foot and car chases, a close-combat fight in the back of a taxi cab, loyal and resourceful female sidekicks, noisy explosions, and some old-fashioned gunplay are also thrown into the mix. And in a reversal of exported elements, Chan even borrows from French action cinema (whose martial arts are very much Hong Kong inspired) with a parkour style chase sequence whose shots are held long enough for us to actually appreciate the hair-raising stunt work involved. It's a shame that one of the film's most visually spectacular old-school action scenes – a fight that takes place on burning ground that sets its participants on fire – has its very real daring dulled by our almost automatic presumption that the flames were computer generated, a notion the old favourite bonus of end credit outtakes are on hand to dispel.
2.35:1 and anamorphically enhanced, at its best the transfer is well up to expected Dragon Dynasty standards, being sharp, punchy and colourful in all the right ways. Contrast is generally spot on, but the black levels slip into grey a little in some shots, and this is not always restricted to darker scenes. For most of the film, though, the balance is about right, and the picture is quality is generally fine.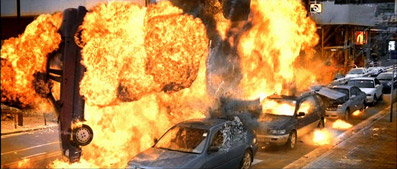 There's a straight choice between Cantonese and English 5.1 soundtracks, and though sonically there's not a great deal to separate them, the Cantonese is the only choice for anyone looking to take the film seriously. The voice work on the English track is unconvincingly performed and mismatched to character, and is often poorly integrated into the soundtrack proper. Check out Officer Wai's early encounter with an irate car owner – the English track voices feel studio bound and divorced from the location, a situation made worse by a stark imbalance between dialogue and background sound, which on the Cantonese track is bang on. The pyrotechnics, gunfire and contact blows are all excellent on both tracks and the surround work and clarity and is consistently impressive (glass fragments from the first scene explosion tinkle behind you and shell casings can be heard landing even in fierce gunfights). Perhaps surprisingly, the louder effects – gunshots, explosions, etc. – have a little less punch on the English track, and there are times when the Cantonese mix feels a lot more speaker precise.
English subtitles are available for the main feature and all of the extras, including the English language ones.
This is a 2-disc set with most of the extras on the second disc. There are, however, three on disc 1.
Audio commentary with actors Jaycee Chan, Shawn Yue and Andy On and Asian cinema expert Bey Logan
To those who remember Bey Logan's enthusiastic, fact-crammed commentaries on past Hong Kong Legends releases before he departed for the US to oversee the Dragon Dynasty label for Weinstein, the prospect of one in which he shares his duties with three of the film's stars must sound like a martial arts movie fan boy's wet dream. But while a good number of interesting facts an anecdotes are provided – we get a lot on locations and performers – Logan's own fan-boy status proves a mixed blessing in such exalted company, as the four men cheerfully swap stories, joke about and react to the on-screen action, sometimes as if they've never seen it before. Jovial though this is, it breaks that intimate relationship with the audience that stand-alone Logan commentaries tend to have, putting us outside of the group where we listen in on a conversation that never really feels directed at us. Logan does dominate here, and there's still plenty for genre fans to savour, but for raw information on the film and its makers it's quite not up to the usual Logan standard.
Orchestrated Mayhem: The Making of Invisible Target (24:59)
Despite the length, this is essentially an extended EPK designed to excite audience and press interest, full of positive quotes from cast and crew about the scale, originality and thrills offered by the movie and the hard work put in by just about everyone, which has been cut with behind-the-scenes footage and set to a driving generic music score. If you've seen any Hong Kong action movie EPKs before, you'll know just what to expect.
There is also a Trailer Gallery containing the Original Theatrical Teaser (0:59) and the Original Theatrical Trailer (2:08), both of which emphasise the action.
The rest of the extras are all on disc 2
The Interview Gallery has seven entries, all given names like 'Gen-X Genius', Licensed to Kill' and 'Invincible Target', and are illustrated with film clips and behind-the-scenes footage. Collectively they provide a wealth of background detail and fill in many of the gaps left by the commentary.
Producer-director Benny Chan (22:28) talks about balancing action with drama, working with the cast, the characters and their motivations, the dangerous stunt work, the fight in the fire, and the ending. So don't watch this before the film.

Actor Jaycee Chan (18:52) talks in perfect English about taking the role of Officer Wai, working with his co-stars (he finds Nicholas Tse funny because he's so serious), the difficulties of growing up with a famous father (a certain Jackie Chan – you may have heard of him), doing his own stunts and the resulting injuries, and life in the Hong Kong music and film industry (there's a lot more money in music, apparently).

Co-star Shawn Yue (19:31) sits in the exact same chair as the previous interviewee and discusses preparing for his role as Fong Yik-wei, working with director Chan, shooting the liniment-rubbing scene, trusting the stunt coordinator, the early restaurant fight, the cultural nature of Hong Kong action cinema, and the physical strain of shooting an action movie.

Lead bad guy actor Wu Ching (27:52) talks about his character, working with Benny Chan and his fellow actors, doing stunts he's never tried before, being encouraged by Jaycee to kick him for real, the injury he suffered due to a mistimed stunt, his admiration for Sammo Hung, the future for Hong Kong action movies, and quite a bit more.

Co-star Philip Ng (25:58), who plays a cocky criminal named Tiger, talks in American accented English (although born in Hong Kong he grew up in Chicago) about playing his character, working with his co-stars, shooting the stunts and the resulting injuries, his moral approach to certain movie elements, projects he'd like to do, and the importance of flexibility, boxing and cardiovascular exercises when preparing for fight scenes.

Actor Vincent Sze (15:09) speaks in English (he's also fluent in French, as he later demonstrates) about his early life and career, landing the role of gang explosives expert Tien Yeng Chi, a one-take shot where he has to punch through a car window, his fellow cast members, a deleted scene that he was sorry to see go (because he looked great in it), and his embarrassment at watching himself on screen.

Finally actor Andy On (20:20) talks in English about landing and playing the role of Ronin Tien Yeng-Yee, working with Benny Chan (again), learning stunts from watching the action work of others, working with his co-stars, shooting the bus scene and working with kids, the burning ground fight, and what he's learned from working on the film.
Next up is a selection of seven Extended and Deleted Scenes (14:00) with a commentary by director Benny Chan, who usefully outlines the purpose of each scene and explains why they were cut, though it would have been nice to be able to watch the scenes without the commentary and with subs for the dialogue too. Character-wise all seven are all of considerable interest, and the second, where Chun and Fong first see each other at police HQ, kicks off with one of the most eye-popping steadicam shots I've seen all year.
There are also three Featurettes.
Fight for Glory: Constructing the Action Sequences of Invisible Target (18:58)
Shot and edited in the style of the making-of featurette on disc 1, the focus here is on the staging and shooting of a few of the key action sequences and riskier stunt work, which should prove interesting for newcomers and long term genre fans alike, although I couldn't help aching for a little more detail on some of them. At one point, director Chan, when discussing the sort of stunts that Hollywood movie making would not allow their stars to do, suggests that the difference between Hong Kong and Hollywood action cinema is that "we use our brains to make movies." Nice.

Storyboard Comparison (18:00) may seem primarily for film geeks only, but an unannounced commentary by director Chan provides some fascinating information on the changes that were made on the journey from original conception to execution, as well as illustrating how tightly each sequence was planned. A very neat extra that acts as a model for how such comparisons should be presented.

The Gala Premiere (9:51)
Pretty much what the title says, with plenty of footage of the stars and director on stage, and where the poor room acoustics question the wisdom of adding a background score.
An above-average entry into the recent cycle of high-octane Hong Kong police actioners that holds no big surprises but still delivers its action credentials, and does better on its dramatic elements than a good many of its cohorts. Cine Asia's two-disc DVD, licensed from Dragon Dynasty in the US, does well on picture and sound and certainly doesn't skimp on the extra features. For genre fans it's a must, but those with the right gear should note that a Blu-ray version is also available.