If you're a regular visitor to this site then you should be well aware of the BFI's Flipside strand by now, forgotten British films from the 60s and 70s that have been resurrected, lovingly restored and bundled with equally rare and fascinating extras. If by some chance you've not dipped your toes into the series yet, perhaps unsure about these lesser known and even odd-looking movies, then you're in luck, as the BFI have produced a handy little sampler at a bargain price that acts as a useful introduction, consisting of an overview of the series, three short films and seven trailers.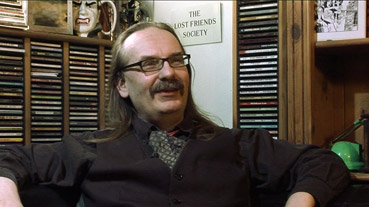 The meat of the disc is the Flipside Guide (36:34), an interview with critic and author Kim Newman, who provides some useful background and context for the first nine Flipside titles, from the likes of London in the Raw to the recent Privilege, also referencing the experimental work of Jane Arden and Jack Bond, whose films Separation (1968), The Other Side of the Underneath (1972) and Anti-Clock (1980) were released by the BFI on DVD and Blu-ray, but outside of the Flipside strand. Newman is someone whose opinions are called on by TV frequently enough for him to be instantly recognisable, while his vocal delivery suggests he's continually on the brink of laughing mockingly at his own words. But he really knows his stuff, and his reviews and writings on the horror genre are one of the key reasons it now receives the serious critical coverage it does. Intercut with extracts from the films under discussion and trailers of the same, this makes for an enjoyable and informative introductory half-hour that should at the very least tickle the curiosity of those who have yet to make the Flipside plunge.
Given the purpose of the disc I'm not sure how relevant this is, though considering the enthusiasm with which Newman describes the Flipside transfers it's good to see that the film extracts are in good shape, though they somewhat inevitably fall a little short of the transfers on the actual discs. Mr. Newman is framed 1.78:1 and anamorphically enhanced, and the Dolby mono 2.0 soundtrack (if it's stereo there's nothing here to demonstrate it) does its job clearly.
On this disc are two examples of the short films included as extras on the Flipside discs, and rather than add links to reviews in which they were originally covered, the relevant copy has been reproduced below as it originally appeared. Whether these really count as extras at all is open to debate, as they're actually part of the package as a whole, but both Carousella and The Spy's Wife have been taken from the extra features on the Primitive London and All the Right Noises discs, so it seems logical to locate them here.
Tomorrow Night in London (1969) (4:55)
A rapidly cut whistle-stop tour of London's social life, tourist spots and shopping attractions, a bit like a compressed and nudity-free London in the Raw. Produced by Hobson Bates and Partners for the British Travel Association, it sports enough dirt and damage to suggest it was found tucked away in the corner of a garage. This film is exclusive to this release.
Carousella (1965) (25:19)
An interesting and impressively crafted documentary portrait of a group of London striptease girls, constructed from the period favourite mixture of vérité footage, staged material, audio interview and deadpan narration. The on-stage performances get a little more coverage than is needed to get the point across, but balance is provided by welcome glimpses of the girls at home or conversing in the dressing room. The Who even makes a brief on-stage appearance, but don't look down for a second or you'll miss them. It's a film that should be of particular interest to British cinema enthusiasts, being an early work of director John Irvin, he of The Dogs of War (1980) and Hamburger Hill (1987), and whose partner in the production company Mithras Films was Tim Miller, who went on to become Senior Tutor and Course Director in Film at the Royal College of Art and co-writer of The Warrior (2001) with graduate and director Asif Kapadia. The print is in very good shape, with excellent contrast and detail and solid black levels. There's grain visible, but it suits the style of the film well enough. The film was originally included on the Primitive London disc and transferred in HD on the Blu-ray.
The Spy's Wife (1972) (28:07)
An enjoyably whimsical short with British sex farce overtones, directed by Gerry O'Hara and starring Tom Bell, who plays a British spy (named, perhaps a little unimaginatively, Tom) who nips off on a mission to Prague, leaving his wife Hilda (Dorothy Tutin) to carry on her secret affair with his Czech counterpart (the inimitable Vladek Sheybal). Their tryst is repeatedly disrupted, however, first by Tom's parting suggestion that their flat is bugged, then by a pair of unexpected visitors, but unbeknown to his wife, Tom has his own mysterious rendezvous to keep. Insubstantial perhaps, but well made and rather fun, particularly in its refusal to reveal the full extent of just what's going on until the final scene. The cast are a key draw – Sheybal can communicate so much with just a silent, mournful look – but I'm still not sure who those two blokes were who turned up at the flat looking for Tom. The image is sharp and has decent colour, but suffers from a degree of damage. This was originally included on the disc for All the Right Noises.
There are also Trailers for seven of the films released so far as part of the Flipside strand (see the right hand column for a full list) and a Booklet containing full credits for the included short films and essays on each.
If you've not yet caught any of the BFI's Flipside releases and you're in HMV anyway, then for £1.99 you can stick this in your shopping basket and get a concise introduction to the series and two of the short films that have been included as extras, and with a total running time of over 100 minutes including the trailers you're hardly being cheated. Watch it, pass it on to friends and help spread the word.