Scissors are an undervalued murder weapon in film noir. They're used to particularly good effect in The Woman in the Window, Fritz Lang's 1944 picture starring Edward G. Robinson and Joan Bennett, and also make an appearance in the second-tier Bewitched, directed by Arch Oboler, but scissors generally don't get much play in the dark cinema of shadows and femmes fatale. They would seem to be an ace tool for representing the cold, clean pain inflicted so often in the movies from this Hollywood style of the 1940s and '50s. Even in black and white, the idea of deep red blood against the hollow silver glare of metal scissors makes for an indelible image. How pleasing, then, to see the sharp instrument coolly find a spot of note in the 1948 noir Kiss the Blood Off My Hands.
The film, directed by Norman Foster and based on a novel by English writer Gerald Butler, is a curiosity of sorts simply because it's been unavailable on disc through the twenty or so years of commercial DVDs. That would seem strange, particularly since it does feature major, marketable movie stars in Burt Lancaster and Joan Fontaine, was made and released by Universal, and has not been hindered by any rights issues. Indeed, the selling points are quite obviously there given the appeal of Lancaster and the 21st-century popularity of film noir. Then again, Universal is the studio that poked its head out of a hole in 2004 to issue four titles in a Noir Line and then never again bothered to follow-up despite having a healthy number of back catalog possibilities. Fair warning: this is actually a manufactured-on-demand DVD-R and not a properly pressed silver disc, but beggars can't always be choosers.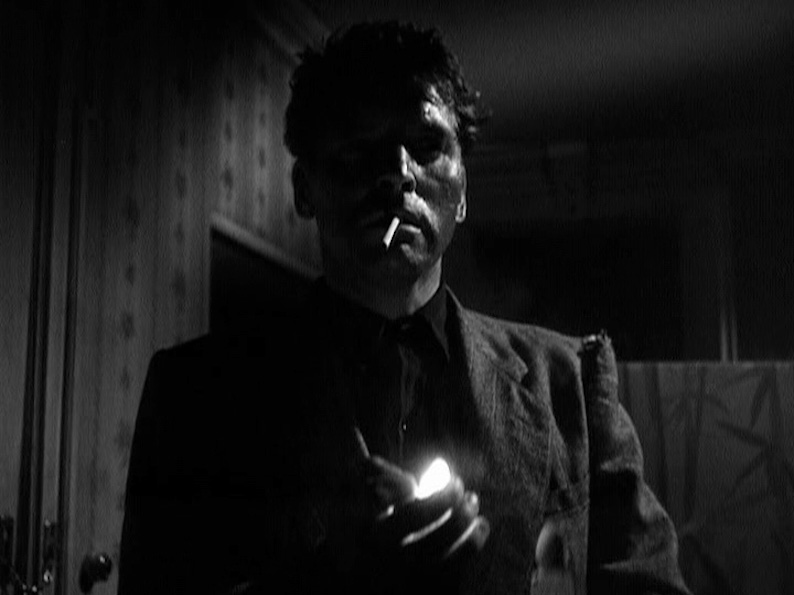 The real hero of Kiss the Blood Off My Hands is easily Russell Metty, a cinematographer perhaps most associated with his work on Orson Welles' Touch of Evil but who also photographed everything from Ride the Pink Horse (a further boost to his noir credentials) to color Douglas Sirk pictures like Magnificent Obsession and All That Heaven Allows before collaborating with Stanley Kubrick on Spartacus and John Huston on The Misfits. Metty is one of a handful of truly amazing cinematographers of the studio era, and his work on this particular film elevates it a few notches beyond the somewhat pedestrian direction, story and performances.
When Lancaster finds himself in trouble after an incident in a pub, it's Metty's photography that evokes the mood far more than the actor's performance. This is pretty much how the film starts, after an opening crawl explaining the slow-healing scars following the war that leads us into London after dark. Lancaster plays Bill Saunders, a former soldier and POW from Canada now drinking away his sorrows. One night things go sideways and he finds himself on the run, entering an apartment window where Joan Fontaine innocently awaits. The first-billed Fontaine plays Jane, a rather plain and ordinary nurse who allows Saunders to stay the night and eventually forms a bond with the ex-GI. The dynamic between the characters is at times interesting because, despite how unrealistic it may seem, there's nonetheless an element of believability in seeing a lonely, single woman take to a damaged man who shows her attention. Considering the lack of development in the leads, this actually becomes one of the more intriguing elements to the picture.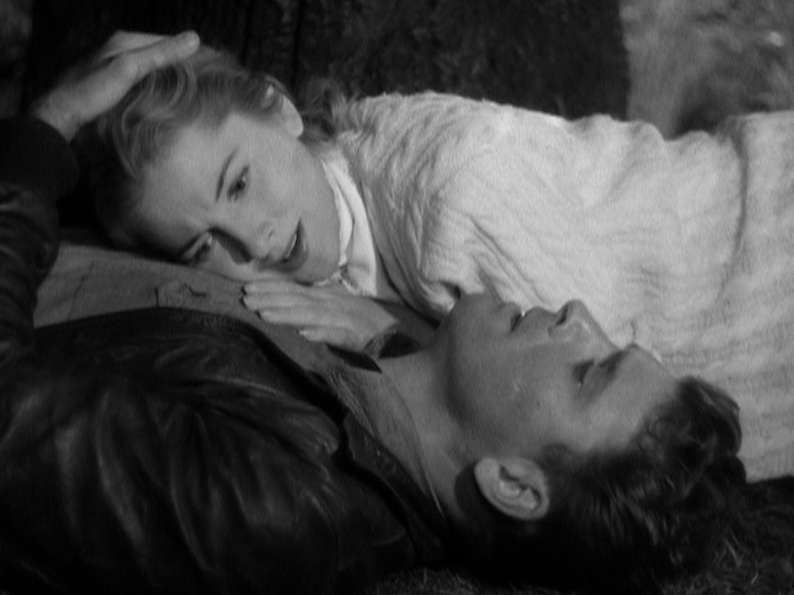 Trouble follows, as it does so often in noir. Bill finds himself at odds with the law and ultimately on the hook for hard labour. Part of the appeal of film noir is seeing the interactions of lonely people likely doomed to be consumed by fate, and this movie has that in spades. If the two main characters are underwritten here that's possibly forgiven by the viewer's willingness to both accept barebones unhappiness at face value and, also, attach a wealth of feelings and ideas gleaned from various other entries in the noir cycle. Of note is that the source novelist Butler also wrote the book on which Nicholas Ray's On Dangerous Ground was based, and that picture has as persuasive a depiction of two people so consumed by loneliness as to wholly accept each other's flaws as anything Hollywood produced from that era.
As Bill re-emerges and connects once again with Jane, she's able to help him find a steady job driving a truck filled with medical supplies. The picture's constantly re-emerging cockroach is Harry Carter (played by Robert Newton), a racketeer there at the pub on the night Bill met Jane and someone seemingly ready to pop up at will. He has other ideas for Bill. But those scissors! Indeed, things happen and scissors are involved, and we're unable to shake the fact this is film noir despite the sweet daylight interlude the lovers take to the country.
Had a stronger director than Norman Foster, a lightweight former actor whose best effort behind the camera was the masterful noir Woman on the Run but who otherwise had a fairly undistinguished career, been at the helm then maybe time and critical consensus would have been kinder to Kiss the Blood Off My Hands. As such, it's been mostly forgotten save for being a notch on the They Shot Dark Pictures, Didn't They? 250 Quintessential Noir Films list. There's much to like here, though, particularly from the shadowy and fog-soaked look of the picture and the viewer's opportunity to tap into prototypical noir characters – damaged people so close to some form of happiness, however fleeting.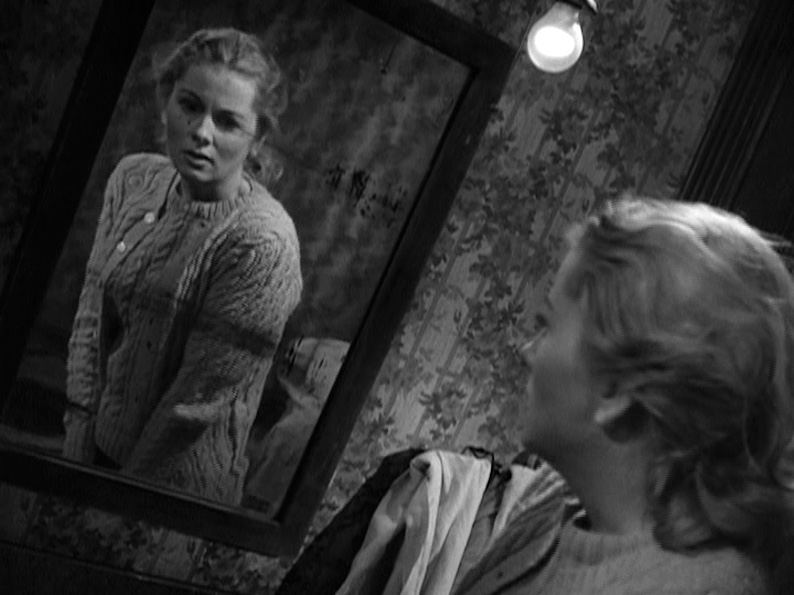 Of note, too, is that this was also the first effort from Norma Productions, Lancaster's own shingle that morphed into Hecht Hill Lancaster and ended up ushering to the screen notable movies like Marty, Sweet Smell of Success, Separate Tables, and Birdman of Alcatraz. Lancaster was just two years removed from debuting with Robert Siodmak's The Killers yet somehow had the foresight and wherewithal to start producing. His early efforts for producers Hal Wallis and Mark Hellinger – films like Brute Force, I Walk Alone, and Sorry, Wrong Number – put him on quite the roll and must've also shown Lancaster the power and influence available to a hands-on producer.
Kiss the Blood Off My Hands finally makes its digital debut in the form of a DVD-R from Universal's Vault Series, a U.S. release that's manufactured on-demand.
It's a reasonably competent effort in terms of quality. The 1.33:1 image looks natural and unscrubbed yet pleasing to the eye. There are bits of dirt and scratches throughout the film without anything in the way of distraction. Black levels are fairly good and sharpness is also fine. The English mono audio is similarly serviceable. Overall there's nothing here to prevent a purchase. Those interested in the title shouldn't be deterred by any quality issues.
Unfortunately, there are no extra features as well as a lack of subtitles and the absence of even a disc menu. You're getting the movie and that's it. It's pretty much an official bootleg but at least it's a commercially available release, I suppose.