If you don't know the work of French director Jean Rollin then one thing's for sure – you're not a vampire movie fan, or at least not a hardcore one. Rollin began making films in 1958, but ten years later created what is credited as the first French vampire film Le Viol du vampire (aka Queen of the Vampires, aka The Rape of the Vampire), and despite the film's initially shaky reception, Rollin has never looked back. At a time when Hammer's once-popular output was fading, Rollin was creating stylish and poetic fantasy films that were as influenced by expressionism and the avant garde as they were by classic Hollywood horrors. Rollin's vampire films in particular embraced the genre's underlying eroticism, and although he worked cheap and fast, his evocative use of locations and music, the poetry of his stories and characters, and his sometimes dream-like imagery put his best films in a class that most higher budgeted mainstream productions could only dream of entering.
Allegedly a semi-improvised experiment in which footage spontaneously shot by Rollin and his two actresses on a trip to New York was expanded on and given structure on their return to France, Lost in New York enigmatically blurs the distinctions between reality, memory, dreams, imagination and the supernatural. An old woman, Michèle, recalls a childhood encounter with Marie, a young girl she finds crying in a presbytery garden because she has no-one to play with. She is holding a statue of a figure she believes is the Moon Goddess and invites Michèle to go on a journey with them, one that involves a picture book that allows its young readers to dream – or perhaps to be physically transported in time and space – to a beach populated by masked spirits, to early womanhood, and to another continent. In New York the two girls, now older, find themselves lost and separated, but drawn to find each other in a place very different to the one they have just left.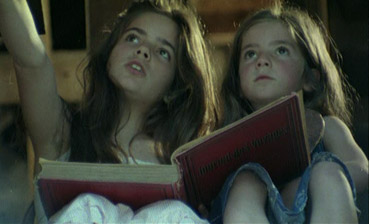 Alternately literate, playful and suggestive, Lost in New York is in some ways one of Rollin's most personal films, uniting elements and imagery from his earlier work and his own fascination with cinema, evident in the influence of the past films of his countrymen and the picture-book trip through favourite movies and characters that the two young girls might allow themselves to become. Intriguingly, the sometimes landmark view of New York remains an outsider's one, a cinematically familiar location that here feels as alien to us as it is to Marie and Michèle. We are tourists here, lost in a city where the two girls can be within yards of each other and yet fail to connect, where roses are handed to each by the same passer-by, where an attempted mugging can result in death, and where vampires feed on willing victims after nightfall, only to perish with the rising sun. "Fantasies die at dawn," the stony male voice-over reminds us, having already suggested that at least part of what we are watching is a shared dream. A typically atmospheric music score, here by Philippe d'Aram, contributes to the film's sense of reality dislocation.
As the two girls are reunited as old women, they reminisce once more and it is left for the audience to find their own reading of exactly what has occurred, and far be it from me to impose my own version on first-timers. Lost in New York has the structure of a poem and is as deliberately open to interpretation and meaning. It's an indication of Rollin's assurance that even at its most disorientating, the content never feels random or superfluous, and gels into a gently beguiling whole.
A non-anamorphic 1.66:1 transfer from a print that's busy with dust, the odd scratch and the occasional blip of frame damage. This is at its worst near what are likely the reel changes, but things do improve between the troughs. Contrast and detail are not bad, although shadow detail is weak and the always evident film grain most prominent in the darker scenes. The press notes claim it has been remastered from the original negative, but I just can't see it. The film was made for TV, hence the rather crude looking video-added credits.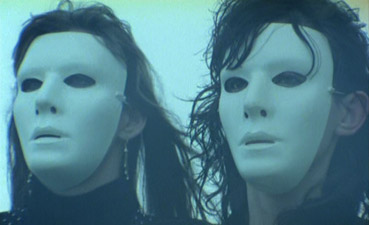 The Dolby 2.0 mono soundtrack is functional rather than sparkling, but has no obvious problems. For a Dolby 2.0 track, it's surprisingly loud.
The optional English subtitles are clear, but a little on the small side – I had no problem with them and they could even be said to be less intrusive than larger subs, but if you have a sight impairment this could be an issue.
Redemption has included two valuable and very welcome extras here in the shape of two of Jean Rollin's early short films.
Les Amours Jaunes (1958) (10:09)
Made in 1958, this was Rollin's first film, shot at weekends with friends on equipment borrowed from his daytime job at a newsreel company. With a soundtrack comprised of the poem of the same title by Tristan Corbiere from which the film takes its inspiration, and the visuals a blend of near-narrative live action and Fabien Loris drawings, it has the air of a detailed and self-confident cinematic sketchbook, energetic and rich with ideas but not quite fully formed. Its inclusion is of particular interest here due to the similarity of some elements to those in Lost in New York, including the use of voice-over and illustrations, and Rollin's favourite Dieppe beach location. The print is a little ragged, as you would expect of a short film of this vintage, and includes the occasional bit of picture judder and soundtrack fluff. Surprisingly, considering the letterboxed main feature, it's anamorphically enhanced.
Les Pays lion (15:41)
A man lost in a maze of broken down buildings and back streets rejoins his female companion, and the two begin a search for the route to the city centre. Neither can remember how they got there or much about their lives before their recent meeting, and they have no clear indication of their location. When they do encounter other people, their requests for help are met with bemusement in a language they do not understand. At one point the man finds a building he recognises, but the friend who lives within appears too busy to help them and, after remarking on the man's improved language skills, hurriedly departs. Rollin's rarely seen fifth film is a confident and unsettling work with Kafkaesque overtones, its sense of individuals in confused isolation a theme the director was to revisit in his features. Once again the transfer is anamorphically enhanced, and this time the print is close to excellent, with almost no dust spots, an impressive tonal range and solid black levels. Something's not right here – the extra features shouldn't look better than the film they are supporting. It does appear, however, as if some frame cropping has gone on here, presumably 1.66:1 clipped down to 1.76:1 – in a couple of shots heads have been completely cut off.
The are trailers for City of the Dead, 99 Women and Venus in Furs, plus the same selection of CD plugs you'll find on the Bitter Sweet DVD. There's also the usual, somewhat superfluous collection of 10 stills from the film.
If that print was in better shape then I'd be recommending this disc as a must-buy for Jean Rollin fans. Even so, it's likely that admirers of the director's work will want to pick it up, for the film itself and for those two shorts. I just wish whoever was responsible for the transfer of Les Pays lion could be put to work on some of Rollin's features, as long as picture cropping is expressly forbidden.