I first discovered the films of Gerard Depardieu back in 1980, when a friend of mine and I regularly attended double-bills at London's Scala cinema. After playing it safe for a few weeks, we decided to take a chance on something called Maitress, drawn in part by the reputation of its explicit S&M sequences. It's probably best not to elaborate on that particular calling. It was playing on a double bill with Marco Ferreri's The Last Woman, a film with a reputation all of its own, one centred around a climactic (no pun intended) penile amputation. Sure enough, Maitress had us wincing at its real-life domination scenes and every male in the audience had their legs tightly crossed by the end of The Last Woman. Both films made an impression, but the most consistently compelling element was not the content, but the actor who provided the link for the double bill. We emerged from the cinema wanting to see more of this oafish-looking but oddly charming and hugely talented young Frenchman.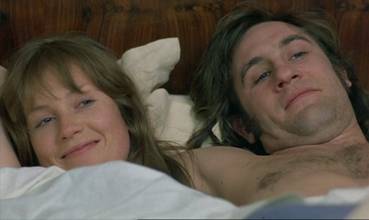 It seemed that several of the films in which Depardieu appeared in the late 1970s and early 1980s were about relationships that start well enough but gradually descend into either unhappiness or tragedy. Sex was often a key factor and was usually portrayed in a manner that in early 80s Britain felt startling in its explicitness, but also honest and refreshingly matter-of-fact, the casual attitude to nudity reflecting very much how things are when a couple are genuinely comfortable with each other. It felt real. The stories were real. And they were about real people, not events or things. That was, and to a large degree remains, the appeal of much of European cinema over the Hollywood equivalent. That the films sometimes ended on a downbeat note felt just right for two young cynics already dismayed at where the 1980s were heading.
Loulou certainly kicks off in this vein. Young, attractive, middle-class Nelly works in advertising (which until it was usurped by public relations, marketing and consultancy, was regarded as the most vacuous and meaningless of professions, at least by movies) and is married to her boss André, whose possessive tantrums she has become increasingly weary of. In a night club one evening she meets cheery layabout Loulou, with whom she subsequently spends the night. In no time at all she has dumped André and moved in with Loulou, much to her husband's angry disbelief.
Initially, this may sound like familiar stuff, a middle class girl who goes looking for a bit of rough and has to make the choice between the intellectual and the physical – Loulou may not be the smartest chicken in the coop, but if it's sex you're after you'll get it, and frequently. But the characters are not as clear cut as this outline might suggest. Depardieu's natural on-screen charisma makes it easy to understand Loulou's appeal, but he proves not to be the dangerous thug with a smile that movie convention has led us to expect. André, on the other hand, far from being the passive intellectual, turns out to be a rather nasty piece of work, physically and verbally assaulting Nelly when she returns to their flat the morning after her night out. When he starts to rough her up in the street a short while later, you secretly cheer the arrival of Loulou, whose large, leather jacketed frame is clearly going to give André a beating that you can't help thinking he by then deserves. But André's fury proves a match for Loulou's streetwise bulk, and the resulting brawl is more of a schoolyard scrap. With no sign of either man being taught any sort of lesson by the other, the trio go for a drink and talk it over like old friends.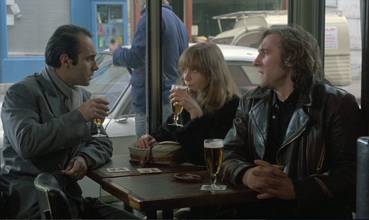 Knowing that the story is drawn from director Maurice Pialat's own experiences is an intriguing notion, given that neither of Nelly's would-be partners have a great deal recommend them – Andre is an arrogant and possessive brute and Loulou is an irresponsible womanising loafer. I couldn't help but recall Nick's description of Rick Von Sloneker in Metropolitan, which almost reads like a Frankenstein-like melding of Andre and Loulou: "Tall, rich, good looking, stupid, dishonest, conceited, a bully, a liar, drunk and thief, an egomaniac and probably psychotic. In short, highly attractive to women." No wonder Nelly has trouble making up her mind which one she wants to be with. Initially, she seems certain about Loulou – it is only later, with his almost indifferent acceptance of her pregnancy and disinterest in changing his lifestyle that she begins to realise how out of place she is in his world.
Quite whether Pialat has an overall point to make is open to debate – with men shown as calously self-centred, women can only hope for the best of a bad bunch, while satisfaction in relationships is seen a short-lived transitional state. But as a look at the always imperfect and sometimes fraught world of male-female relationships, the film proves a refreshingly honest rebuff to the falsely idealised romances of Hollywood et al. As drama it is consistently involving, thanks in no small measure to the committed performances from the heavyweight trio of Gérard Depardieu, Isabelle Huppert and Guy Marchand, and to a smart script whose finer linguistic pleasures, I am assured, require a fluency in French to fully appreciate. But kudos should also go to Pialat's handling – always low key (even a stabbing is filmed in observational long shot) and at times (notably the extended dinner party towards the end) having an authentically documentary quality, which adds to the feeling that you are watching real lives, constructed from very real memories.
This is not the first disc that Artificial Eye has licensed from French distributor Gaumont, and once again it's a good one. Colours appear to be very natural, contrast is about right and detail is very good. The occasionally visible halos suggest a little enhancement has taken place, but, like the also visible film grain, it is low key and never distracting. The picture is famed 1.66:1 and is anamorphically enhanced.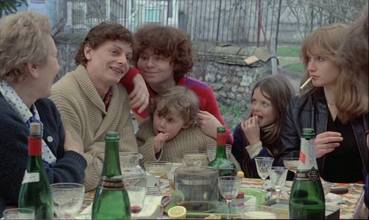 The Dolby Digital 2.0 mono soundtrack is noise free and clear. This is not a film that cries out for 5.1
Interview with Isabelle Huppert (13:41) is a useful chat with one of the film's stars in which she discusses working on the film and with the director, who apparently would actively look for excuses to stop filming or leave the set, at one point disappearing for three days. She is clearly an admirer of his work and techniques, and warmed to his refusal to use the traditional cries of 'action' and 'cut' (Pialat would allow the scene to develop naturally and start the camera almost surreptitiously), the latter of which she likens to the falling of a guillotine blade.
The Theatrical Trailer (2:25) is anamorphic 1.66:1 with optional English subtitles. Its style and music certainly brought back memories of old art house screenings from the 70s and 80s.
There are also Biographies and Filmographies for Isabelle Huppert, Gérard Depardieu and Maurice Pialat.
It should be noted that some on-line retailers and Artificial Eye's own web site are listing an interview with director Pialat as an extra, but although it was present on the original French Gaumont disc (sans English subtitles) it is not included on this release.
Given my aforementioned fondness for Depardieu movies of the 70s and 80s I feel almost embarrassed at not catching Loulou until some years after its initial release. All power to Artificial Eye for tripping through the back catalogue of modern European cinema and making important but lesser seen films available, as they still represent a welcome alternative to the increasingly vacuous mainstream cinema. And it's worth seeing for Depardieu alone. Really.