Molly Dineen (born 1959) is one of the leading British documentary filmmakers of her generation. This fourth collection of her work released on DVD by the BFI effectively bookends her career, from her 1981 student film Sound Business and her most recent film as of this writing. 2018's Being Blacker. The two films are linked by the figure of Steve Burnett-Martin, better known as Blacker Dread.
As Dineen herself admits in the extras on these discs, the gap between the two films is not just one of the thirty-seven years between their production dates. The means at her disposal are certainly noticeably different: a U-Matic video camera on a tripod back in 1981, high-definition shooting (handheld, with a built-in microphone) in 2018. In Sound Business, Dineen almost entirely absents herself. In the to-camera interviews, she can be heard briefly once, but the narration is provided by Mikey Dread. However, by the time of Being Blacker, her methods had changed as her career had evolved.
After film school, Dineen made Home from the Hill, the first of three contributions to BBC2's Forty Minutes strand, depicting Hilary Hook (father of filmmaker Harry Hook, who is credited as additional editorial consultant on Being Blacker), who had spent his career in the army in Africa and returned to England and found himself displaced in a society that had changed beyond recognition. Also for Forty Minutes were My African Farm, a portrait of colonial stalwart Sylvia Richardson, and Heart of the Angel, about the day-to-day goings-on at the Angel underground station in London. Other work includes The Ark, a four-part portrait of London Zoo, In the Company of Men, which follows Major Crispin Black and his men on a tour of duty in Northern Ireland, and Geri, which follows Geri Halliwell as a solo artist after leaving The Spice Girls. Throughout her career, Dineen has developed a style that's part fly-on-the-wall and part interview-based, objective yet empathetic.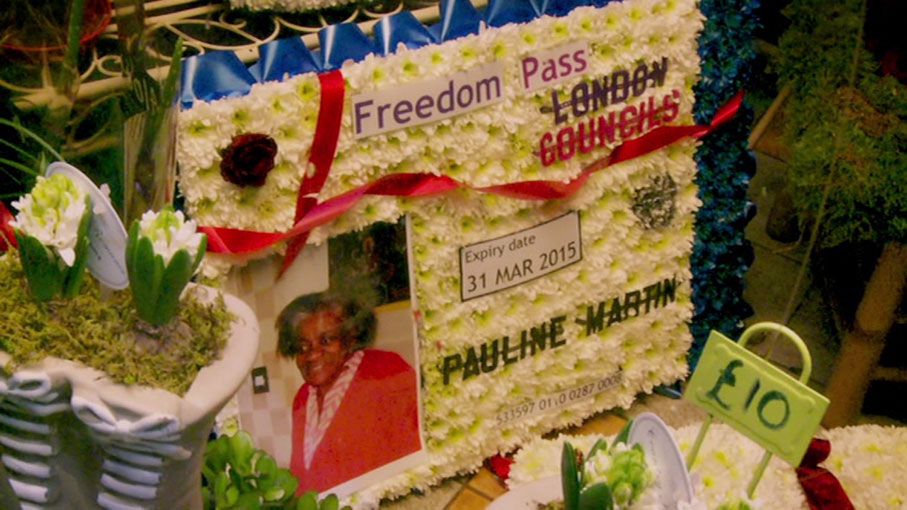 And so it is with Being Blacker. Although we don't see Dineen on screen, we're constantly aware of her presence behind the camera. She narrates, and she asks questions to Blacker and others. Another difference is that she and Blacker are clearly friends, having known each other for as long as they had. (Near the start, he greets her with "Good golly, Miss Molly", which she lets past. No doubt anyone called Molly will have heard that joke countless times. However, this Molly doesn't seem to mind.) Whether you have any interest in Blacker's music or not, the film over its hour and a half makes you interested.
Sound Business is a portrait of two rival sound systems in the Jamaican communities of London. These sound systems, pumping out reggae at high volume for street parties, has played a vital part in maintaining the cohesion of those communities. Blacker is one of Sir Coxsone Sound, and the other system we see is Young Lion Sound. What the film, directed by Dineen and co-edited and co-produced by her and Julian Caidan, shows is a scene and a culture which has changed in the decades since. Franco Rosso's feature film Babylon, made a year earlier, shows something of this culture too, but when Steve McQueen made his Small Axe series, in particular Lovers Rock (taking place at a community party), it's become a celebration of times past. Also giving his perspective is David Rodigan, then as now a champion of this music.
Being Blacker was made over three years and begins as Blacker and his family assemble for his mother's funeral. Blacker is a respected name in his part of London, as are his family, having run a record shop for many years. However, things are about to change: Blacker faces a prison sentence due to letting someone hide some money in his bank account, so he receives two years for money laundering. Inevitably, this creates an absence in the middle of Dineen's film, but she spends time with his sister June and her daughter Rachel, and there is a trip to Jamaica to visit Blacker's ex-wife Maureen and their son JJ, who is doing well at school. While in prison, Blacker agrees to continue working on the film, and so it is when he is released – at first with a tag, so he has to leave June's wedding reception early to avoid breaking curfew.
These two films, at either end of Dineen's career stand out from the rest of her work in that they deal with black-British subjects and black British music in particular – which, as is pointed out more than once, in films directed by a white woman. Her other films mainly deal with white people and mostly-white institutions, but these two are clear-eyed about the marginalised community it depicts.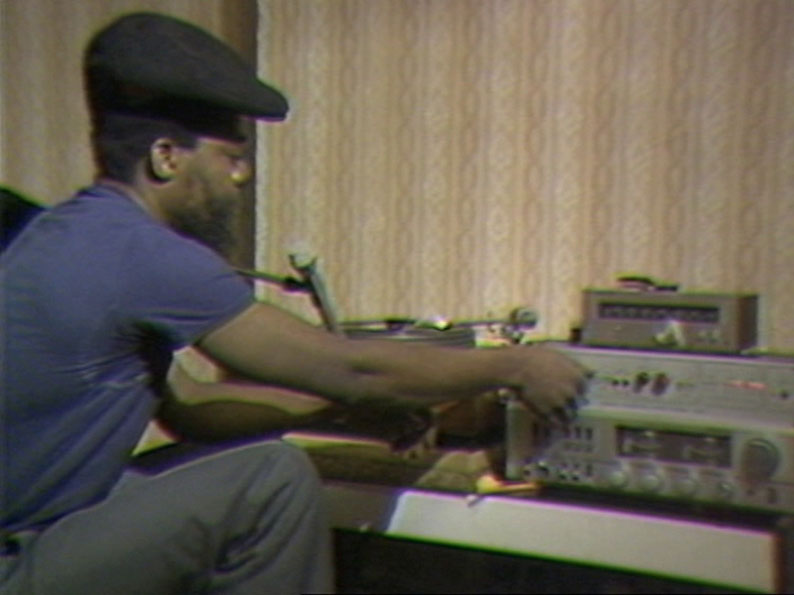 Sound Business was not made for commercial release, but other than its film school showings, it had some screenings at the ICA in London. Being Blacker was made on spec, but was acquired by the BBC. It had screenings at regional film theatres around the country before its first broadcast on 12 March 2018.
The Molly Dineen Collection Volume 4 is a two-disc DVD set from the BFI, with Being Blacker (89:33) on one disc, Sound Business (56:42) on the other. Both discs are all-regions. Being Blacker has a 15 certificate, Sound Business a 12.
The DVD transfers show the difference in technology available between the two films. Being Blacker is derived from the original broadcast tape and, given that television was widescreen by the time it was made, is in the intended ratio of 1.78:1. Shot in HD, it looks clean and colourful, and as it would have done on television, if you'd watched in SD. Sound Business was transferred from the original low-band U-matic master tape and is 1.33:1. It's much softer, with a lot of artefacts, and, as Dineen points out in the extras, was shot with minimal lighting so that scenes of the dances are so dark that it's hard to make much out. The difference is noticeable when an extract from Sound Business is edited into Being Blacker. Both transfers are PAL, running at twenty-five frames per second.
The soundtracks are rendered as Dolby Digital 2.0, stereo for Being Blacker and mono for Sound Business, and there's not much to say except that they are clear and well-balanced. Reggae is a music very dependent on bass, and while there isn't a dedicated LFE channel, my subwoofer certainly picked up some heavy low end at times. There are no subtitles for the hard of hearing, which is regrettable. Some dialogue in patois is subtitled, though.
Being Blacker Q & A (30:44)
Before its first television broadcast in 2018, Being Blacker did a short tour of regional film theatre. After each screening, Molly Dineen, Blacker Dread and Blacker's friend Naptali (a former armed robber and friend of Blacker's, who appears in the film and at one point shows the camera his scars), did a Q&A. We see extracts from each one, with in many cases the questioner's face blurred out, plus some candid shots of the three of them in their car travelling between showings.
TV trailer (0:31)
As played on the BBC, emphasising Dineen's BAFTA-winning credentials and the three years it took to make the film.
The above extras are on Disc One. The remainder are on Disc Two.
Sugar Minott (11:06)
Songwriter and performer Sugar Minott had appeared in Sound Business. Born in 1956, he died in 2010 and this short piece, made by Dineen from footage of him, is a tribute.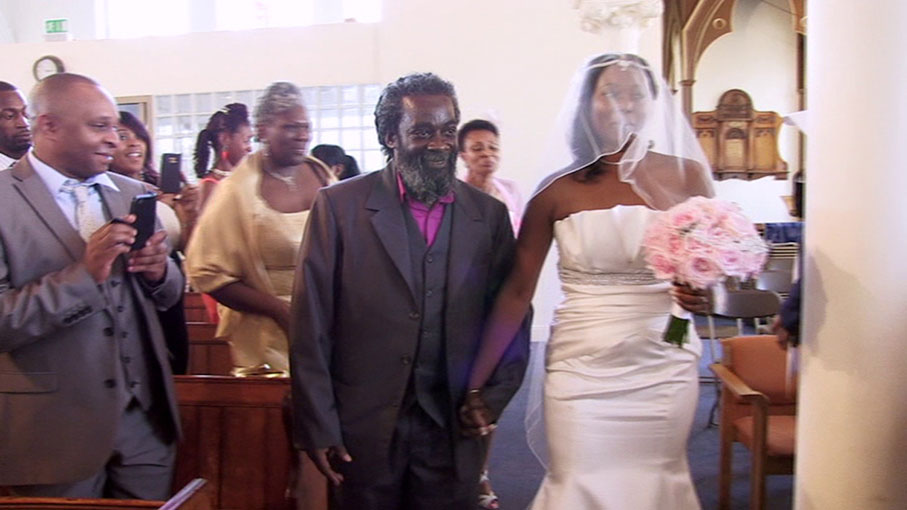 Interview with Blacker Dread (39:21)
Interview with Blacker Dread and Molly Dineen (38:19)
Interview with Molly Dineen (26:46)
These three interviews were all conducted in 2017 at the University of Westminster for Bass Culture Research. The interviewer in all cases is Jacqueline Springer. In his solo interview, Blacker talks about his life before joining Sir Coxsone Sound System, and his twenty-seven years there. He and Dineen discuss the making of Sound Business, and Blacker stakes his claim as inventor of the word "outernational". He talks about how the music scene has changed over the years but is still rooted in reggae – jungle, for example, is reggae with faster beats. Dineen solo talks about her upbringing in Birmingham and her early interest in still photography, which developed into documentary filmmaking later. She does talk about how it seems to have taken a white woman to document a British music scene (and, based on her films, largely a male-dominated one) but says she felt more out of place for the colour of her skin rather than for her sex.
Booklet
The BFI's booklet, available in the first pressing only, comes to thirty-two pages. Molly Dineen provides a Director's Statement, which is a full-length article on both films. She covers the making of Sound Businessand is sanguine about what she sees as its failings – especially that she didn't pick up on the growing unrest in the area, resulting in the Brixton Riots the same year as the film was made. She began Being Blacker by being commissioned to film his mother's funeral and the film evolved from that. With more than three decades' worth of filmmaking experience  by then, she describes the film as a more satisfying experience.
"Me a Talk fi You" by Arike Oke looks at the two films as portraits of communities founded by the generation that had arrived in Britain on the Windrush. Meanwhile, "Underground Resistance Within a Hostile Climate" by Paul Bradshaw looks back at the 1970s/early 1980s scene captured in Sound Business. Also in the booklet are film credits, notes on the extras and plenty of stills, including posters.
There's a lot to take on board in these two films, both as portraits of a community and a music scene that's often marginalised, and of a man at the heart of both of these. Sound Business and Being Blacker also demonstrate the range and achievement of their director, and these BFI DVDs have useful extras to put them into context.