Jean-Claude Delsart is a man who gets little enjoyment or satisfaction from life. He's middle-aged, in faltering health, and makes his living as the head of a small, family-run bailiff company. It's a glum existence established in an opening scene, in which he struggles up a long and winding flight of stairs to serve notice on a woman for payment that she clearly cannot afford. One day, he's in his office and he hears music from the building opposite, and on looking across the way sees a dance class in progress. The sight unexpectedly captivates him, and a short while later he has enrolled and is taking his first tango steps.
Also in the class is the younger François, who recognises Jean-Claude as the son of the woman who used to be her nanny. The two exchange pleasantries, but over the course of the following weeks their friendship grows, to the point where it looks set to blossom into something more. For the ageing divorcee Jean-Claude, this is potentially life-changing. What he does not realise is that François is learning the tango in order to dance at her own upcoming wedding.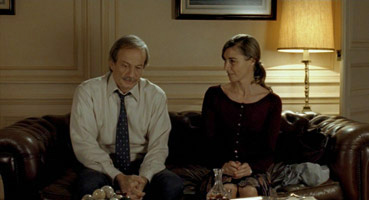 There is, it has to be said, more than a whiff of Shall We Dansu? about Not Here to be Loved, particularly in the central character of a weary working professional whose life is transformed through involvement with a dance class, an interest sparked by what they observe through the window of the studio in which it is held. Both stories include an attraction for a woman their respective leading men meet through the class, a disruption to the relationship that they dream will develop, and a reconciliatory ending that could almost have been downscaled from Hollywood.
The differences, however, are significant enough to allow Not Here to Be Loved to stand without wobbling too badly in its own dance shoes. Whereas in Shall We Dansu? family man Shohei is captivated by the sight of the beautiful Mai standing at the dance studio window, for Jean-Claude it's the dancing itself that catches his imagination, and his decision to join the class is prompted in part by his doctor's insistence that he get more exercise. The central attraction also runs a notably different course here. Where in Dansu Shohei is firmly discouraged from his pursuit of Mai by Mai herself, the very idea of romance would never even have occurred to Jean-Claude were it not for the persistent first steps taken by François.
It's in the development of this relationship that the film is at its most beguiling. From the suppressed sensuality of their dance practice to their hesitant, accidental first kiss and Jean-Claude's almost adolescent apprehension at their meetings, its sweetness lies not in an idealisation of romance but in a refreshingly understated realism. And it's not without it's lighter moments – looking to buy a perfume for François, Jean-Claude finds one he likes, but on being told that it's called 'Intense Passion' he apprehensively responds, "Would you have the same scent, but with a different name?'
Elsewhere, however, the drama follows a more familiar path. A story arc involving a jealous would-be gigolo with his own designs on François treads well-worn turf in amiable but unsurprising fashion, as does the one involving Jean-Claude's son Jean-Yves, newly recruited to a business he clearly despises. Similarly, Jean-Claude's fractured relationship with his permanently grumpy father (wonderfully played by veteran actor Georges Wilson), though interesting in itself, comes to a somewhat inevitable conclusion, and few will be completely surprised by a later revelation involving a locked cupboard in the old man's retirement home room. It's also become almost a given that an age gap romance will involve an older male and a younger female, while adherence to societal convention will ensure that it is never likely to last (though the final scene has a pleasing sense of ambiguity for the couple's future).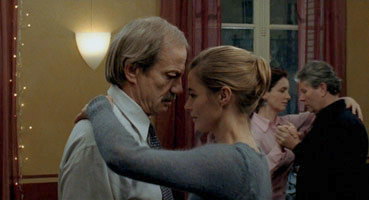 Such narrative safety-play steers Not Here to Be Loved disappointingly clear of the more adventurous or challenging ground to which its subject matter could have taken it. That it is able to engage so effectively in spite of this is down to the subtle confidence of the handling and some finely judged performances from an impeccably chosen cast. Lead players Patrick Chesnais and Anne Consigny in particular are a joy, their mutual attraction as believably and touchingly conveyed as their moments of frustration and emotional hurt. For someone who too often finds screen romances shallow, unconvincing and over-dramatised, that in itself is something to celebrate.
There have been some impeccable transfers on recent Artificial Eye releases of European films, but this, unfortunately, isn't one of them. Framed 1.85:1 and anamorphically enhanced, the contrast is sound enough, but the picture has a slight softness to it and the colours are sometimes on the drab side. There are also some very visible compression artefacts on areas of single colour, such as the blue door of the flat in the opening scene, the office and dance studio walls and the red backdrop of the show the class attend. It's still very watchable, but not up to the usual standard.
You have the option of Dolby 2.0 stereo and 5.1 surround tracks, with the stereo track winning on volume and the surround on subtlety, especially in its use of abient location sound. The show music on the 5.1 track is particularly well mixed, making the bass register without overdoing it. There's some distinct separation on both tracks.
Interview with Stéphane Brizé (33:36)
A chatty and informative interview with the director, punctuated with flickering extracts from the film. The expected ground is covered, including Brizé's own start in cinema, the casting, the characters, the music and the dancing, and there are a couple of interesting anecdotes thrown in for good measure.
Interview with Patrick Chesnais and Anne Consigny (25:59)
An enjoyable chat wit the two leads, whose obvious friendship is enlivened by their personality differences, the deadpan Chesnais contrasting nicely with the effervescent Consigny. Both are sincere in their enthusiasm for the project, and discuss in detail their interpretation of their characters.
Trailer (1:40)
A decent, well edited sell.

Stéphane Brize, Patrick Chesnais and Anne Consigny Filmographies
A little information-light, with only selected films for the two actors.
Not Here to be Loved plays its story a little safe, but the evolving relationship at the film's core is deftly handled and very nicely performed. The transfer is a little below the usual Artificial Eye standard, but there's an hour of enjoyable interview material in the extra features, which does compensate a little. Worth seeing, and for some it will definitely be worth buying.