This is a two-disc set containing both Rock 'n' Roll High School and its sequel, Rock 'n' Roll High School Forever. The films have been reviewed seperately, the sound and vision and extras have been covered jointly at the end.
Rock 'n' Roll High School
---
Rock 'n' Roll High School is a partial parody of the sort of film that Homer Simpson would have watched to prepare for a return to college to bring his qualifications up to legal scratch (the episode in question is Homer Goes to College, in case you're wondering). It's a tricky path to walk given that many of these films are formulaic and cheesy enough to almost come across as parodies anyway, and Rock 'n' Roll High School is playing a cake-and-eat-it game, sending up a formula it nonetheless embraces with open arms and a welcoming smile. And yet it's a film that has achieved genuine cult status. Why? Well a fair few of you will already know the answer to that one, especially those of you who were teenagers in the late 70s and remember its theatrical release, although its latter day interest comes less from the whole – fun though it is – than the sum of its cult movie components. But I'll get to that.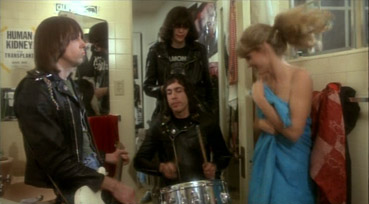 The high school rebellion elements are all here but exaggerated for comic effect, and just how funny you find them will depend on your sense of humour and your tolerance of outright silliness. Vince Lombardi High School has a new principal in the shape of the uptight and discipline-obsessed Miss Togar, whose smile makes her look uncannily like Tim Curry's Frank-N-Furter in the Rocky Horror Picture Show (I was pleased to note from IMDb comments that I'm not the only one who's noticed this) and who has in her employ two bumbling, Hitler youth-dressed hall monitors named Hansel and Gretel (Fritz Hansel and Gretel if you please) to help her maintain order. Poised from the start to be the bain of her life is the bubbly, anarchic student Riff Rendall, a girl whose devotion to the music of The Ramones easily overrides any vague interest she may have in getting an education. She and her science-student friend Kate Rambeau quickly find themselves in conflict with Togar, first for playing rock 'n' roll through the school speaker system, then again when Riff sneaks off for three days to buy tickets for just about everyone she knows for an upcoming Ramones concert. She's even written a song for them called – wouldn't you know it? – 'Rock 'n' Roll High School', that she knows they'll just love if she can just get it into their hands.
Thrown into the mix are Kate's attraction to socially inept high school football captain Paul, and Paul's interest in the effervescent Riff, relationships that both require the services of the school's everything-arranger Eaglebauer to kick-start into motion. The genre familiar will bat no eyelids at the presence of classical-music-obsessed Mr. McGree and his eventual awakening to the joys of rock 'n' roll, though few could predict that Togar's proof of the damaging effect of The Ramones' music comes from playing it to white mice until they explode. Of course, the girls get to the concert, The Ramones love Riff's song, and rock 'n' roll anarchy triumphs over Togar's attempts to rule with a rod of iron. If any of this catches you by surprise and serves as a spoiler than you probably need to see a few more American 70s and 80s teen movies before stopping off here.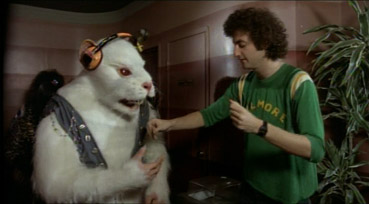 The film's comic elements vary wildly in quality. Attempts at the surreal fall a bit flat (a human-sized mouse who takes ear-guard headphones to the Ramones concert to prevent his own explosion, for example), but a message sent to Mr. McGree through the school by paper plane is a genuinely inspired and gorgeously executed visual gag that has all the precision and polish of a modern-day CG sequence, but was presumably pulled off with models and smart editing. It's a similarly uneven story for the staging of scenes, a few of which are almost wincingly cheesy, while others – the Girl Can't Help It inspired fantasy sequence in which the Ramones appear to Riff in her dorm room is a highlight – are executed with real aplomb (the image of Dee Dee Ramone playing guitar in the shower actually made me laugh out loud).
On its own merits, Rock 'n' Roll High School is an energetic, silly, good natured, and strangely hard-to-resist slice of inventive opportunism, one typical of Roger Corman's New World Studio in the late 90s. Its cult status and present interest for fans of American indie cinema lies in its building blocks, and specifically in a cast and crew liberally peppered with notable names. Oh, where to start? Putting aside executive producer Roger Corman, there's co-writer Joe Dante (The Howling, Gremlins, Matinee... oh you know all this surely?), who also stepped into the director's chair for a day when Allan Arkush was hospitalised (Airplane and Police Squad creators David and Jerry Zucker also handled one scene). The film was photographed by Dean Cundey between his work for John Carpenter on Halloween and The Fog, and the giant mouse costume was designed and inhabited by then make-up effects newcomer Rob Bottin, later to work wonders on such films as The Howling, The Thing, Legend, Robocop and Se7en. The soundtrack, meanwhile, is an eclectic mix of tracks from the likes of Devo, The Velvet Underground, Chuck Berry, Eno, Eddie and the Hot Rods, Fleetwood Mac and Alice Cooper (try to guess which track?). Riff is exuberantly performed by P.J. Soles, fresh from her scene-stealing turns in Carrie and Halloween (she was almost 30 here, but looks every inch the bubbly teenager), Corman favourite Dick Miller pops in at the end as a police captain, and the roles of Miss Togar and Mr. McGree are played by Mary Woronov and director-actor Paul Bartel, who three years later were to memorably re-team in Bartel's cult favourite, Eating Raoul.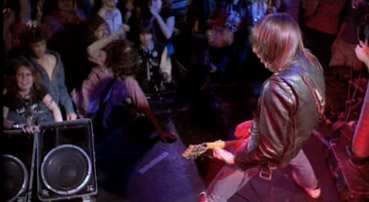 And then there's The Ramones, the godfathers of punk rock whose careers never reflected the greatness of their music or their influence on subsequent bands and whose status here as rock idols plays almost like an in-joke. In Jim Fields and Michael Gramaglia's 2003 documentary, End of the Century, it was suggested that this movie was regarded as something of a career low point for them, and certainly the film's fluffy tone does their image as serious rock 'n' rollers no favours (they're also lousy actors, but we'll pass on that). But their music is the star of the show here and there's a lot of it, including a plenty of performance material, and with Marky the only living reminder of the group that once was, for that alone the film has to be considered a precious thing. That it's also an impossibly goofy one is something we'll just have to live with.
Rock 'n' Roll High School Forever
---
If you thought the original was a little light on substance then get a load of this. Imagine Rock 'n' Roll High School without its funny bits, without its cult cast and crew, without the cool soundtrack, and without The Ramones, and you'll have an idea what you're in for with the belated sequel, Rock 'n' Roll High School Forever.
Following the annual explosion of anarchy to celebrate Rock 'n' Roll High School Day, the school board of the Ronald Reagan High School hire the fearsome and steel-handed Dr. Vadar as their new vice principal in charge of discipline. She quickly comes in conflict with student Jessie Davis and his rock band The Eradicators, whom she bans from playing within the confines of the school. In retaliation, Jessie decides that the band should hijack the school prom, and enlists the help of school fixer Eaglebauer to set the plan in motion. It's not much of a plot summary I know, but that's pretty much how it plays.
The film does come close to scoring a couple of cult points in the casting of Corey Feldman as Jessie and Society's Evan Richards as band member and sidekick Mag, but don't get your hopes up for Mary Woronov's return as Doctor Vadar – this is essentially Togar with the evil turned up to cartoon levels. Romance is given the usual hurdles to overcome, this time in the shape of Jessie's passion for hot substitute teacher Rita, while opportunities for quirky fun aplenty are missed with Mag's attraction to oddball witch's daughter Tabitha, a character who if properly developed could have (and frankly should have) stolen the film.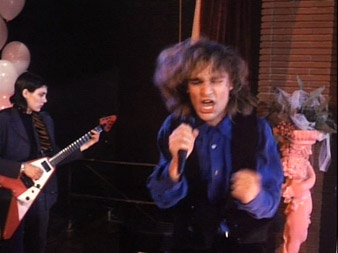 The biggest let-down – and there are many – is the music. The Eradicators' drearily generic rock 'n' roll is a piss-poor substitute for The Ramones and definitely not the stuff that high school revolutions are made of. This also effectively nobbles the plot, as Jessie's plan to steal the prom from the preppies lacks bite if all he intends to do is replace their wholesome music with some equally respectable tunes of his own.
A pale shadow of the original (and if you didn't like that you're really in for a hard time here), the film's lack of wit and substance is glumly illustrated when Jessie receives a visit from the Spirit of Rock 'n' Roll (played by rockabilly musician Mojo Nixon), whose big advice to the young hopeful regarding his search of a way to defeat Vadar is simply to "get bodacious."
Neither transfer here is ideal, though for differing reasons. Rock 'n' Roll High School is framed 1.85:1, but letterboxed and standards-converted from an NTSC original. The resulting image is a little soft on detail and lacking the sort of vibrancy you expect a high school musical to have on DVD. Shadow detail is a bit weak on the darker scenes, but the print is clean and the contrast and colour are fine.
Rock 'n' Roll High School Forever has a crisper picture, though the 4:3 framing gives it the advantage of more lines of resolution and as the more recent film you would expect it to be in better shape (a risky maxim to rely on, I'll admit). The framing is the issue here, as it seems unlikely that even a New World picture would have been shot 4:3 in 1991, and the only question is whether it's been cropped at the sides or opened up at the top and bottom. There's enough headroom provided at times to suggest the latter, but zoom in to crop to 1.85:1 and you're in similar territory to the first film.
The soundtrack on Rock 'n' Roll High School is not as crisp as you'd hope for a music-driven film and does tend to vary in quality, though I've no doubt part of this is down to the film's low budget. Music fares better than dialogue, which is occasionally a little muffled.
The second film is more consistently clear and with a better dynamic range. Bass is well handled enough to trigger off the subwoofer at times if you have it enabled. Both films are Dolby 2.0 mono.
All of the extras below except the last one are on the Rock 'n' Roll High School disc.
Commentary by Roger Corman and Dey Young, director Allan Arkush, producer Michael Finnell and screenwriter Richard Whitley
When I originally posted this review four days ago I was working from a preview disc that did not contain the two commentaries claimed by the press notes, the first by Corman and Dey, the second by Arkush, Finnell and Whitley. The second commentary appeared on the original 2003 DVD release and the suggestion was that the Corman and Young one would be new material. Now I've got my hands on the release disc I can confirm the existence of one commentary track, which has been labeled exactly as titled above. There's just one thing – neither Roger Corman not actress Dey Young are anywhere to be heard, and what we have here is the original Arkush, Finnell and Whitley commentary only. Thankfully it's a good one, a lively look back at an experience all three men clearly enjoyed, memories that have their share of surprises – key influences on the film were Lindsay Anderson's If...., Jean Vigo's Zéro de conduite and Edward L. Cahn's 1956 Shake, Rattle & Rock! – and it's littered with interesting and amusing anecdotes, not least a game of Trivial Pursuit played with The Ramones, who only knew the answers to the geography questions simply because they'd been just about everywhere.
Trailer (1:57)
A lively enough sell, also letterboxed.
High School Retrospective (23:46)
An engaging retrospective documentary built around interviews with many of the key participants, including director Allan Arkush, executive producer Roger Corman, co-writer and stand-in director Joe Dante, actors Clint Howard, Dey Young, Loren Lester and Mary Woronov, and the surviving Ramone Marky, who suggests the group were actually quite happy with the film and the experience of making it. There's plenty of background info provided here, including the genesis of the film, the selection of The Ramones (at one point Devo were considered, a somewhat peculiar prospect, and even a young Van Halen) and the casting of key roles. The programme appears to have undergone a rather wobbly conversion from NTSC, resulting in jagged edges and stuttering movement.
Roger Corman Interview (4:38)
Corman is interviewed by the ever-smiling Leonard Maltin, who's a big fan of the first film. Interesting, but there is some crossover with the documentary above.
Radio Commercials (1:04)
Two radio commercials played under monochrome publicity stills.
Audio Outtakes at the Roxy (15:37)
Audio extracts from The Ramones' live performance at the Roxy Theatre in Los Angeles, which was overdubbed by the group for the final film. Once again this plays under monochrome publicity stills.
The only extra on the Rock 'n' Roll High School Forever disc is a Trailer (1:57), which is as uninspiring as the film.
A cult film that quickly grows on you is teamed with a sequel that I found hard to make even casual friends with and regard more as a large extra feature than the second half of a double-bill. The transfer of the main feature is not what it should be, and the absence of the Corman/Dey commentary contribution is as odd as it is disappointing. But at under a tenner for both films and the features that are there, this still represents a serious bargain.